Page Content:
Usually, updating macOS will not remove data or erase the hard drive at all. So, does updating macOS delete everything? The answer is No. 

Everything You Should Know about macOS Update
When talking about macOS updates, what comes to your mind? How much do you know about macOS updates? This article is probably the most informative guide to macOS updates on the web...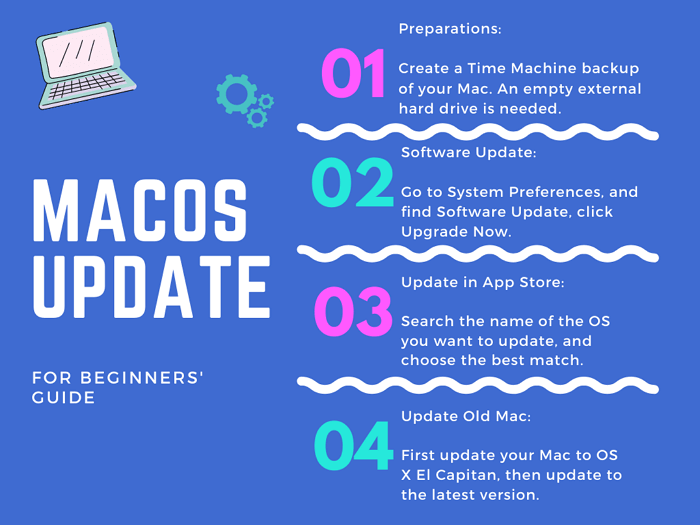 How Does macOS Update Work?
Once you enabled the automatic update notification on your Mac, every time Apple has released a new macOS version, either big or small, it'll keep you informed. By navigating to the Apple menu > System Preferences > Software Update, there are two options for you to install a recent macOS version.
Tip: Another access to get a macOS update is in the App Store.
Update Now refers to updates within the same current system version, such as from the Monterey version12.1 to Monterey 12.2.
Upgrade Now refers to updates between two different versions, such as from Catalina to Big Sur, or from Big Sur to Monterey.
Both options of installing an available update will also keep the Safari, Messages, Music, Photos, FaceTime and Calendar up to date. It's estimated that the total time from downloading and installing the macOS Monterey on a Macbook takes 35 minutes to several hours. It depends on your Mac disk's health and performance. 
Despite that the regular update is a safe move for your personal data, it's your responsibility to create a backup before proceeding with either of the update options! Never trust a machine's ability to protect data. Trust yourself. 
When macOS Update Causes Data Loss
Here's why we highly suggest users make a copy of important files on Mac using Time Machine or some reliable third-party Mac backup software. As is discussed, upgrading to a subsequent major release of macOS does not affect user data, however, in unlikely cases, the update installation process can go wrong, and cause damage to the hard drive. As a result, let you lose access to data.
Roughly speaking, 27% of Mac users have been experiencing unexpected data loss while doing a macOS update, and over 90% of the causes are insufficient free space on the internal hard drive.
The rest of the 10% of data loss cases are resulted from interrupted and failed macOS updates due to various errors. In a word, the following scenarios are associated with the negative answers to "does updating macOS delete everything?"
Not enough free space on the Mac hard drive
Incomplete macOS installation
Mac takes forever to download the update
How to Recover Lost Data After macOS Monterey Update
If you have successfully updated to the new macOS version, congratulations, but please remember to make a backup before the next version update. And it happens that you are the unlucky part of the user, and the update fails to be obtained. No matter what causes the data loss, please be sure to protect the lost data and prevent continuing to write new data to overwrite the lost data.
Next, download EaseUS Data Recovery Wizard for Mac. It is specially designed for users who want to recover deleted files, unformat hard disks, and regain access to data from unbootable Mac situations.
It takes only three steps to recover all types of files on macOS Monterey, Big Sur, Catalina, and earlier versions. 
Step 1. Select the location
Select the disk where you lost data after updating to macOS Ventura/Monterey/Big Sure/Catalina. Then, click "Search for lost files".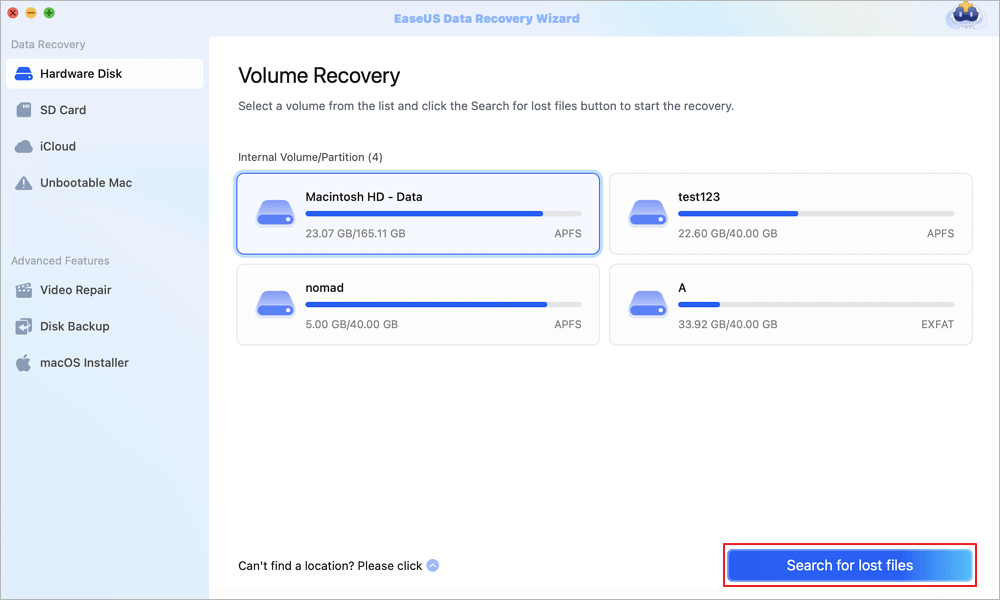 Step 2. Find lost data after the scan
EaseUS Data Recovery Wizard for Mac will immediately scan your selected disk volume and display the scanning results on the left pane. Use the file type and file path to find wanted data on Mac.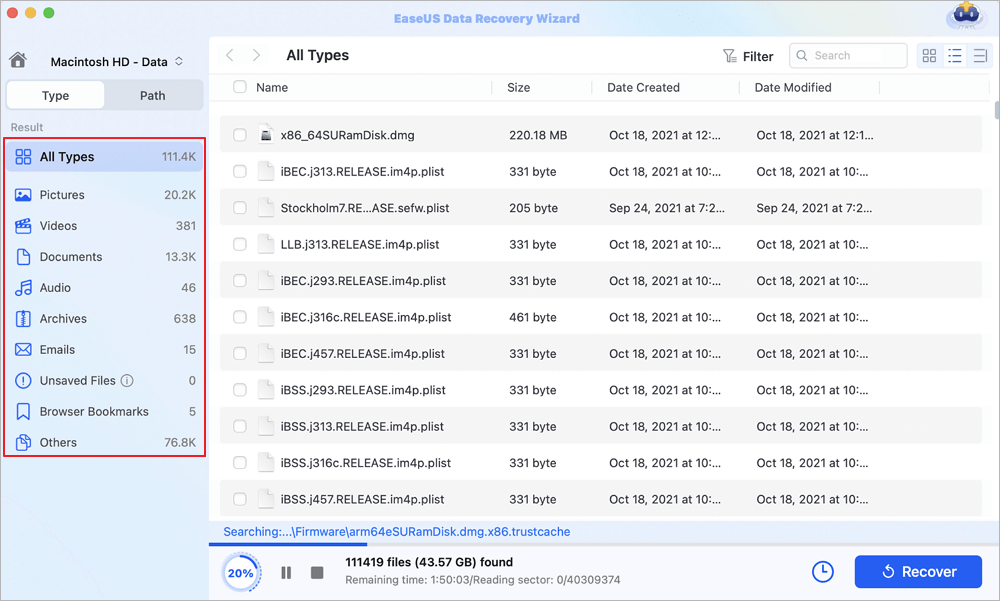 Step 3. Recover data after macOS update
Select the target files that were unknowingly lost during or after the update and click the "Recover" button to get them all back.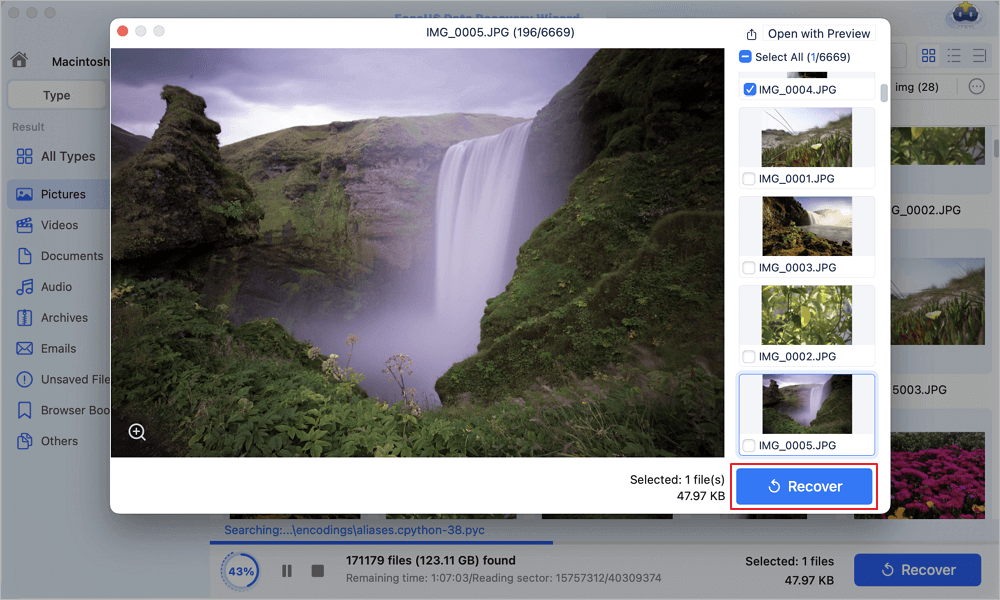 Dany is an editor of EaseUS who lives and works in Chengdu, China. She focuses on writing articles about data recovery on Mac devices and PCs. She is devoted to improving her writing skills and enriching her professional knowledge. Dany also enjoys reading detective novels in her spare time.

Jean has been writing tech articles since she was graduated from university. She has been part of the EaseUS team for over 5 years. Her special focuses are data recovery, disk partitioning, data space optimization, data backup and macOS. By the way, she's an aviation fan!