What Is Windows Recovery Environment System
Windows Recovery Environment (WinRE) is a valuable tool designed by Microsoft to help Windows users recover data from common computer issues. It depends on Windows Preinstallation Environment (WinPE), and WinRE actually offers some extra features like booting from additional drivers to repair computers compared to WinPE.
Typically, the Windows Recovery Environment system will preload into Windows 10 and Windows 11 for desktop editions (Pro, Home, Education, and Enterprise). It is easier to recover your computer if you are a Windows 10/11 user.
What Can Windows Recovery Environment Do
Windows Recovery Environment is served for Windows users to solve common computer problems. There are many tools offered to help you solve the issues, and we have already listed the main tools down here:
Startup repair. When using this tool, WinRE will automatically search and fix the problems.
System image recovery. Suppose you have created a system image with Windows Server Backup before. You can recover your operating system with WinRE and your system image.
System restore. You can use this tool to restore the operating system with a restore point recorded on your computer.
Command Prompt. You can use Registry Editor or Chkdisk.exe tool to fix problems from a Command Prompt window.
Our computers can not run well the whole time, and we hope you will never use Windows Recovery Environment. If your system can not load or boot successfully because of corrupted operating system files, incorrect updates, disk corruption, or you just want to wipe all data from PCs. The Windows Recovery Environment system can help a lot.
We have learned a lot about Windows Recovery Environment, and you may want to know more details about accessing WinRE. Here's a video to help you get more information about accessing WinRE, and key moments are marked here:
00:41 How to enable WinRE with Command Prompt
02:00 How to find WinRE in Windows
02:30 Restart your PC
02:48 Choose "Troubleshoot"
How to Access Windows Recovery Environment
Don't have enough time to watch the video? You can follow our leads to access the Windows Recovery Environment step by step.
First and most important, you should ensure that WinRE is enabled. We'll tell you how to do that:
Step 1. Open the start menu, type in cmd to find Command Prompt, and run it.
Step 2. Type in reagentc /info to see if your WinRE is enabled or not.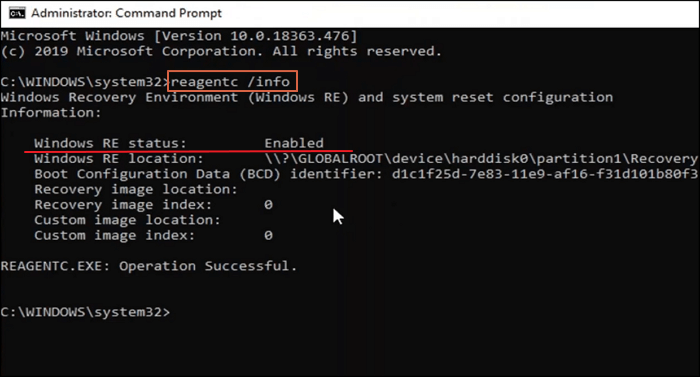 Step 3. Type in reagentc /enable if it shows disabled.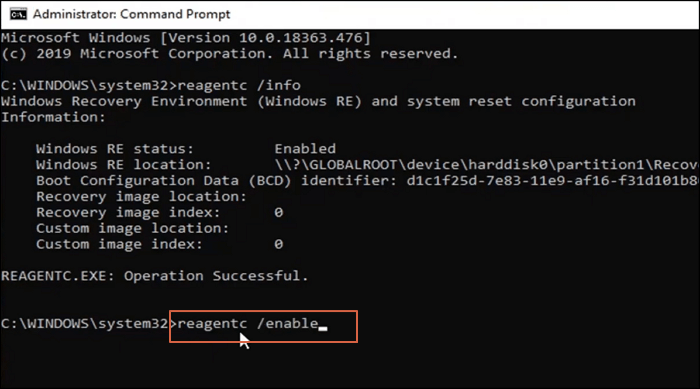 Now your Windows Recovery Environment system is enabled, let's continue:
Step 1. Open the start menu again to find settings and click "Update & Security".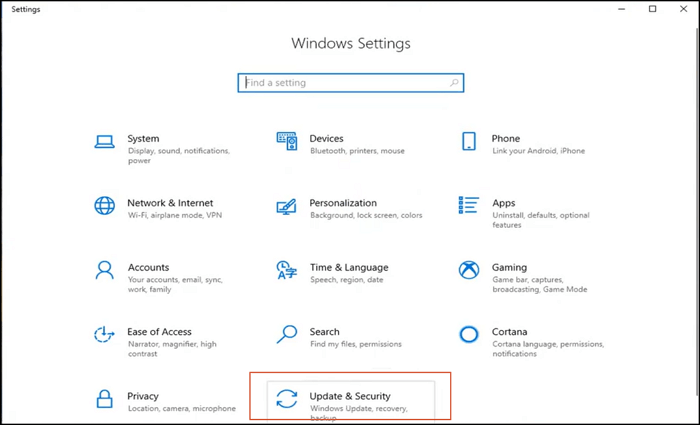 Step 2. Find Advanced setup and click "Restart now". Then your computer will restart immediately.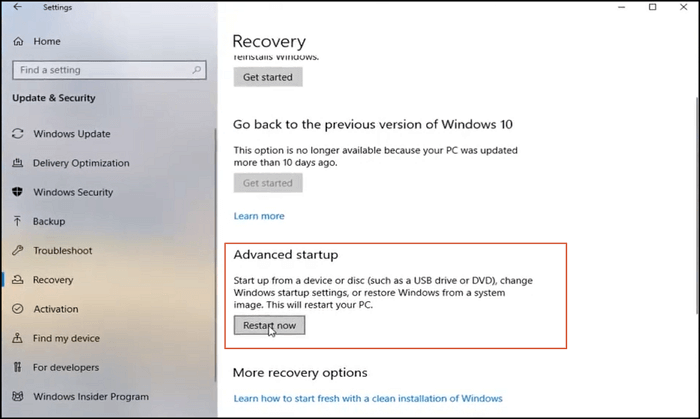 Step 3. Click "Troubleshoot" now.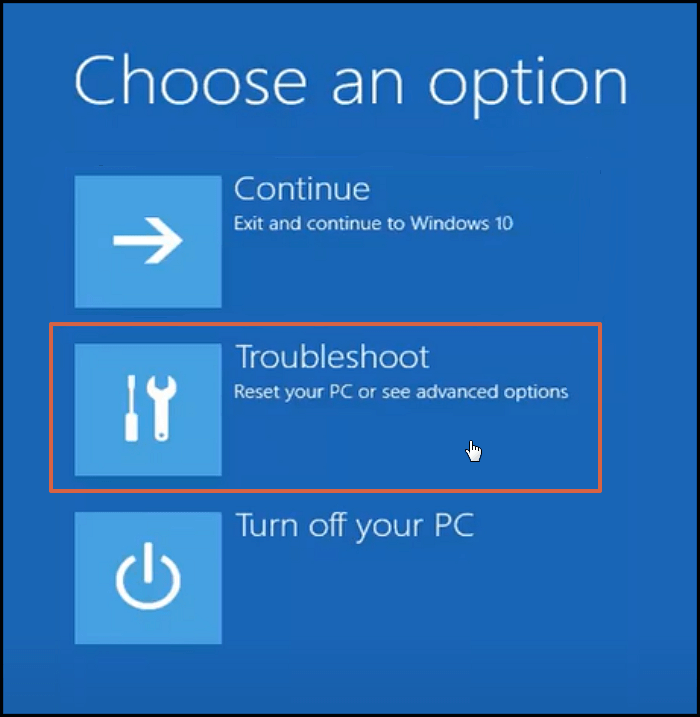 Step 4. Then click "Advanced options" to choose proper tools.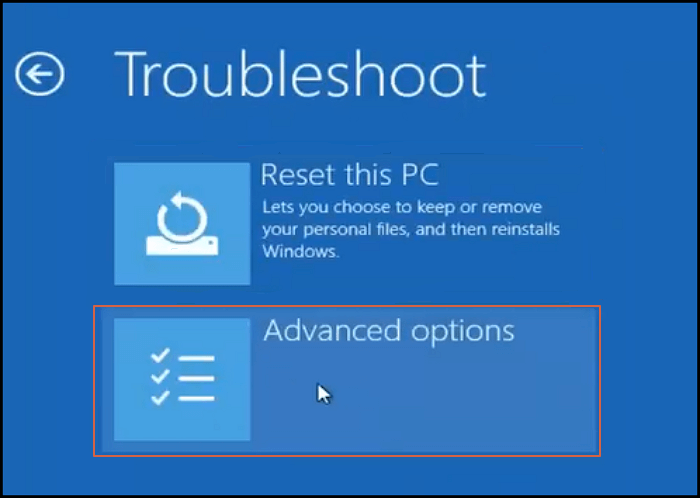 Step 5. You can see many WinRE tools here. Choose one to repair your computer.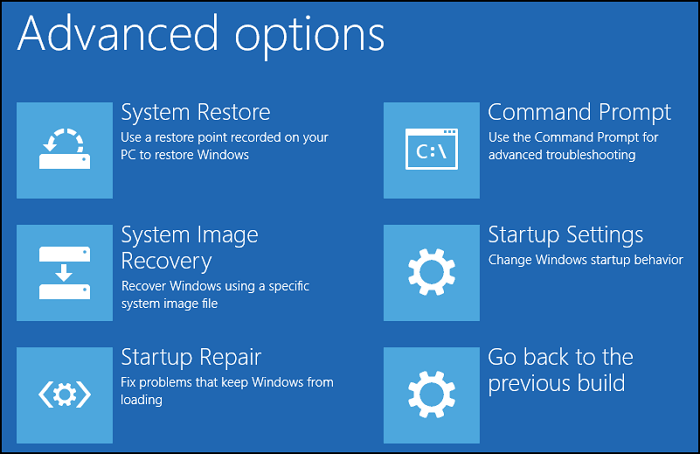 What's More
Windows Recovery Environment is a built-in utility in Windows, and there are some security considerations you need to pay attention to when working with WinRE.
If you are not using an administrator account, you are allowed to run most tools without entering passwords. But when booting into Recovery Environment, you'll need a key to access encrypted files.
The network will be disabled in WinRE. You can access the internet, but it is better to keep it disabled for security.
Although Windows Recovery Environment tools can protect and repair your PC automatically, that doesn't mean you can do nothing and wait for Windows to fix issues. A good backup habit is necessary, and you can do system backup, file backup, and disk backup regularly to keep your data safe. You can recover everything with your backup and WinRE when some data disaster happens.