Great news! Microsoft has announced its new Windows version on June 24. At first glance, Windows 11 holds large changes than ever. What are the new features of Windows 11? Is it worth upgrading? Is it free? How to upgrade? All you want to know is in this article. Get the complete guide now.
1 - Is Windows 11 Coming out?
2 - Windows 11 New Features
3 - Windows 11 System Requirements
4 - Windows 11 Download
5 - Will Windows 11 be Free Upgrade?
6 - How to Buy a New PC with Windows 11?
7 - How Much will Windows 11 PC Cost?
8 - What Is the Difference between Windows 10 and Windows 11?
1 - Is Windows 11 Coming out?
Yes. According to the official news, the Windows 11 beta version is now available to your device. You can download it via Windows Insider Program. The general version will come on the 2022 holiday season. Someone indicated that it would come in October this year. Whatever, Windows is on the way.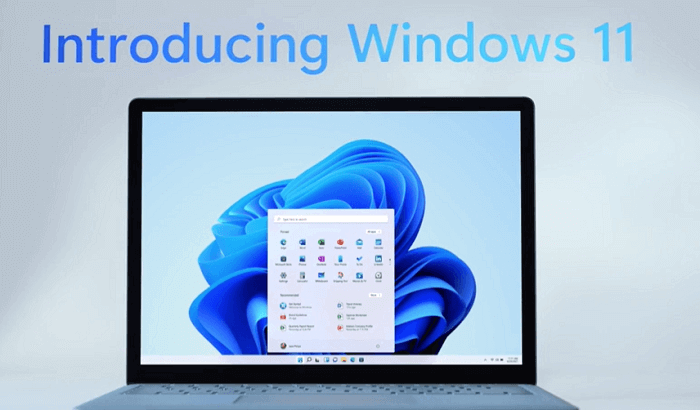 2 - Windows 11 New Features
Brand New UI Interface
Unlike traditional mode, Windows 11 simplify the UI design and user operation. Seems like a Mac interface but you can taste much difference. It features a centered Start Menu and taskbar. No matter what platform or device you're viewing Office or Cloud files on, the Start Menu on a new spot displays the recent files.
Win 11 also brings changes in snap layout, snap group, and virtual desktop functions. These new features make it easy to handle multiple tasks at once, just by hovering your mouse over the "Maximize" icon in the upper right corner to customize the settings.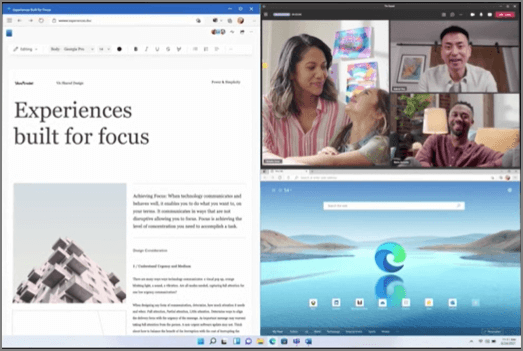 Microsoft Teams Connection
Challenge with FaceTime, Teams is getting the video-calling functions as Microsoft displayed on the conference, enjoying seamless connection among PC, phones, and TV. Access Teams directly from Taskbar.
Best Gaming Experience Ever
If you are a game buff, you should not miss Windows 11 - the best OS ever for gaming.     
Auto HDR: Win 11 adds High Dynamic Range (HDR) which applauded by the Xbox Series X|S games users. According to Xbox news, in Win 11, your game screen will support a wider range of brightness values and colors as long as you have an HDR-enabled display. Once auto HDR is turned on, SDR-enabled games will visually resemble HDR. See the visual difference between SDR and HDR in the image below.
Faster Load Time with DirectStorage: DirectStorage shortens the game loading times.
Quick Resume feature: This feature powered by Xbox Series X|S also lands on the Windows 11 system, which supports to resume game process shortly after restart PC or back to gameplay from where you quit.
Support Android Apps
Microsoft announced that the Android app will be integrated with Windows 11 and welcome to install from Microsoft Store or Amazon Appstore.
Widgets
Easy to find at-glance info. Microsoft adds a Widget feature to get your to-do list, hot news, weather, and more info. Right, swipe on the desktop to open the widget.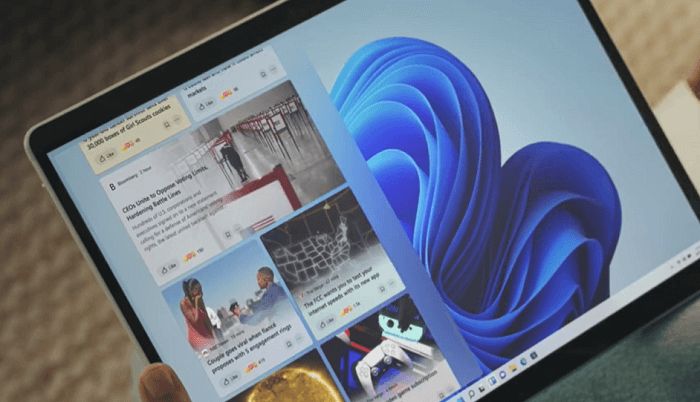 Tablet PC Mode
The taskbar will change its size with tablet/PC mode. When your table is detected to rotate in any direction, the system will automatically switch the windows layout.
Others: touch keyboard, new Microsoft store (Open to all apps and games; Keep all money for program developers.)
3 - Windows 11 System Requirements
According to the official, here are the basic system requirements to install Windows 11 on your laptop/PC. While Microsoft has said Windows 10 users can upgrade to Windows 11 for free, however, Windows 11 requires a bunch of specific system requirements. If your PC can not meet these requirements, sorry, you can not install this stunning new OS.

To check if the user's PC meets the upgrade requirements, Microsoft has released PC Health Check. Visit the page to get the checker.
Or you can use our Windows 11 Upgrade Checker to test whether your PC can run Windows 11.
Step 1. Download EaseUS Windows 11 Upgrade Checker.
Step 2. Click the Check Now button to start.
Step 3. The Windows 11 compatibility result window will soon appear. All the incompatible and compatible configuration items will be listed.
Migrate your PC data to Win 11:
If your device meets Windows 11 system requirements, you can go on to migrate all PC data to Win 11. Click Migrate to Win 11 and download the PC transfer software.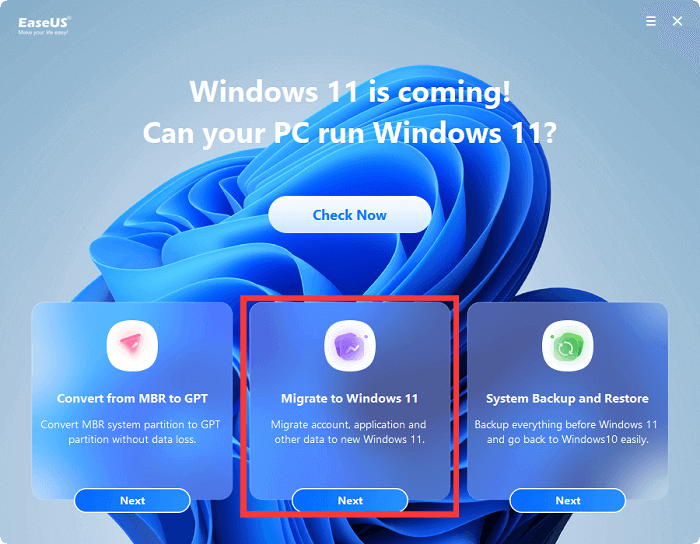 4 - Windows 11 Download and Install
The general Windows 11 is on the way. But you can try the beta version published recently if you have registered for the Windows Insider Program or using EaseUS Windows 11 Builder to quickly download and install the new OS.
Note: Watch out! For data security, you'd better install the beta on the test equipment. Wait to install the general version on your main device.
1 - How to Download Windows 11 via EaseUS Windows 11 Builder
Step 1. The Windows11 builder is integrated with the EaseUS OS2Go software. Click the download button and launch the program after installation.
Step 2. Switch WinToGo Creator to Windows Install Drive Creator. The obtained system information is available on the home screen, and it keeps updating all the time. Apart from Windows 11, Win11 builder also supports you to download Windows 10/8.1.
Step 3. Connect your USB flash drive to the computer. Win11 builder will automatically detect your USB device, so all you need to do is click the Create button.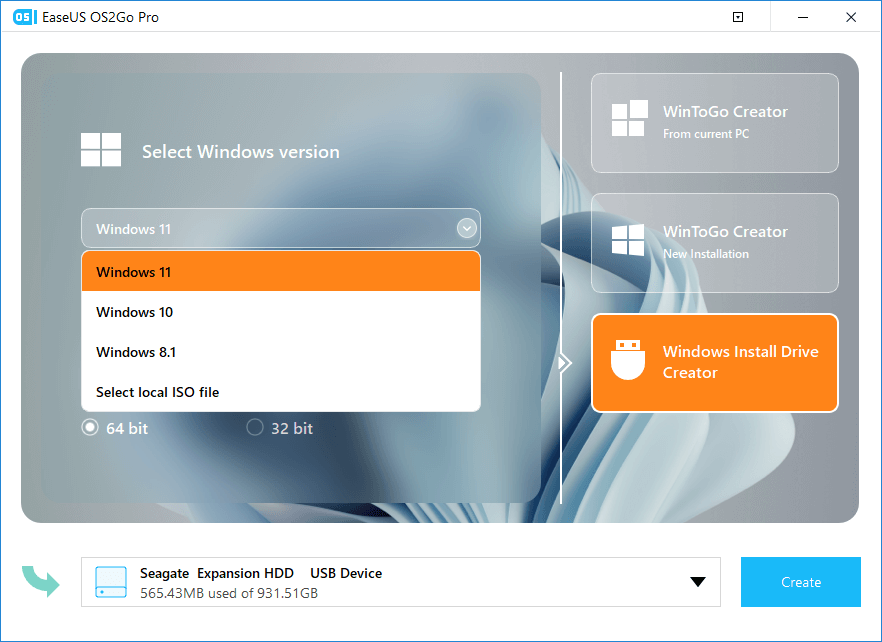 Step 4. The software will empty your USB drive data if it's a used one. Once the downloading process begins, wait there until it finished or leave for a while to do you own job.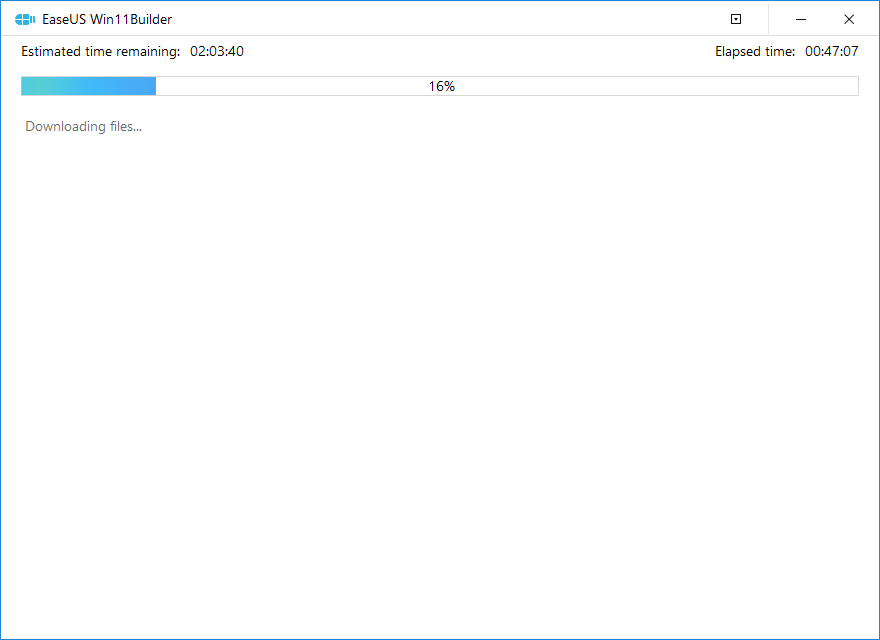 Step 5. After successfully downloading the Windows 11 iso image file on the USB drive, start to install Windows 11 from the bootable USB drive on your computer by following the installation wizard step by step.
2 - How to Download Windows 11 Insider Preview Build
Step 1. Make sure you are the administrator of your device. Sign in to your Windows Insider account, and click Start flighting.

Step 2. Go to Settings > Update & Security > Windows Insider Program > Get Started.
Step 3. Under the Pick an account to get started, select + to connect the Microsoft account you registered and continue.
Step 4. Follow the instruction choose the experience and channel. Choose Dev Channel.
Step 5. Review and confirm the Privacy Statement and program terms, and choose Restart Now or Restart Later.
Step 6. After restarting your device, make sure your data settings are right so you can get preview builds.
Go to Settings > Update & Security > Windows Update > Check for Updates
How to Install Windows 11 If Available
Step 1. Go to Settings > Update & Security > Windows Update > Check for Updates
Step 2. If Windows 11 is available to your device, you can see a Feature update to Windows 11.
Step 3. Click Download and install.
5 - Will Windows 11 be Free Upgrade?
For Windows 10 PC or laptop users, Windows 11 will be free to upgrade. But you need to check the system requirements for compatibility and your PC is running the most current version of Windows 10.
If your system configuration is lagging behind, then upgrading will fail, you might spend extra money to upgrade your hardware as soon as possible or wait to buy a new Windows 11 PC/laptop.
6 - How to Buy a New PC with Windows 11?
New PCs with preinstalled Windows 11 will be launched later this year, includes some best-selling brands - HP, Dell, Lenovo, and more. If the redesigned Windows operating is comes out, the Windows 11 computers won't be far behind.
7 - How Much will Windows 11 PC Cost?
There is no exact price data yet, and different PC manufacturers offer a variety of models.
8 - What Is the Difference between Windows 10 and Windows 11?
Keep the power and security of Windows 10 and catch our eyes with a redesigned look and new features as the above part said.
The screen and the start menu are simplified.
Rounded corners are used between the sections, which does not look sharp compared to the old version. 
Voice input will be improved. 
In addition to the visual changes, the biggest difference in the operation of these two systems is the TPM chip. 
Systems that do not support TPM chip cannot be upgraded to Win11.