Are you after a free photo editor like Photoshop for image editing and color correction? Photoshop is chosen by many experienced shooters when it comes to professional photo and video editing, as well as design. But what to do in case you don't have money to invest in this expensive program? What are its free analogs? In this article, I will go over 10 photo editors like Photoshop in more detail.
1. GIMP – For Advanced Tools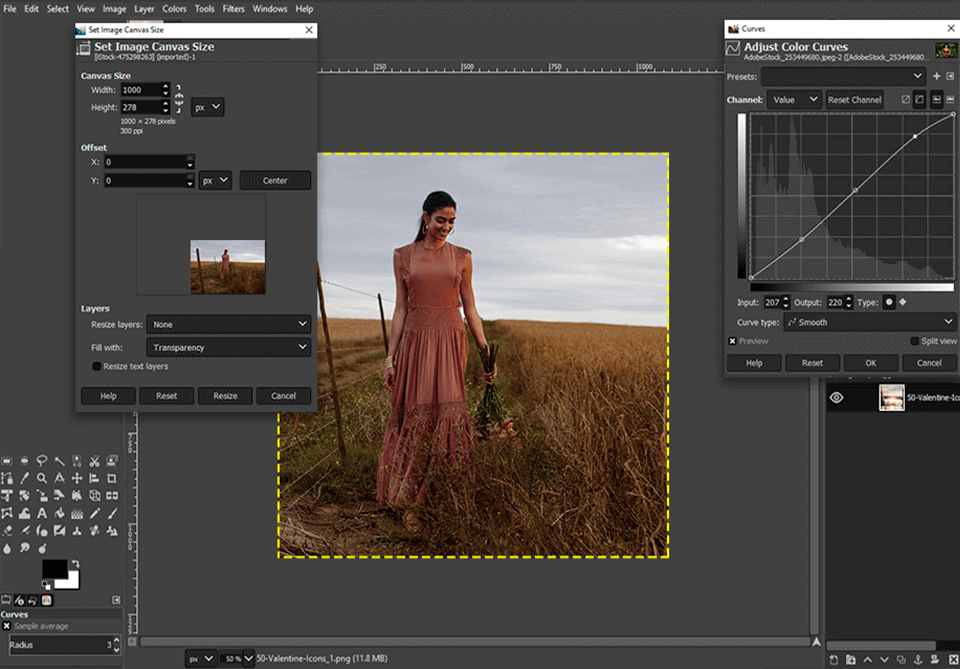 GIMP is a decent open-source Photoshop analog. It will be a perfect fit for those who require professional picture post-production functionality but can't afford paid software. If you own Gimp, you won't have to search for more free programs like Photoshop.
The GIMP's interface resembles Photoshop, which is especially convenient in case you have already dealt with Ps. The provided functionality is quite extensive and enables users to perform rather complicated manipulations.
This free photo editor like Photoshop offers the ability to work with layers and masks, adjust the colors if necessary. Moreover, users can adapt the interface to their taste in any way they wish. One more GIMP's similarity with Photoshop is the presence of numerous external plugins that greatly expand the existing feature-set.
2. Fotor – For Batch Processing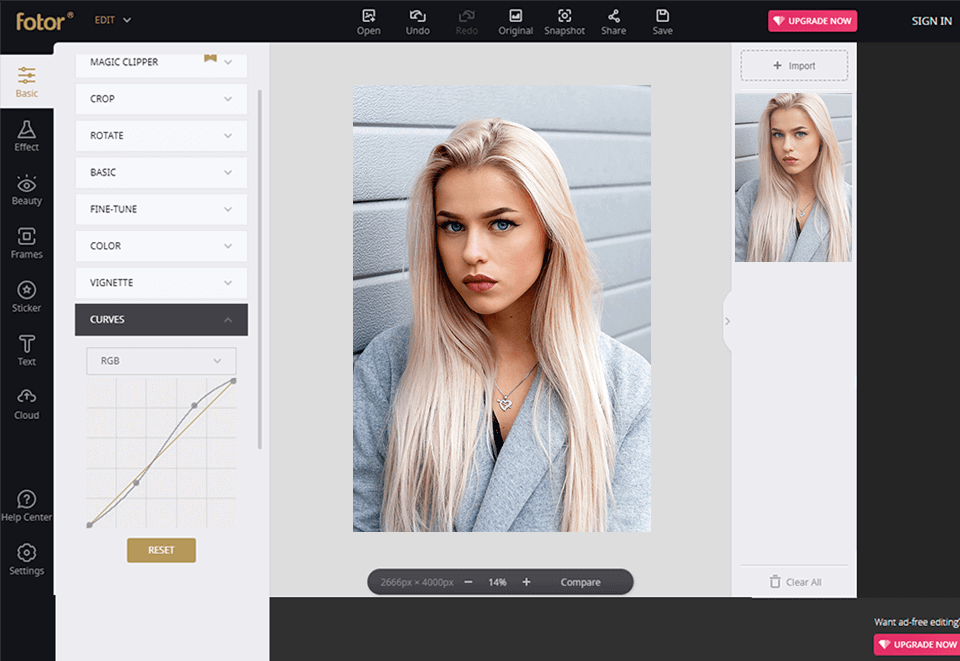 If you decide to explore more free Photoshop alternatives, you will definitely come across this photo editor. Fotor is meant for making quick picture edits. Its capabilities include picture post-processing, creating collages and standard freehand design. Fotor may be used in a browser or downloaded for free.
The interface is rather straightforward and won't bring any difficulties in use. Unfortunately, this photo editor doesn't present any local adjustment tools, such as a clone brush and a healing tool. But it offers the manual adjustment capabilities – users may tweak levels and curves, regulate Contrast, Sharpness, Saturation and Brightness.
The feature that distinguishes Fotor from other photo editors is batch processing. Moreover, Fotor is praised for stunning high-grade filters.
3. Photo Pos Pro – For Color Correction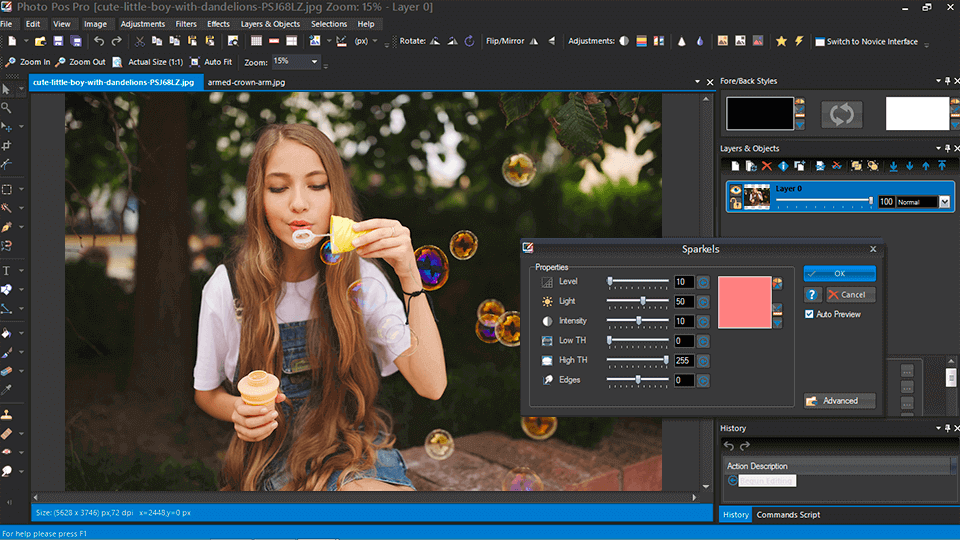 Photo Pos Pro is a remarkable photo editor like Photoshop for novice users. It offers an extensive and intuitive toolset for editing, manipulating and creating pictures. RAW file support is present as well. No matter if the user wishes to eliminate undesired elements from the shot, enhance a ruined photograph or replace the background – the photo editor will cope with it all.
The selection of plugins and extension packs is constantly developing and provides the user with full creative freedom. On the whole, Photo Pos Pro, as one of the best free photo editors presented on the market, may replace Photoshop at a decent level.
4. PaintNET – For Retouching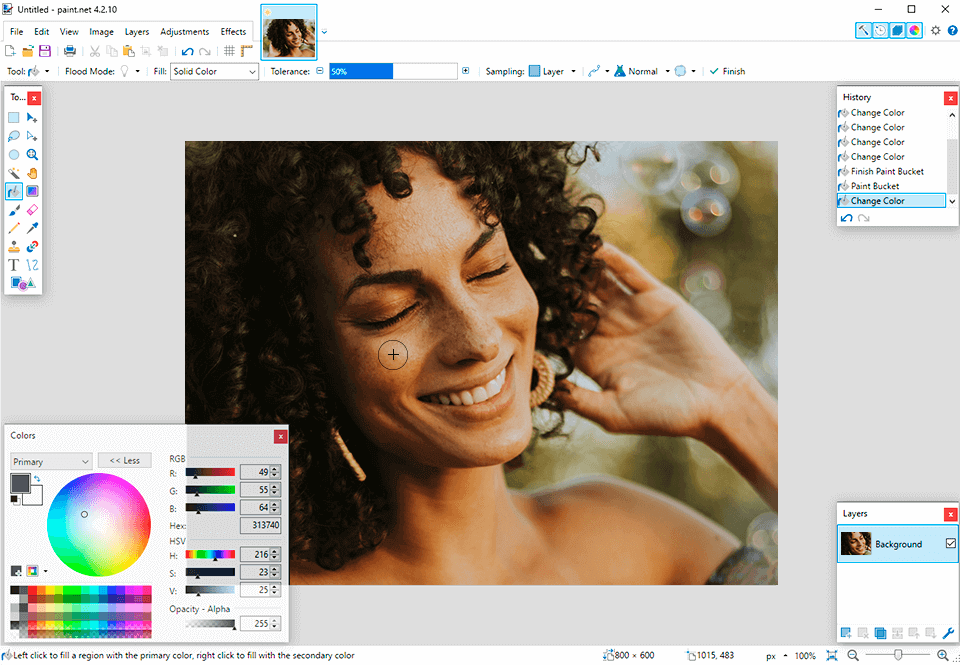 Windows users who are searching for a free photo editor similar to Photoshop are sure to appreciate Paint.NET. Initially, it was aimed at replacing Microsoft Paint, a picture editor integrated into Windows OS. Now, Paint.NET has become a straightforward program for editing pictures.
It pleases users with wonderful effects for sharpening, blurring, embossing, distorting and neutralizing red-eye from shots in a matter of minutes. The feature- and toolsets aren't as extensive, but it is possible to import free extensions to make this program more versatile. Paint.NET is a widespread photo editor so the Internet is full of forums with helpful tutorials.
5. Pixlr X – With Layers Support
Pixlr X can be used in a browser. It boasts a sleek design and an interface resembling Photoshop Express. A user may pick between a light or dark color scheme.
The photo editor makes it possible to modify colors, tweak saturation and sharpness, add blur, vignette frames and filters, as well as merge a number of pictures. Besides, it is notable for the layer support, which is often absent in similar programs, a varied toolset for drawing and painting. Pixlr X will cope even with a complicated task.
6. Seashore – Intuitive Interface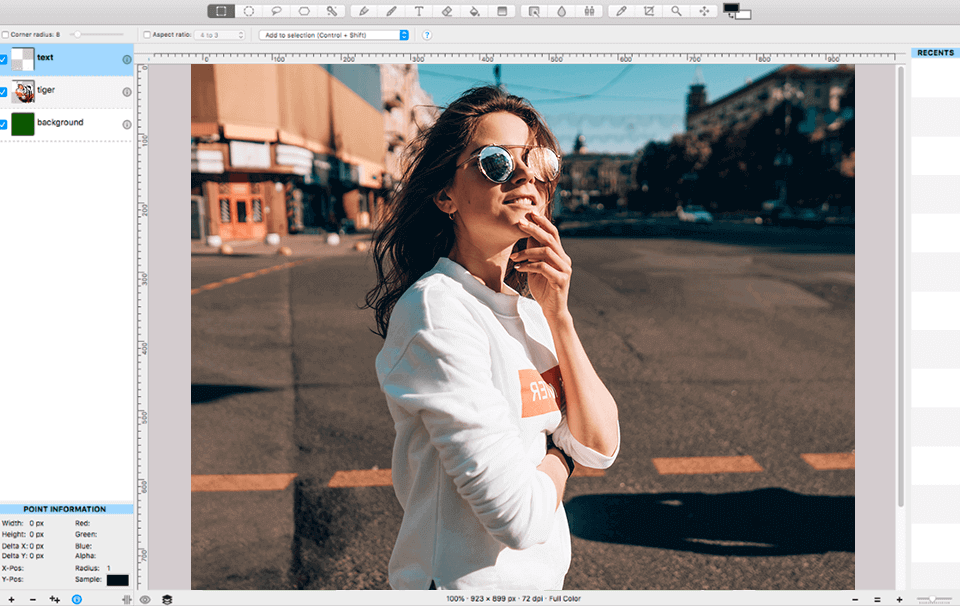 Seashore is a wonderful photo editor like Photoshop for Mac users. In terms of power, it can't fully compete with Ps. But it still boasts the sufficient picture post-production feature-set, with the presence of gradients, layers, transparency and so on.
Moreover, this open-source photo editor pleases users with an extensive toolset to zoom, crop, clone, draw, select, smudge and create standard shapes in shots. Seashore supports JPG, PNG, TIFF and XCF file formats.
Its main aim is to present users with an intuitive interface so that everyone makes the most out of a picture editing process. Opt for Seashore in case you are a total newbie in this field and require the ease of use.
7. Ashampoo Photo Optimizer – For Auto Enhancements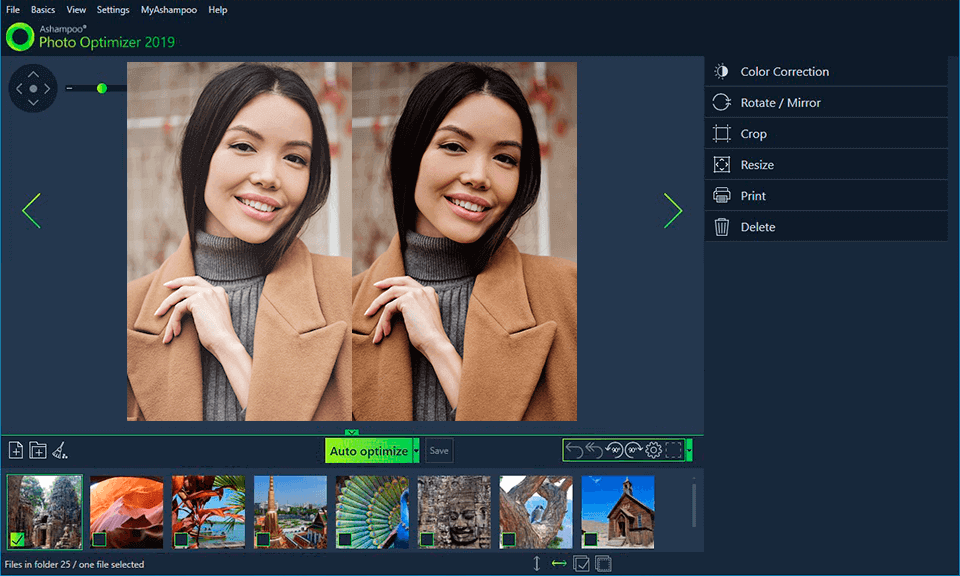 In case you have plenty of shots to edit at short notice, Ashampoo Photo Optimizer is one of the greatest options to consider. It is admired for a clear and not overloaded interface along with the total absence of advertisements.
The shots will be imported in a minute, and the user will be able to select all of them, rotate or mirror them simultaneously, which will save time considerably. A special optimization feature of this photo editor automatically recognizes lack of color, improper color temperature or terrible exposure and immediately corrects all the imperfections! With the numerous sliders available, it is possible to tweak exposure and colors manually.
8. RAW Studio – For Editing RAW Files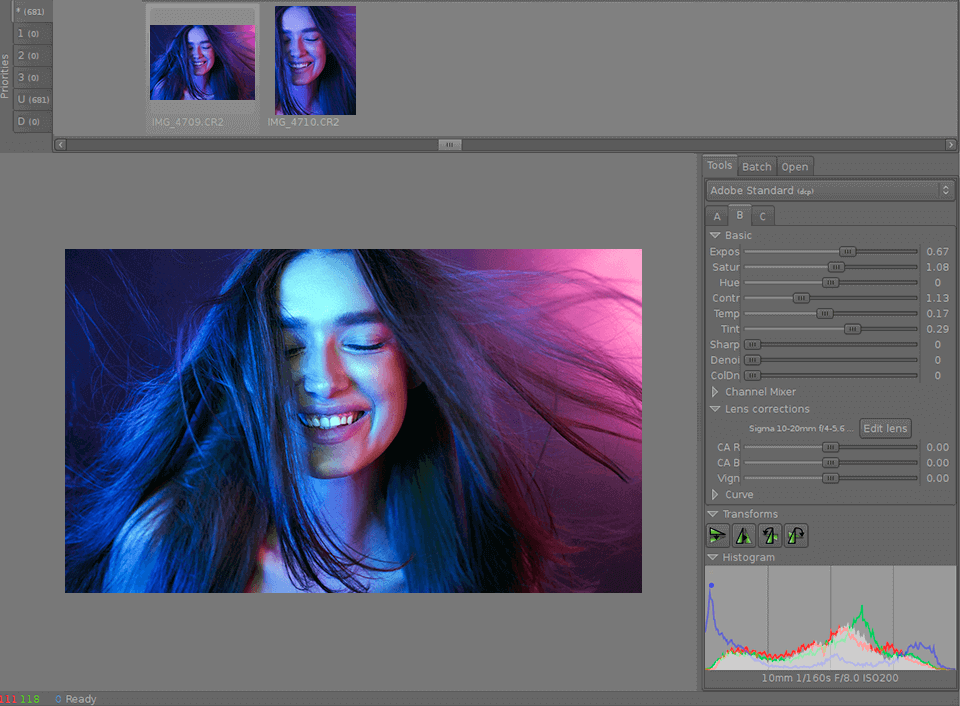 Any photographer will tell you how hard it is to deal with the RAW picture format, in particular, when the number of such files is large. That's where RAW Studio comes in handy. This photo editor like Photoshop free is developed specifically for modifying RAW pictures.
With its help, users will be able to edit pictures exactly as they have intended to and don't lose valuable picture quality. A prominent part of RAW Studio is formatting, with the presence of an efficient tool to review a number of RAW pictures simultaneously.
The initial aim of the developer was to design a photo editor that would support practically all RAW picture formats from different digital camera manufacturers.
9. PhotoScape X – Feature-Rich Toolset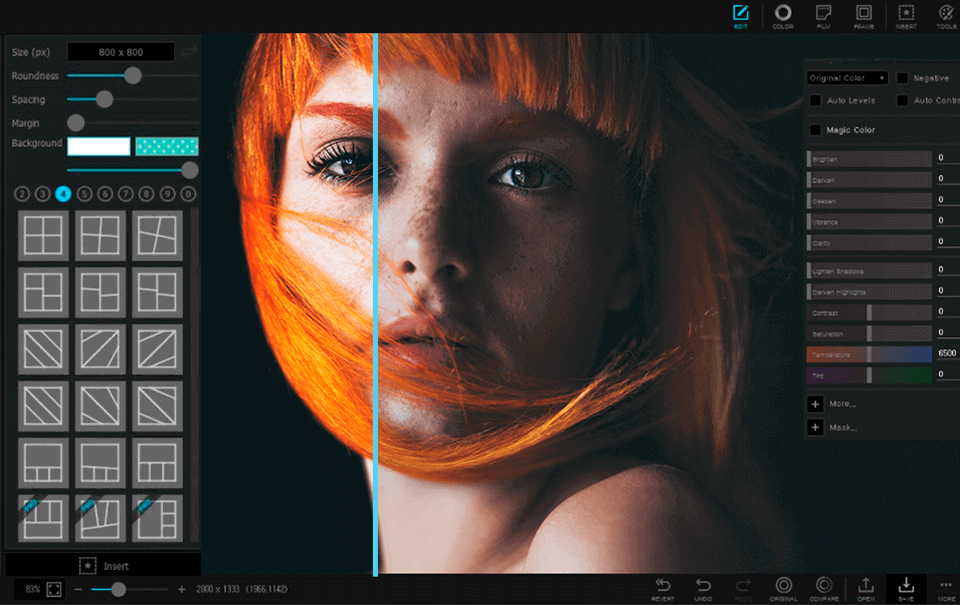 PhotoScape X is notable for the support of batch picture editing, screen captures, GIFs with animation, RAW picture post-production, picture merging and more. Besides, this photo editor enables users to work with text and graphics, provides plenty of tools and brushes resembling Ps.
The interface is straightforward, presents clear labels and isn't overloaded. Even though the toolset in PhotoScape X is aimed at professional use, I will suggest that newbies try it as well.
10. InkScape - For Graphic Design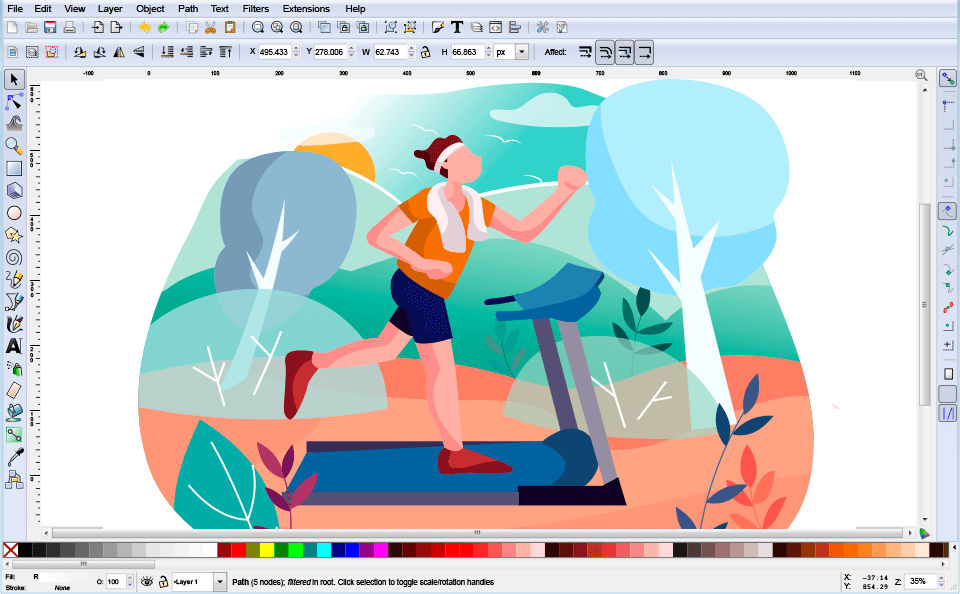 InkScape was developed for graphic design purposes, particularly for working with vector pictures. Nevertheless, it is capable of performing standard picture editing operations, like pasting, cutting and cropping. The program is praised for an efficient toolset to edit and produce awesome works of art. Some people use it for converting shots into vector pictures.
InkScape supports plenty of languages, boasts smart drawing tools and the possibility to export and import various file types. Due to such an impressive toolset and a straightforward interface, InkScape is an appropriate photo editor for newbies. Don't forget to check out more free Adobe programs for your creative projects.