Are you willing to install the new version of Windows 10 on your computer system? If yes, here is a detailed guide to making things convenient.
Windows 10 is one of the most stable versions of Windows that serves to serve the best user experience without any failure.  The guide will provide complete information about the Windows 10 installation disc, its function, features, and all the other related details. 
What is Windows 10 Installation Disc?
The Windows 10 installation disc is a data disc that stores the complete files of the Windows 10 system, with startup information, and is used to install Windows 10. This kind of disc was originally one of the Windows operating system installation media released by Microsoft.
The Function of Windows 10 Installation Disc
The Windows 10 installation disc includes the software copy of Windows 10 that anyone can install on a new blank hard drive or a new PC. The disc also includes a Windows repair tool in the form of an Advanced Recovery tool that can help you fix any Windows issues such as BSOD, unable to boot, and corrupt Windows.
The presence of a Windows 10 installation disc eliminates the requirement for any additional tools. Additionally, since it is always available on a USB or DVD, it makes it easy for anyone to install or repair.
The Features of Windows 10 Installation Disc
Anyone can create it on a USB or DVD Drive.
Built-in Advanced Recovery Tool
The easiest way to install Windows
Includes disk partition tools to help with Windows installation
Recover lost Boot Record
Download Updates during installation
Checks PC requirements
Install System with Windows 10 Installation Media
Microsoft supports users to create and use Windows Installation Media to install Windows systems. And it provides the Media Creation Tool to help users speed up the process of Windows 10 ISO downloading.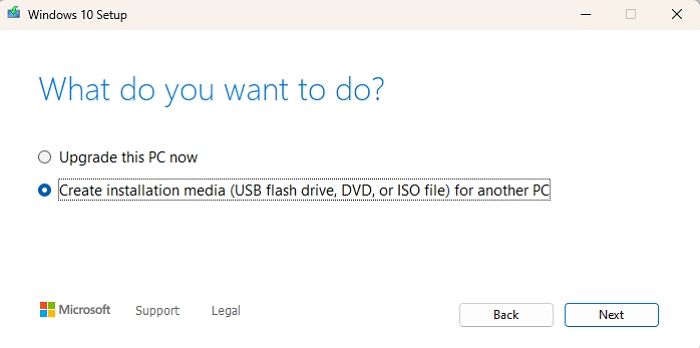 ISO (Isolation) file is a virtual image file that can copy all the information on the disc. After downloading the Windows 10 ISO file, users can burn ISO to DVD and complete the final installation task.
Conclusion
It is all about Windows 10 installation disc in detail. Windows 10 installation disc is the perfect way to get a complete copy of Windows 10 on your device. It is a solution that assists you in installing new Windows 10 or upgrading the same just by making a few clicks.