
Table of Contents

Reviews and Awards

Fast Video Downloader
[Fixed] Snapchat locked, How to Unlock Snapchat Account on iPhone?
Summary
In this page, you can find the answers to all the question about Snapchat locked issue including 'Why Snapchat locked my account', 'How long will my Snapchat be temporarily locked', 'How to unlock Snapchat account on iPhone'. Just read on to get the guide to fix Snapchat locked issue and unlock Snapchat account.
Overview of Snapchat locked issue
Snapchat is one of the most popular conversation apps among iPhone users. And with its popularity, Snapchat locked issue is becoming increasingly severe. More and more users said their Snapchat account were locked and asked for help online. "Snapchat temporarily locked, how to fix", "Why Snapchat locked my account", "How long will my Snapchat be temporarily locked", "How to unlock Snapchat account on iPhone", " Snapchat won't unlock my account", these are the questions we have collected asked most by Snapchat users. Here, we will answer all of them one by one and introduce how to unlock Snapchat account on iPhone. 
Common questions and answers of Snapchat locked issue
Question 1. Why Snapchat locked my account?
Reason 1. At most times, your Snapchat account gets locked because you are using third-party apps, plugins or tweaks like Phantom, 6snap, etc which are illegal or not supported by Snachat. 
Reason 2. Your account will be locked if Snapchat detects you are sending spam, unsolicited Snaps or messages in Chat and other abusive behavior.
Reason 3. Snapchat will also lock your account while you are adding too many friends when you haven't verified your email or phone number.
Reason 4. When Snapchat releases app updates much frequently, many accounts might get affected and locked.
Question 2. How long will my Snapchat be temporarily locked?
No matter for what reason Snapchat blocked or locked your account, you might get shocked and puzzled about how long will your Snapchat be locked. Actually, the duration Snapchat keeps your account locked is depend on what caused the Snapchat team to lock it. At most times, Snapchat is temporarily locked by minor causes and it takes several hours to days to get back or unlock your account. But sometimes, Snapchat can be permanently locked by serious causes. In this case, Snapchat team will give you a permanent ban on Snapchat services and there is no way to unlock Snapchat account.  
Question 3. How to unlock Snapchat account on iPhone?
If you've received a message saying your Snapchat account has been temporarily locked, there is a way out. Just wait and try logging in again after a day, then you can unlock and access your Snapchat account regain. And if your account has been locked for an extended period of time, you can try the following guide to unlock your account.  
Note: Before trying to unlock Snapchat account, please first make sure that you have disabled or uninstalled any third-party apps, plug-ins, and tweaks.  
Way 1. Uninstall third-party Snapchat apps or plugins
If your Snapchat is locked due to the installation of third-party apps, then you can try to completely uninstall the app or plugin from your iPhone and try to log in again. If that doesn't work, you can try to update your iOS system to the latest version and then uninstall third-party apps.
Way 2. Go to Snapchat website
If your account is unlocked temporarily, you can go to this website to unlock your Snapchat account in several hours.
Way 3. Click the yellow Unlock button, and be prepared to wait for a couple of hours.
Snapchat will be most likely to unlock your account and send you a fresh password. And if you try to log in before Snapchat is ready, you will receive an "Error To Unlock" message. If this happens, you can directly send an email yo Snapchat about your problem or just tweet about this issue and tag @SnapchatSupport. 
Way 4. Reconnect your internet
If the solutions mentioned above don't work, then you can try to reconnect your internet by putting your phone into airplane mode and turning it back on.
Way 5. Perform a hard rest on the iPhone
This is another possible solution you can use to fix the "Snapchat locked" issue. The process is listed below.
For iPhone 8 and later: Quickly press and release the Volume Down button > Quickly press and release Volume Up button > Press and hold your Sleep/Wake button until the Slide to Power Off slider appears > Move it from left to the right.
For the earlier generation of the iPhone: Hold and press the Home and Sleep/Wake button simultaneously until the Slide to Power Off slider. Don't release the button; keep holding them until you see the Apple logo.
Way 6. Reinstall Snapchat from your iPhone
The last way you can use to fix this issue is to reinstall Snapchat from your iPhone. Usually, reinstalling an App can fix most problems.
Question 4. How to unlock a permanently locked Snapchat account
Being permanently locked out of Snapchat can be frustrating. But it is not the end of the day, since you can follow the below steps to get back your account.
Step 1. Head to Snapchat Support > Select "Contact Us" > Choose "I have a login issue" > "I can't log in to Snapchat."
Step 2. Choose "I forgot my password" or, "I think my account was locked."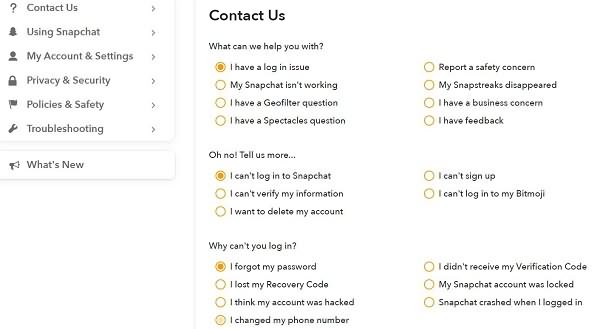 Step 3. Choose "YES" for "Still Need Help" at the bottom.
Step 4. Then, you will need to submit a form about your account information. You can write your case to let Snapchat expert know your situation.
Step 5. After that, you can wait for Snapchat to unlock your account.
How to recover Snapchat messages & chats with Snapchat recovery tool 
The tutorial mentioned above can help you unlock the Snapchat account. But what if you get your Snapchat messages, photos, videos or chat history lost due to accidental deletion, disk formatting or some other reasons, how can you retrieve them back? Here EaseUS MobiSaver, a great Snapchat recovery tool is ready for help!
For a detailed guide, please refer to how to recover Snapchat messages on iPhone. 
The bottom Line
Throughout the article, you may have known everything about the "Snapchat locked" issue. If the above solutions didn't work for you, or if you know more solutions to this issue, you can contact us to know, and we will share your ideas with others. Besides, if you meet data loss during the process of unlocking, you can use EaseUS MobiSaver to get your lost data back.