
Table of Contents

Reviews and Awards

Fast Video Downloader
Fix 'The iPhone could not be restored. An unknown error occurred (9)'
Summary
Getting error message 'The iPhone could not be restored. An unknown error has occurred (9).'? Follow the tips and solutions in this post and try to fix the issue without losing anything important on your phone.
The iPhone could not be restored. An unknown error occurred (9)
"Updated my iPhone 6 from iOS 9 to iOS 10 and then to iOS 10.3.2, now my phone won't turn off and be stuck at Apple logo. Tried to connect it to my computer and opened up iTunes to restore but failed, sending error message like this."
Besides the unknown error 9 that disables iPhone, you could see other similar error codes which are commonly 4005, 4013 or 4014. Such an error would occur when you try to update or restore you iOS devices in iTunes.
Tips for iPhone backup and restore when unknown error 9 has occurred
Before trying every means you could think of, here is a kind suggestion that everybody should follow. Rescue data and files on your iPhone when it ran into trouble and iTunes could not restore it to normal.
To access data from disabled iPhone without iTunes, you can download EaseUS MosiSaver. It's an iOS data recovery app that is able to scan and find all contacts, pictures, messages, videos and many other data files from your device's internal memory, or you can use it as an iPhone backup extractor to restore iCloud or iTunes backup.
There are 3 recovery modes you can choose to go: recover from iOS device, recover from iTunes & recover from iCloud.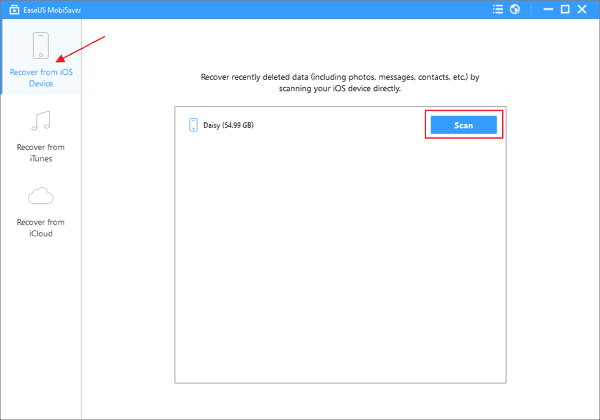 After the scan, all files that were found will be displayed. Select the target files and click Recover, so you can successfully export the important files and keep it as a backup. Now, you can start repairing the error 9 without worrying about data loss.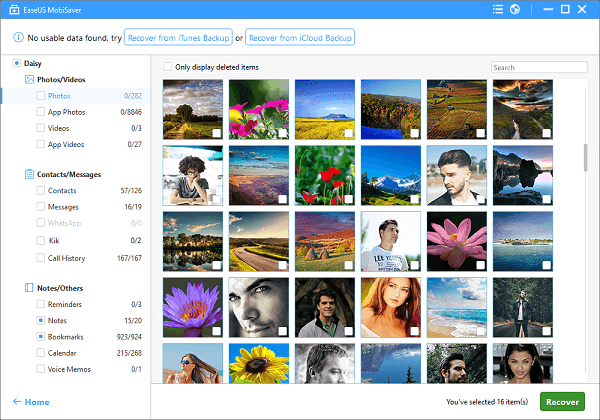 Solutions for 'The iPhone could not be restored. An unknown error has occurred (9)'
As we've explained, error code 9 are frequently seen when iOS upgrade and device restore. Hence, if iTunes couldn't recognize your device or the device has disconnected, you'll receive the error.
The iPhone [device name] could not be restored. An unknown error occurred (9)
There is a list of solutions for you to fix the error. Many people have tried on their own and shared their successful experience on some popular iOS forums.
Install the latest version of iTunes.
Restart your computer.
Check for updates to your Mac or PC. If you restart your computer for an update, check for updates again after you restart.
Try to restore your device using another USB cable.
Try to restore your device on another computer.
Force your device to restart.
Do a factory restore.
The last method, again, will result in a complete data loss. If you didn't backup your iPhone beforehand by using EaseUS MosiSaver and data got erased by factory reset, see how to recover iPhone data after factory reset.