
Table of Contents

Reviews and Awards

Best Twitch Clip Downloaders
How to Fix the Album Artwork Not Showing on iPhone Issue
Summary
The Album Artwork fails to show up or missing on your iPhone after iOS update? This article will guide you to restore lost Album Artwork songs and effectively fix and repair Album Artwork not showing up error on iPhone, iPad or iPod for you. Follow to see how to restore missing Album Artwork and get lost music files back now.
We recently received letters from Apple users who asked us to help them solve the problem that album artwork was not showing on iPhone after updating their devices to iOS 14. To help them get out of the loop, we consulted some Apple technicians and tried many methods. Finally, sort out some proven useful solutions to resolve this problem. Plus, if you're out of luck, none of these solutions help you show the album artwork. You can try recovering your music/songs/mp3 from your iPhone with the last method. 
Why Does My Album Artwork Disappear on iPhone?
Many factors may contribute to the disappearance of album artwork. Generally, these factors may include:
Delayed synchronization in account
Bugs that come with iOS 13/14 affect your album artwork
Your iPhone is running out of storage space
7 Common Solutions to Fix Album Artwork Not Showing on iPhone
Based on the factors we listed above, we find some common solutions to fix this issue. These common fixes include restarting your iPhone, updating it to the latest version, freeing up more space on your device, forcing close the Music app and re-open it, etc. To know how each tip works to resolve your problem, you can keep reading the following instructions. 
1. Restart Your iPhone
A restart is helpful in any situation where your iPhone is behaving weirdly. For example, your maps aren't working on iPhone, the touch screen isn't working, iPhone is disabled, or the flashlight won't turn on, etc. The problem that your album isn't showing can also be resolved by performing a restart. The way to restart an iPhone varies depending upon which model you own. For how to restart your iPhone, you can refer to Apple's official instructions.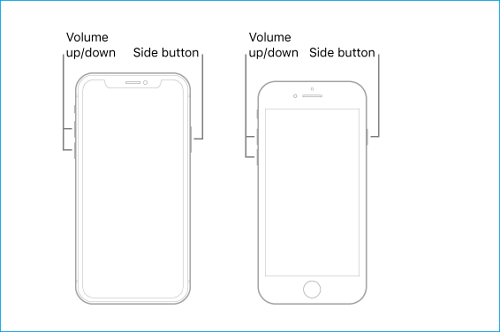 2. Force Close the Music App and Re-open It
Some iOS users reported that a force restart of the Apple Music app can also resolve this problem. Whether it works for you or not, you can try this solution. It is easy to close your Music app. If your device has a Home button, you need to double press the Home button, find the Music app and swipe up to close it. If your device has no Home button, you can swipe up from the bottom of your screen, find the Music app, and then swipe up on the icon to close it.
3. Sign out Your Account and Resign in
Sometimes, your album artwork might not be showing due to the update latency of your Music account. If this is your case, try signing out of your Music app on your Mac and then resigning in to see whether your album artwork is showing. If it doesn't work, try other solutions instead.
4. Update Your Device to the Latest Version
This method is specially prepared for devices running iOS 12/13/14. According to the questions we collect from the Apple Community, 2 out of 3 users have this issue with their device running iOS 12/13/14. That might indicate that all three versions come with some bugs that may lead to this issue. If this is your case, try updating your device to the latest version to fix these bugs.
5. Free up Space on Your iPhone
Sometimes, insufficient storage space in your system may also lead to various problems. That requires you to free up more space on your devices. There are many ways for you to free space. These methods include deleting unwanted apps on your iPhone, remove pictures, or clean up your storage. Before doing this, you can see which app occupies the most space on your device by following this path: Tap Settings > General > iPhone (or iPad) Storage. After that, you can go to check whether your artwork is loaded or not.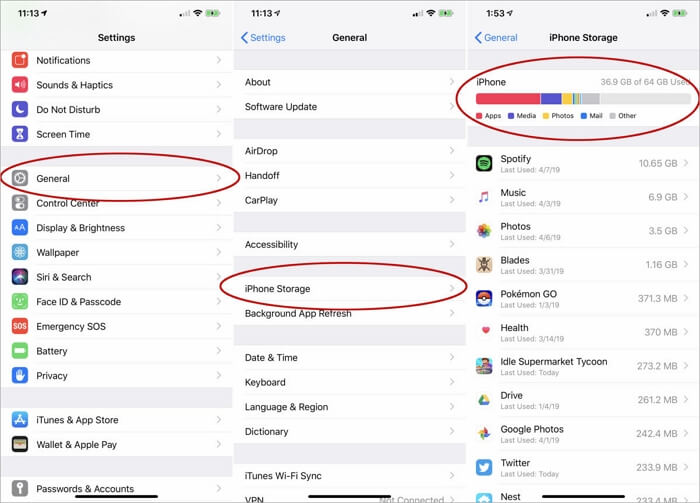 6. Delete iTunes Cache folder
You can also go to Music > iTunes > Album Artwork > Delete the Cache folder. Then quit iTunes and relaunch it to see if your album artwork is showing. 
7. Recover Deleted Songs with a Recovery Tool
If, unfortunately, none of the solutions mentioned above helps you out, that means your album artwork has been deleted or removed forever. If you want to get them back, your only hope is to use an iPhone data recovery. There are a lot of such apps in the market. Here we mainly recommend EaseUS MobiSaver for iOS to you. As a professional iOS data recovery software - EaseUS MobiSaver can scan and find all present and lost data on your iPhone or in your iTunes/iCloud backup. After scanning, you can choose and download wanted data to your device. 
To recover deleted songs with EaseUS MobiSaver for iOS: 
Step 1. Connect iPhone with PC and launch EaseUS MobiSaver on your PC > Choose "Recover from iOS Device" > Click Scan.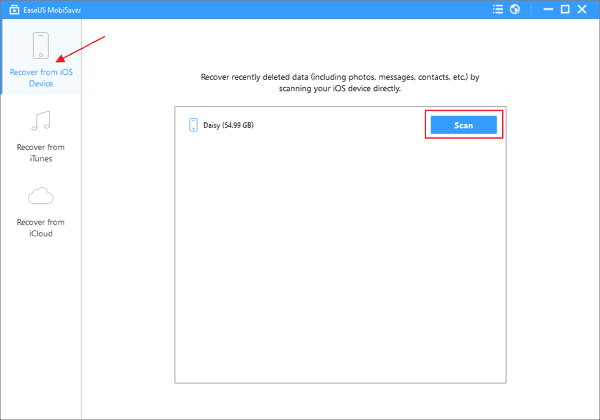 Step 2. Scan iOS devices to find present and lost iOS data on your iPhone.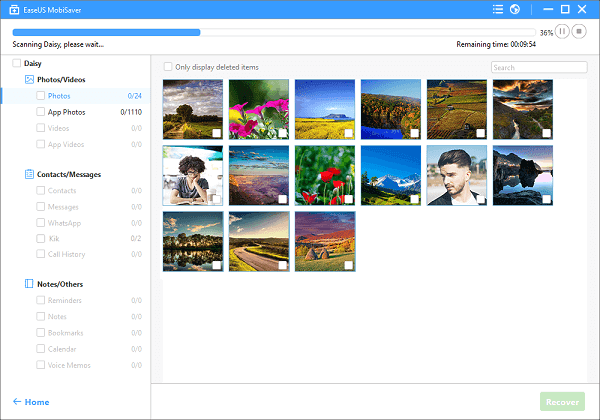 Step 3. Select the deleted MP3 or music files you want to recover > Click "Recover" to save them on your PC.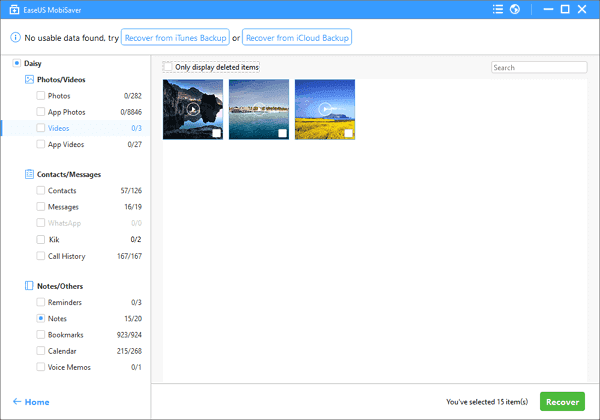 The Bottom Line
Above are all solutions that can be used to fix the "album artwork not showing on iPhone" issue. We hope this guide can solve your problem. If not, don't worry, you can stay tuned for this guide that will be updated regularly.