"I recently updated my iPhone to iOS 13. After the update, it started eating battery and I can hardly use it for more than one hour. So I decided to downgrade to iOS 12, thinking that the battery-consuming problem may be solved. However, I don't know what I did wrong. All the contacts, messages, and call history have gone. Does anyone know how to perform iPhone data recovery after iOS 13 downgrade? Where can I find cracked iPhone data recovery software? I mean the reliable one, which won't bring further damage to the iPhone data."
Cracked iPhone Data Recovery Software
You may think that cracked iPhone data recovery software with serial key can safely restore the lost pictures, notes, messages, music, calls, and other precious data. While actually, it's counterproductive. We've received many complaints from victims who attempted to use cracked software to recover precious iPhone data and lost more data in the end. Is iPhone data recovery software crack version trustworthy? Is reliable iPhone data recovery crack really existing? To avoid causing further damage to your iPhone data, there are the things you should know:
About Cracked Software
Software cracking refers to the modification of software to disable unwanted features or unlock more features like copy protection features. The modification is always achieved by manipulating the software, serial number, hardware key, date checks and more. In most of the countries, the distribution of cracked copies is illegal. And there have been lawsuits over cracking software.
The Risks of Using iPhone Data Recovery Crack
When you google "iPhone data recovery software crack", a long list of searching results is displayed. Users who are in a hurry won't think for a second then quickly click in one website. Download - install - crack- recover. The process seems so easy. Unfortunately, the result goes against their will. The common issues of using cracked iPhone data recovery software are:
Fake Serial Key: Many users find that the serial key used to crack the software can't work at all
Further Data Loss: While using a cracked version, it's possible that not only the lost data can't be recovered, the existing data is likely to be lost
Threat from Malware: When you install a cracked version of iPhone data recovery software, you may install malware or a trojan with it simultaneously
Thus, you should NEVER trust cracked software, whether it is for iPhone data recovery or for other purposes.
Better Choice: Discounted EaseUS iPhone Data Recovery Software Full Version
Much better than vicious iPhone data recovery crack, a good choice is to recover lost iPhone data with the full version of the secure, powerful and reliable iOS data recovery software - EaseUS MobiSaver.
Here we have a special offer for you. You can get a 30% discount of EaseUS MobiSaver here, which allows you to recover notes, call history, calendars, reminders, Safari bookmarks, timelines, a limited amount of photos, videos, messages and so on. If you're using a Mac, you can also get a 30% discount of EaseUS MobiSaver for Mac. Don't you think it's a perfect alternative to iPhone data recovery software cracked by unknown websites? What's more, the iPhone data recovery with EaseUS MobiSaver is also simple which requires only three steps.
Step 1. Launch EaseUS MobiSaver on your PC and connect your iPhone with it. Choose "Recover from iOS Device" and click "Scan" button.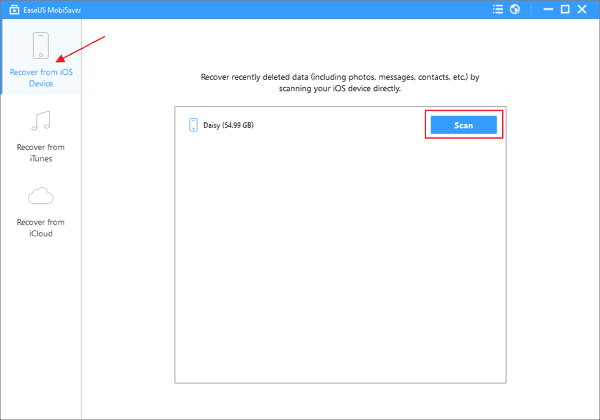 Step 2. Scan the iPhone data. Wait patiently until the app found and display all your data after finished scanning the iPhone. It may take a while, just depends on the size of the files on your device.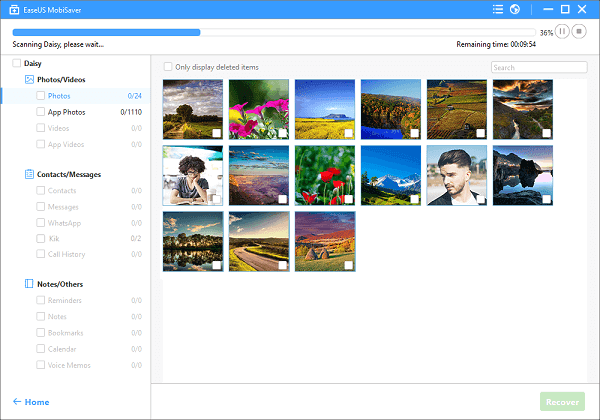 Step 3. Preview and export data from iPhone to PC. Click "file type" on the left side to preview all the found files. Choose the files you want and click "Recover" button to get all of them back at once. You can specify a folder on the computer to save all the recovered data.