
Table of Contents

Reviews and Awards

Best iPhone Data Recovery Software
Clear Data on iPhone 13/12/11 Without Deleting App
Summary
If you are running out of space on your iPhone, we can help you figure out the data that you want to delete. You can read our article in detail to find out how to clear data on iPhone step-by-step.
Running out of storage space on your iPhone iOS 13/12/11 is a real pain in the neck. Lack of space on your iPhone is a common complaint, whether you're trying to expand your movie or picture library or download a certain app.
Lack of storage capacity might also slow down your smartphone, robbing you of the enjoyable experience you hoped to have with your gadget. To increase the overall speed of your iPhone, you need to remove space on your iOS 13/12/11/10 smartphone. Therefore, learn how to clear data on iPhone in detail here.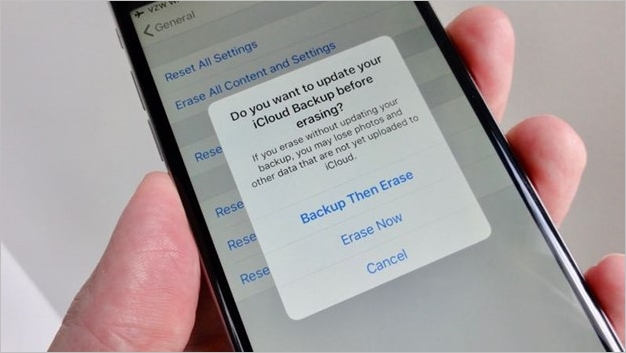 What Is System Data on iPhone
Apple claims that the storage category includes items that cannot be removed, such as the offline translation languages, fonts, dictionaries, Siri voices, logs, cache, local keychain data, CloudKit Database, and other things.
To cut a long tale short, it's a collection of a wide range of data on your iOS device and is used for several purposes.
The term "System" refers to both permanent and temporary files stored on your iPhone. Permanent files include backups, cached information, and logs. Essential system files are required for your iPhone to work properly.
By navigating to Settings > General > iPhone Storage on your iPhone, you will see how much space is being used by the System App. Keep scrolling until you reach the System option.
How to Clear Data on iPhone13/12/11
There are a lot of data caches on your iPhone: on Safari, on the rest of your applications, extensive message histories, message attachments, and so on. By deleting unused app data, you may save up storage space on your iPhone by clearing these caches.
Method 1. Clear App Cache
As long as you use the app, the app will preserve the data you have previewed so that you may visit the page again in the future. This is a common feature of iPhone apps. Clearing app cache on an iPhone may be done by following the instructions below.
Step 1. Go to the Settings menu of your mobile device.
Step 2. On the Settings screen, look for General.
Step 3. Find the iPhone's internal storage location. The storage space used up by each app on your iPhone is listed here, with the biggest apps at the top and the smallest at the bottom.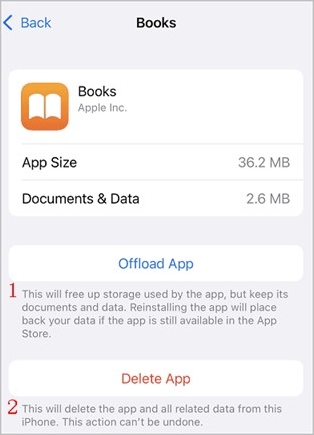 Step 4. You will notice Offload App and Delete App when you click on the app you want to remove its cache.
Delete App Data: This will remove the app from your iPhone and any associated data.
Offload App Data: The app's storage space will be released, but the data will be preserved. It is possible to recover your data by reinstalling the software.
Method 2. Clear Browsing History and Website Data
Other than deleting data on Safari (on which we will come to in the next method), you can clear your browsing history and website data in two different ways:
Sub-Method 1. Clear Data on Firefox
Step 1. In the bottom right corner of Firefox on your iPhone, press the three horizontal lines symbol.
Step 2. At the bottom of this menu, click on Settings. Data Management is the next option you have.
Step 3. Clearing data for specific websites may be accomplished by selecting Website Data while clearing data for all specified fields by selecting Clear Private Data at the bottom of the page.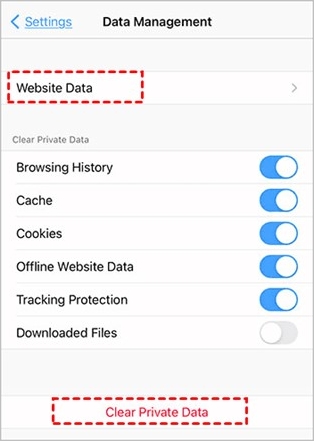 Sub-Method 2. Clear Data on Chrome
Step 1. Launch Chrome on your iPhone and hit the menu button in the upper right corner.
Step 2. As soon as you see Settings, scroll down until you find Privacy and press it.
Step 3. After selecting the Clear Browsing Data option, choose the period you want to clear.
Step 4. Select Cookies, Site Data, and Cached Images and Files.
Step 5. At the bottom of the screen, select Clear Browsing Data.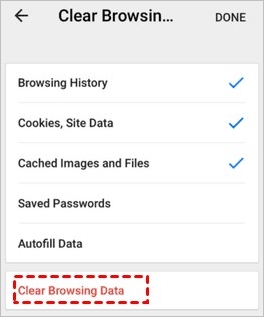 Method 3. Clear Safari Browsing History
How do you clean your browser's cache? Cleaning out your browser's cache and cookies is easy if you follow our handy step-by-step tutorial.
Step 1. Launch the app labeled "Settings" on your iPhone.
Step 2. Choose Safari from the list of applications, and then hit it.
Step 3. After that, go down the page until you find the option to Clear History and Website Data.
Step 4. Select the Clear History and Website Data option and select Yes on the confirmation box that appears.
Note: Following the completion of the confirmation, the Safari browser will immediately begin clearing its cache.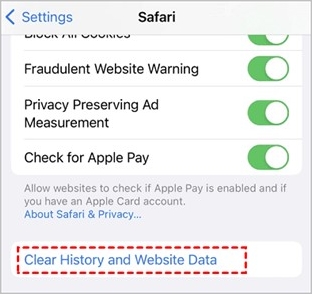 Method 4. Delete Large Message Attachments
Large message attachments are unnecessary. Similar to caches and other irrelevant data, they can slow the phone down and makes the processing slow, not to mention the obvious storage filling. Read the steps below to delete the large message attachments on your iPhone:
Step 1. Navigate to the app called Settings on your iPhone or iPad.
Step 2. Go to Settings, then General, then finally Storage on your iPhone or iPad.
Step 3. Now, choose the Messages option from the menu.
Note: You should be able to find several other categories, such as Top Conversations, Photos, and Videos, under the Documents area.
Step 4. Now, go to the appropriate category, and once there, remove any attachments that aren't needed.
Method 5. Reduce Message History
Sometimes, your iPhone is clogged with long message history that slows your phone down and makes it laggy. In this situation, you need to reduce your message history. Here's how you can do that:
Step 1. Through the Settings menu, go to the Messages area and choose the option to Keep Messages.
Step 2. You may opt to stay there for either one month or one year as an alternative to forever. Choose accordingly.
Note: You will now be allowed to remove older messages after being invited.
Recover Deleted Data on iPhone with Software
While deleting apps, contacts, and other pieces of data on your iPhone, you can lose some of your data that might be of great value to you. Do you want to bring back everyone? EaseUS MobiSaver is an iOS data recovery program that is easy to use and very professional. It can instantly recover deleted data on an iPhone, iPad, or iPod Touch.
You may swiftly recover a variety of various sorts of data from your iPhone with the assistance of EaseUS MobiSaver, including photographs, videos, contacts, messages, bookmarks in Safari, notes, voice memos, and WhatsApp conversation history. Especially when one considers how capricious iTunes can be, it is a useful addition to the backup you already have for iTunes. It certainly doesn't hurt, and that certainly doesn't help to have a little bit of redundancy, and this software is a fantastic method to achieve it.
Main Features of EaseUS MobiSaver:
Professional data recovery software for the iPhone, available for both Windows and Mac.
Recover data directly from iOS devices and backups stored in iTunes and iCloud.
Recover messages and attachments from WhatsApp, LINE, and Kik, including images, music and video files, and other media types.
Include support for the most recent version of iOS 15 and iPhone 13/13 Pro/Pro Max.
Here, we will give the full steps to recover deleted data on iPhone with EaseUS MobiSaver.
Step 1. Connect iPhone to Your PC
Launch EaseUS MobiSaver. Click "Recover from iOS device" on the left and click "Start".
Step 2. Scan for Lost iPhone Data
EaseUS MobiSaver will automatically scan iPhone/iPad/iPod, and find present data and even some lost data for you. Just wait for the scan to complete.
Step 3. Click the "Recover" Button
You can choose the lost data such as your photos, videos, contacts, SMS, notes, voice mails, and other files you want to recover and save those data to another location. 
Summary
If your iPhone has too much cache, it may operate slowly and even stop or crash. Hence, this post provides a step-by-step explanation of how to clear data on iPhone. Using those hints, you may speed up your iPhone's performance by clearing its cache and cookies.
To be safe, we suggest recovering data by using EaseUS MobiSaver if you lose some of your essential data. It is quick and easy to use.
Clear System Data FAQs
If all these steps generated questions in your mind, then look for your answers below in these frequently asked questions:
Will Updating iPhone's Software Help Clear Data?
Yes, it will. Here's how:
Step 1. Take a look at General in the Settings app.
Step 2. Then, click on "Check for an Update."
Step 3. Install the most recent iOS/iPadOS by downloading it now.
Why Is It Important to Delete Data on iPhone?
Your iPhone will fill up with unused files as you use Safari and other applications. Slowing down your iPhone will be a problem because of these files. Keeping your iPhone's cache clean is a good idea.
How Does iPhone's System Data Keep on Piling Up?
On the iPhone, system data takes up a lot of space. The storage space on your iPhone might rapidly deplete if you view many streaming video material on it.