My iPhone Shows Phone Numbers Instead of Names
"Hey there, my iPhone 8 plus becomes really weird. Every time I open the contacts, my contacts names disappear from my iPhone. It only displays numbers instead of contact names in text messages, how can I fix this issue?"
Lots of iPhone users have this kind of problem such as messages are missing after the update, iPhone contacts suddenly disappeared or iPhone keeps deleting messages without asking. There have been reports surfacing on many forums and even on Apple Communities claiming that iPhone contacts have suddenly gone missing no matter they run the latest iOS 13 or other old iOS versions, showing only numbers, no names.
Steps to Fix iPhone Contacts Names Missing Issue
Just relax, your contacts have not disappeared, they are just not showing up properly. Try these reliable solutions below, and restore the missing contacts names.
Six steps to restore your iPhone contacts:
Step 1. Restart Your iPhone
Actually, restarting your iPhone helps a lot. Most users find it effective. If you are bothered with the names of the missing contacts, the very first thing to do is restart your iPhone.
Step 2. Toggle Contacts in iCloud Off and On Again
One of the easiest ways to bring back your missing names is to toggle Contacts in iCloud on and then off again to fix it. Here's how to do that.
1. Go to Settings > iCloud and turn the Contacts toggle off.
2. You will be asked to delete or keep previously synced contacts. Choose "Delete from My iPhone". Don't worry you will not be losing anything, your contacts are still in iCloud.
3. Turn Contacts on and your iCloud contacts should now be back on your device.
Then you can see whether the names of the contacts are back or not. If it fails, follow the next step and get the names of the missing contacts back.
Step 3. Change Your Contacts Settings
1. Go to contacts app. Click groups at the top of your contacts page. Choose "All on My iPhone" instead of "All iCloud".
2. Check to see if the contacts have come back. If not, try our 3rd option.
Step 4. Turn Individual Accounts Off and On
Go to Settings > Accounts and Passwords.
Select each account that syncs your contacts with your device (like Gmail, Outlook, iCloud, and so forth.)
Open each account and toggle the Contacts button OFF, wait 10-20 seconds, then toggle back ON. After performing this on all connected accounts, check if the issue is solved.
Step 5. Try Forcing Your Contacts to Rebuild.
Open any random contact on your iDevice. Make some edits to the information (like adding a fax number or home phone number—even if it's a fake number) and save. Restart your device by using the Slider to power off the device or Settings > General > Reset > Shut Down. Then power up your iPhone
Step 6. Use EaseUS MobiSaver to Recover Missing Contacts
If your contacts and contacts names are still missing, you should take a third-party iPhone data recovery tool into account. The best choice is EaseUS MobiSaver. The software can help you retrieve almost all types of files. Now you can follow the below guide to start your iPhone contact recovery job.
1. Connect iDevice with PC. Launch EaseUS MobiSaver on your PC.
Choose "Recover from iOS Device", "Recover from iTunes Backup" or "Recover from iCloud Backup" and click Scan.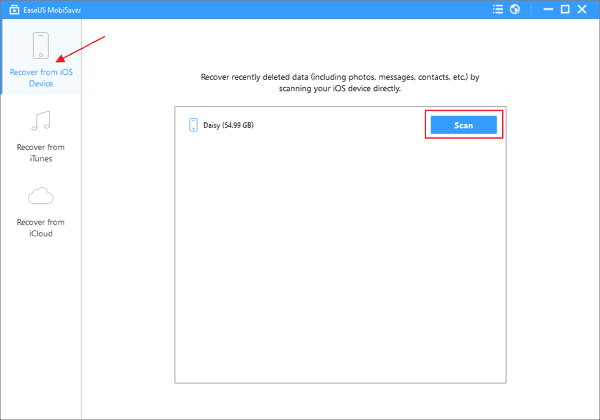 2. Scan iOS Device, iTunes or iCloud and find contacts.
EaseUS Mobisaver will automatically scan iOS device, iTunes or iCloud and find present data and even some lost data for you.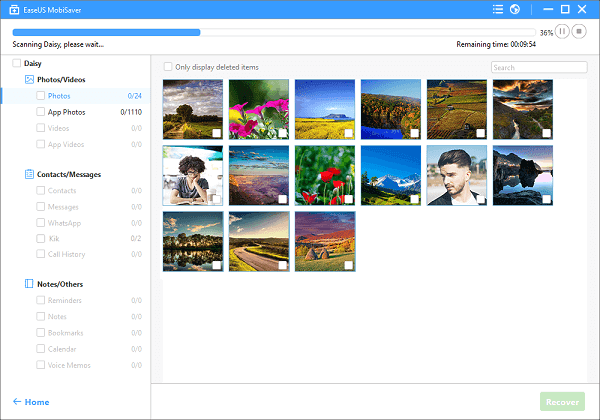 3. Preview and restore.
You can choose the important data such as your contacts, photos, SMS or other data to click Recover and save those data to a safe spot in on PC.
Note:
Please stop using the iOS device when you lose contacts, messages or other data after updating to iOS 10.
EaseUS MobiSaver requires a serial number for activation and you may need to purchase one.