
Table of Contents

Reviews and Awards

Best 20 YouTube Video Downloaders
[Solved] Fix iPhone Contacts Missing Issue with Tips
Summary
It can be annoying if the iPhone contacts missing from your iPhone. It that, unfortunately, happens to you, don't worry, this guide will show you some solutions to this issue.
It can be a disaster if contacts are missing from your device. If you are lucky enough to create a backup, you can restore iPhone from iTunes or iCloud to get the lost contacts back. While if you haven't made any backup, how to fix the "iPhone contacts missing" issue?
To solve this problem,  you have two options: find some solutions to address it or use a third-party recovery tool to recover missing iPhone contacts directly. Whichever the way you desire to use, this guide gets you covered.
Why are some of my contacts missing from my iPhone?
Before you start, it's smart for you to know all possible factors that may result in the "iPhone contacts missing" issue so that you can avoid losing contacts in the future. 
1. Software upgrade. 
Sometimes, the new iOS system not only brings bug fixes but bugs itself. That's why some users may encounter many iOS issues such as iPhone keeps freezing, stuck in verify the update, files disappeared, etc. To prevent it, you'd better back up your iPhone, check iPhone compatibility, ensure adequate storage space, ensure consistent power supply, etc.
2. iPhone jailbreak. 
Jailbreaking iPhone via some third-party applications also causes data loss. To avoid that, before performing jailbreak, you can back up your iPhone, upgrade it to the latest iOS version, ensure it is fully charged, and make sure that there is enough free space of about 2GB on your iPhone.
3. Hardware issues. 
This is the most common source of data loss. It often appears when someone interrupts his phone during charging or takes out the battery during a vital firmware update. Thus, it is necessary to make sure a consistent power supply while upgrading.
4. Virus causes. 
Currently, there are more and more viruses and malware are being designed for iOS. These viruses can attack not only your device but also cause data loss. To get rid of the virus, you'd better not browse illegal websites. 
5. Maldeletion.
Male deletion is just a simple human error. Sometimes, you may accidentally hit the delete button when you really mean to push other buttons. 
How to Fix Contacts Disappeared from iPhone
Just relax, your contacts have not disappeared; they are just not showing up properly. Now, you can try the feasible solutions below to fix the "iPhone contacts missing" issue quickly.
Solution 1. Restart Your iPhone 
Restarting your iPhone helps a lot. Most users find it useful. If you are bothered with the names of the missing contacts, the very first thing to do is restart your iPhone.
Solution 2. Toggle Contacts in iCloud Off and On Again
One of the easiest ways to bring back your missing names is to toggle Contacts in iCloud on and then off again to fix it. Here's how to do that. 
Step 1. Go to Settings > iCloud and turn the Contacts toggle off.
Step 2. You will be asked to delete or keep previously synced contacts. Choose "Delete from My iPhone." (your contacts will not be removed from iCloud)
Step 3. Turn Contacts on, and your iCloud contacts should now be back on your device. Then you can see whether the names of the contacts are back or not. If it fails, follow the next solution to get the disappeared contacts back.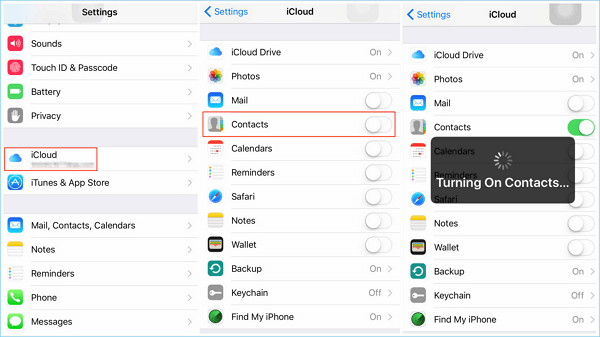 Solution 3. Change Your Contacts Settings
Step 1. Go to the Contacts app. Click groups at the top of your contacts page. Choose "All on My iPhone" instead of "All iCloud."
Step 2. Check to see if the contacts have come back. If not, try our 3rd option. 
Solution 4. Turn Individual Accounts Off and On
Step 1. Go to Settings > Accounts and Passwords. 
Step 2. Select each account that syncs your contacts with your device (like Gmail, Outlook, iCloud, and so forth.) 
Step 3. Open each account and toggle the Contacts button OFF, wait 10-20 seconds, then toggle back ON. After performing this on all connected accounts, check if the issue is solved.
Solution 5. Try Forcing Your Contacts to Rebuild 
Step 1. Open any random contact on your iDevice. Make some edits to the information (like adding a fax number or home phone number—even if it's a fake number) and save. 
Step 2. Restart your device using the Slider to power off the device or Settings > General > Reset > Shut Down. Step 3. Then power up your iPhone
Solution 6. Use EaseUS MobiSaver to Recover Missing Contacts
If none of the above work for you, there is only one option left. Recover the lost contacts from iTunes and iCloud if you have made a backup before. Besides, make sure that these backups contain your disappearing contacts. Otherwise, all of your existed iPhone data will be erased by backup files.
To help you out with your missing contacts problem without erasing existed iPhone data, we recommend you use this professional iPhone data recovery tool - EaseUS MobiSaver to retrieve contacts from iTunes/iCloud backup. Even that there is no available backup, you still have the chance to recover files without backup. Now you can follow the below guide to start your iPhone contact recovery job.
1. Connect iDevice with PC. Launch EaseUS MobiSaver on your PC. 
Choose "Recover from iOS Device", "Recover from iTunes Backup" or "Recover from iCloud Backup" and click Scan.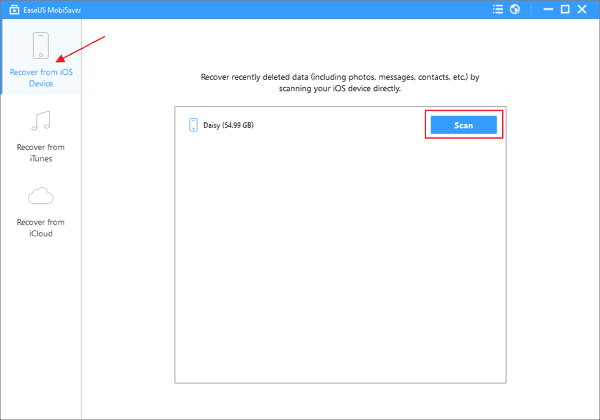 2. Scan iOS Device, iTunes or iCloud and find contacts.
EaseUS Mobisaver will automatically scan iOS device, iTunes or iCloud and find present data and even some lost data for you.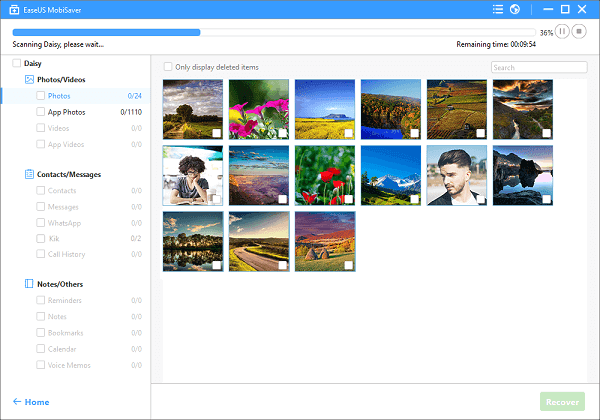 3. Preview and restore. 
You can choose the important data such as your contacts, photos, SMS or other data to click Recover and save those data to a safe spot in on PC. 
Note:
Please stop using the iOS device when you lose contacts, messages or other data after updating to iOS 10.
EaseUS MobiSaver requires a serial number for activation and you may need to purchase one.
The Bottom Line
We're happy to share you with our experiences to fix the "iPhone contacts disappeared" issue. From this page, you can see that many reasons may result in data loss on the iPhone. Whichever the reason is, you can fix it with tips offered in this guide.