
Table of Contents

Reviews and Awards

Best iPhone Data Recovery Software
How to Recover Kik Photos on iPhone and Android
Summary
This article explains the possible reasons for Kik photo loss. If the picture is lost, you can use the four methods mentioned in this article. Furthermore, EaseUS MobiSaver can help users recover permanently deleted pictures on iPhone and Android.
"I accidentally deleted a bunch of Kik photos on my phone. How can I recover these photos?"
Are you facing the same issue? Read on to find your perfect solution!
Losing your necessary data is always a dilemma that almost everyone has gone through. You can lose data for several reasons, but recovering it seems pretty hard, especially when it's about messaging apps like Kik. 
If you just found yourself stuck in the same situation? Then this article is what you'll need the most. Keep reading to find your best way to recover Kik photos.
How Do You Lose Photos on Kik
Kik is the messenger app gaining people's attention worldwide due to its accountability and sustainability. It allows its user to chit-chat with their friends and share photos, videos, and other different files without needing your mobile number registration.
Like any other app data, Kik messenger app data is also important. But, there are chances that you lose them. Let's discuss the main reasons below: 
Accidental deletion: You can lose access to Kik photos if you or someone else mistakenly deleted the photos by pressing the delete key. 
Virus attack: When we transfer or download data from other unauthentic devices, there are chances of having a virus in your device too. The data gets corrupted due to virus infection and malware attacks. In this case, all the photos will be infected, and you may not be able to use them.
Factory reset: If your mobile has recently gone through the factory reset process, it will delete the photos and all the data available on your device.
Power surge: Unexpected increase in voltage while your phone is on charging can also lead to data loss.
How to Recover Deleted Kik Photos on iPhone/Android in 4 Ways
Now that you know the scenario that might be responsible for your data loss. Let's move forward in finding a reliable solution. Do you want to know about the best recovery method? In this part, we're going to discuss the same.
Deleted Kik photo recovery is somewhat impossible. The app doesn't allow you to recover the data once you delete it. But, don't worry. There's still hope for the Kik users if they already know what's next to do. 
To help you cope with such a situation, we've compiled the four best Kik recovery methods. You can try any of them that fits you the best. 
Method 1. Recover Kik Photos from Kik History
Checking the history of the chat is the first thing that comes to everyone's mind as their essential data gets deleted. This method is more straightforward yet accessible when compared to other methods.
If you just deleted the photos or text you regret, it can be recovered using Kik history. Kik messages are stored for up to 48 hours, and it's recoverable within this frame time. Just ask your friend to whom you were chatting to send back the file you accidentally deleted from their chat.
Note: Remember that the app will save only 600 messages within the time of 48 hours. If the message amount is more than that, you can't find some of the messages.
Method 2. Recover Kik Photos from Phone Backup 
If you've tried the above method but found that your friend's chat is also deleted, using a backup is always the next option.
Android and iPhone both offer a backup option. If you're an iPhone user, you can use an iTunes account to backup your Kik photos. You can use the Gmail account to backup your essential data and Kik photos if you're an Android user.
If you've been regularly taking a backup, you can follow the steps below.
Recover Kik Photos from Phone Backup on iPhone
Being an iPhone user, you must have a regular habit of syncing your iPhone with iTunes once in a while. If yes, there's a strong chance that your iTunes has those Kik photos you might be searching for.
Here are the steps to recover Kik photos from phone backup on an iPhone. 
Step 1. Connect your iPhone to the computer and launch iTunes.
Step 2. In iTunes, click on your device.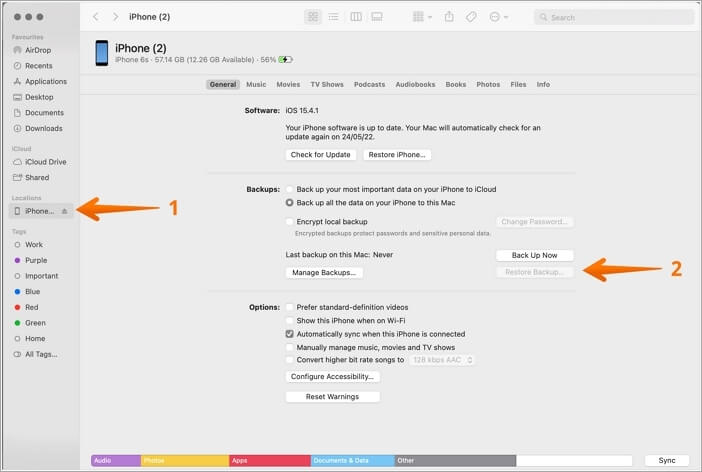 Step 3. Select your device with the right-click menu and choose "Restore from backup".
Step 4. Select the newest backup and continue.
Recover Kik Photos from Phone Backup on Android
If you aren't an iPhone user, then don't worry. We've mentioned the method to recover your Kik photos using the Android phone backup option.
Every Android device comes up with the backup and restore option that gives significant relief to its user in case of deletion or loss of their essential data. You can only utilize this if you've already backed up the deleted files into your android phones. 
If you already have a backup on your side, then follow the steps below to get back your deleted Kik photos on Android.
Step 1. Go to your android settings from your home screen.
Step 2. Select the Backup and Restore option. (In some devices, you'll have to select the "Accounts" option, and then you'll have the Restore and Backup option.)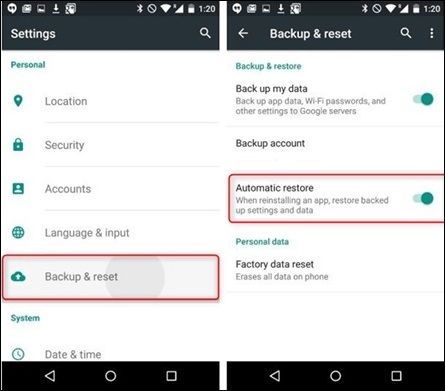 Step 3. To start the recovery process, click the Automatic restore option. 
Your files will begin to be recovered on the phone. Depending on the phone and the file size, recovery could take some time.
Method 3. Recover Deleted Kik Photos on iPhone with iOS Data Recovery Software
If you haven't chosen to backup iPhone data to iCloud or iTunes, you would need to take iOS data recovery software into account. You'll need a professional tool like EaseUS MobiSaver for iPhone. Its name already entails it as the mobile saver as it helps you recover all your data from your phone quickly and efficiently.  
Main features of EaseUS MobiSaver for iPhone
Do you want to know more about this amazing software? If so, we've mentioned some of its key features below. Let's take a look at them.
Unlimited data recovery: It recovers unlimited data from contacts to photos and videos from your iPhone device.
Free lifetime upgrade and technical support: It offers free technical support with a lifetime upgrade to help you use the software with ease and solve any errors within seconds. 
Recover permanently deleted photos: You can restore your permanently deleted photos with three-step recovery methods. You can connect your device, select the mode (Device, iTunes, iCloud), and restore the data. 
System support: You can restore your Kik photos and other important data from Windows and MAC both. 
If you want to restore data from multiple devices, you can also buy the EaseUS MobiSaver Technician edition. It is preferred for enterprises and IT service providers. Follow the below steps to recover deleted Kik photos:
Step 1. Select Device Storage
Connect iPhone to your PC and Launch EaseUS MobiSaver. Click the "Kik" button, and select "Device Storage" to recover Kik Data from iPhone.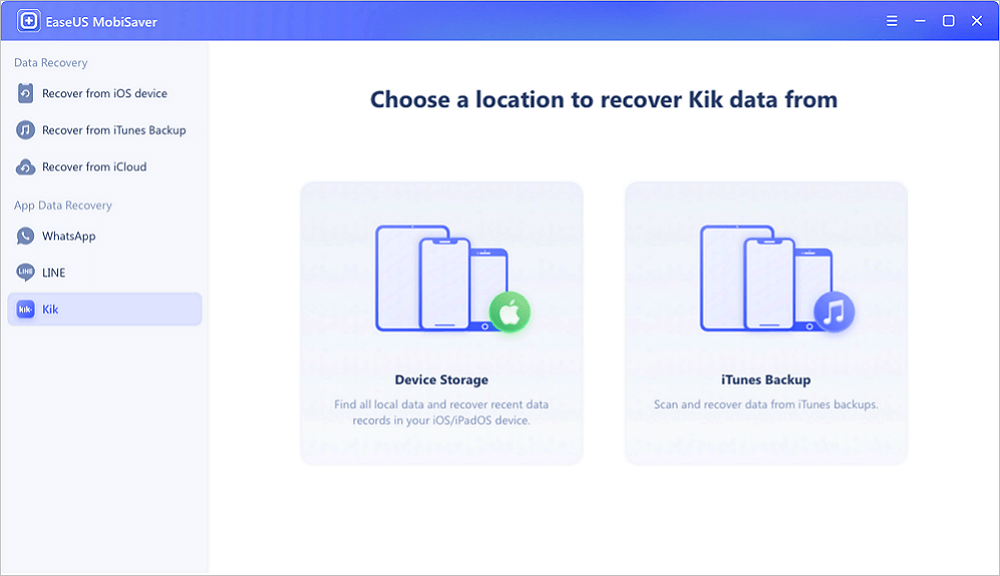 Step 2. Make Sure Your Phone Has Kik
If the Kik is not installed on your device, your device will not be detected.
Step 3. Scan iPhone to Find Kik Data
EaseUS Mobisaver will automatically scan iPhone 13/12/11/X/XR/XS/8/7/6/5/4, and find present Kik data and even some lost data for you. This process may take few minutes, and please wait patiently.
Step 4. Preview and Restore Kik Chats/Attachments
Select the "Kik" button on the left and the missing chats and Kik files will be displayed. Just preview and select the data you want to recover. Click "Recover to PC" or "Recover to Device".
Method 4. Recover Deleted Kik Photos on Android with Android Data Recovery Software
If you haven't backup your photos on android or any other method doesn't work for you, then using EaseUS MobiSaver for Android always comes in handy for all android users. This phenomenal data recovery software has taken everyone's attention with its magnificent recovery process.
Main features of EaseUS MobiSaver For Android
The unique features of EaseUS MobiSaver for Android will surely amaze you. Below we've highlighted the key features of this incredible android recovery software.
Device rooting: While using EaseUS MobiSaver for Android, you can restore your Kik photos without even rooting your device.
No data loss: If you're using this tool to recover deleted Kik photos on Android, then you don't have to worry about data loss. The advanced algorithm ensures that there is no data loss during the recovery process.
Data protection: It's 100% protected software that detects lost files while keeping your privacy under protection. 
Media recovery: You can not only recover Kik photos, but you can also recover deleted messages, contacts, and other media. 
Preview the files before the recovery process: The professional tool allows you to preview all the photos before you go through the recovery process.
If you want to recover deleted Kik photos on Android from multiple devices, you can also go for EaseUS MobiSaver for Android Technician. It is recommended if you need a recovery tool for your enterprise. Follow the below steps to recover deleted Kik photos on Android:
Step 1. Connect your Android phone to the computer
Install and run EaseUS MobiSaver for Android and connect your Android phone to the computer with a USB cable. Then click the "Start" button to make the software recognize and connect your device.
Step 2. Scan Android phone to find the lost data
After connected your Android phone, the software will quickly scan the device to find all the existing and lost data. You can easily find the lost files you want by choosing the correct file types.
Step 3. Preview and recover data from Android phone
Preview all the recoverable files and select the items you want to recover quickly. Then, click the "Recover" button to get the selected files back once.
How to Keep Kik Photos Safe 
Now that we've understood how we can restore the Kik photos, let's discuss some ways to keep the photos safe for the future. 
To keep your Kik data safe, you need to take some measures that would help you out in accidental deletion. Some of them are enlisted below.
Remember to use a password for your phone: Most of the time, accidental photo loss is caused by a child getting hands on their phone because they don't know how to use it. Using a strong password would be suggested to keep your phone access away from the children.
Store your photos on external hard drives: Creating multiple backups is the best way to cope with the data loss problem. You can copy your data into the external hard drive to keep your photos and other data safe.
Create a Kik photos backup on Gmail/iCloud: Using built-in functionality, you can store the data on Gmail and iCloud accounts. This is a simple and easy method to have a backup of your important files. You can save your contacts, music, photos, videos, and documents from your Kik messenger.
Update your Apps and operating system: Apps and operating systems both receive updates frequently that offer improved security and new features. It will also keep your phone data safe from getting corrupted due to any malware or virus attack.
Kik Photo Recovery FAQs:
After thorough research, we get to know what Kik users frequently search for. Following that, we've mentioned the few frequently asked questions below to help our reader get all their answers in one place. 
1. Does Kik save old photos?
Kik is like a push message service. Therefore, it won't store your old photos. For that, you need to create a backup of your photos.
2. Where are Kik Pictures stored?
That's relatively straightforward; once you select the option to save the picture from the Kik app, you'll find them in your gallery or DCIM folder. 
3. How do I retrieve photos from Kik on my iPhone?
You can retrieve photos from Kik on your iphone using the iTunes backup if you've already created it. If you haven't made a backup, then using EaseUS MobiSaver for iPhone is highly recommended to recover deleted Kik photos.
4. Can Kik messages be recovered?
Kik doesn't allow the users to recover the deleted media. But, there's still a way to get them back if you've created a backup or downloaded a recovery software like EaseUS MobiSaver.
Conclusion 
Nobody wants to lose their important photos; therefore, creating a regular backup can help you in any unwelcome data loss. But unfortunately, if you lose your data, you can get back your deleted Kik photos from your phone using the methods mentioned above.
Among all the methods mentioned within this post, we highly recommend using EaseUS MobiSaver. This software is available for Android and iPhone both. Using this advanced tool, you can recover your Kik photos in 3 simple steps. 
So what's left to think? Download it now.