
Table of Contents

Reviews and Awards

Best 20 YouTube Video Downloaders
[Solved] iPhone Keeps Freezing After Update iOS 12/11.3/11
Summary
iPhone keeps freezing and crashing after iOS 13/12/11.3/11 update! Read this article and find solutions on how to fix iPhone keeps freezing and crashing randomly after iOS update.
iPhone Screen Keeps Freezing After Updating to iOS 12/11
It is well-known that updating your iPhone is an important way to keep it functioning well, and it allows you to access all the latest features that are available through Apple's mobile operating system. When your update goes right, it means discovering the latest tricks and toys on your phone. However, when it goes wrong, it means great trouble. Many iPhone users have complained that their iPhone keeps freezing after updating their phone to the newest iOS version.
We absolutely understand that if your iPhone keeps freezing, it not only disrupts your work but also leaves you clueless as to where and how to look for a solution. Now, if you're one of them and want to know what is to be done if your iPhone X/8/7/6 keeps freezing, then this article will definitely help you.
This article will be divided into two parts to help you solve your iPhone freezing issue and recover lost data such as messages, contacts, and photos with ease.
Two parts to fix your freezing iPhone:
Part 1. Four Solutions to Fix iPhone Freezing Issue
Here are a few solutions that have helped other users resolve their iPhone freezing problem. You may not need to try them all, just work your way down the list until you find the one that works for you. 
Solution 1. Restart Your iPhone to Fix iPhone Keeps Crashing/Freezing
It is advisable to exhaust the simple remedies before adopting the tedious techniques because most of the times, quick and easy solutions can solve the biggest of problems. Taking a restart for 1-3 times, this error will be gone. But you should notice that this way may solve it temporarily, and it will come in a period, according to some users' feedback.
Solution 2. Reset All Settings on iPhone
There could be an issue in your settings leading to iPhone freezing after the update. So you can try resetting all settings to fix it. Got to Settings > General > Reset > Reset All Settings. This way will not remove exited data like photos, messages, contacts, etc, but it will reset your general preferences in Notifications, General, Sounds, Touch ID, Brightness, and some other features.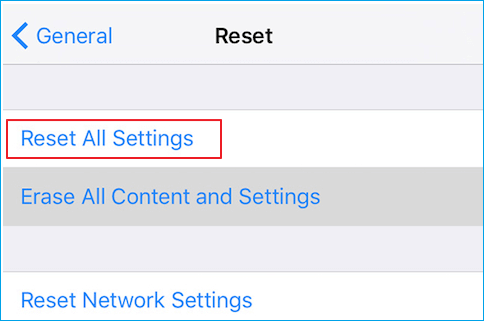 Solution 3. Downgrade to Earlier iOS Version
If your iPhone didn't have this freezing issue on the earlier iOS version, you can try downgrading it to the old one.
Solution 4. Perform a DFU Mode Update/Restore
A DFU mode is a special state where your phone is able to communicate with iTunes without it fully turned on. The iTunes program will attempt to preserve your settings and contents while performing an update or restoring your iPhone through DFU mode.
Here's how to perform a DFU mode update or restore on your iPhone 6 Plus:
Connect your iPhone to a computer using the OEM or Apple-provided USB cable. Make sure the computer is running the latest iTunes version.
While your iPhone is connected, press and hold the Power and Home buttons.
Release both keys when you see the iTunes logo, arrow, and lightning cable on the screen.
You will then be prompted to either Restore or Update your iPhone through iTunes. Select Update to proceed with a firmware update, or Restore to restore from a backup. If you got lucky, things should be back to normal after the process.
Selecting the Restore option will erase all settings and contents from your device. That said, be sure to back up your device before you proceed.
Part 2. Recover Lost Files from iPhone After Fix the Freezing Screen
After trying the above solutions, if you lose files like photos, videos, messages or contacts, then we will suggest you use EaseUS MobiSaver. It is the world's first iPhone data recovery software that can recover all lost information like photos, songs, videos, calendar schedules, notes and even more from iPhone 11/X/8/7/6, iPad 2/1, the New iPad and iPod touch.
Method 1. Recover Data Directly from iPhone
The easiest way to solve this is to recover or restore data directly from your iDevices. Let's see how to make it.
1. Connect your iPhone to the computer
Connected your iOS device to the computer and run EaseUS MobiSaver, choose your iPhone 11/X/8/7/6 in "Recover from iOS Device" mode and click "Scan" to make the software scan the device to find all the data on the phone.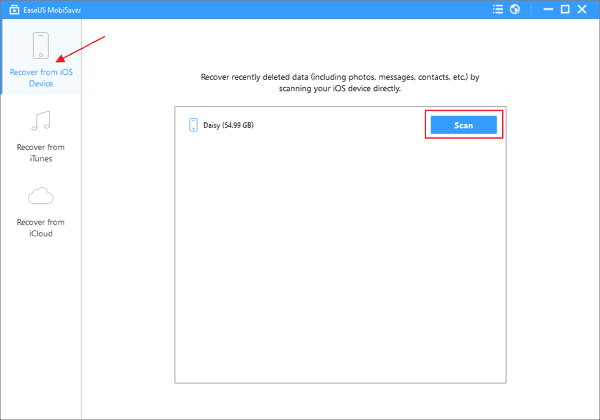 2. Preview and pick out files you want
Choose the category on the left to find all the media data including the lost and existing files on iPhone.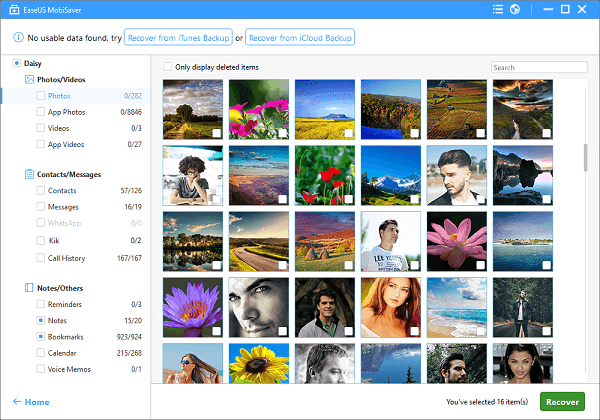 3. Recover the lost iPhone data after iOS update
Finally, mark those files you want and click "Recover" to export these photos. You need to specify a folder to save the recovered photos on your computer first.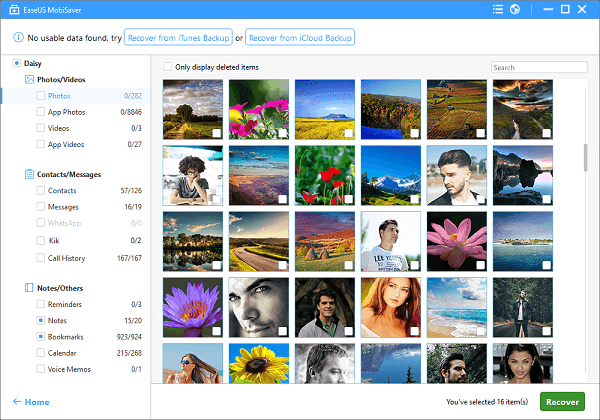 Method 2. Recover Data from iTunes Backup File
If you have iTunes backup files for your iPhone, you can try another data recovery mode of EaseUS MobiSaver "Recover from iTunes Backup". It's quite easy.
Choose the iTunes backup file for your iPhone in "Recover from iTunes Backup" mode and click "Scan" button to continue. The following operation is the same as "Recover from iOS Device". The only difference is that the software will scan the backup files instead of the iOS device.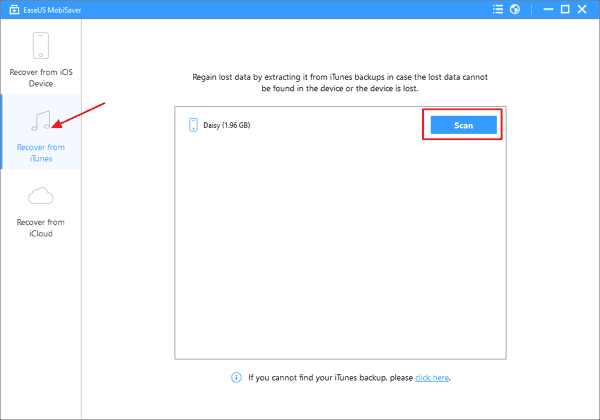 Method 3. Recover iPhone Files from iCloud
1. Choose Recover from iCloud Backup, and then sign in with your Apple ID.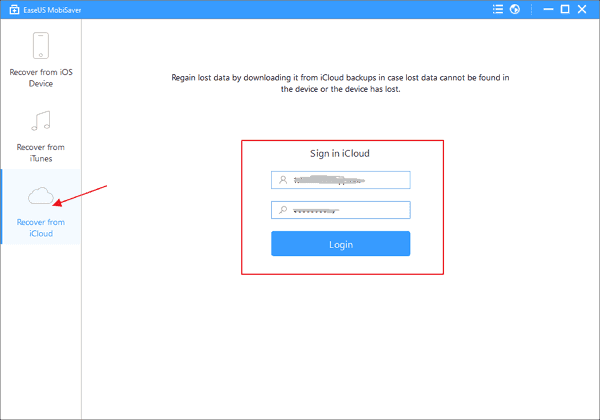 2. Select the right iCloud backup you want to extract, click Scan to download it to your computer and search lost data.
3. After the scan, you can choose the right file types and click the specific item to preview the detailed information. And then choose the data and files you want to restore. Finally, click the Recover button to save them to your computer.