►iPhone Data Loss After the Restore
"Basically, a couple weeks ago my iPhone died. I went out to buy a new charger. This charger worked for a while, but then stopped. Every time I plugged it in, it would show me the screen that indicates that I have to connect my iPhone to iTunes.
So, I connected it to iTunes, only to find that my iPhone was in Recovery Mode! The only option was to restore it. I tried to back it up. However, the options were all greyed out. A pop-up indicated that I could get my contacts and what not back after the restore, so I did it.
After the restore, my iPhone went back to the factory settings. I was happy, thinking that there was a backup of all my photos saved on my computer. Yet when I check iTunes, I could not restore the backup! I am honestly so devastated. This whole situation has upset me, I'm not sure of what to do now. I just really want those photos back."
►Reliable Suggestions to Recover iPhone Data After Restore Without Backup
Sometimes, you may face such a troublesome situation where you must restore your iPhone photos via iTunes. It is OK when you have synced your iPhone with iTunes backup. You can choose to restore your iPhone with the previous iTunes backup.
If you did not have a backup of the device with the data on it, then they are gone. When the device is in Recovery Mode, the data is already compromised, and that is why you could not perform a backup of the device.
If you have an iTunes, iCloud backup, you can restore to that backup. Just remember, that anything done on the device since that date will be gone. It is up to you how you want to do it. Just a suggestion, either take the time to import photos to the computer on a regular basis to ensure safety or at least ensure you backup the device much more often than once a year. If you've ever stored these pictures on your computer, you can try to recover pictures with a free file recovery tool.
►Use a Third-party iPhone Recovery Tool to Gain a Chance
Although there's little chance to recover data from iPhone without backup, you can still use EaseUS MobiSaver to scan your device. Maybe, you can find some useful data on the device. This iPhone recovery tool is able to scan your device, recover data from iTunes and iCloud, just try this useful tool to recover data from iPhone.
Step 1. Connect iPhone to the computer and run EaseUS MobiSaver
Run EaseUS MobiSaver and connect your iPhone to the computer with USB cable. Choose "Recover from iOS Device" and point the mouse to your phone when the software recognized it. Then click the "Scan" button. The program will scan your iPhone to find all the data.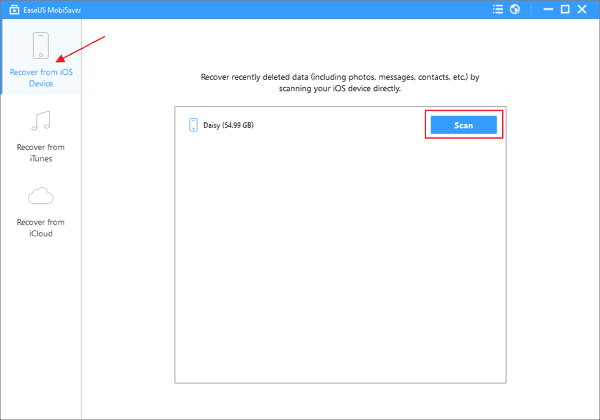 Step 2. Preview and recover iPhone data after restore without backup
Wait until EaseUS MobiSaver finishes scanning your iPhone, all the data on the device can be found and listed in well-organized categories on the left. You can click one type to preview and select out the files you want to export. Finally, click the "Recover" button to selectively retrieve and export them to your computer.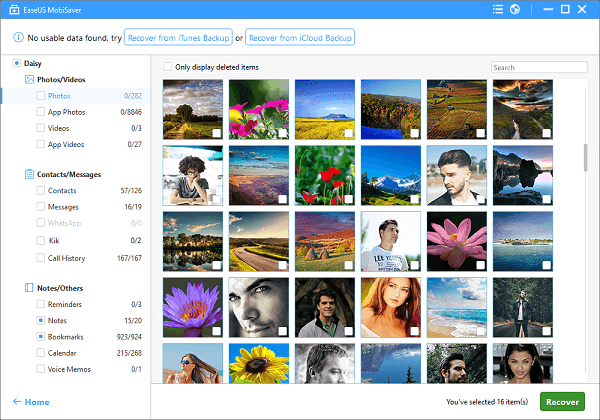 Just follow the steps above to recover as much iPhone data after restore as you can.