
Table of Contents

About the Author

Reviews and Awards
| Workable Solutions | Step-by-step Troubleshooting |
| --- | --- |
| Fix 1. Re-install Decompression Tool | Type: apps and features in the search > click the ZIP software > select "Uninstall"...Full steps |
| Fix 2. Turn on Defender Firewall | Open Control Panel > click "Windows Defender Firewall" > Turn Windows Defender Firewall on or off...Full steps |
| Fix 3. Turn On Virus Protection | Right-click Windows icon and select "Settings" > Click "Update and Security" > click Open....Full steps |
| Fix 4. Remove Viruses | Go to "Settings" > "Update & Security" > "Windows Security" > Click "Virus & threat protection"...Full steps |
| Fix 5. Run CMD to Repair | Open Command Prompt > type: "C:\Program Files\WinZip\wzzip" -yf zipfile.zip...Full steps |
Don't worry if you have no clue to repair corrupted or damaged Zip files or restore invalid .zip files. Here in this article, we'll offer you effective methods to help you restore and repair corrupted, damaged or invalid Zip files with ease. Find the right solution in the following 2 parts so as to restore and repair the ZIP files or folder on your own. 
If the invalid ZIP files or folder are invisible on your computer, go through Part 1 and Part 2 to bring all lost Zip files back and repair them to work again. If you just cannot open nor use the ZIP file or folder with an error message, warning that the compressed or zipped folder or file is invalid as shown below, refer to Part 2 and get the best ZIP file repairing solution now.

Part 1. Redownload or Restore Missing ZIP Files
Sometimes, due to virus infection or other errors, the ZIP file would be removed or inaccessible on Windows PC. The best way to fix this issue is to redownload the invalid ZIP file or restore the files with the help of professional file recovery software.
Follow either option listed here to bring your ZIP files back:
# 1. Redownload or Regain the ZIP File from Internet
Applies to: Resolve downloaded ZIP files not working or invalid issues.
If you downloaded a ZIP file and it was not openable by using any Windows compression tools or third-party zipping software, your best choice is to redownload a new file from the Internet.
Step 1.Delete the old invalid ZIP file from your computer.
Step 2.Launch your browser and open the site where you used to download the ZIP file. 
Step 3.Find the ZIP file, re-download it and save it to another secure location on your PC. 
After this, you may use an unzip software or tool to access valuable files from the ZIP file.
# 2. Restore Lost or Missing ZIP Files with File Recovery Software
Applies to: Restore invisible or missing ZIP files on Windows PC or external storage devices.
When you cannot find the ZIP file on your computer or external hard drive, calm down. It's probably been removed from the Downloads or not saved in the default location on your devices.
The easiest way to find your missing or invisible ZIP files or folder is to run a reliable EaseUS Data Recovery Wizard and immediately restore them with ease. EaseUS Data Recovery Wizard is able to restore all lost files such as .zip files or other data with only three simple steps.
Step 1. Launch EaseUS file recovery software on your Windows computer. Choose the exact location where you lost the files and click the "Scan" button.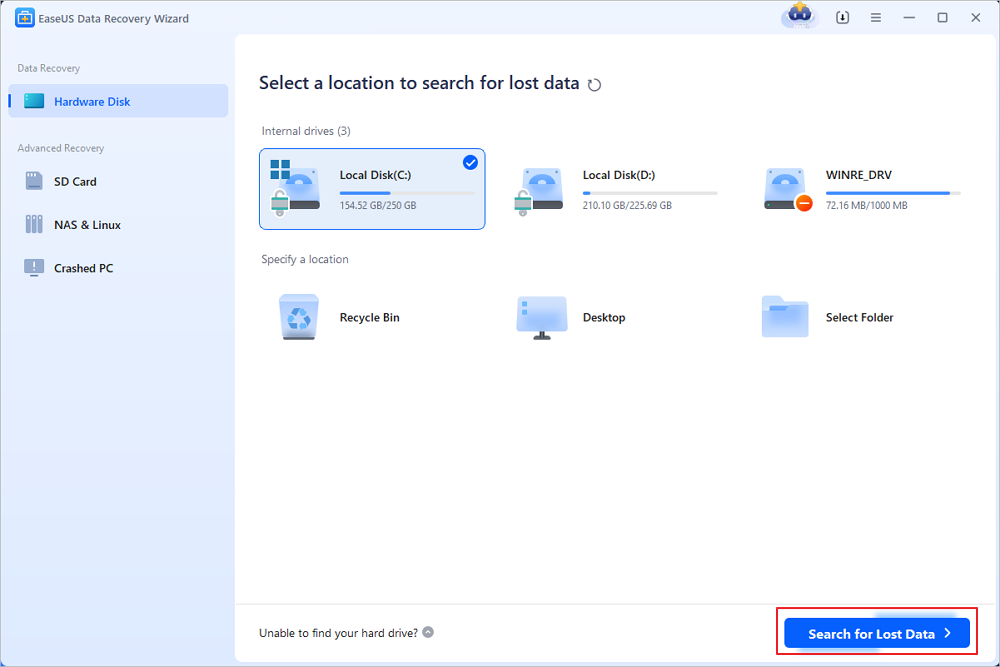 Step 2. The software will immediately start scanning the drive, and the deleted files will be displayed soon. If you find the files you need during the scan, you can stop the scan. In order to find the target file quickly, you can use the file format filter.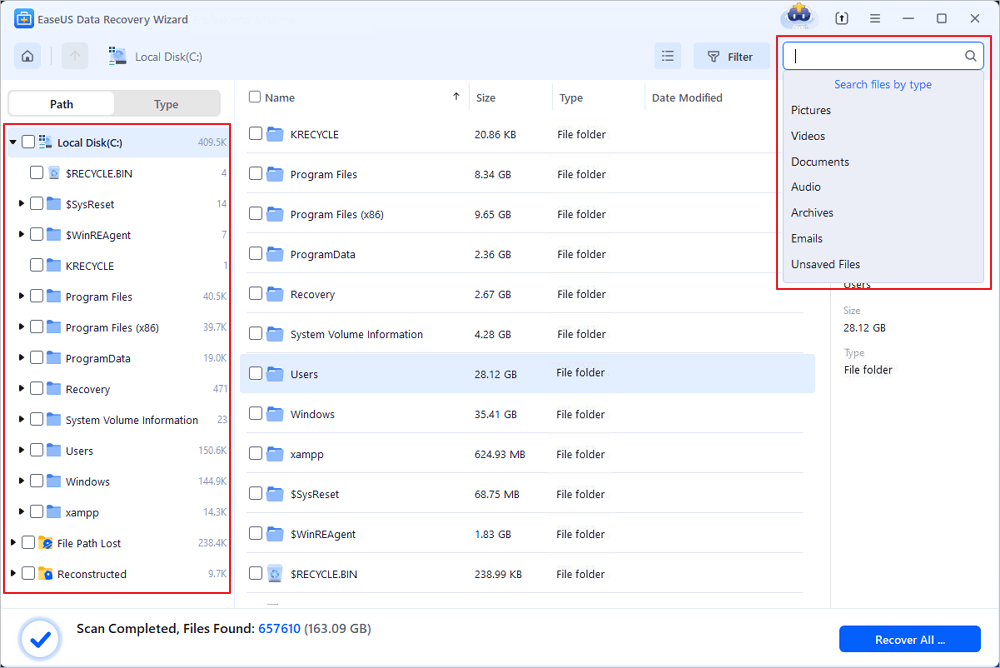 Step 3. Select files, such as Word, Excel, PDF, photos, videos, or emails and click the "Recover" button. You can browse for a different location to keep the recovered files.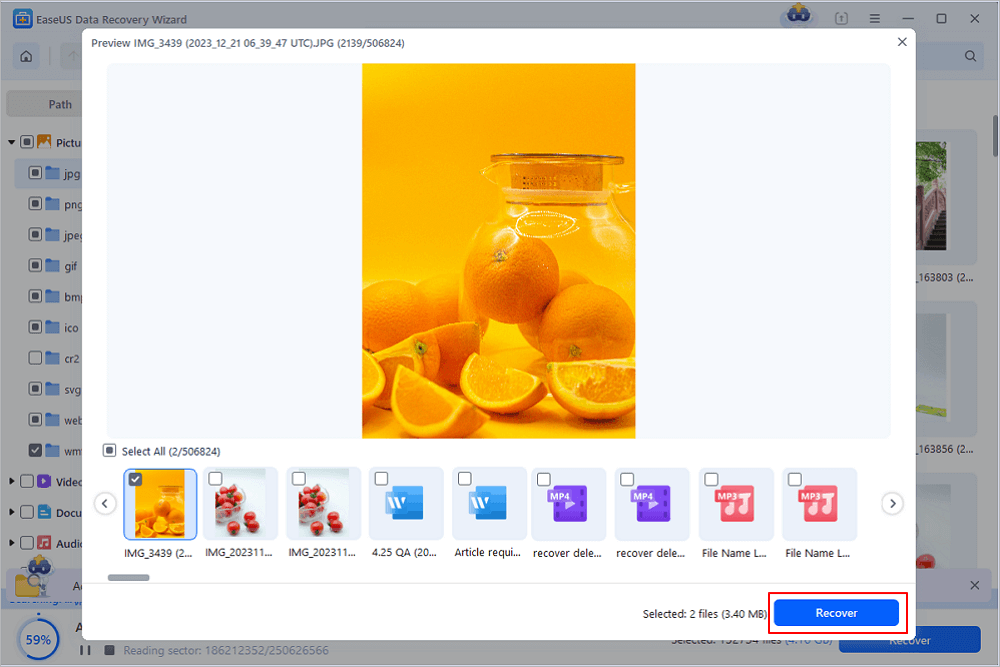 Besides supporting the recovery of lost or corrupted Zip files, the professional file recovery software also enables you to perform USB recovery, hard drive recovery, external hard drive recovery, etc. and restore data from complex situations.
# 3. Show Hidden Files, Make ZIP Files Visible
Applies to: Make invisible ZIP files show up on Windows PC.
If your PC is set to hide a compressed NTFS file or hide a specific document folder, you'll not be able to view and find it on your PC. Here are two options that you can follow either one to make the ZIP files visible again:
Option 1. Open the folder that contains the hidden files, go to "View", and check "Hidden items".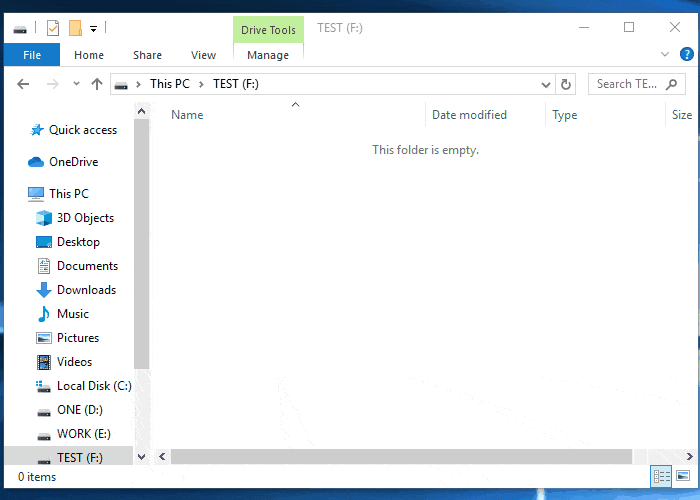 Option 2. Go to "Control Panel" > "File Explorer Options", go to the "View" tab,  and check "Show hidden files, folders, and drives".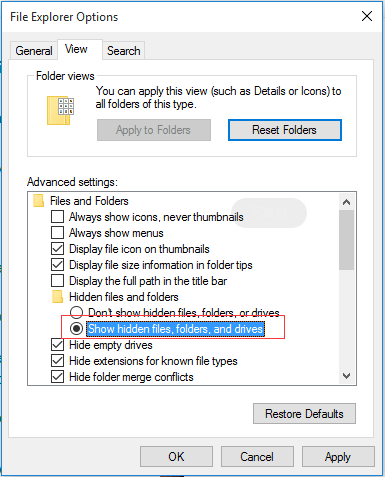 Part 2. Fix and Repair Corrupted or Invalid ZIP Files
If the ZIP files are on your computer or storage devices but you cannot open them with a decompression tool, stay calm. Something is wrong with your ZIP files. When you receive the error message which tells that Windows compressed folder/file is invalid, it's highly corrupted, infected by virus or unopenable by the current version of decompression tools.
You also have 3 methods to get rid of this issue, repairing corrupted or invalid ZIP files on your own:
# 1. Uninstall and Re-install the Decompression Tool
Applies to: Resolve ZIP program or compression tools not working issue while opening ZIP files and folder.
Step 1.On Windows PC, type: apps and features in the search bar and click to open it.
Step 2.On the Screen & features column, scroll down to locate your zip tools or compression software.
Step 3.Click on the ZIP software, select "Uninstall".
Wait for the uninstalling process to finish.
Step 4.Reinstall the uninstalled ZIP program on your PC and reuse it to open and access your ZIP files again.
# 2. Run AntiVirus Software (Windows Defender) to Remove Virus and Malware
Applies to: Resolve ZIP files invalid due to virus infection issue.
Sometimes, when the computer or storage devices get infected by virus or malware, you'll not be able to open the ZIP file or folder from the infected devices. Virus or malware may encrypt your ZIP file. 
If you have installed antivirus software, run it to clear all existing viruses or hibernating malware. If you don't have one, turn on the Windows Defender on your computer can also help.
Here are the details of turning on Windows Defender:
First. Turn on Windows Defender Firewall
1. Open Control Panel > click "Windows Defender Firewall" > Turn Windows Defender Firewall on or off.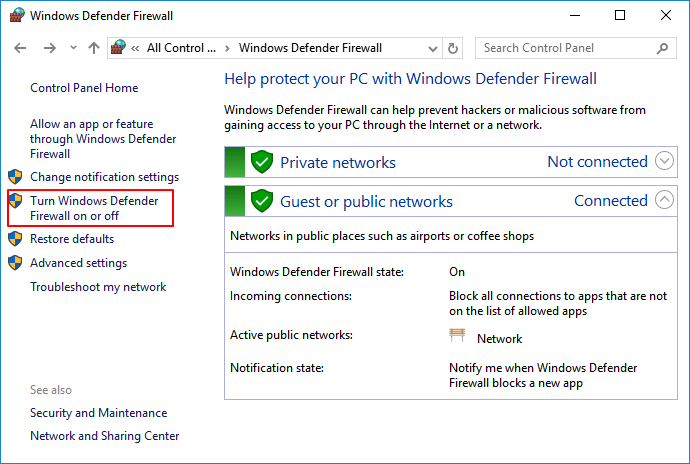 2. Check the boxes of "Turn on Windows Defender Firewall" and click "OK" to confirm.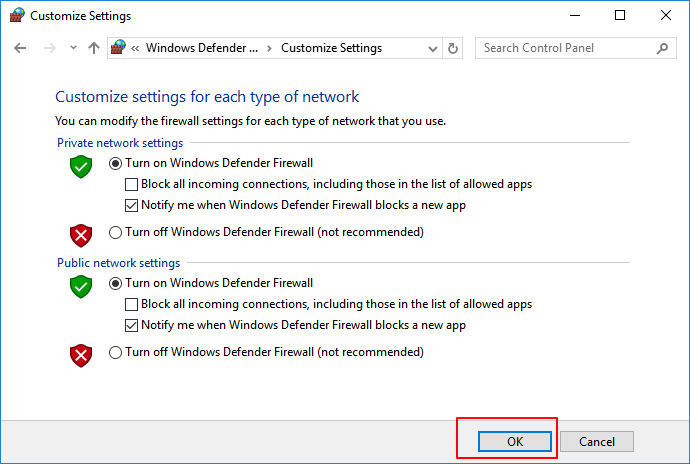 Next. Turn On Virus & threat Protection in Windows Defender
1. Right-click Windows icon and select "Settings" > Click "Update and Security".
2. On the Windows Security section, click "Open Windows Defender Security Center".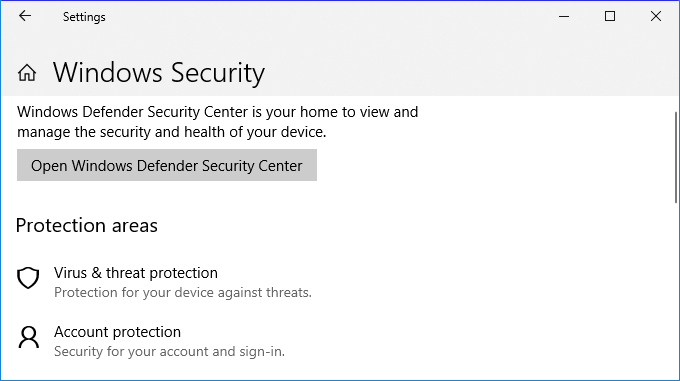 3. Click "Virus & threat protection" on the new window > Go to Virus & threat protection settings.
4. Turn on these three options: Real-time protection, Cloud-delivered protection, and Automatic sample submission.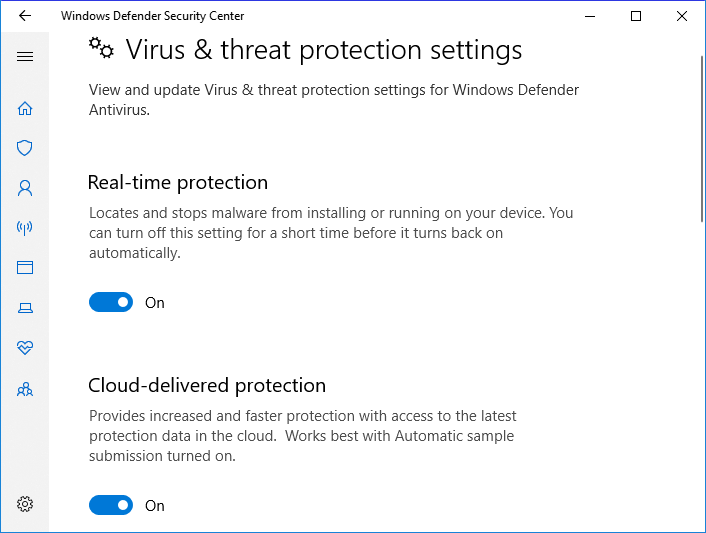 Last. Remove Existing Virus from PC by Using Virus & threat Protection
1. Go to "Settings" > "Update & Security" > "Windows Security" > Click "Virus & threat protection".
2. In the "Threat history" section, click "Scan now" to scan for viruses on your computer.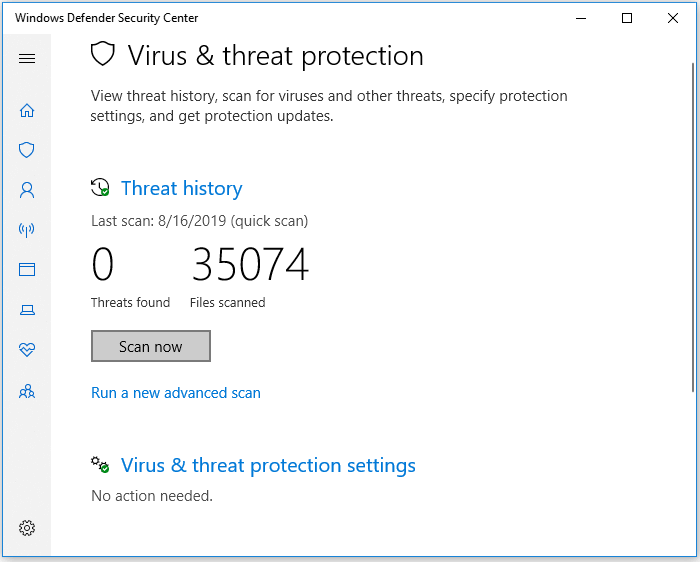 After this, you can reuse your ZIP tools or compression programs to decompress the ZIP file or folder to access the files again.
# 3. Run CMD to Repair Corrupted ZIP Files
Applies to: Repair corrupted ZIP files on Windows PC.
Step 1. Open Command Prompt as an administrator:
For Windows 10/8.1 users: Right-click Start > Click Command Prompt (Admin).
For Windows7/8/Vista/XP users: Click Start > All Programs > Accessories > Right-click Command Prompt > Run as administrator.
Step 2. Change directories to the folder where the corrupted ZIP files were.
Step 3. Type: "C:\Program Files\WinZip\wzzip" -yf zipfile.zip and hit Enter.
You can also use a real ZIP file name to replace zipfile.zip so to find corrupted or invalid ZIP files. After following these steps, you'll be able to open the corrupted or invalid .zip files.
# 4. Repair Invalid ZIP File with Third-Party ZIP Software
Applies to: Repair invalid or corrupted ZIP files with third-party zip software.
Sometimes, when your compressed files corrupted, you can repair it with a third-party ZIP program. WinRAR, 7-ZIP, or DiskInternal ZIP Repair, etc. can all help.
Here, we'll take WinRAR as an example to show you how to repair corrupted or invalid ZIP file, getting all files out efficiently:
Step 1. Download and install the latest version of WinRAR on your computer.
Step 2. Open WinRAR and locate the invalid or corrupted ZIP file.
Step 3. Select the ZIP file, click "Tools" in the toolbar, and click "Repair archive".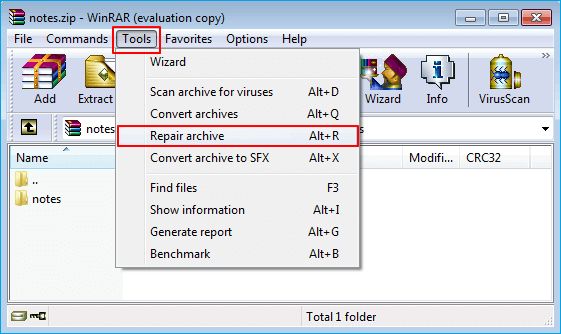 Step 4. Click "Browse" to choose the location to save the repaired archive file and click "OK" to confirm.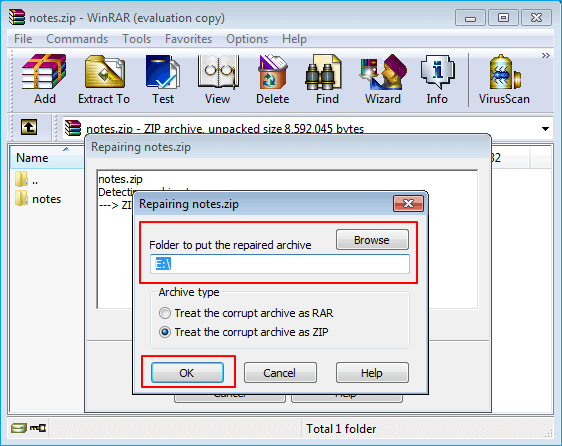 Step 5. Wait for the repairing process to complete and click "Close" to finish.
Step 6. Double-click the repaired ZIP archive and open it in WinRAR, click "Extract to" in the toolbar at the top.
Step 7. Choose the destination folder where you'd like to extract the files.
Tick "Keep broken files" option under the Miscellaneous section and click "OK" to start extracting your files from WinRAR.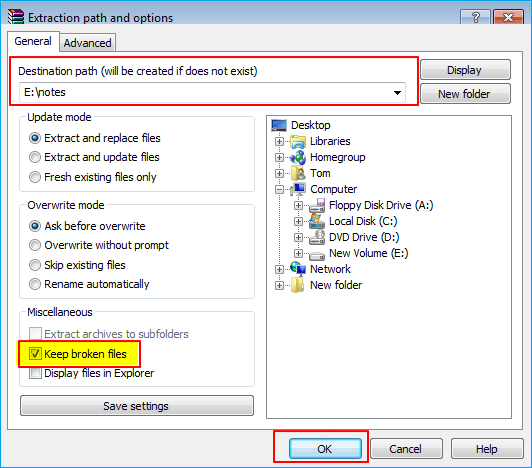 Conclusion
On this page, we collected 7 ways to help you restore missing, lost or repair corrupted, invalid ZIP files on Windows PC and external storage devices. If you have more questions about ZIP files, check the quick answers here below to see if we have your desired answers:
1. How do I fix an invalid zip file?
Answer: First, you can re-download the ZIP file if it was downloaded from the internet. Next, you can run a file recovery software to restore the ZIP file if it's not showing up or disappeared. Next, you can re-install an un-zip tool to open the ZIP file or run a third-party compression software like WinRAR to repair the invalid ZIP file.
2. Why is my ZIP file corrupted?
Answer: Virus infection, incomplete downloading of ZIP file, incomplete compression or disturbed compression of ZIP file, or even corruption of compression tools may all cause the .zip file invalid or corrupted.
3. How do I open an incomplete ZIP file?
Answer: First, you need to use a compatible UnZIP program such as WinRAR, 7-ZIP, etc. to open the incomplete ZIP file. Then extract files from the ZIP file or folder and save files to a secure location on your local drive. 
If you have more questions about ZIP files or other file reair issues, use the Search option on our website (https://www.easeus.com) or go to the File-Recovery page to find your best answers. 
Daisy is the Senior editor of the writing team for EaseUS. She has been working in EaseUS for over ten years, starting from a technical writer to a team leader of the content group. As a professional author for over 10 years, she writes a lot to help people overcome their tech troubles.
Written by Tracy King 
Tracy joined in EaseUS in 2013 and has been working with EaseUS content team for over 9 years. Being enthusiastic in computing and technology, she writes tech how-to articles and share technical solutions about Windows & Mac data recovery, file/system backup and recovery, partition management, data transfer, Windows update issues, etc.
EaseUS Data Recovery Wizard is a powerful system recovery software, designed to enable you to recover files you've deleted accidentally, potentially lost to malware or an entire hard drive partition.

 Read More

EaseUS Data Recovery Wizard is the best we have seen. It's far from perfect, partly because today's advanced disk technology makes data-recovery more difficult than it was with the simpler technology of the past.

 Read More

EaseUS Data Recovery Wizard Pro has a reputation as one of the best data recovery software programs on the market. It comes with a selection of advanced features, including partition recovery, formatted drive restoration, and corrupted file repair.

 Read More