"Cause I know we are so complicated. But we are so smitten it's crazy..." Sounds familiar? If you are a TikTok enthusiast, you might start humming lyrics. As a wide-used video-sharing social networking app, Tiktok gets an amount of loyal and creative users. Even my friends and I like to take short videos. For a video maker, terrible things may come with your video gets deleted or lost. So how can we get your valuable short video back?
Fortunately, all hope is not lost. There are some things you can do to recover deleted TikTok videos or drafts. Follow us and learn how to get your drafts back on TikTok or recover deleted TikTok videos, using simple methods immediately.
Quick navigation:
| Workable Solutions | Step-by-step Troubleshooting |
| --- | --- |
| how to get drafts back on TikTok | You can create drafts in TikTok or record outside of TikTok and keep it on your phone until you need it...Full steps |
| Recover your Liked Videos on TikTok | TikTok keeps a dedicated section for our liked videos. You can restore deleted liked videos in these steps...Full steps |
| Recover TikTok deleted videos from the backup | Recover deleted TikTok videos on Android from Google Photos and restore TikTok videos on iPhone...Full steps |
| Recover deleted TikTok videos with video recovery software | If you had saved your TikTok videos on an SD card or on the computer, and you accidentally deleted them...Full steps |
How to Get Your Drafts Back on TikTok
After recording and editing a video, TikTok offers you the option to either post it or save it as a draft. The Drafts feature saves the videos to your phone storage so that you can later retrieve them. Sometimes, we forget to post a video and think that it is deleted while it could be resting in our Drafts all along.
Easy Steps to get your draft video back:
Check your album/device's gallery > TikTok folder.
This method, however, has limitations. If you do not click save to album when you create the draft video, then the below steps are useless to you. Unfortunately, your draft video can not be recovered.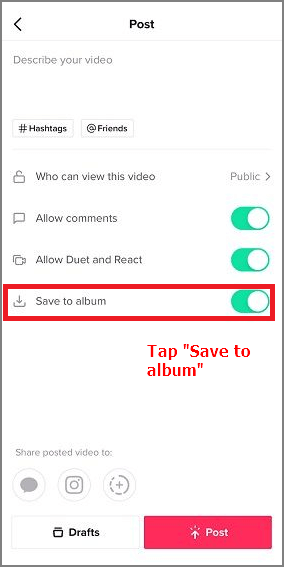 How to Recover Your Liked Videos on TikTok Videos
Accidentally deleted a TikTok video and need to get it back? Here we outlined 3 ways to recover TikTok deleted videos. Pick the best approach based on your needs. 
The first method is to recover your liked videos on TikTok.
Step 1. Open Tiktok from your Phone interface.
Step 2. Click the "Me" icon in the bottom right corner to open your TikTok profile.
Step 3. Then move to the TikTok profile part. On the right side, you can see a Heart icon. Choose Heart to open your liked video. (Note: Your liked video must be visible to the public. If not, check another way in the next part.)
Step 4. On the Heart video screen, choose the deleted video you want to recover.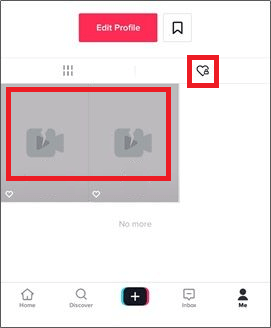 Step 5. From the video deleted screen, tap on the three dots on the right side.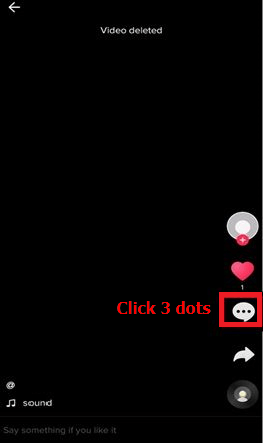 Step 6. Then several options appear, tap "Save Video". Your deleted video comes back on your album.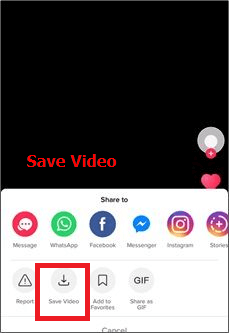 How to Recover Deleted TikTok Videos from Backup 
You may set the automatic backup on your Phone even you barely check it before. So, you can check the backup and restore your deleted TikTok videos. If you do not have a backup, don't waste time, move to the next method.
How to Recover Deleted Tiktok Videos on Android from Google Photos
First, follow these steps to check your backup is available. If it is available, you can restore deleted videos from the Google Photos app.
How to check your backup on Android phone: Open "Google Photos" app > at the top right of the screen, tap your account profile > choose "Photos settings" > make sure your Back up & sync is turned on.
Steps to Restore deleted TikTok videos on Android from Google Photos:
Step 1. Open your Google Photos app.
Step 2. At the top left of the screen, tap "Menu".
Step 3. Select "Trash".
Step 4. Choose the TikTok videos you want to recover.
Step 5. Tap the "Restore" icon.
How to Recover Deleted Tiktok Videos on iPhone from Photos App
The common backup service in iPhone or other iOS devices is iCloud. As same as the Android part, we recommend you check the iCloud backup setting is turned on.
Check iCloud backup setting: "Settings > (your name) > iCloud > iCloud Backup > Make sure you have toggled iCloud Backup to on".
Steps to restore deleted TikTok videos back on iPhone: 
Step 1. Access to iCloud.com, sign in to your account.
Step 2. choose "Settings".
Step 3. In the "Advanced" section, click "Recover Files".
Step 4. Select files you want to recover.
Step 5. Tap "Restore".
Recover TikTok Deleted Videos with Free Video Recovery Software
If you had saved your TikTok videos on an SD card or on your computer, and you accidentally deleted them, you can easily recover the deleted videos by professional video data recovery software - Easeus Data Recovery Wizard. This software helps recover hundreds of files, including photos, videos, audio files, documents, emails, and more. The sooner you use the software, the high rate you get the video back.
EaseUS Data Recovery Wizard
Recover lost or recover permanently deleted files efficiently
Restore data from emptied recycle bin, memory card, USB flash drive, digital camera, camcorders, etc.
Support data recovery for accidental deletion, hard drive formatting, corruption, virus attack, and system crash under 
Download this video recovery software to recover deleted TikTok videos on your computer. 
Check the video tutorial to recover video files:
Follow 3 quick steps to recover deleted TikTok video:
Step 1. Run EaseUS Data Recovery Wizard and select the location or device where you lost/deleted videos. Click "Scan" to find the missing videos.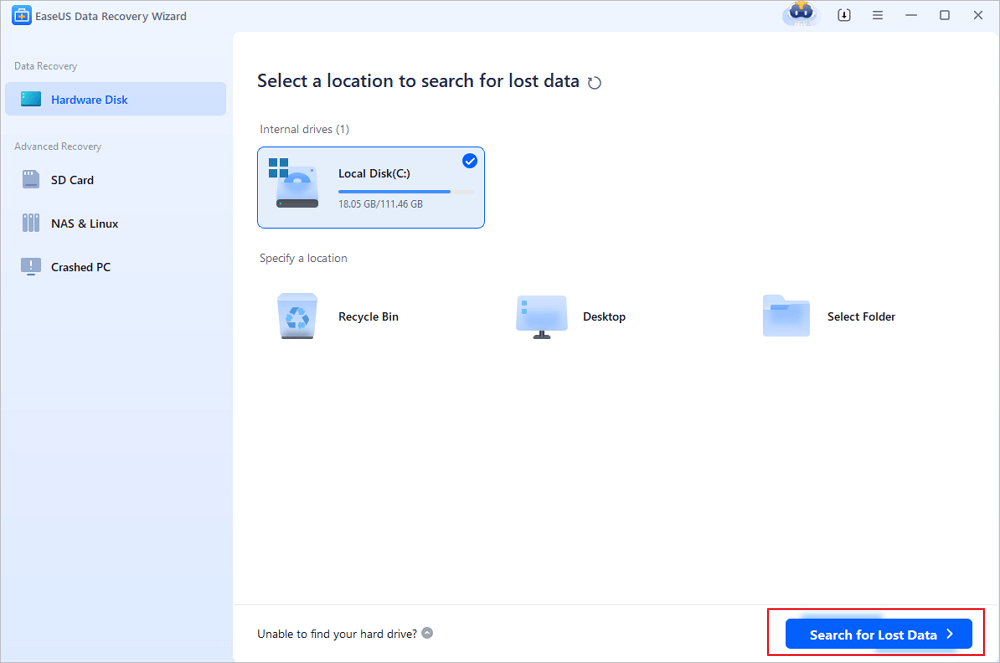 Step 2. After the scan, choose "Videos" in the left panel. Go to "Lost" or "All" to find the wanted videos. Select the found videos and click "Preview".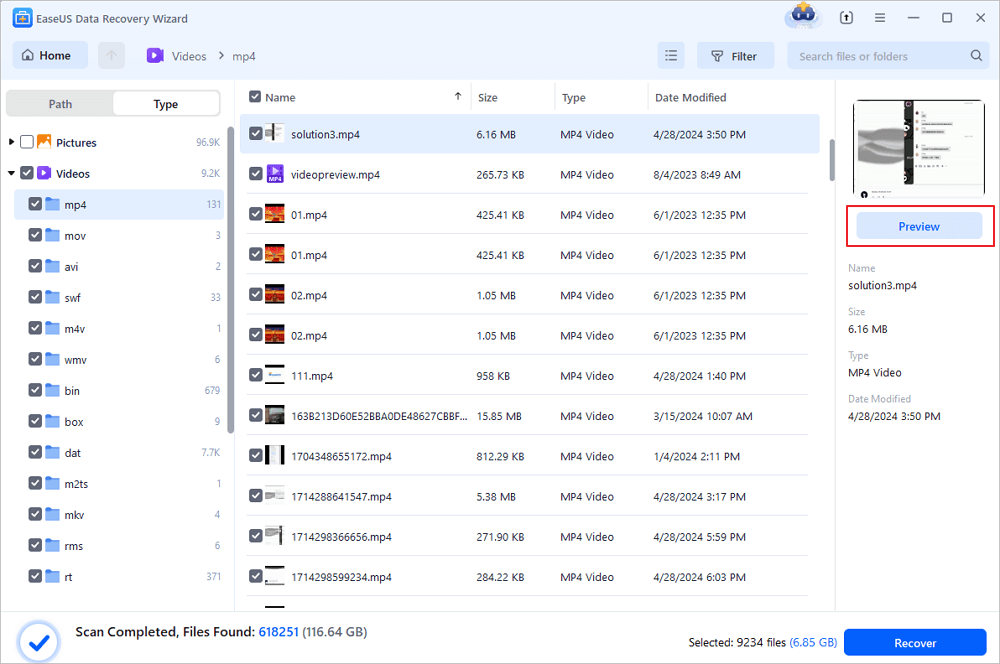 Step 3. Select the video files that you want to restore. Click "Recover" to save them to another secure location on your PC or external storage device.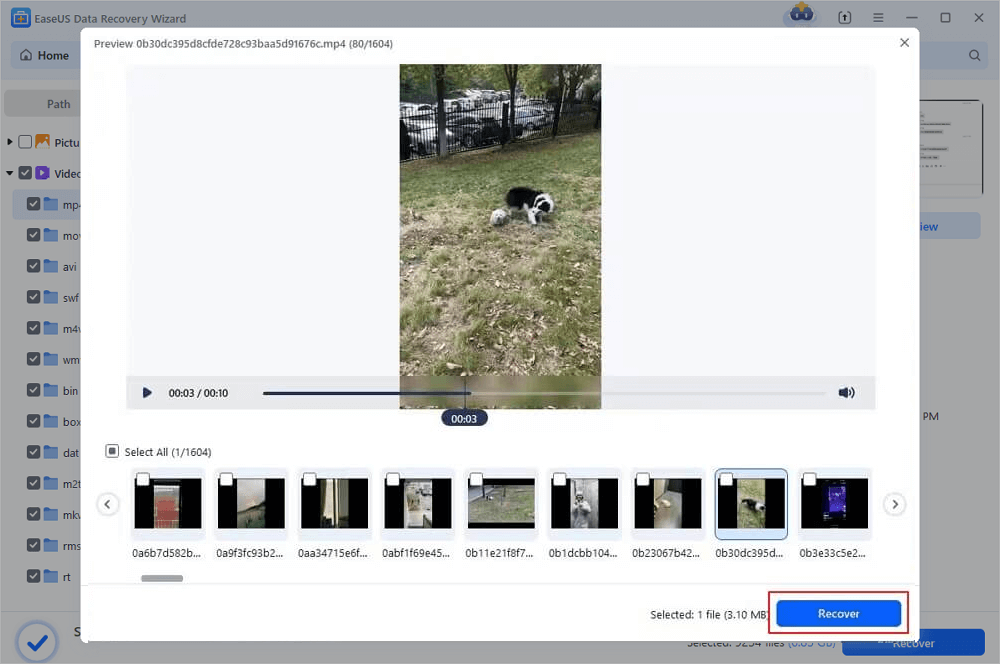 TikTok Video Recovery Summary
In this article, you can choose three methods to retrieve your deleted TikTok video according to your need. You can get back videos from liked videos, backups, or using a video recovery tool. 
The best way to recover deleted or lost videos is to back files up in advance. If you lose data without backup, be sure to use professional data recovery software to help you quickly recover important files.

Cedric Grantham is one of the senior editors of EaseUS who lives and works in Chengdu, China. He mainly writes articles about data recovery tutorials on PC and Mac and how-to tips for partition management. He always keeps an eye on new releases and likes various electronic products.

Roxanne is one of the main contributors to EaseUS and has created multiple posts on digital devices like PCs, Mobile phones, tablets, Mac, etc. She loves to share ideas with people of the same interest.