PAGE CONTENT:
SSD is a storage device that uses integrated circuit components. It has higher stability and faster data access speed than HDD. However, SSDs have a limited lifespan. Over time you will need to check and fix errors on the SSD. Windows provides built-in tools to help you with the repair process.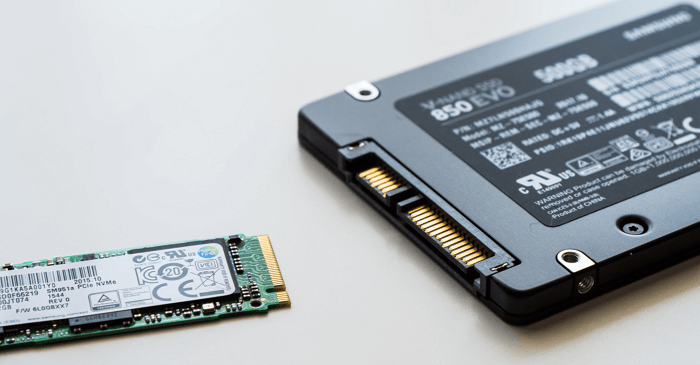 This article will show you in detail how to run CHKDSK on SSD. Before we get started, let's look at a common concern: whether or not it is safe to run CHKDSK on SSD.
Is It Safe to Run CHKDSK on SSD
The answer is: Yes. It is safe to run CHKDSK on SSD. CHKDSK has no negative effect on SSD.
CHKDSK is a command prompt tool built into Windows for disk scanning and repair. The read operations are small and fast when running CHKDSK on SSD, and there are more reads than writes, so it has a negligible impact on SSD. 
CHKDSK can detect bad sectors on SSD, but it does not work on C disks on SSD. It may encounter the problem of CHKDSK stuck and CHKDSK not working. And you need to avoid parameter errors when using the command. So how can you safely and effectively check problems on SSD? Please read on.
How to Run CHDSK On SSD Safely: CHKDSK Alternative
CHKDSK has some limitations and is more troublesome to operate. On the contrary, EaseUS Partition Master is a professional disk management tool that is easy to operate. It can easily check and repair file system errors.
It has a clear interface and is suitable for computer users of all stages. The following are specific step-by-step instructions for checking SSD with this tool.
Step 1. Open EaseUS Partition Master on your computer. Then, locate the disk, right-click the partition you want to check, and choose "Advanced" > "Check File System".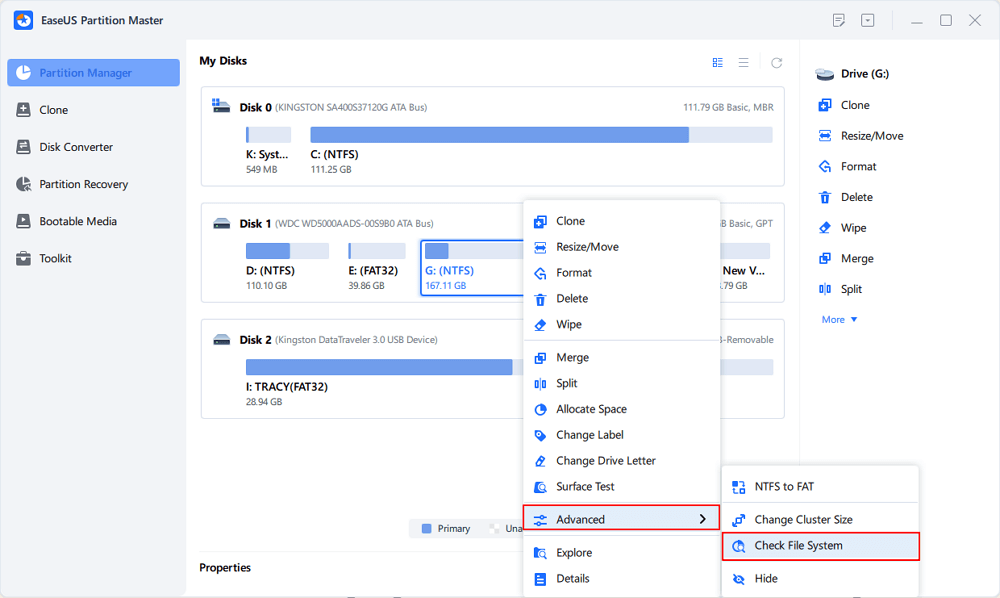 Step 2. In the Check File System window, keep the "Try to fix errors if found" option selected and click "Start".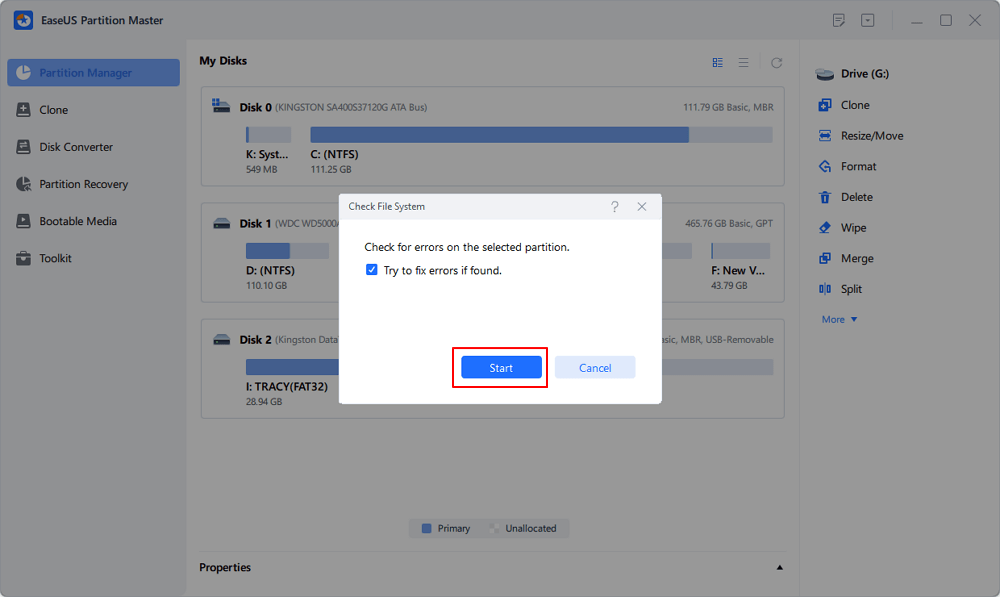 Step 3. The software will begin checking your partition file system on your disk. When it completes, click "Finish".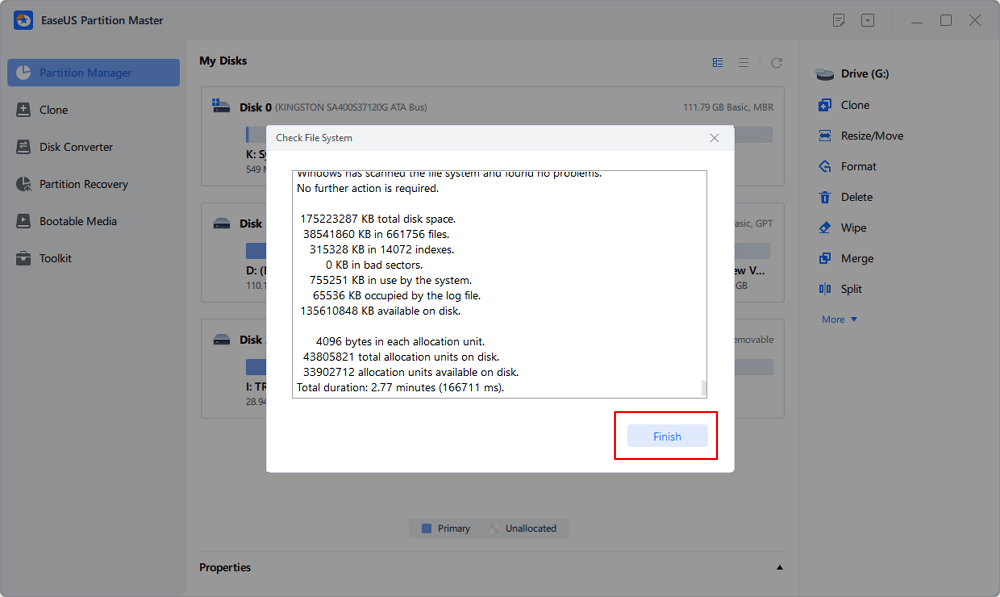 EaseUS Partition Master is a professional SSD health checker software. In addition, it is also an in-group tool that can cover all the needs of Windows drives and partitions. It can resize partition on SSD or delete partition on SSD.
How to Run CHKDSK On SSD
If you don't want to resort to simple third-party tools, you can also use CHKDSK, which stands for check disk and is available for all versions of Windows. It can be repaired after checking a disk failure. Here are the steps to run CHKDSK from within Windows.
Step 1. Click Windows+R and type cmd.
Step 2. Right-click and select Command Prompt and run as administrator.
Step 3. Click "Yes" in the User Account Panel window.
Step 4. Type the command: chkdsk C: /f /r /x and click Enter.
Note: Parameter meaning:
"C" is the drive letter of the partition to be repaired
/f refers to the error on the disk to be repaired
/r refers to locating bad sectors and recovering readable information
/x refers to unmounting the volume to be checked before scanning
Once done, you can close the window and re-drive the system.
Conclusion
After reading this guide, do you know how to run CHKDSK on SSD? CHKDSK is a useful tool for checking hard drives or corrupted file systems. Likewise, this article also recommends a comprehensive disk management tool - EaseUS Partition Master – which can easily repair and organize disks and improve system performance.
In addition, EaseUS Partition Master has some advanced features for disk partition. For example, it can resize, delete, create, and clone disk partitions. For any disk-related problems, you can find help on this tool.
FAQs About How to Run CHKDSK on SSD
This section is about some common questions about running CHKDSK on SSD. I have provided some short answers and hope these short answers and questions will be helpful to you.
1. How long should CHKDSK take on SSD?
This depends largely on the size of the drive and the number of corrupted files. Running CHKDSK on an SSD will generally take a few hours. For a 1TB drive, it will typically take 5 hours. The larger the drive, the more time it will take, and more time if bad sectors exist.
2. How do I check my SSD for errors?
There are several ways to check for errors on an SSD. You can use the CHKDSK command. You will receive the number of bad sectors after the check is complete. You can also use EaseUS Partition Master to check and repair bad sectors with one click. The following are the simple steps:
Step 1. Open EaseUS Partition Master and right-click on the disk and partition you want to check.
Step 2. Select "Advanced" and click "Check File System."
Step 3. Check "Try to fix errors if found" and click "Start."
Step 4. Wait for the check to complete and click "Finish."
3. Does CHKDSK fix corrupt files?
CHKDSK does not recover lost or corrupted files. If it finds an error, you will receive the message: Restart your computer to repair the file system. You can repair the error by restarting or at the next boot. CHKDSK ensures that the information on the current disk is in a consistent and safe state.
EaseUS Data Recovery Services
EaseUS data recovery experts have uneaqualed expertise to repair disks/systems and salvage data from all devices like RAID, HDD, SSD, USB, etc.