Portable and USB flash drives are commonly used for data backup and migration. To stop unwanted access to drives, Microsoft introduced a data encryption system called BitLocker after the release of Windows Vista. However, Bitlocker for Mac is currently unavailable.
This article discusses how to open BitLocker drives on Mac. Check here for quick solutions.
| Workable Solutions | Step-by-step Troubleshooting |
| --- | --- |
| Fix 1. Open BitLocker in VirtualBox | Using VirtualBox from Vmware as the data delivery tool can attach your BitLocker...Full steps |
| Fix 2. Extension to Open BitLocker | Allowing extensions can open BitLocker's encrypted drive. This measure won't lower...Full steps |
| Fix 3. Open with Dual Boot | Installing Windows using Boot Camp on a Mac is one of the simple and free ways...Full steps |
| Fix 4. Find Another PC | As BitLocker is a Windows tool, its encrypted drives won't work with other systems like Mac...Full steps |
Help! I Can't Open My BitLocker-Encrypted Drive on Mac
Here is a user's case on Microsoft Q&A:
"Hello, I recently encrypted my USB drive using BitLocker on my Windows 10 computer. I then tried to open the drive on my Macbook Pro, and it said that the drive was unreadable. Many forums say I need third-party software to decrypt the drive, but I'm not sure if I trust those programs. Is there any way to open my USB drive on my Mac without using third-party software? Thank you!"
When you insert a BitLocker-encrypted drive into a Mac, the message "The disk you inserted was not readable by this computer" appears. Disregard the notification and keep reading to learn how to open a BitLocker drive on Mac.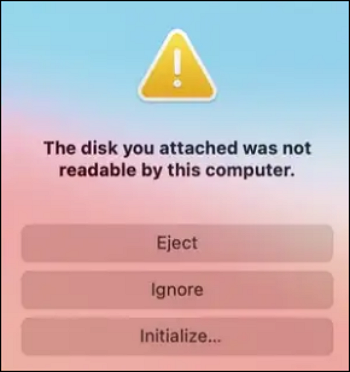 What Is BitLocker and BitLocker-Encrypted Drive
On Windows OS, BitLocker is a powerful encryption tool that is free to use. Having said that, once the external hard drive or USB flash drive is secured with BitLocker, users won't need to be concerned about data breaches. Only the pre-set password can be used to access the encrypted drive.
The BitLocker-encrypted drive was created on Windows, and there isn't a Mac version of BitLocker that users can use to unlock an encrypted drive. So, when users transfer their data and files with a BitLocker-encrypted USB drive, they will find it difficult to open the drive on Mac directly.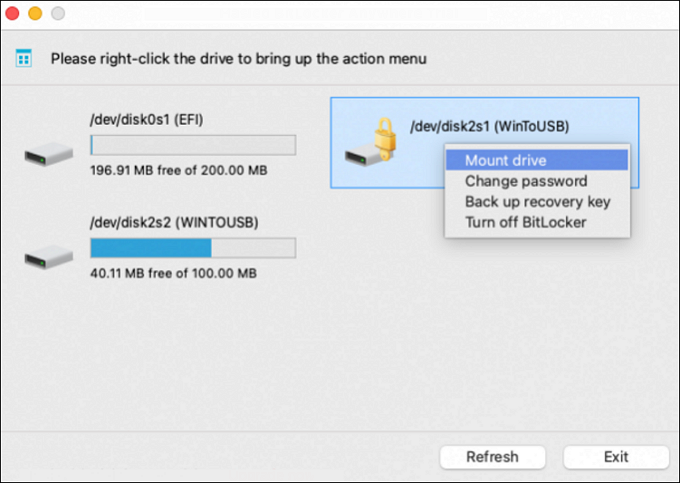 How to Open BitLocker Drive on Mac
You can watch this video and follow the tutorial to access and open the BitLocker-encrypted drive on Mac:
00:20 - Download and install the BitLocker for Mac utility
01:24 - Unlock the Drive
01:32 - In File Manager
03:12 - Mount in the Finder
03:48 - Questions
Method 1. Open BitLocker USB Drive on Mac Using VirtualBox
You are using VirtualBox, like tools from Vmware, as the data delivery tool, which can attach your BitLocker drive into a VirtualBox. Therefore, we advise you to install the Windows 10 OS using VirtualBox on your local Mac device so that you can run some programs that you would not otherwise be able to use, such as opening a USB drive that has been encrypted with BitLocker.
Step 1. Launch it if you've already installed Windows 10 into the VirtualBox on your Mac.
Step 2. If VirtualBox doesn't recognize your BitLocker drive on Mac, your machine is likely missing the VirtualBox Extension Pack. To fix this, disable the security and privacy option on your Mac' System Preference.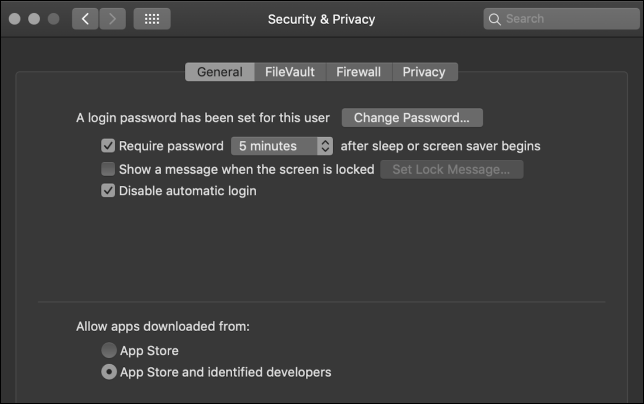 Step 3. Next, join your Mac device with your USB drive; because only one local OS can recognize a USB drive at a time, your USB flash drive will initially be identified by your macOS rather than Windows in VirtualBox. You can click to eject your USB drive from your macOS to change this. After that, VirtualBox will recognize your USB drive, and you can see it in the Windows OS.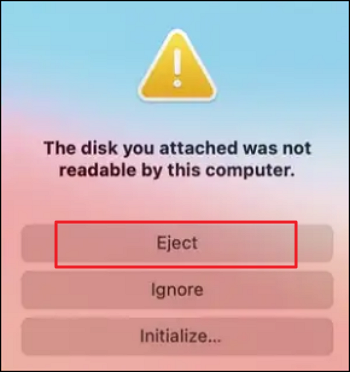 Step 4. Unlock your BitLocker drive using the BitLocker To Go tool included with Windows 10 after the Windows OS has identified your USB drive in VirtualBox.
Step 5. You can copy, move, transfer, and delete files or folders on your USB flash drive.
 Warning

To install Windows OS into a virtual machine on Mac, you have to disable and change the startup security and privacy settings, which may cause startup issues and let malware corrupt your disk. So, pay attention to your data security!
[Bonus Tip] VMware Data Recovery with Software
A few VMware files will be produced and stored on the local hard drive using VMware, like VirtualBox, to install an OS incompatible with macOS. The data on the virtual hard drive may be lost due to changing settings and damaged or missing VMware files. So, how to get them back?
You can utilize EaseUS Data Recovery Wizard to recover data from VMware.
Recover lost or deleted files, including VMware files, pictures, music, and emails.
Mac Trash recovery and restore data from memory sticks, flash drives, hard drives, and VMware disks.
Support data recovery for sudden deletion, hard drive failures, power errors, and system crash.
You can download EaseUS Data Recovery Wizard for Mac. Then, install it and follow the steps below.
Step 1. Select the drive to be scanned
In the main EaseUS Data Recovery Wizard window, there will be a list of the drives connected to your Mac. Select the drive you need to recover lost/deleted files from, and click the "Search for lost files" button.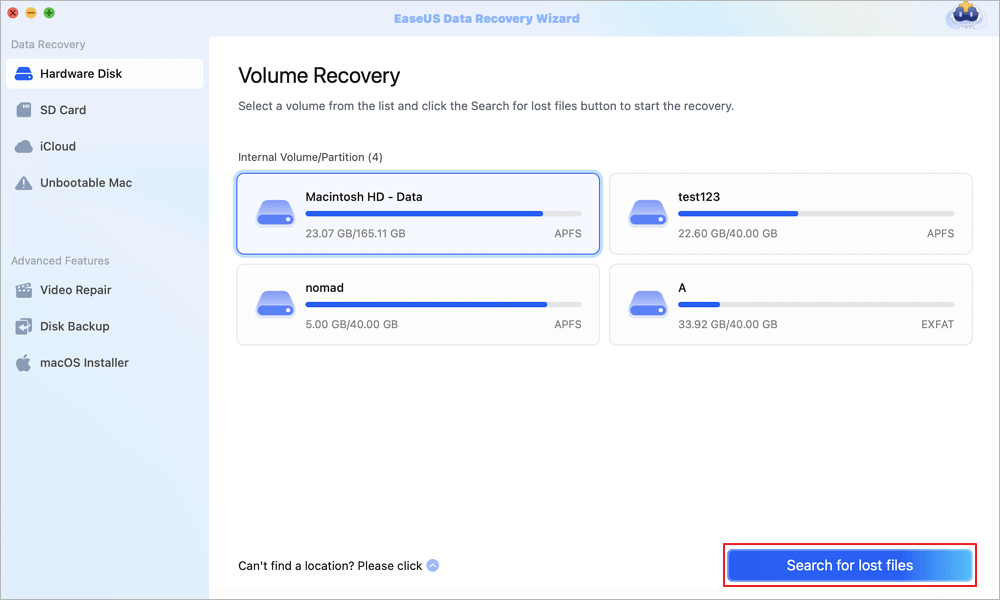 Step 2. Select your lost data/files
EaseUS Data Recovery Wizard for Mac will immediately scan your selected disk volume and display the scanning results on the left pane. You can sort the results to find the wanted files if you are looking for certain files.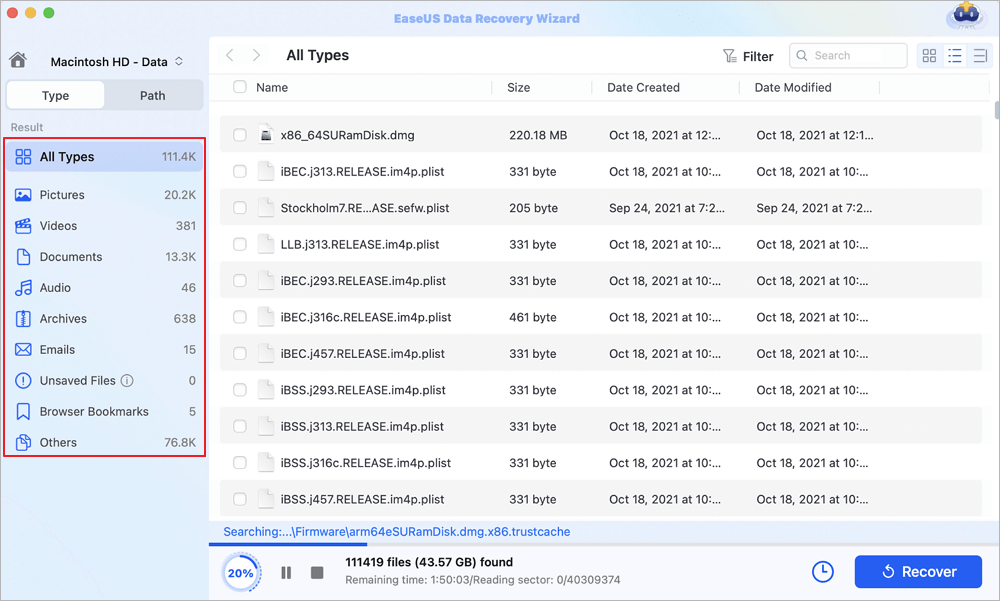 Step 3. Recover lost/deleted data
Once you have found the desired files, preview the files and then click "Recover" to begin the recovery of your deleted/lost Mac files.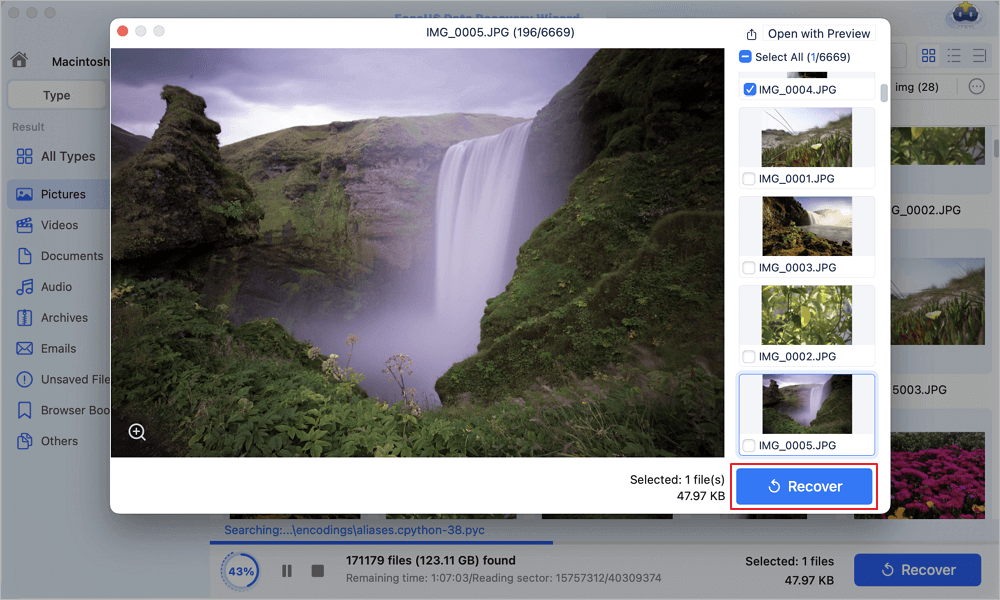 Method 2. Install Extra Extension to Open BitLocker
Allowing system extensions can open BitLocker's encrypted drive. This measure won't decrease your Mac security. After enabling system extensions, you can get "Security Policy..." back to the original preference.
Step 1. To unlock the settings, click the "lock button" after launching the security choices screen.
Step 2. Click "Enable system extensions..." - "Shut down".
Step 3. Boot your Mac Safe Mode. To proceed, click "Options."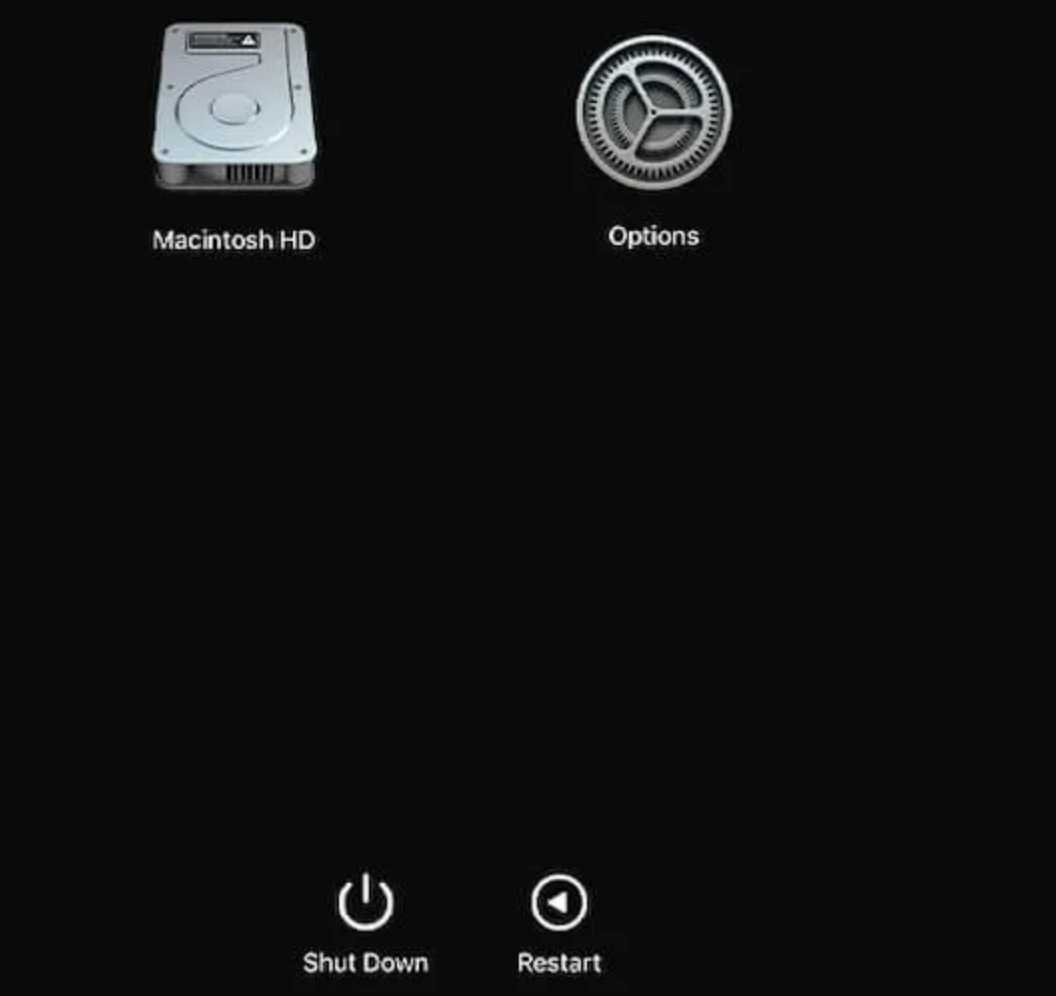 Step 4. Choose "Startup Security Utility " from the Utilities menu." to "Security Policy..."
Step 5. Select "Allow user management of kernel extensions from identified developers" and "Reduced Security," then click "OK".
Step 6. Restart your Mac.
Method 3. Open BitLocker Drive on Mac with Dual Boot
Installing Windows using Boot Camp on a Mac is one of the simple and accessible ways to open BitLocker on a Mac. You can smoothly switch between these two operating systems when you use Boot Camp to run Windows 10 on Mac, giving you free access to your BitLocker-encrypted drive. However, this is not VirtualBox, and it's a simple system that can be run on your Mac without a virtual machine.
Step 1. Open and launch the Boot Camp on your Mac by going to Applications - Utilities and clicking the Continue button.
Step 2. Choose to load your Windows 10 ISO file.
Step 3. Verify that adequate space has been enabled for your Windows partition; you need at least 64GB, but Apple suggests 128 GB.
Step 4. To begin the task, click the install button. Boot Camp is starting to get the Windows drivers and create the partition.
Step 5. Enter your administrator password, then hit OK. You can finish the installation step by step after the Windows installation screen appears.
Step 6. You should continue downloading and installing the software for Windows 10 on your computer, and it will take some time.
Step 7. Restart your Mac while pressing the Option (Alt) key to converting to Windows. You will be prompted to choose the drive from which to boot.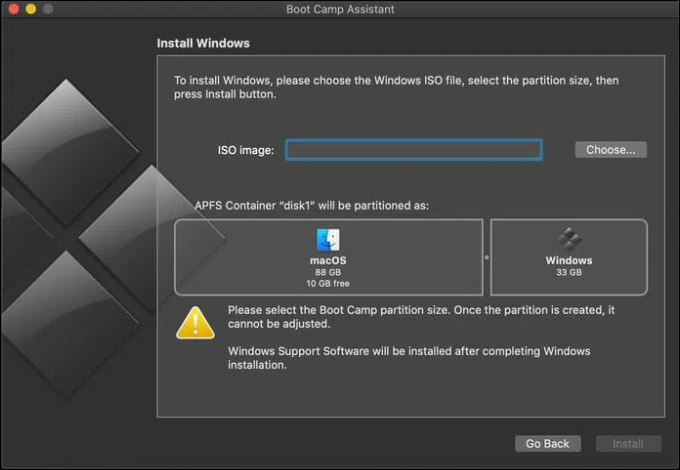 Method 4. Find Another PC to Open and Decrypt BitLocker Drive
As BitLocker is a Windows technology, its encrypted drives won't work with other systems like Mac or anything else. Hence there isn't an official Microsoft solution to do this.
The drive should be decrypted in Windows before being used on a Mac. Try the three methods above if you can't find another PC to complete it.
How to Format a BitLocker Drive on Mac
Formulating a USB drive with Bitlocker enabled on a Mac will result in a blank disk. You should back up your crucial files.
You can open Disk Utility on Mac and delete the BitLocker-encrypted drive like any other HDD or SSD. When the error notice appears, you can choose to "Initialize" instead, which will take you to the Drive Utility window, where you can clean the disk and give it a functional file system.
Don't Worry if You Format a Hard Drive by Accident
However, if you accidentally formatted an external hard drive on your Mac while backing up the data to Time Machine, don't panic. We highly recommend you try EaseUS data recovery software, which has the highest chance of successfully recovering formatted hard drives on Mac.
Final Thoughts
You know that the Bitlocker USB flash drive is only compatible with Windows OS. Neither Microsoft nor Apple offers official solutions for opening BitLocker drives on Mac. You can use the above steps to access, unlock, or open a BitLocker drive on a Mac to achieve your goal.
Open BitLocker Drive on Mac FAQs
To get some additional help, read these questions and answers below.
1. Does BitLocker work on Mac?
The Bitlocker USB flash drive only works with Windows operating systems. BitLocker drives on Mac cannot be opened using any official programs provided by Microsoft or Apple.
2. What is the Mac equivalent of BitLocker?
The data on your Mac is encrypted by FileVault so that it cannot be viewed without entering the login password. When you enable FileVault, additional security safeguards are also activated to guarantee security.
3. How do I enable BitLocker on my Mac?
You can use the methods to open a BitLocker drive on Mac.
Create a virtual machine
Perform extra extension
Enable it with dual boots
Find another PC
Use third-party tools
4. How do I encrypt a Mac hard drive?
Click the Apple icon - System Preferences.
Click Security and Privacy
Click the FileVault tab and Turn it on to encrypt a Mac hard drive.
EaseUS Data Recovery Services
EaseUS data recovery experts have uneaqualed expertise to repair disks/systems and salvage data from all devices like RAID, HDD, SSD, USB, etc.