| Workable Solutions | Step-by-step Troubleshooting |
| --- | --- |
| 1. Check the System Requirements | Check the table below and make sure that your PC meets the minimum requirements...Full steps |
| 2. Uninstall Language Packs | Type language in the search bar on your taskbar, then click "Language settings"...Full steps |
| 3. Uninstall Third-party Antivirus | Windows 10 comes with a lot of new features and improvements...Full steps |
| 4. Rebuild BCD | Choose the "Repair your computer" option at the initial setup screen...Full steps |
| Other Effective Solutions | Repair Corrupted System Files > Turn to Windows Repair Services...Full steps |
1 - Can't Install Windows 10 on a New Build
You receive a message that indicates you can't install Windows 10 on your computer. What can you do to get out of this issue? You can get help in this post. Before you carry out the solutions, know more cases and causes of Windows 10 installation failure errors. Here is a case from Microsoft Comunity - users can't install Windows 10:
"I can't get Windows 10 to install on a brand new build.
Specs:
Gigabyte F2A88XM-D3HP
AMD A6-6400K
Kingston HyperX Fury 16GB (2x8GB)
SanDisk SSD PLus 240GB
WD Blue 1TB
These are all new components. Windows has never been installed before. 
What I have tried:
1. Created USB Installation Media and Bootable Drive via Windows Media Creation Tool
2. Downloaded Windows 10 ISO from Windows Media Creation Tool - created bootable drive with Rufus
3. Burned downloaded ISO to DVD
All resulted in the same experience - get the Windows loading screen (icon and spinning circles), then the spinning circles stop - PC reboots. 
I have gone into the bios and disabled Fast Boot, disabled Secure Boot, Enabled CSM, Disabled UEFI / Enabled Legacy Boot, and almost every combination of those settings. All the same result - freeze on Windows loading screen. I even got frustrated and attempted to install Windows 7, which ended with the same result. I have built numerous PCs and never run into this issue with a Windows installation. Help me! Please."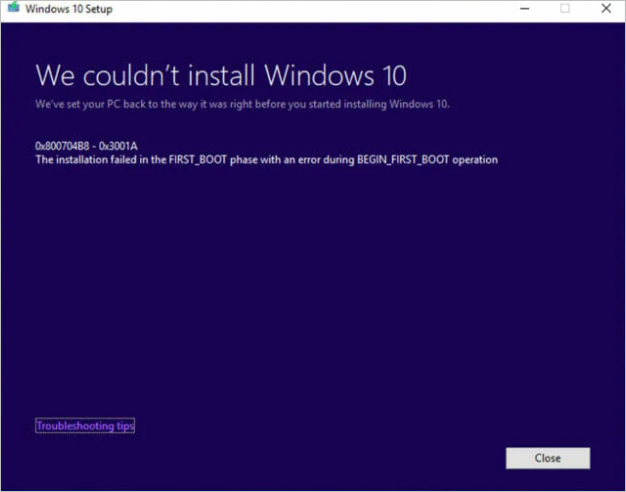 Don't worry, even if you receive this error message - We couldn't install Windows 10. We've set your PC back to how it was before you started installing Windows 10. This post provides you with practical solutions to fix "Windows 10 installation has failed" errors.
2 - Why Won't Windows 10 Install on My PC
Why can't install Windows 10 on any partition? When you receive the warning, it indicates that your Windows computer has the following risks.
Your computer has missed some updates that have yet to be installed.
Your SSD disks on your computer are not clean and may result in installation errors.
A media driver is missing on your PC if you can't install Windows 10 from a USB drive.
There is not enough free space on the System Reserved partition for Windows 10 installation.
Your Windows computer doesn't have the required updates before you install the new build.
3 - How to Fix Can't Install Windows 10 with Code 0x80300024
Windows 10 installation has failed error can be caused by various reasons. You have learned about the causes in part 2. It's time to fix can't install Windows 10 with code 0x80300024. The solutions below can also fix getting files ready for installation stuck error. Keep reading and fix Windows 10 installation errors.
Fix 1. Check If Your PC Meets the Minimum Requirements
Check the table below and make sure that your PC meets the minimum requirements.
| | |
| --- | --- |
| Processor | 1 gigahertz (GHz) or faster compatible processor or System on a Chip (SoC) |
| RAM | 1 gigabyte (GB) for 32-bit or 2 GB for 64-bit |
| Hard drive size | 32GB or larger hard disk |
| Graphics card | Compatible with DirectX 9 or later with WDDM 1.0 driver |
| Display | 800x600 |
If your computer can't meet the minimum requirements, you can't install Windows 10. Buy a new PC to install Windows 10.
Fix 2. Uninstall Language Packs to Fix Can't Install Windows 10
Another way to fix the "Windows 10 installation has failed" error or can't install Windows 10 error is to uninstall the language pack. Here are the steps to uninstall the language pack.
Step 1. Type language in the search bar on your taskbar, then click "Language settings".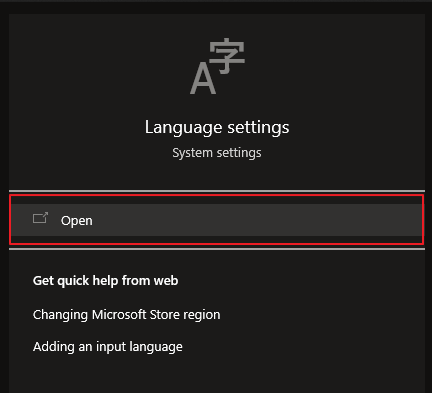 Step 2. Set Windows display language as English and remove all your non-English language packs.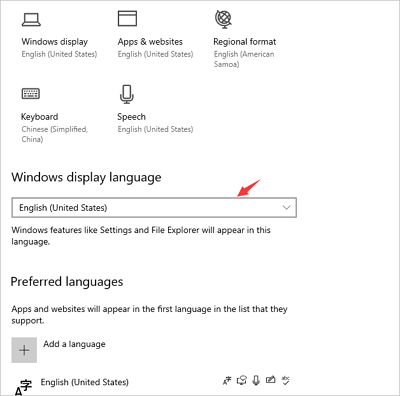 Step 3. Then, install Windows 10 again to see if it works.
Fix 3. Disable or Uninstall Third-party Antivirus for a While
Windows 10 comes with a lot of new features and improvements. However, some users have reported errors when trying to install it. Most cases, these errors can be fixed by uninstalling third-party antivirus software. This is because in some cases, the antivirus software can interfere with the installation process. Windows 10 has built-in antivirus protection, which should be sufficient for most users. As a result, there is no need to install additional software. If you have trouble installing Windows 10, try disabling or uninstalling your third-party antivirus software.
Fix 4. Rebuild the Boot Configuration Data (BCD)
In order to rebuild the Boot Configuration Data (BCD), you will need to have a Windows installation disc or Windows 10 recovery drive. If you do not have either of these, you will be unable to rebuild the BCD. Once you have the appropriate media, insert it into your computer and boot from it. 
Step 1. Choose the "Repair your computer" option at the initial setup screen.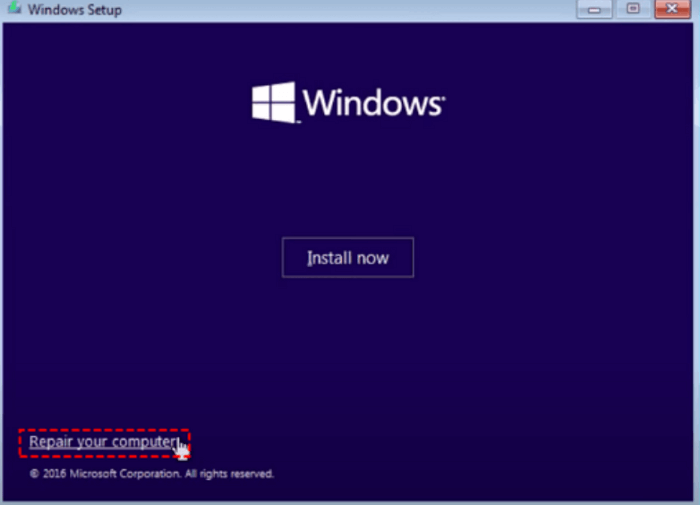 Step 2. Select Troubleshoot > Advanced options > Command Prompt".
Step 3. Type the following command in the Command Prompt and press Enter.
bootrec /fixmbr
bootrec /fixboot
These commands write a new master boot record (MBR) and boot sector to the drive, which can sometimes resolve startup issues.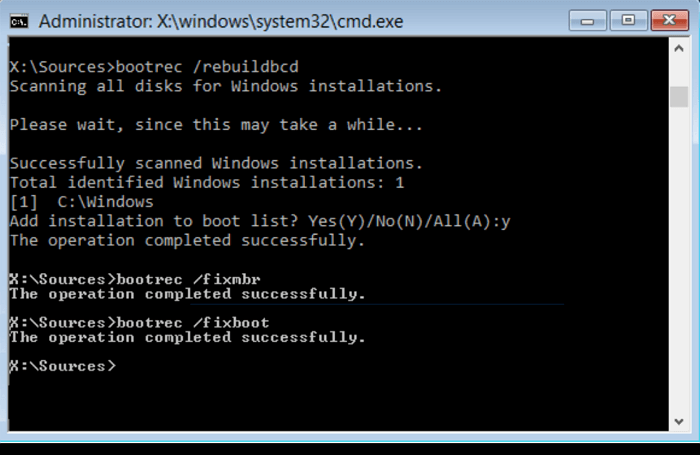 Fix 5. Repair Corrupted System Files to Fix Can't Install Windows 10
You can't install Windows 10 if your system files are damaged or missing. Windows 10 provides a built-in System File Checker to fix corrupted system files.
Step 1. Restart your PC from the Windows installation media.
Step 2. On the Windows Setup window, choose "Next".
Step 3. Choose "Repair your computer > Troubleshoot > Advanced options > Command Prompt".
Step 4. Type sfc /scannow and hit Enter.
Step 5. Type chkdsk /f /r /x C: and hit Enter.

Type exit to close Command Prompt and restart your computer to reinstall Windows 10.
Fix 6. Turn to Windows Repair Services
EaseUS Windows repair service is essential because it can help you fix problems with your Windows operating system. Many people use this service when they have issues with their computers, and the service can help you fix a variety of different types of problems.
EaseUS Data Recovery Services
Click here to contact our experts for a free evaluation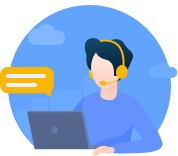 Consult with EaseUS data recovery experts for one-on-one manual recovery service. We could offer the following services after a FREE diagnosis
Repair corrupted RAID structure, unbootable Windows OS, and corrupted virtual disk file
Recover/repair lost partition and re-partitioned drive
Unformat hard drive and repair raw drive(Bitlocker encrypted drive)
Fix disks that become GPT-protected partitions
Fix 7. Run Windows 10 Installation in Clean Boot
If the solutions above don't help, you'll need to run a clean boot installation to fix the problem.
Step 1. Open Run dialog. Type msconfig and hit Enter.
Step 2. Go to "General > Selective startup > Load System Services > Use Original boot configuration".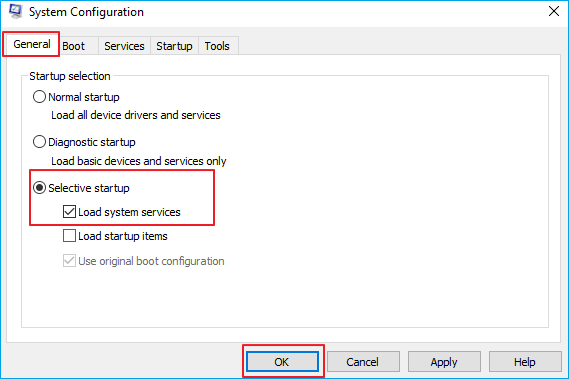 Step 3. Click the "Services" tab. Select the "Hide All Microsoft Services" check box. And click "Disable all".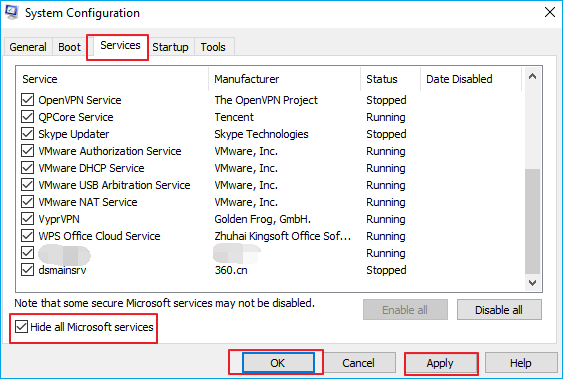 Step 4. Click "Apply/OK" and restart the computer. 
This will put your Windows computer into a Clean Boot State. Hope the clean boot helped you fix the error! If you still have problems, you'd better take your laptop or desktop to a store to get help. You can also watch this Windows 10 installations fix video to get more details.
0:00 - Intro
0:35 - Uninstall Language Packs
1:10 - Uninstall Third-Party Antivirus
1:38 - Rebuild BCD
4 - Recover Data on Windows 10 After Install (Bonus Tip)
If you can't install Windows 10 and fail to enter your operating system, how can you get back your data on your computer? EaseUS Data Recovery Wizard WinPE Edtion can recover deleted files even if the Windows system cannot launch. It can help you a lot.
Create bootable media to make your existing operating system run for the moment to recover lost data.
Recover lost documents, photos, videos, and other files without overwriting original data.
Export and restore data without entering your operating system, like Windows 11/10/8/7.
Follow the steps below to retrieve all the data from your computer, hard drive, or SSD.
Step 1. Create a bootable disk
Prepare an empty USB. If you have important data on it, copy the data to another device. When you create a bootable disk, the data on the USB will be erased. EaseUS Data Recovery Wizard WinPE Edition will help you create a bootable disk.
Connect the USB drive to PC, launch EaseUS Data Recovery Wizard WinPE Edition. Select the USB drive and click "Create" to create a bootable disk.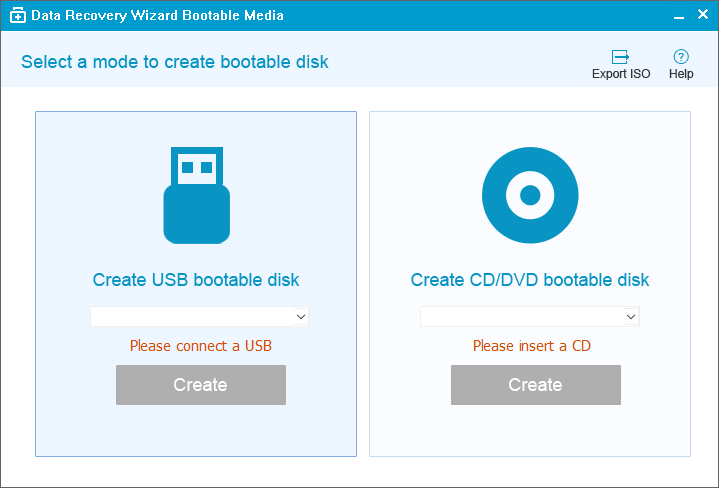 Step 2. Boot from the bootable USB
Connect the bootable disk to PC that won't boot and change your computer boot sequence in BIOS. For most users, it works well when they restart their computer and press F2 at the same time to enter BIOS.
Set to boot the PC from "Removable Devices" (bootable USB disk) or "CD-ROM Drive" (bootable CD/DVD) beyond Hard Drive. Press "F10" to save and exit.
Step 3. Recover data from a hard drive that won't boot
When you boot from the USB, you can run EaseUS Data Recovery Wizard from the WinPE bootable disk. Select the drive you want to scan to find all your lost files. 
Click "Scan" to start the scanning process.
Recover data from the computer or laptop. After the scan completed, you can preview all recoverable files, select the targeted files, and click the "Recover" button to restore your files. You'd better save all of the recovered data to another place to avoid data overwriting.
Conclusion
This post provides seven effective ways to help if you can't install Windows 10. The solutions can also help if you receive this error - Windows could not complete the installation. To install Windows on this computer, restart the installation.
Just have a try, and you may get help. It's nice to back up data regularly to avoid data loss.
Can't Install Windows 10 FAQs
There are some questions and answers about Windows installations and update errors. Read on and get additional help.
1. How to install Windows 10 on a new PC?
The best way to install Windows 10 is to install Windows 10 from USB:
Use a simple tool to create a Windows 11/10 installation USB
Run Windows Media Creation Tool to create a Windows 11/10 installation USB
2. How to fix Windows that cannot be installed to this disk error?
To fix Windows cannot be installed to this disk. The selected disk is of the GPT partition style:
Convert to GPT Without Losing Data
Reformatting drive to GPT
Boot into UEFI mode...
3. How do I force Windows 10 to install?
Go to Settings by clicking the Windows icon.
Select the Update & security option.
Click the Recovery option from the left side of the window.
Click the Get started option under Reset this PC.
4. How to fix Windows 10 update stuck checking for updates?
To fix Windows checking for updates stuck:
Stop windows update service
Delete two folders
Start windows update service
EaseUS Data Recovery Services
EaseUS data recovery experts have uneaqualed expertise to repair disks/systems and salvage data from all devices like RAID, HDD, SSD, USB, etc.