It's widely available for Windows Insider users to get latest Windows 10 Redstone 2 update 14905 in the Fast ring now. If you are looking for a direct access to download and install Windows 10 14905 in your PC no matter you are or aren't an Insider user, follow this tutorial article, you'll get free access to directly download and install Windows 10 Redstone 2 14905 update with ease here now.
What's new in Windows 10 Redstone 2 14905 update?
Before you decide to download the new Redstone 2 update, you may wanna know what's new in this update and here below are some major changes to Windows 10 14905 Build:
We have fixed an issue causing a large blank space to appear between the address bar and web content after the address bar moves back to the top when opening a new tab in Microsoft Edge.
We have updated Narrator Scan mode for table navigation to now support CTRL + ALT + HOME to go to the beginning of the table CTRL + ALT + END to go to the end of the table.
Edge now supports the CTRL + O keyboard shortcut for setting focus to the address bar.
We fixed an issue resulting in Sketchpad and Screen Sketch crashing after trying to change the ink color twice in a row when the ruler was visible.
Besides these improvements, some problems still exist. Therefore, to guarantee a smooth system update process while installing Windows 10 4905 ISO, it's highly recommended for all of you to create system backup and data backups in advance.
Tip: backup system and important data before new Windows 10 14905 update
Professional Windows backup software - EaseUS Todo Backup will make everything extremely simple and easy for all of you to create system backups and data images within 3 steps. You may follow how to free backup Windows 10 to simply create a system image and backup important data with ease now.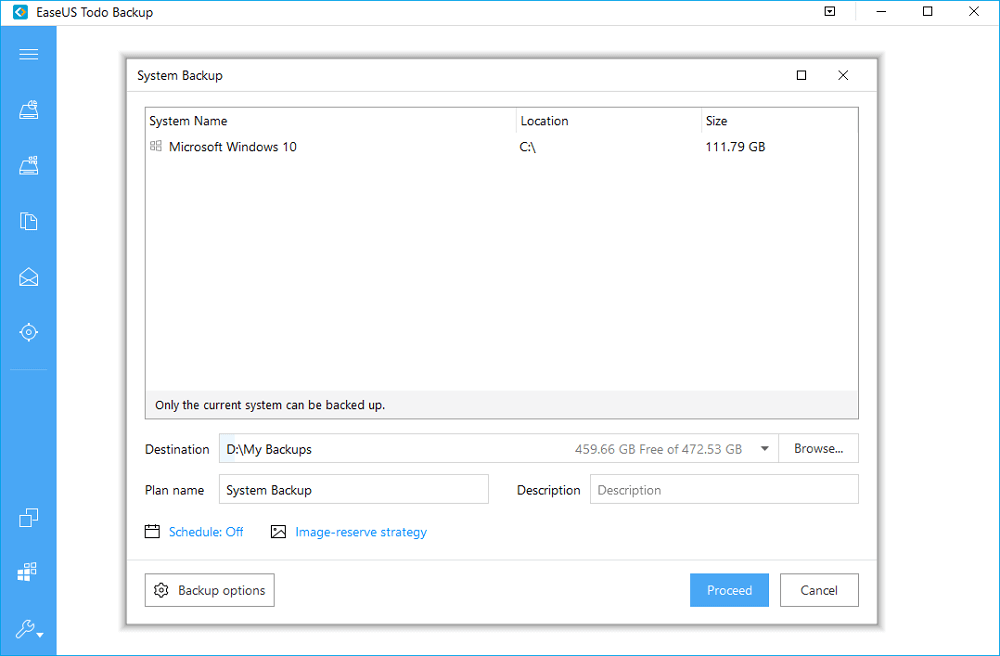 Access: directly download and install Windows 10 Redstone 2 14905
Now you may try to get access to install Windows 10 Redstone 2 14905. If you are an Insider user, you may directly get Windows 10 14905 update in Windows Update:
Go to Settings > Click Update & security > Tap on Windows Update
Click Check for updates > When new builds are checked and found, tap: Download now.
Extra tip: troubleshoot Windows 10 14905 update stuck or failure issue
If you fail to install new updates 14905 of Windows 10 Redstone 2 in your PC, or get stuck while installing this new update, follow below steps to troubleshoot the update stuck error or failure problem now:
1. Press Windows + X and select Control panel.
2. In the search box, type troubleshooter, and then click Troubleshooting.
3. Under System and Security, click Fix problems with Windows Updates.