When consider doing Windows 10 backup, you got three Windows 10 backup solutions which are called full backup, differential backup and incremental backup. Here in this article, we emphasize the last. Before offering you the free Windows 10 backup incremental solution, you're supposed to figure out what Windows 10 incremental backup is for and why you choose incremental backup over the others.
What is Windows 10 incremental backup?
Windows 10 incremental backup is a backup of Windows 10 system or files that have changed or are new since the last backup, being it a full or incremental backup. Put it in a simple way, it is the one that only backs up the changes made by the preceding backup copy.
Why Windows 10 backup incremental?
Windows 10 incremental backups are desirable by Windows 10 practitioners who set their mind on a safe and smooth running of the new OS. Why is that? The purpose of doing a backup is to restore the duplicate data of the lost or deleted one, while an incremental backup is to preserve and protect data by creating copies that are based on the differences in those data thus minimize the amount of time needed to perform the backup, taking the least storage space on the backup media as well.
EaseUS Todo Backup for free Windows 10 backup incremental
This part is going to teach you how to complete a Windows 10 incremental backup with free backup software, like EaseUS Todo Backup Free, which is reputable with millions of users worldwide. Plus it's free.
If it is the first time you use EaseUS Todo Backup, please make sure that you have done a full backup or set a timely schedule in advance.
Launch EaseUS Todo Backup, and you may start with disk/partition backup, file backup, system backup, etc. Click one of them and locate the first full backup folder. After the backup is done, you will see the backup history on the main window of the software. In fact, each time you back up system or files, the main window lists the backup images when you launch the software.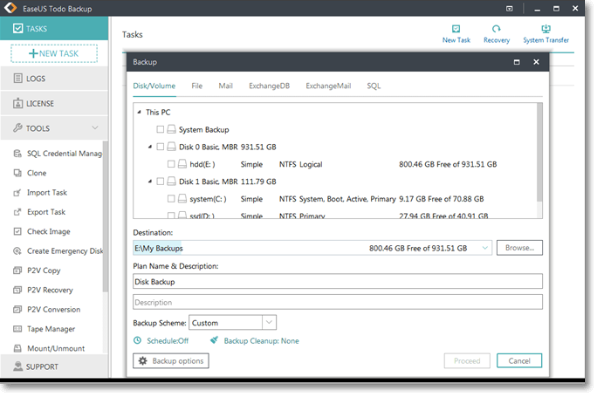 With backup images here, you're allowed to do incremental backup anytime when you add something new or make some changes in the backup area. Click "Backup" between "Recovery" and "Advanced" and select the second backup option "Incremental Backup" to perform the order.
What's more, you're allowed to manually set a timely incremental backup schedule with EaseUS Todo Backup such as one-time/daily/weekly/monthly/upon event backup. There are also options to encrypt or compress the backups in order to save some storage space. More powerful features are waiting for you to explore.