Free Windows 10/8/7 Incremental Backup
What is Incremental Backup
An incremental backup is one in which successive copies of the data contain only the portion that has changed since the preceding backup copy was made. Put it in a simple way, it is the one that only backs up the changes made by the preceding backup copy.
It provides a faster method of backing up data than repeatedly running full backups. During an incremental backup, only files changed since the most recent backup are included. That is where it gets its name: each backup is an increment for a previous backup.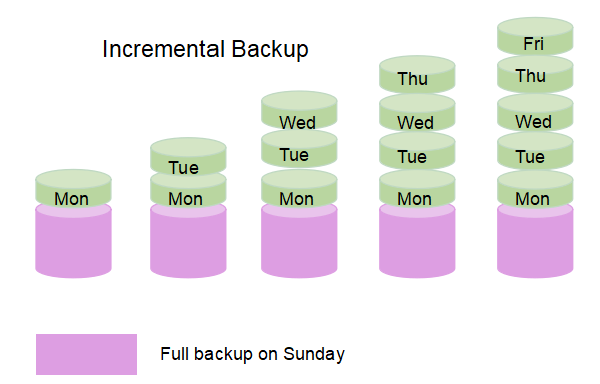 The Advantages and Disadvantages of Incremental Backup
After knowing the meaning of incremental backup, you may want to know about its benefits and shortcomings.
Advantages for this backup type:
It is the fastest backup type since it only backs-up increments
Saves storage space compared to other types
Each backup increment can store a different version for a file/folder
Disadvantages for this backup type:
A full restore is slow compared to other backup types (you need the first full backup and all increments since then)
To restore the latest version of an individual file the increment that contains it must be found first
Reasons for Backing up Windows 10/8/7 Incrementally
Windows 10 incremental backups are desirable by Windows 10 practitioners who set their mind on a safe and smooth running of the new OS. Why is that? The purpose of doing a backup is to restore the duplicate data of the lost or deleted one, while an incremental backup is to preserve and protect data by creating copies that are based on the differences in those data thus minimize the amount of time needed to perform the backup, taking the least storage space on the backup media as well.
EaseUS Todo Backup supports incremental backups and offers a solution for the slow restore disadvantage. The newest version has improved its performance greatly. You can download this free backup software to back up Windows 10/8/7 incrementally and all contents on your PC with ease now.
Tried and True Steps to Create an Incremental Backup
Here, we'll take incremental file backup for example. Follow these steps below and create an incremental backup schedule.
Step 1. Open EaseUS Todo Backup and select "File".
You may have a large amount of vital data to be protected as time goes on, such as documents, pictures, music, and videos, etc. It is always a good habit to have a backup on a regular basis.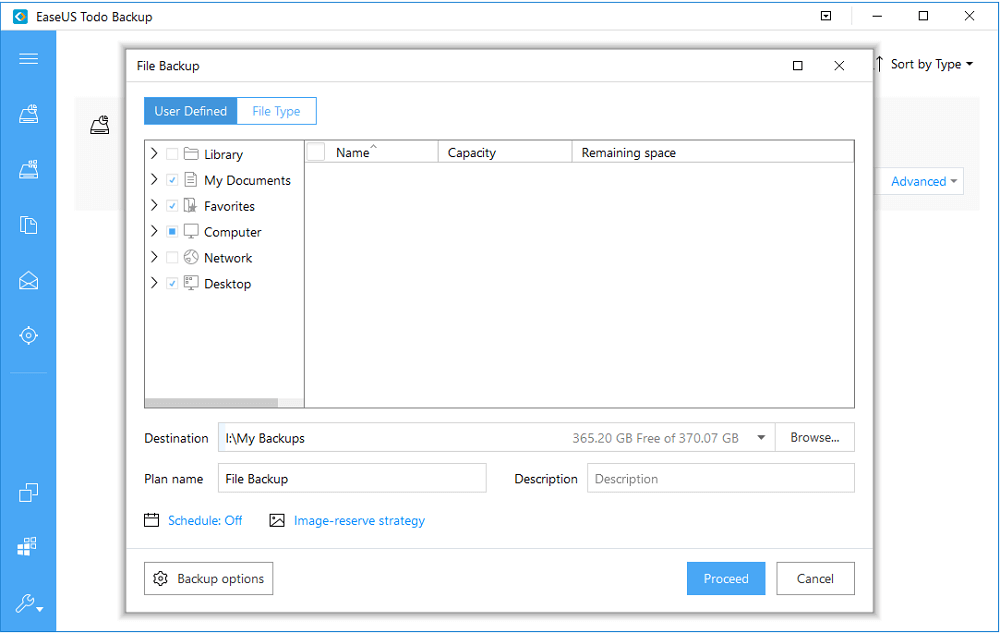 Step 2. Select the files that you want to back up.
If you just want to back up one or some specific file types from one folder, the option at the top right corner can help you exclude other files.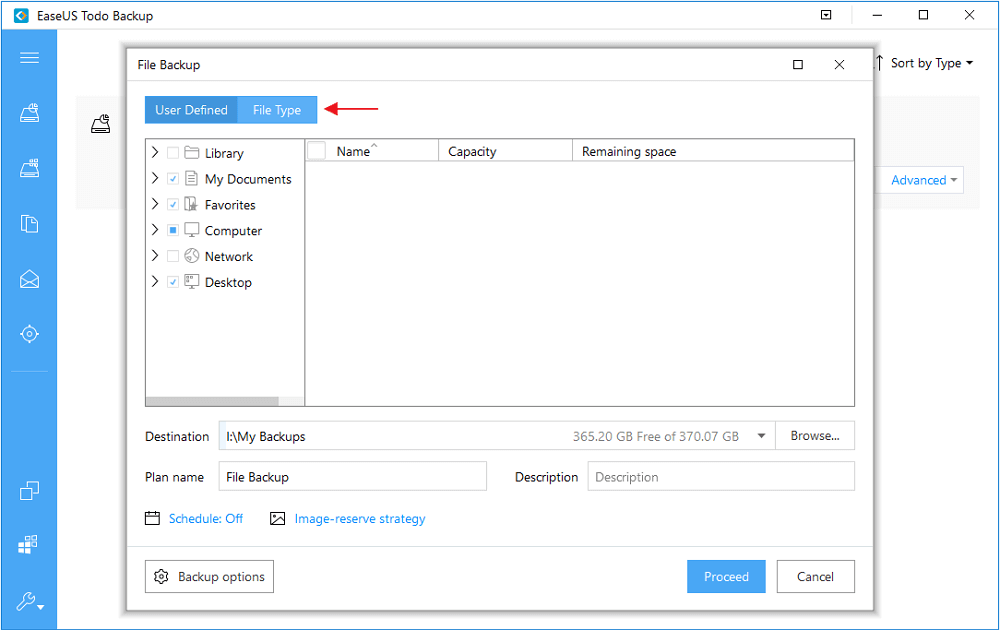 Step 3. Select a destination to save your backup file.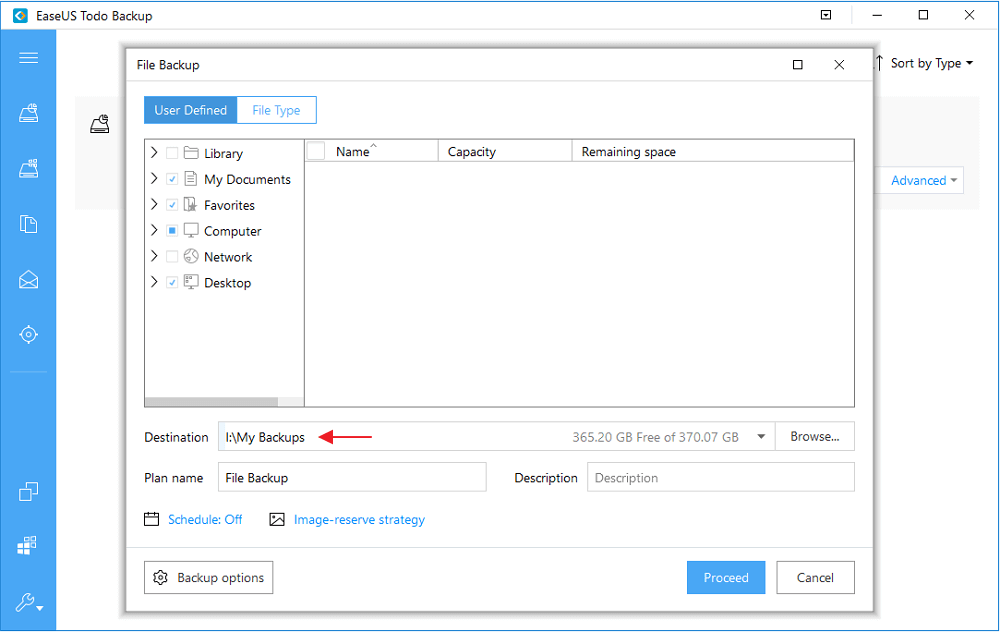 Step 4. Click "Schedule" to create an automatic incremental backup.
For example, if you want to back up these files every Sunday, select "Weekly", and select "Sun". Then, set the backup method as Incremental.
Our software will start with a full backup for the first time. After that, it will execute a backup task for only changed files every Sunday.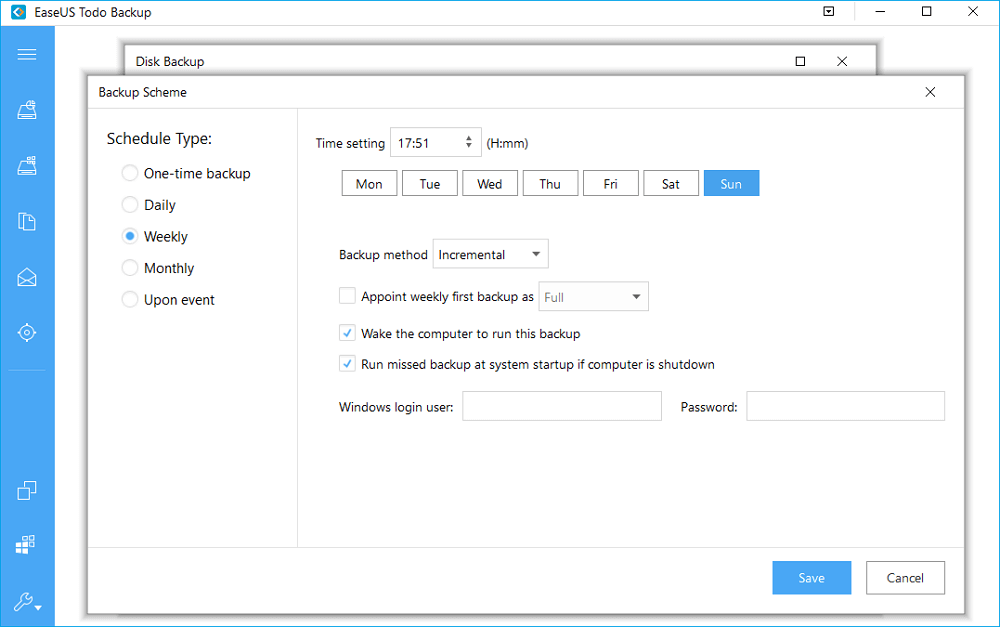  Notice:

Here's a warm tip for you. Since it's the first-time backup for creating a full backup image, the process normally takes longer as it needs to image all selected files. Have a little rest and wait patiently.
If you have enough space, you can also select the "Appoint weekly first backup as Full" option. This option enables you to take a full backup and an incremental backup at the same time. But it takes a lot of disk space.
Step 5. Click "Save" and then click "Proceed" to execute the full back up. 
Once done, it will automatically execute an incremental backup on a set day.
Besides incremental file backup, EaseUS Todo Backup also provides System Backup and Recovery, Email Backup, and Disk Clone functions. With this powerful backup software, your life will be easy! Why not have a try now! Just download to get the best backup & recovery software!
Updated by Tracy King 
Tracy is enthusiastic to share technical tips and solutions about computing and technology. Being an EaseUS member since 2013, she also writes instructional content about data recovery, file/disk partition/system backup and recovery, partition management and iOS/Android data recovery.

Author Jean has been writing tech articles since she was graduated from university. She has been part of the EaseUS team for over 5 years. Her special focuses are data recovery, disk partitioning, data space optimization, data backup and Mac OS. By the way, she's an aviation fan!
Taking everything into consideration, we can say that EaseUS Todo Backup Home can offer you a little extra sense of security with a set of advanced tools. The interface provides quick adaptation, every process guiding you all the way through so you don't get stuck or further damage your system rather than keeping it safe.

 Read More

EaseUS Todo Backup Free lets you create backups of your important files or your entire computer through its streamlined interface. Just choose the backup type you'd like to get started, and let the program do the reset.

 Read More

EaseUS includes all the features I expect from backup software like versioning, incremental backups, and scheduling. For more advanced users, EaseUS allows you to install a pre-boot environment onto your hard drive so you can use it to restore files without burning a CD or putting it on an external USB drive.

 Read More

EaseUS Todo Backup
Smart backup tool for your files and entire computer in Windows 10/8/7.