PAGE CONTENT:
What is Incremental Backup
The Advantages and Disadvantages of Incremental Backup
Reasons for Backing up Windows 10/8/7 Incrementally
Tried and True Steps to Create an Incremental Backup
What is Incremental Backup
An incremental backup is one in which successive copies of the data contain only the portion that has changed since the preceding backup copy was made. Put it in a simple way, it is the one that only backs up the changes made by the preceding backup copy.
It provides a faster method of backing up data than repeatedly running full backups. During an incremental backup, only files changed since the most recent backup are included. That is where it gets its name: each backup is an increment for a previous backup.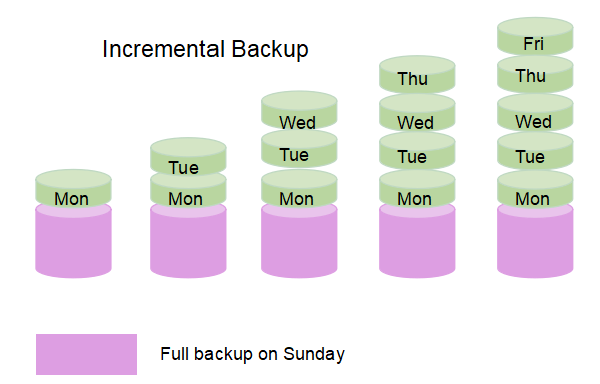 The Advantages and Disadvantages of Incremental Backup
After knowing the meaning of incremental backup, you may want to know about its benefits and shortcomings.
Advantages for this backup type:
It is the fastest backup type since it only backs-up increments
Saves storage space compared to other types
Each backup increment can store a different version for a file/folder
Disadvantages for this backup type:
A full restore is slow compared to other backup types (you need the first full backup and all increments since then)
To restore the latest version of an individual file the increment that contains it must be found first
Reasons for Backing up Windows 10/8/7 Incrementally
Windows 10 incremental backups are desirable by Windows 10 practitioners who set their mind on a safe and smooth running of the new OS. Why is that? The purpose of doing a backup is to restore the duplicate data of the lost or deleted one, while an incremental backup is to preserve and protect data by creating copies that are based on the differences in those data thus minimize the amount of time needed to perform the backup, taking the least storage space on the backup media as well.
EaseUS Todo Backup supports incremental backups and offers a solution for the slow restore disadvantage. The newest version has improved its performance greatly. You can download this free backup software to back up Windows 10/8/7 incrementally and all contents on your PC with ease now.
Tried and True Steps to Create an Incremental Backup
Here, we'll take incremental file backup for example. Follow these steps below and create an incremental backup schedule.
Step 1. Open EaseUS Todo Backup and select "File Backup".
You may have a large amount of vital data to be protected as time goes on, such as documents, pictures, music, and videos, etc. It is always a good habit to have a backup on a regular basis.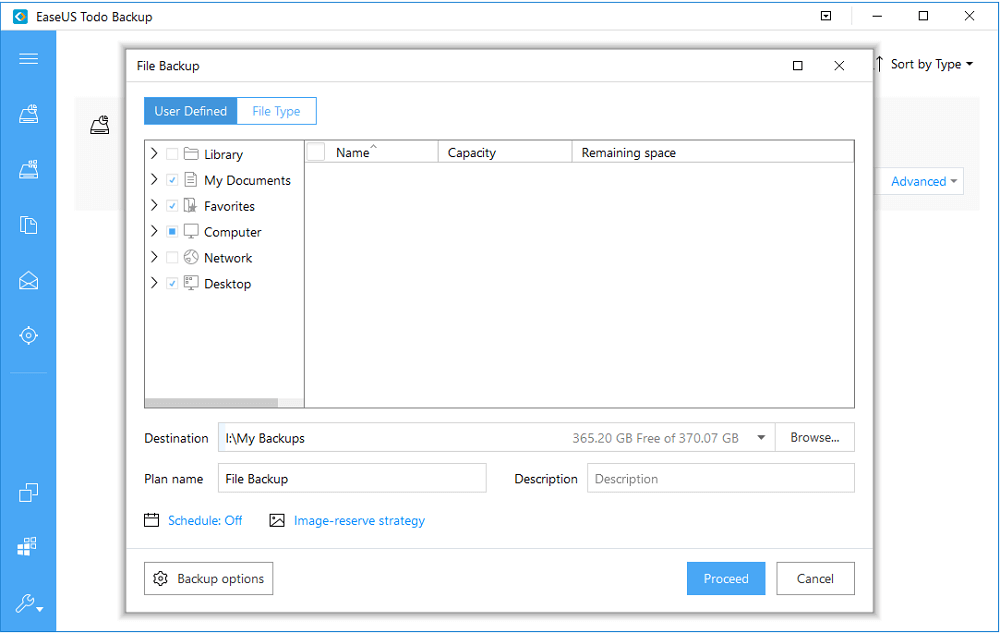 Step 2. Select the files that you want to back up.
If you just want to back up one or some specific file types from one folder, the option at the top right corner can help you exclude the others files.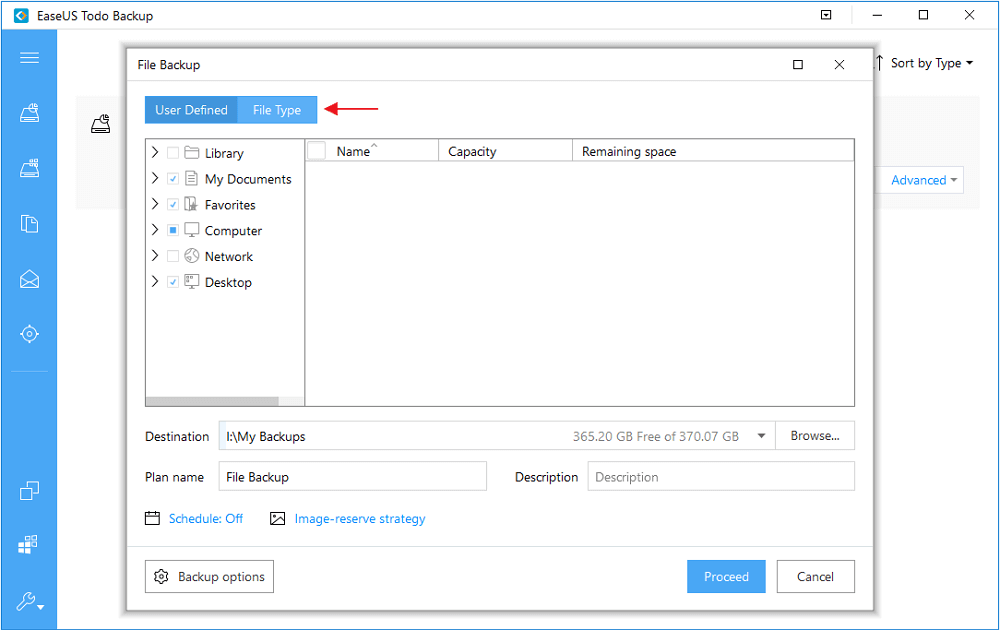 Step 3. Select a destination to save your backup file.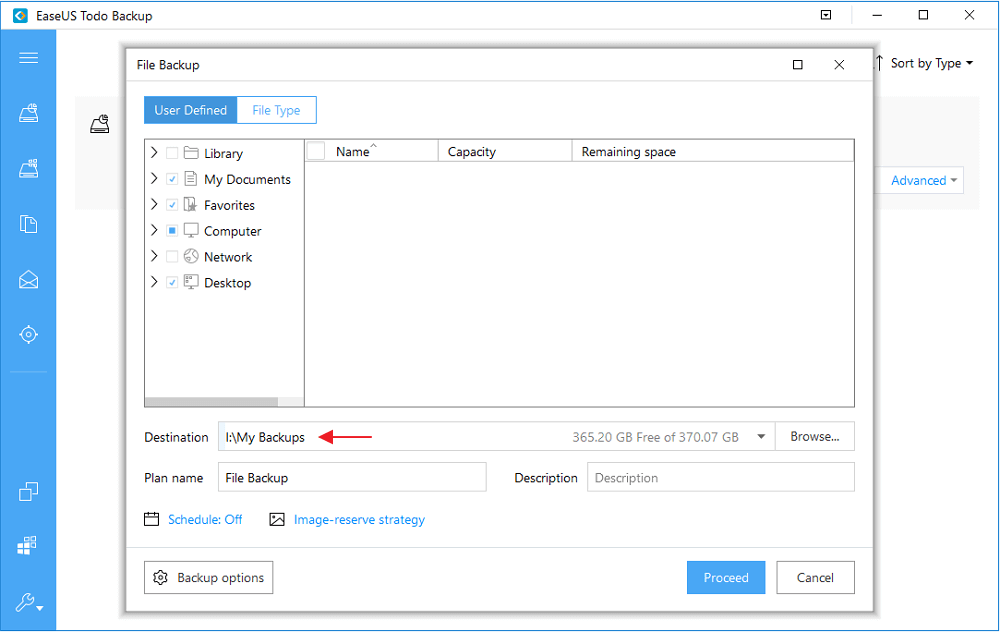 Step 4. Click "Schedule" to create an automatic incremental backup.
For example, if you want to back up these files every Sunday, select "Weekly", and select "Sun". Then, set the backup method as Incremental.
Our software will start with a full backup for the first time. After that, it will execute a backup task for only changed files every Sunday.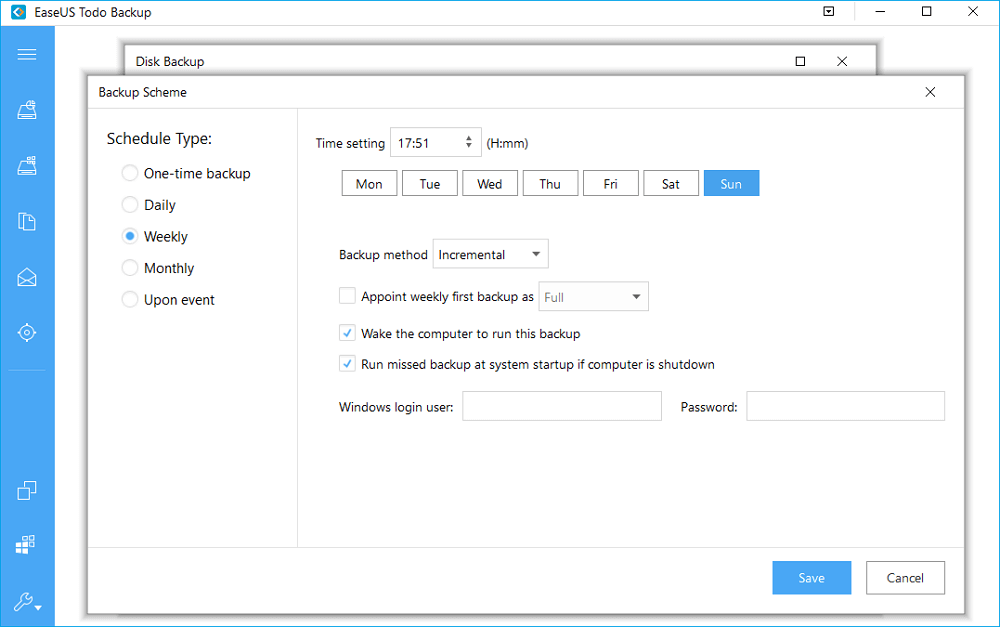  Notice:

Here's a warm tip for you. Since it's the first-time backup for creating a full backup image, the process normally takes longer as it needs to image all selected files. Have a little rest and wait patiently.
If you have enough space, you can also select the "Appoint weekly first backup as Full" option. This option enables you to take a full backup and an incremental backup at the same time. But it takes a lot of disk space.
Besides incremental file backup, EaseUS Todo Backup also provides System Backup and Recovery, Email Backup, and Disk Clone functions. With this powerful backup software, your life will be easy! Why not have a try now! Just download to get the best backup & recovery software!
100% of people found this article helpful.
Frequently Asked Questions
Why choose EaseUS Todo Backup?

"The easiest way to protect your data and system files." —techradar

"EaseUS Todo Backup Free is one of the most popular free data backup applications available. This software offers a myriad of features and is extremely user-friendly. It provides a full system backup, meaning you can back up your entire operating system." —TopTenReviews

"EaseUS ToDo Backup Home is a great backup program, well suited to the home and SMB space." —PCWorld
What is the difference between Clone and Backup? In what cases should I use Clone?

Clone will copy one disk to another or one partition to another (unallocated space is also supported). Usually, this option is used to upgrade the current disk by creating an identical copy. Backup will generate a .PBD image file containing the selected files or system that can be restored from the .PBD image if needed.
What is the difference between System Backup and Disk Backup?

System Backup will auto-select the system boot related partition(s) as the backup source to make sure the system image can be restored properly. Disk/Partition Backup will allow you to manually select a whole disk or speficy a certain partition as the backup source. You will get the same backup result as System Backup if you manually select the system and boot partitions with the Disk/Partition Backup option.
As a computer newbie, what features should I use to protect my computer?

You can use System Backup to back up the system and boot partitions, use Disk/Partition backup to back up the data partition and add plans to run an automatic backup. If you use the computer frequently or have software that may cause boot failure of the computer, we would suggest you back up the computer every 1 to 2 days. For other situations, you can backup the computer once a week. In addition, you can schedule File Backup to back up the files which are changed frequently.
What kind of storage service should I use to save my backup images?

EaseUS Todo Backup can save backup images to internal disks, external disks, network drives, or free cloud(Google Drive, Dropbox, and OneDrive) and CD/DVD. It is suggested to save the images to the internal/external/network drives to save time as those kinds of disks have a better read-write speed. It is suggested NOT to save the image on the source disk, because once the disk is damaged, all the files on the disk will become unavailable and you will be unable to restore the image.
As a company network administrator, what features should I use to protect our internal computers?

It is recommended that you use the SQL Backup feature to back up your company's SQL server and Exchange Backup feature to back up the Exchange server. In addition, you can execute System Backup to back up the system and boot partitions on every computer and set a plan to execute the backup once a day or twice a week to ensure that the computer can be restored timely when it has boot issues. File Backup feature can be used to back up important user data. If there are a large quantity of computers, you can purchase EaseUS Backup Center to manage the backups on the client computers centrally.
About EaseUS Todo Backup
Be it a file, system, partition, or disk, EaseUS Todo Backup will help you back up or clone the item and provide you with multiple backup plans.