Free Windows 10/8/7 Incremental Backup
Updated by
Gemma
on Nov 29, 2021
What is Incremental Backup
An incremental backup is one in which successive copies of the data contain only the portion that has changed since the preceding backup copy was made. Put it in a simple way, it is the one that only backs up the changes made by the preceding backup copy.
It provides a faster method of backing up data than repeatedly running full backups. During an incremental backup, only files changed since the most recent backup are included. That is where it gets its name: each backup is an increment for a previous backup.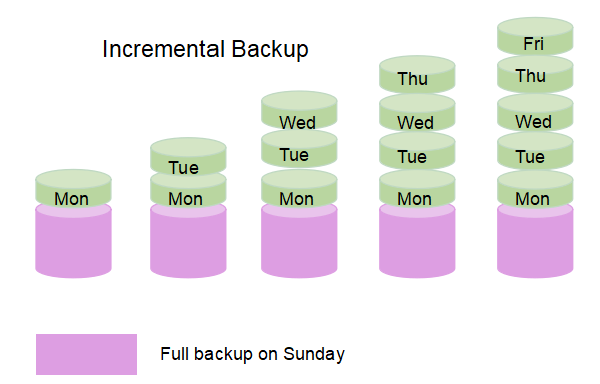 The Advantages and Disadvantages of Incremental Backup
After knowing the meaning of incremental backup, you may want to know about its benefits and shortcomings.
Advantages for this backup type:
It is the fastest backup type since it only backs-up increments
Saves storage space compared to other types
Each backup increment can store a different version for a file/folder
Disadvantages for this backup type:
A full restore is slow compared to other backup types (you need the first full backup and all increments since then)
To restore the latest version of an individual file the increment that contains it must be found first
Reasons for Backing up Windows 10/8/7 Incrementally
Windows 10 incremental backups are desirable by Windows 10 practitioners who set their mind on a safe and smooth running of the new OS. Why is that? The purpose of doing a backup is to restore the duplicate data of the lost or deleted one, while an incremental backup is to preserve and protect data by creating copies that are based on the differences in those data thus minimize the amount of time needed to perform the backup, taking the least storage space on the backup media as well.
EaseUS Todo Backup supports incremental backups and offers a solution for the slow restore disadvantage. The newest version has improved its performance greatly. You can download this free backup software to back up Windows 10/8/7 incrementally and all contents on your PC with ease now.
Tried and True Steps to Create an Incremental Backup
Here, we'll take incremental file backup for example. Follow these steps below and create an incremental backup schedule.
Step 1. For the first time you use EaseUS Todo Backup to back up files, click Create backup on the home screen and then mouse click the big question mark to select backup contents.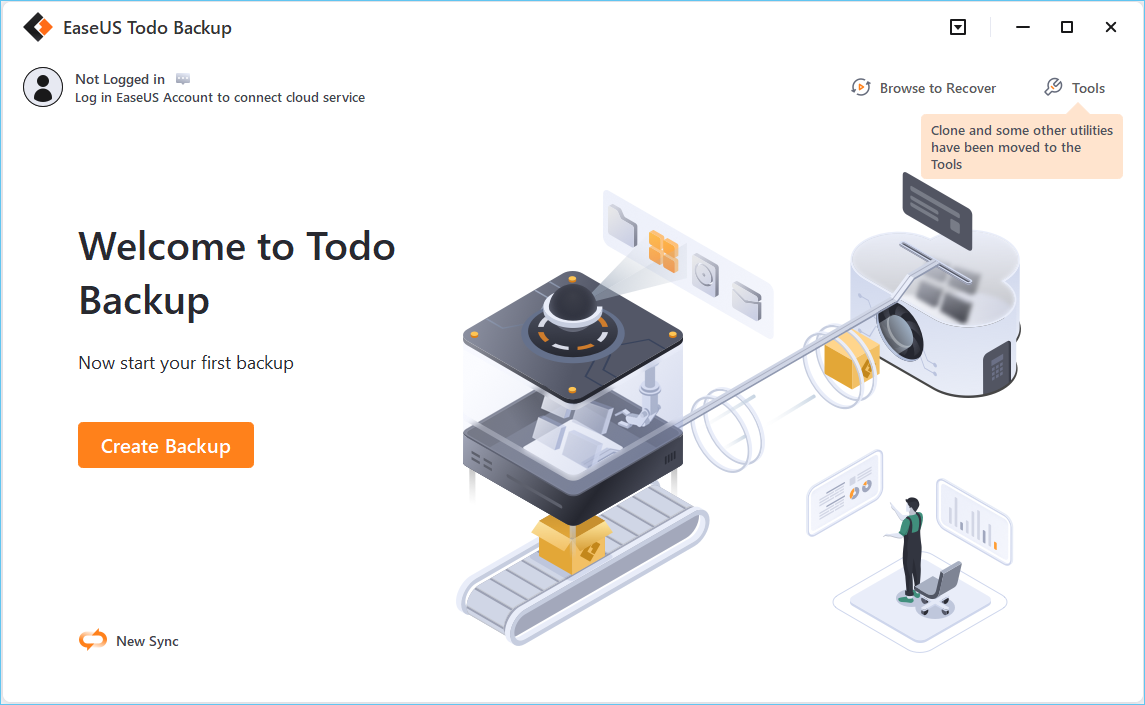 Step 2. Since you're going to back up files and folders on your computer, go on with the "File" backup mode, where you can select pictures, videos, documents and all other types of files to back up.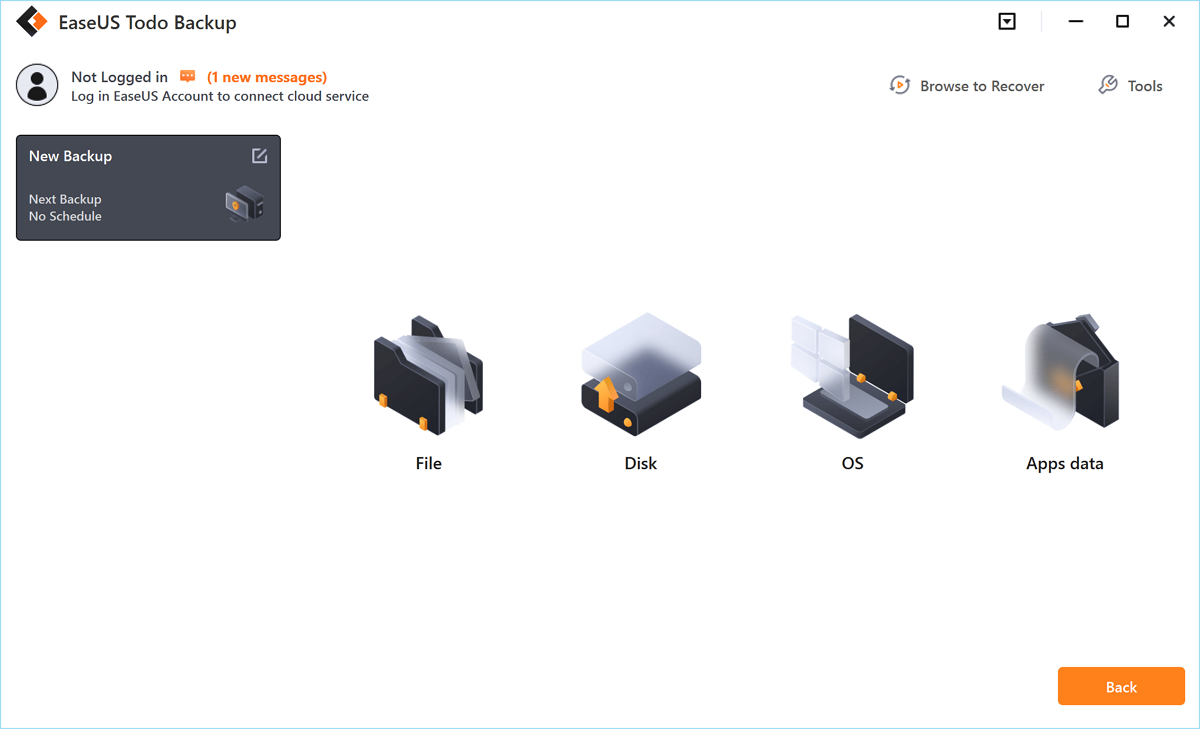 Step 3. Follow the paths to locate the files, folders or directories you want to back up, select them all and click "OK".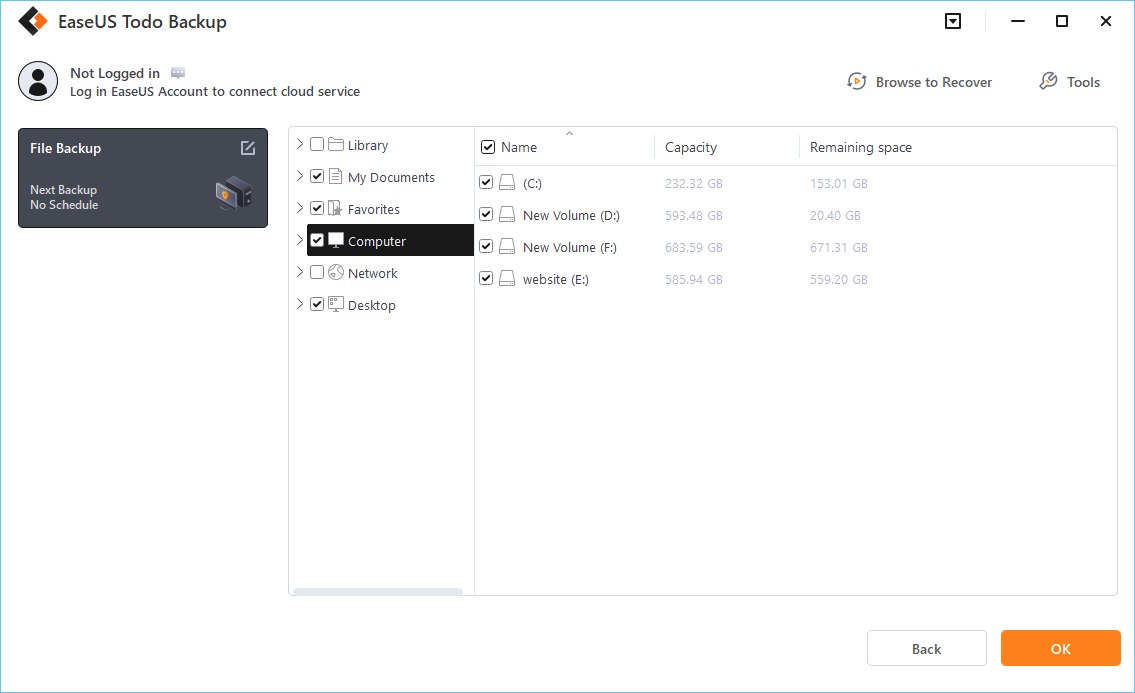 Step 4. Now you need to select a backup location to save and retain the backup.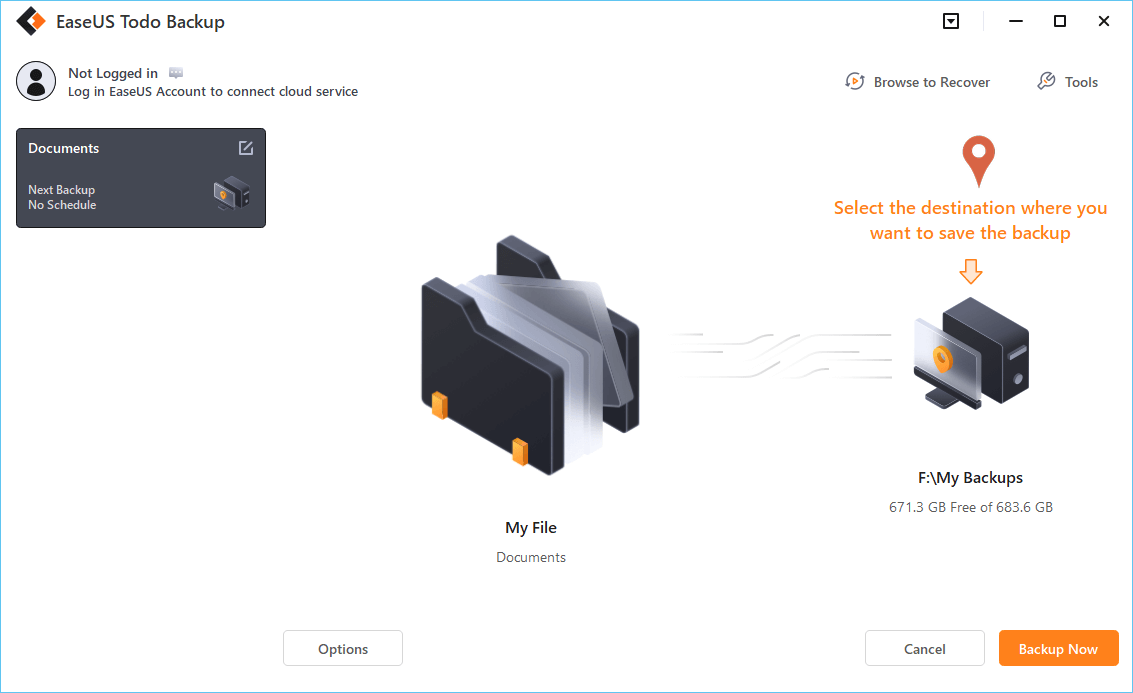 Step 5. EaseUS Todo Backup allows users to save the backup files to every device that is handy for you, like a local hard drive, external USB drive, SD card, network drive, or a NAS drive, plus a cloud drive of the EaseUS brand. We personally recommend users to choose the cloud drive prior to a physical drive to save important backups due to the greater accessibility, flexibility and safety.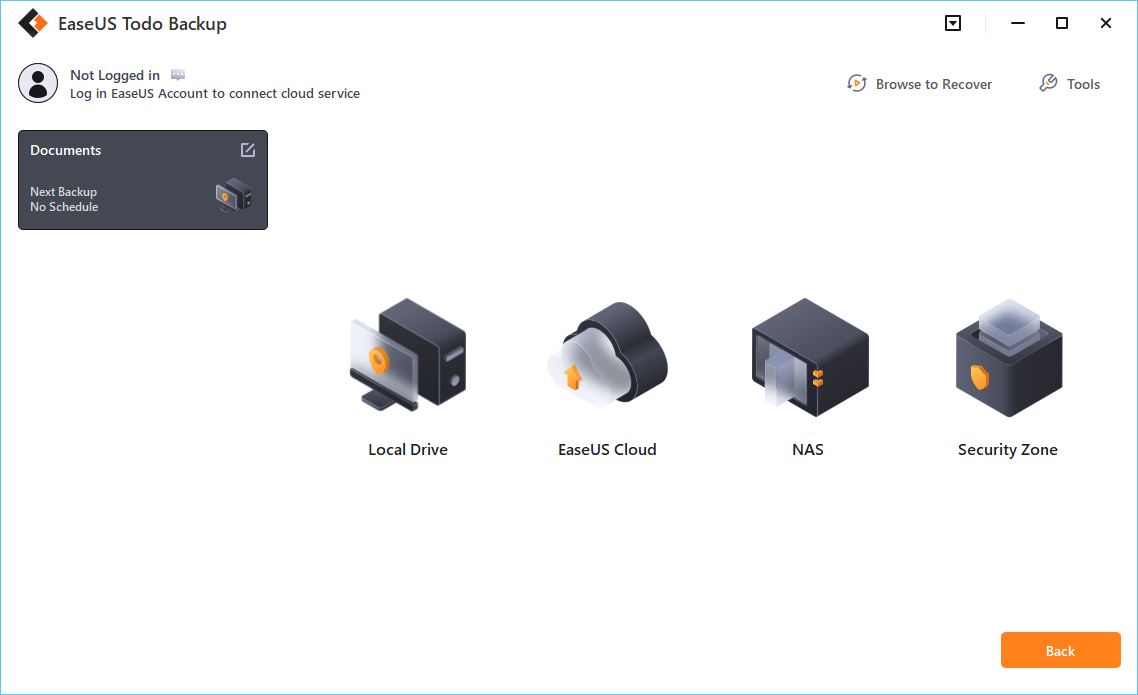 To be able to access to EaseUS cloud, all you need is an email registration and login.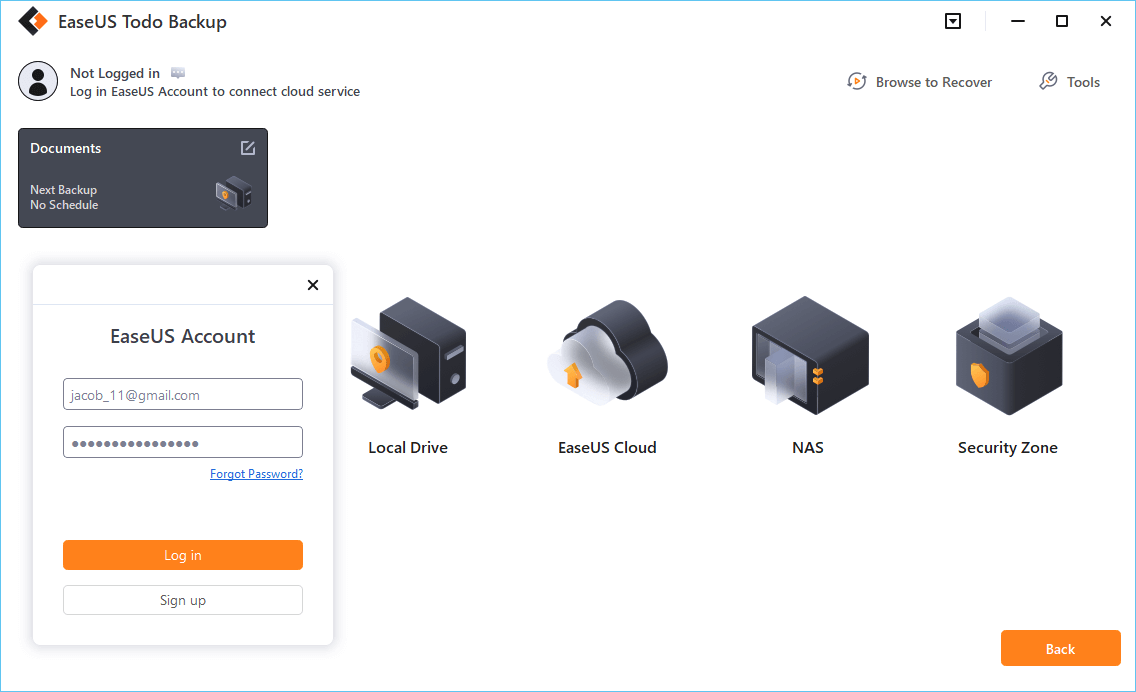 Step 6. If you're interested in an automatic and intelligent backup schedule for the next file backup task, go on with the "Options" setting. There you can encrypt a confidential file backup, compress the backup image size, or customize a backup scheme to tell the software in what time to start the next backup. 
Customize an advanced and automatic backup task here: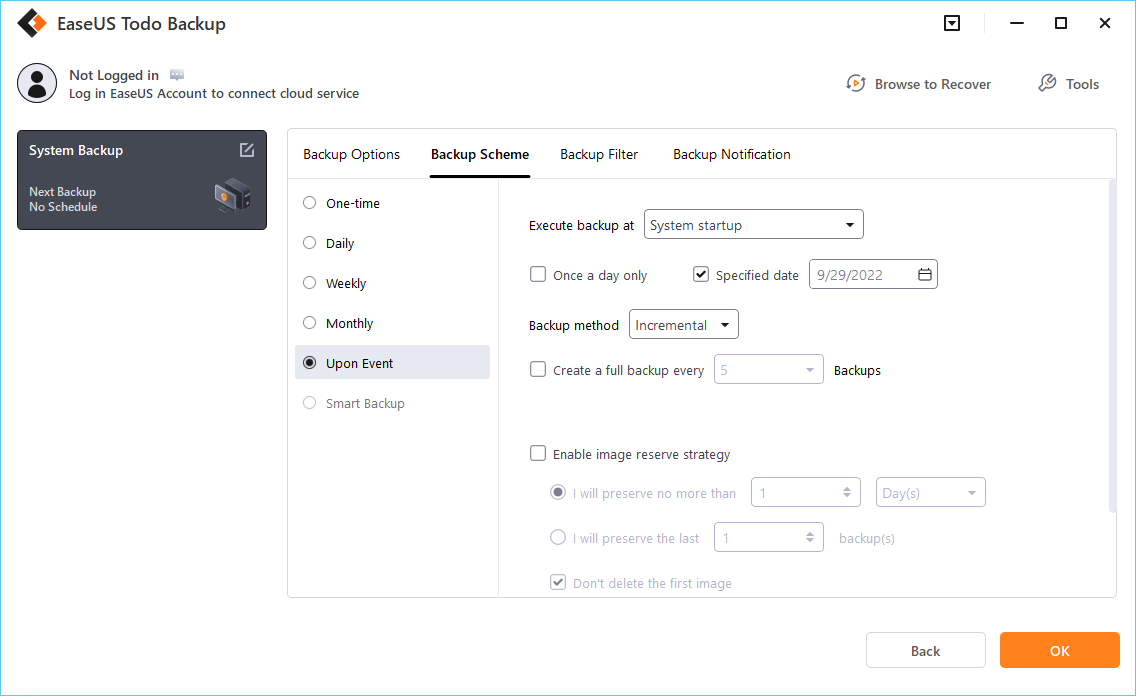 Step 7. Click "Backup Now" to start the file backup process. Your completed backup files are visible on the left area in a card style.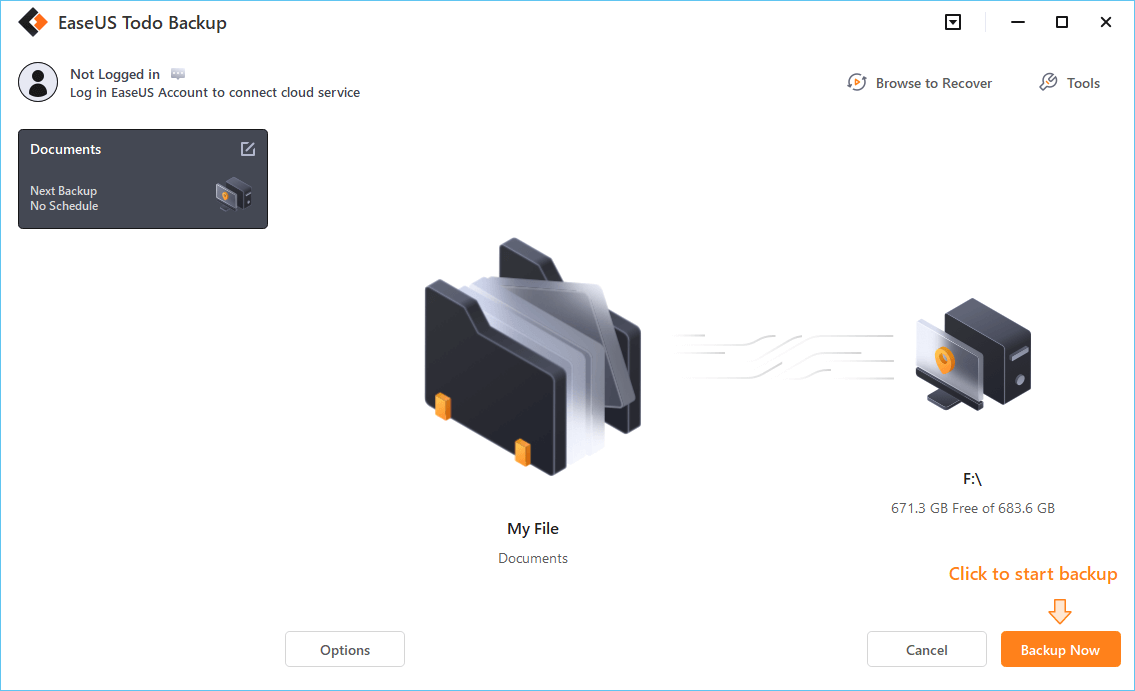 Besides incremental file backup, EaseUS Todo Backup also provides System Backup and Recovery, Email Backup, and Disk Clone functions. With this powerful backup software, your life will be easy! Why not have a try now! Just download to get the best backup & recovery software!
Gemma is member of EaseUS team and has been committed to creating valuable content in fields about file recovery, partition management, and data backup etc for many years. She loves to help users solve various types of computer related issues.

Author Jean has been writing tech articles since she was graduated from university. She has been part of the EaseUS team for over 5 years. Her special focuses are data recovery, disk partitioning, data space optimization, data backup and Mac OS. By the way, she's an aviation fan!
Taking everything into consideration, we can say that EaseUS Todo Backup Home can offer you a little extra sense of security with a set of advanced tools. The interface provides quick adaptation, every process guiding you all the way through so you don't get stuck or further damage your system rather than keeping it safe.

 Read More

EaseUS Todo Backup Free lets you create backups of your important files or your entire computer through its streamlined interface. Just choose the backup type you'd like to get started, and let the program do the reset.

 Read More

EaseUS includes all the features I expect from backup software like versioning, incremental backups, and scheduling. For more advanced users, EaseUS allows you to install a pre-boot environment onto your hard drive so you can use it to restore files without burning a CD or putting it on an external USB drive.

 Read More

EaseUS Todo Backup
Smart backup tool for your files and entire computer in Windows 10/8/7.
Install Windows on Multiple Computers at Once? No Problem!
Learn how to install Windows 11/10/7 and special programs/software on a batch of computers. Use 10 minutes to do the 10 hours work without making a single mistake!
Get Free Solution!