Have you had the idea to upgrade your old and small disk to a new one in Windows Server 2008? Have you had the experience transferring much data in your Windows Server 2008 computer to another storage device in a troublesome way and in a long time? Actually, the best solution for all these problems is to clone Windows Server 2008 hard drive. This article will introduce you EaseUS Todo Backup Server, a professional Windows Server 2008 disk cloning software and shows you how to clone Windows 2008 r2 Server system and hard drive with it step by step.
Why need to clone Windows 2008 Server & hard drive
In this era of information expansion, more and more information is saved into our server computers, resulting in our former big hard disk becoming smaller and smaller; and at this time, we need to upgrade our disk. Clone Windows Server 2008 hard drive can make the job easier. You can use the new disk as soon as you finish the disk cloning process.
Secondly, the clone has another advantage - transfer data into another storage device in a short time. If you want to make a duplicate of a lot of important files and save them to your flash drive, you may copy and paste them directly. But it's so troublesome and a waste of time while cloning a partition where files are located into. So you need to find good and reliable Windows Server 2008 clone software to do you a favor.
How to clone Windows Server 2008
If you want to find the best way to clone your server 2008 hard drive, we recommend you a pretty good Server 2008 clone software - EaseUS Todo Backup Server, which can help you upgrade your server disk by cloning the hard disk in a short time and transfer your important files with partition clone. It also has other powerful features, such as schedule backup, differential backup, incremental backup, support WinPE bootable CD and so on. This software can support Windows Server 2008/2003/2012 and Windows 8/XP/Vista/7. Download it to have a try and get your old disk upgraded easily.
Step 1. Launch EaseUS Windows Server 2008 cloning software and click Clone. And then select the source and destination disk.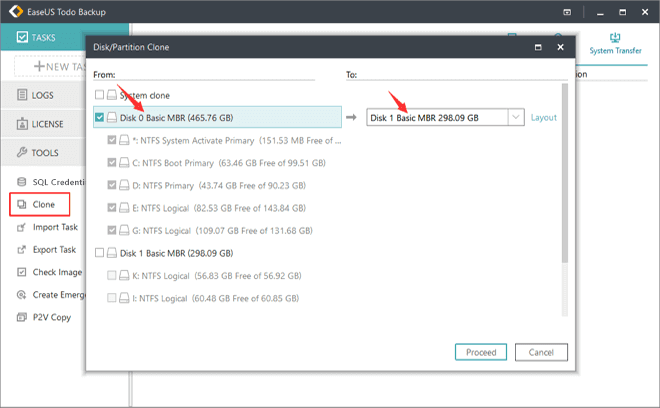 Step 2. Sector by sector clone option enables you to clone all sectors from the source disk to the destination disk.
Note: please make sure that the destination hard disk is equal or larger than the source disk when you clone a hard drive to another.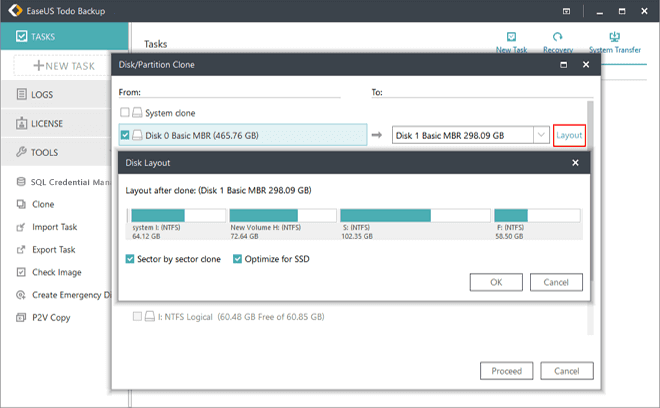 Step 3. Preview the disk layout after cloning. And finally, you can click NEXT to clone one hard drive to another in Windows Server 2008 with one click.