Restore Windows 10/8/7 System Image to New/Different Computer
Can I Restore A System Image to A New Computer?
"Do you know how to recover or restore Windows system backup image to another computer with dissimilar hardware? I upgraded my Windows 7 computer into Windows 10, but recently, it became extremely slow.  I bought a new computer. And I'm thinking to backup Windows 10 system and transfer the system image to the new computer rather than reinstalling all Windows 10 again. But how? Can I do a system image transfer to a different computer without reinstallation?"
When You Need to Restore System to A New Computer
Why it's so necessary to restore Windows system image to a new computer? Here we'll list you some reasons about why and when you need to transfer or migrate the system to a new computer.
1. The computer gets old and hardware fails
When the computer gets old or gains hardware failure error, relevant issues like data erosion and system failure may also occur to your PC.
A timely, cost-effective manner to combat this issue is to replace the old PC with a new one with dissimilar hardware.
Therefore, to restore the system image, including data backup, to a new computer with dissimilar hardware can be a critical issue and quick access to avoid disaster strikes on your old PC.
2. System transferring or migration without reinstalling Windows
Restoring the system to a new computer is also known as to recover/migrate OS to dissimilar hardware, which means that you can transfer and restore a complete Windows-based system image to a new computer without reinstalling Windows OS. 
 Important

If you need to replace failed hardware with a new computer and can't find an exact match for your original system specifications, or if you simply need to upgrade your computer to a dissimilar hardware, in those cases, stable and secure system backup and restore software would do a lot of help.
How to Restore Windows 10/8/7 to A New computer (with Dissimilar Hardware)
Professional backup software with restore to dissimilar hardware feature allows you to easily restore the system to dissimilar hardware.
First, choose system backup software for system transfer
EaseUS Todo Backup is designed to back up Windows system and restore the image to a hardware platform with a dissimilar processor, different motherboard or a different mass storage device, as well as ensure the server or workstation can boot its operating system normally after a restoration/deployment.
With it, you can complete the following operation:
Instant recovery from a failed hardware after disaster strikes and cannot find an exact match for the original system specifications.
Upgrade or migrate the system to a new different computer.
Save time for system deployment with hardware independence.
Here are some important tips for you to keep in your mind before starting your task:
To backup or copy your important data to an external storage device is also necessary.
To create a system backup should be the very first step for you to transfer and restore Windows system image to a new computer.
Second, restore the system image to a new computer
Here below, you'll find detail tutorial steps about how to restore Windows system backup to dissimilar hardware right now.
Step 1. Create an emergency disk on a healthy computer
To save your time and energy, we'd like to suggest you create an emergency disk to a USB or external hard drive rather on a healthy computer with EaseUS Todo Backup.
1. Connect an empty USB flash drive or external hard drive with over than 100GB space to your PC.
2. Run EaseUS Todo Backup and click "Tools > Create Emergency Disk".
3. Choose USB as the disk location to create the emergency disk which will help you boot computer when it fails to boot or restore the system to dissimilar new PC.
4. Click "Create".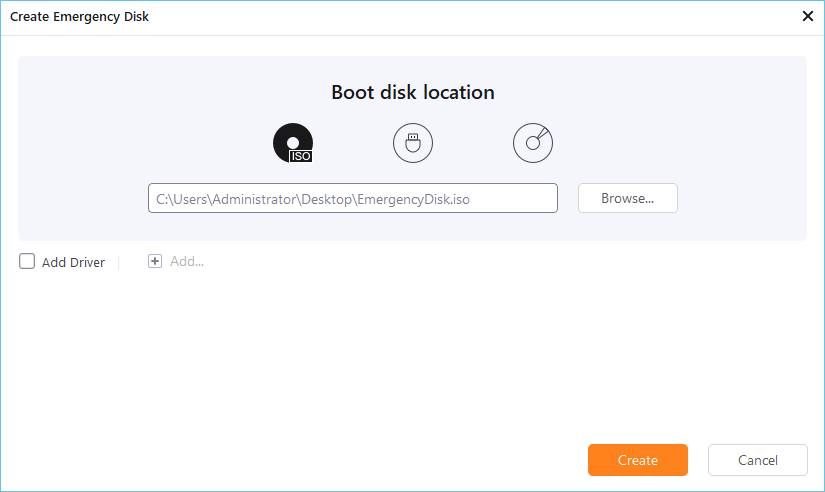 Step 2. Create a Windows system image backup for restoring to dissimilar hardware
1. Run EaseUS Todo Backup on the healthy computer and click "OS" on the main page to back it up.
2. Choose the Windows OS and specify the USB flash drive which contains the emergency disk as the destination disk to save system image.
If you are worried about data loss issue by saving the system image to the emergency disk drive, you may also save system backup to another empty external hard drive with over 100GB free space.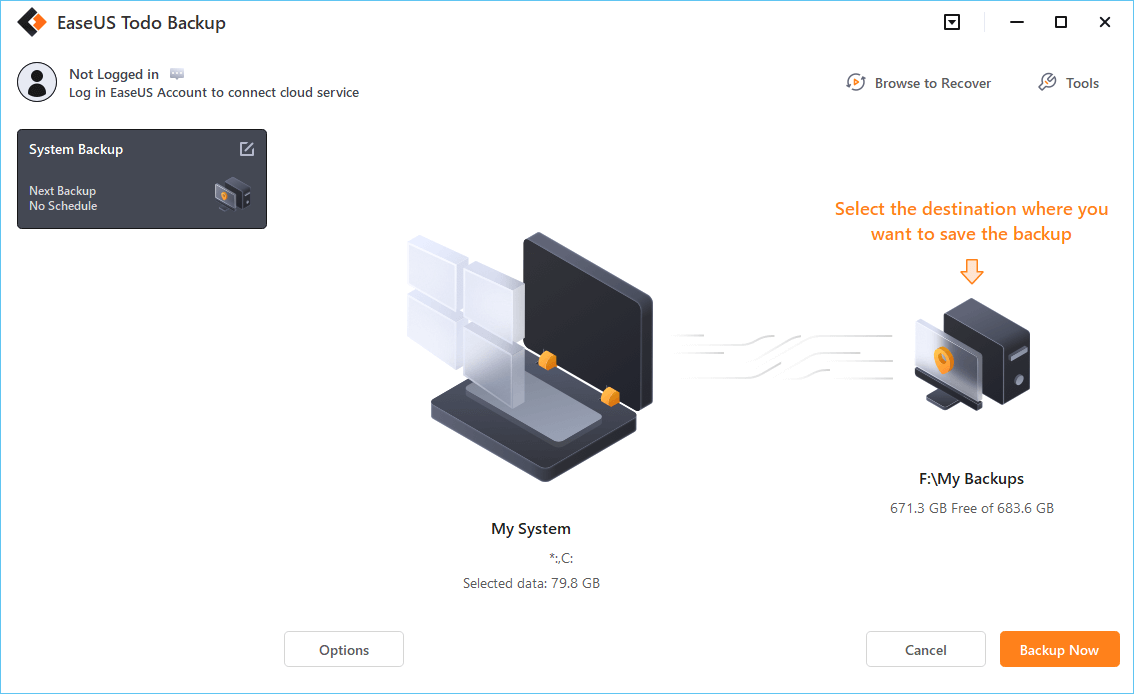 This will help you create a full backup of the whole Windows system and all installed programs, applications on your C drive to the selected device.
3. Click "Backup Now" to start creating a system backup image to the target device.
Step 3. Boot the dissimilar hardware/computer from EaseUS Todo Backup emergency disk
1. Connect the USB flash drive or external hard drive with emergency disk and system backup image to the new computer.
2. Restart PC and press F2/F8 to boot into BIOS.
3. Change boot drive and set the computer to boot from the EaseUS Todo Backup emergency disk.
Then you'll enter EaseUS Todo Backup main interface.
Step 4. Transfer and recover the system to dissimilar hardware or new computer
1. On EaseUS Todo Backup main window, click "Tools" > "System Transfer". 
2. Select the system image on your drive and click "OK" to continue.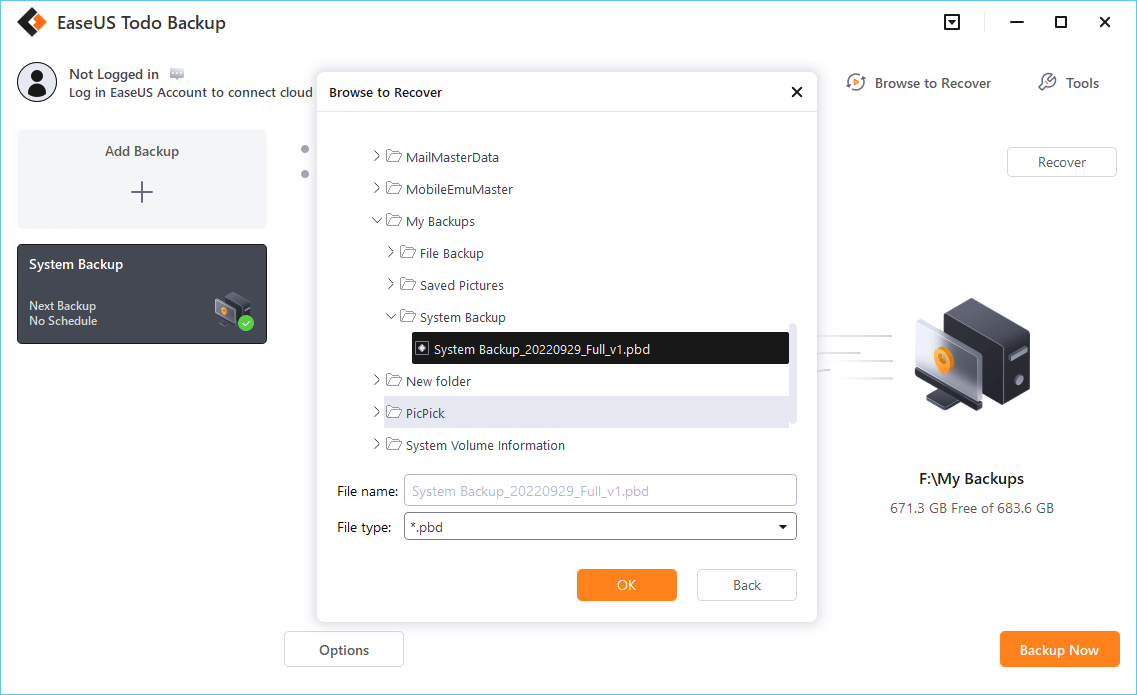 3. Then click "Proceed" to start transferring system and even some installed programs on system C: drive to the new hardware computer now.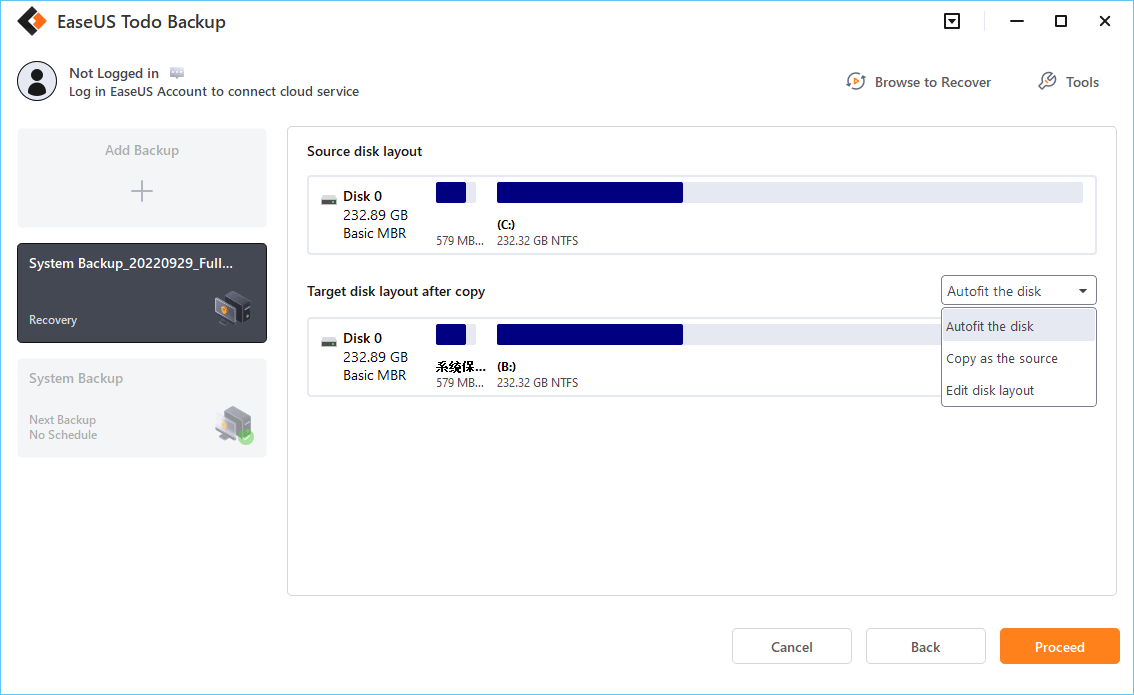 Step 5. Restart PC with transferred system
1. Change boot sequence in BIOS to set the computer to boot up from the drive with the transferred system.
2. Save all changes and restart your computer.
3. Update all drive drivers and programs to ensure all things will work just fine on the new computer.

Author Jean has been writing tech articles since she was graduated from university. She has been part of the EaseUS team for over 5 years. Her special focuses are data recovery, disk partitioning, data space optimization, data backup and Mac OS. By the way, she's an aviation fan!
Taking everything into consideration, we can say that EaseUS Todo Backup Home can offer you a little extra sense of security with a set of advanced tools. The interface provides quick adaptation, every process guiding you all the way through so you don't get stuck or further damage your system rather than keeping it safe.

 Read More

EaseUS Todo Backup Free lets you create backups of your important files or your entire computer through its streamlined interface. Just choose the backup type you'd like to get started, and let the program do the reset.

 Read More

EaseUS includes all the features I expect from backup software like versioning, incremental backups, and scheduling. For more advanced users, EaseUS allows you to install a pre-boot environment onto your hard drive so you can use it to restore files without burning a CD or putting it on an external USB drive.

 Read More

EaseUS Todo Backup
Smart backup tool for your files and entire computer in Windows 10/8/7.
Install Windows on Multiple Computers at Once? No Problem!
Learn how to install Windows 11/10/7 and special programs/software on a batch of computers. Use 10 minutes to do the 10 hours work without making a single mistake!
Get Free Solution!