Problems and questions about Windows system clone
How to upgrade hard drive to larger one under Windows 10/8/7?
How to clone hard disk or operating system successfully to new hard disk or SSD?
How to avoid boot failure problem when copy boot partition or system partition?
How to do all the operations without data loss? Have you ever met these problems? When you need to transfer or update hard drive to a larger one, what will you do? Will you reinstall system or clone system?
What Can Windows 10/8/7 System Clone Software Do
Suffer low disk space issues and want to upgrade the old hard drive to a new HDD or SSD? Invest a new computer and want to use it to replace the old laptop? Planning to back up a system in case of unexpected disasters? When encountered one of such situations in Windows 10, how can you do these job easily without reinstalling Windows 10 system & installed applications and safely backup or transfer your Windows 10 operating system without bootable failure problem?
Don't worry! Powerful Windows 10 disk cloning software can do you a favor. Such programs can help you transfer or backup Windows 10 OS by cloning the whole system partition to another hard drive or SSD. During the process, all the content including operating system, installed programs, settings, and data will be copied.
Best OS Cloning Software for Windows 10/8/7
Now you have to know that disk clone is the best way to backup Windows 10, move Windows 10 to SSD or HDD. The next job is to find a powerful, safe and easy-to-use tool to clone windows 10 OS and hard drive. You will find a long list of utilities if you search Windows 10 OS clone software on Google. In this case, how can you find the best one?
Here we recommend EaseUS OS cloning software - EaseUS Todo Backup supports all major Windows systems, like clone system disk Windows 10/Windows 8/XP/Vista/Windows 7, 32 bit and 64 bit. Besides cloning operating system, you can move all the contents to the new hard drive, or to a computer which is replacing your old system without needing to reinstall operating system and applications.
The clone function can back up Windows operating system if you want to clone used and unused space on hard drive disk. Follow to see how to clone system in Windows 10/8/7 PC with the Clone feature in EaseUS Todo Backup now:
Tips:
If the destination is a USB or an external hard drive, connect them to your computer first.
Make sure that your destination drive has enough space.
System Clone is not available for use under the condition that your system partition and boot partition are not on the same drive.
Now, let's start cloning Windows 10/8/7
1. Launch EaseUS Todo Backup and click System Clone. The current system (Windows 10/8/7) partition and boot partition will be automatically selected.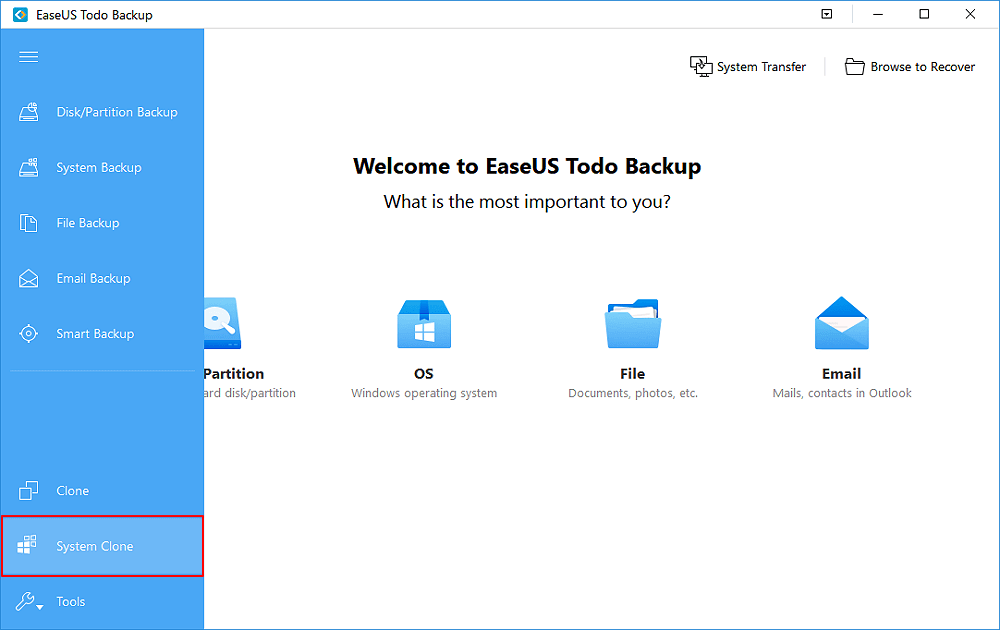 2. Choose the target drive - It could be a hard drive, an SSD or an external hard drive.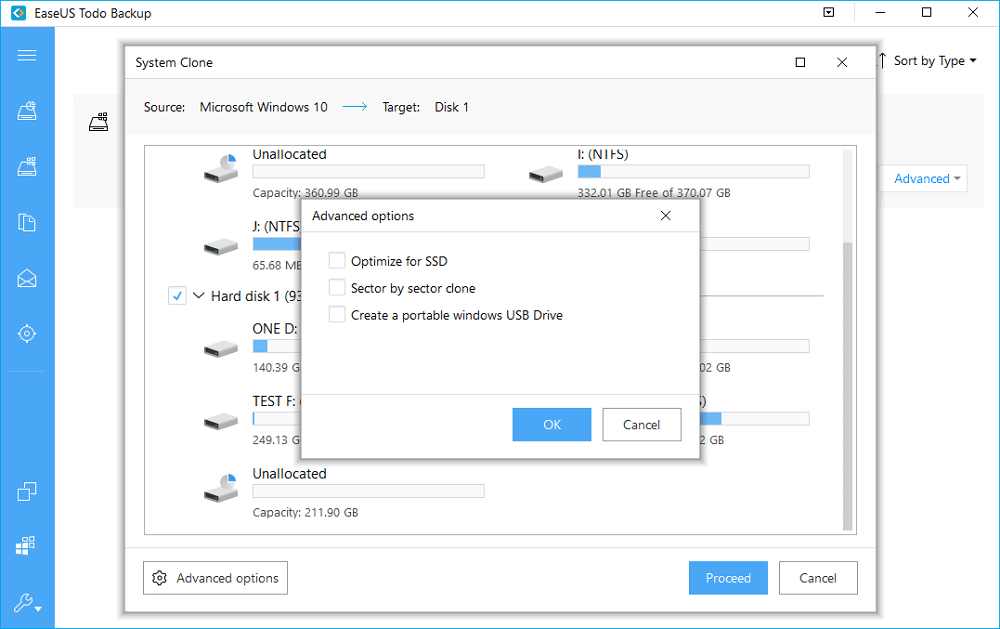 3. Click Proceed to start cloning Windows 10/8/7. All you need to do is wait until the cloning process to end and restart your computer.