
Table of Contents

About the Author

Related Posts
How to Fix TikTok Not Working on Android [Solved]
Brithny
Updated on Nov 03, 2021|
min read
TikTok is a popular social networking platform nowadays. Users can use TikTok to create short videos of any genre, with access to filters, music, and professional audios. You can make videos with pre-loaded music and lip-sync with it. On TikTok, videos are usually 30 to 60 seconds long. It offers users two types of entertainment. You can use it to watch videos or to make your videos. You can even follow the trends on TikTok if you run out of creative ideas.
How to Fix TikTok Not Working on Android
TikTok, like any other software, is not immune to faults that impede users from having the best experience possible when using the platform. You may experience loading issues such as audio-video lag, TikTok not loading correctly, or the video not working. In this article, we will go through some common errors and how to fix them Step-by-Step. Let us take a look at each problem and its solution separately.
Fix 1. TikTok Not Loading
This is the most common occurrence where TikTok is unable to load.
Reason: The reason for this issue is that there may be some cache kept in the phone memory. It is now preventing TikTok from loading.
Solution: Delete all cached apps from your phone memory. This easy method will make it easier to load the TikTok app.
Follow the instructions below to erase all app cache on Android:
Step 1. Open your phone "Settings".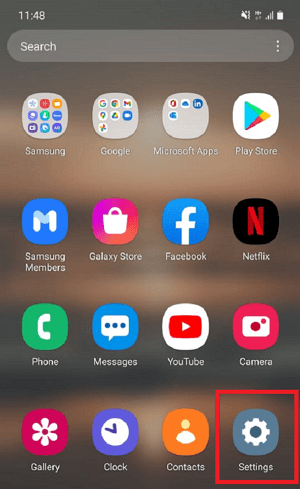 Step 2. Go to the "Battery and device care".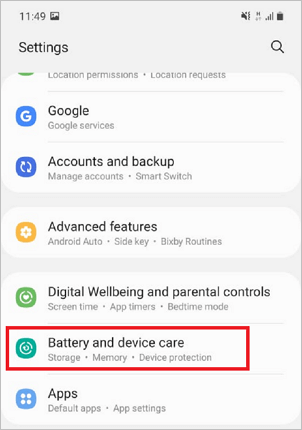 Step 3. Tap on the "Optimize Now" button.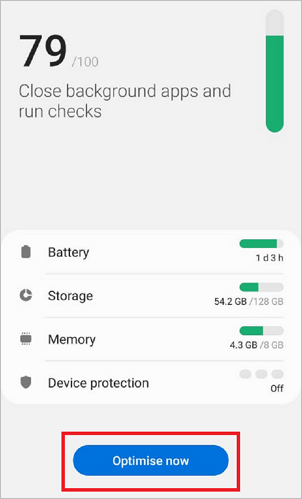 It will clear your device app cache memory and close any unused apps that slow down the device performance. It will improve app performance and loading times.
Fix 2. The TikTok App Isn't Opening
When you try to launch TikTok on your Android device, it won't open.
Reason: A server malfunction could be the reason for this issue. Furthermore, your phone's cache may need to be cleared. When you scroll down on TikTok for a longer time to watch videos, cache memory is stored in your phone. The program will slow down as a result, and you may not be able to fully load it at times.
Solution: You can erase the cache on your phone and it will resume normal operation.
Follow the steps below to delete and cache the TikTok App cache.
Step 1. Go to phone settings. Click on the "Apps" section.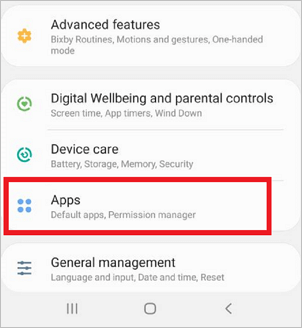 Step 2. Scroll down and search for the TikTok app. You can search the app from the search bar too.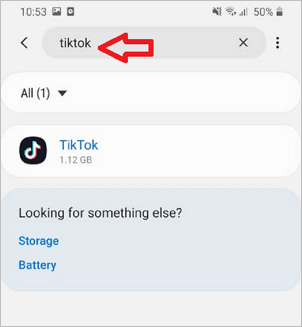 Step 3. Go to the TikTok app and click on "Storage".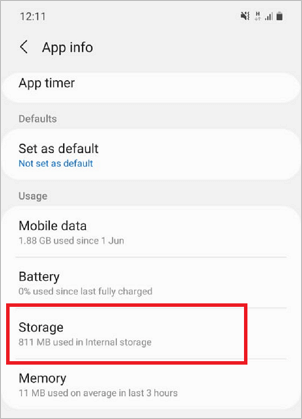 Step 4. Tap on the clear cache option.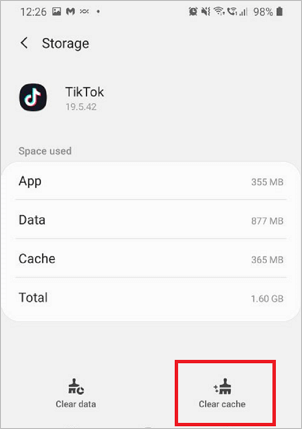 It will clear all the cache memory stored specifically for TikTok. Now open your app and see if it is working fine. 
Fix 3. TikTok Hanging and Crashing
When the TikTok app keeps crashing and hanging, you know it's a problem. When you attempt to open the app, it fails to take you to the app's home page.
Reason: The reason for such a problem is your TikTok space is full. When you download filters, stickers, effects it occupies some space in the app. If you don't clear it for a long time, it slows down the app's performance and eventually causes it to hang and crash.
Solution: You can fix this problem by emptying the cache in the TikTok app.
To clear the TikTok app cache, from the App, follow the steps below
Step 1. Open the TikTok app on your phone and go to your profile.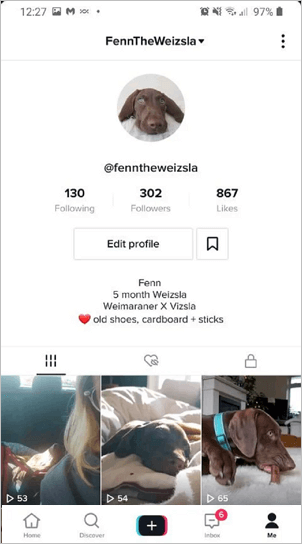 Step 2. On the top right corner select the three-dots menu. Open the "Setting and privacy" menu tap on "Free up space".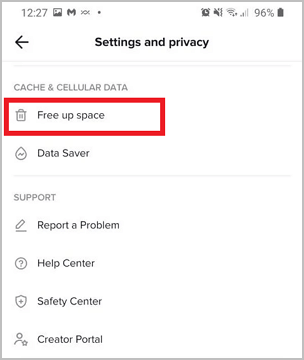 Step 3. Clear cache and downloads from the TikTok app.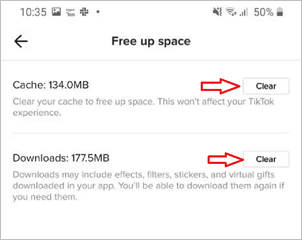 This will improve the overall performance of the app and prevent the app from hanging and crashing. 
Fix 4. You Can't Record Audio or Video with TikTok
You are probably aware of the app permissions when you download an app. The same goes with TikTok. When you download, it asks for permission to use the microphone and camera. Sometimes you face trouble while recording a video or voice-over on TikTok. 
Reasons: It happens because you have not allowed the TikTok app to use a microphone and camera. 
Solution: Enable microphone and camera permission on your device.  
To check if you have selected the permission to use the camera and microphone follow the steps mentioned below.
Step 1. Open phone settings. Scroll down and select "App".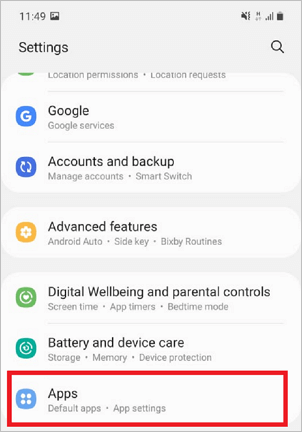 Step 2. Go to the TikTok app. Tap on "Permissions". You can turn on the permission to record video or audio with TikTok. It will let you allow to use the microphone and camera.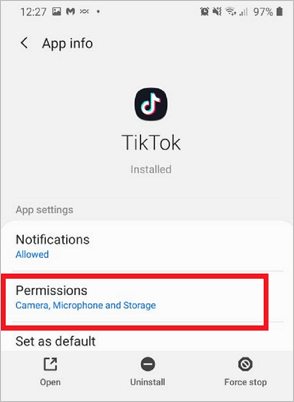 Step 3. You can even look at the list of permission allowed to the TikTok app by tapping on the three dots in the top right corner of the screen.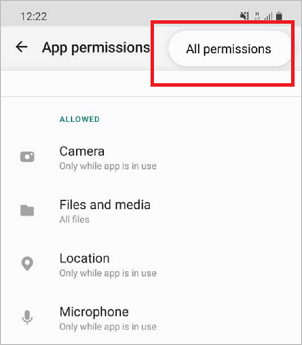 Fix 5. TikTok Video Not Working After Sharing
When you start the TikTok app and share a video, it frequently crashes or if the video does not play properly on your phone.
Reason: This problem arises as a result of some technological issues.
Solution: To resolve this issue, clear the TikTok App cache and data. Parts 1 and 2 of this guide covered how to clean the phone and app cache.
Try restarting your phone after clearing the cache. Check out the TikTok app to test if it works properly. If the problem persists, update or install the most recent version of TikTok on your phone.
How to Repair TikTok Videos on Android
If you have tried all of the above techniques to get TikTok to operate and it is still not working, we offer a tool that will allow you to quickly and easily repair your video. EaseUS RepairVideo is a good option. In only three easy steps, you can fix any video problem with this tool. You can use this tool to repair your TikTok video problem. The following are some of the most notable features of the EaseUS RepairVideo.
Repairs unplayable videos, grainy, or freeze videos
It is available for free.
You can use it online.
Repair movies captured on various devices, including a camera, a phone, a dashcam, and so on.
Ensures that you are safe.
Step 1. Upload your video with the corruption issue. You can click the Upload Video button on the left to select a video file, or simply drag and drop the video to the area on the right.
Step 2. Enter your email address and click the Start Repairing button to instantly start the repair. Here, you must make sure the entered email address is valid to send and receive email messages over the Internet. EaseUS VideoRepair will send you a confidential extraction code to the provided email address. You can only download the repaired video by applying the code you received.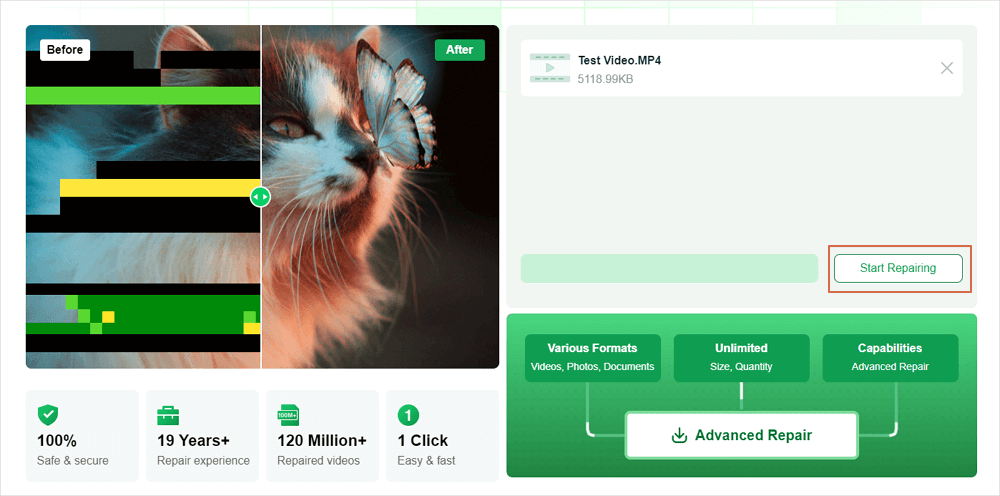 Step 3. The uploading and repairing process goes. You don't necessarily stay all the time waiting because once the session reaches 100% compeletion, you'll receive the extraction code in your mail.
Step 4. In your mail, check the message sent by EaseUS. There you'll remember the extraction code (just leave the page open so you can return to check). Click the View Your Repair button and you'll be guided to the website. Click the Download Video button, then enter the code that is exclusively generated for you, and click OK.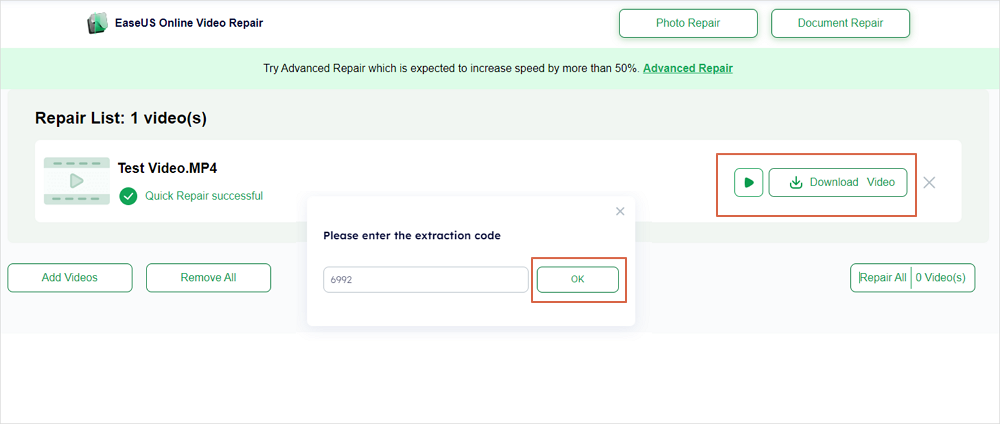 Conclusion 
To sum up, everything that has been stated so far, you can use these simple Step-by-Step solutions to solve the TikTok video problem. For your damaged and corrupted videos, we recommend a quick and easy solution. EaseUS RepairVideo is a good alternative. In just three easy steps, you can upload, repair, and download your video with this simple software. Get your video repaired right away!
About the Author

Brithny is a technology enthusiast, aiming to make readers' tech life easy and enjoyable. She loves exploring new technologies and writing technical how-to tips. On her spare time, she loves sharing things about her favorite singer - Taylor Swift on her Facebook or Twitter.