
Table of Contents

About the Author

Related Posts
Free Video Repair | Repair Corrupted 3GP Video in 4 Ways
Cedric
Updated on Mar 09, 2022|
min read
We're big fans of the 3GP video format, and that so many smartphones can play it is proof of its continued popularity. 3GP videos are video formats that are designed to be played by 3G cell phones. They were created by the 3GP institution, as you are probably already aware.  
If you're wondering what 3GP means, it stands for Third Generation Partnership Project, which is an organization that seeks to improve the state of mobile telecommunications. Its mission is to develop and promote the use of 3GPP for the enhancement of the mobile network infrastructure, 3GPP video codecs, multimedia services, and applications on mobile devices.
Unfortunately, sometimes the videos recorded by your smartphone cannot be played, because the 3GP format is corrupted, unplayable, or has glitches. In this article, you can learn all the basics about 3GP videos. We explain what 3GP video files are, why they stopped working, and how to fix corrupted 3GP videos.
Causes of 3GP Video Corruption 
While 3GP video files are great for watching on mobile devices, there are still some bugs to be worked out. The corruption of files is one of these inconveniences. 
You may experience some issues with a 3GP video depending on a number of factors, including malware invasion, as well as a loss of energy on your device during recording or transference. All of this can break your 3GP video files, and no device will be able to play them correctly.
To fix your corrupted 3GP video file, try the following four tips.
1. Convert 3GP Files to Another Format to Repair Corrupted Videos
Converting a broken 3GP file into another format may help you repair it. Sometimes, the process of conversion causes the video to start playing. Moreover, this method is useful if your device does not play specific 3GP file formats.
MP4 Converter is a tool you can use if your 3GP files are corrupted. The free MP4 converter online lets you convert video files into high-efficiency 3GP format from many formats. Send a video URL or upload your file. Additionally, the MP4 video converter offers different options to optimize the quality of the MP4 video. 
Copy this link to start the MP4 Converter: https://video.online-convert.com/convert-to-mp4. Using the MP4 Converter is really simple, just follow the steps below. 
Step 1. Put the file in the green dropzone by dragging and dropping. You can also click Choose Files and navigate to the folder where the file you wish to convert is stored. Next, click on the Start Conversion button.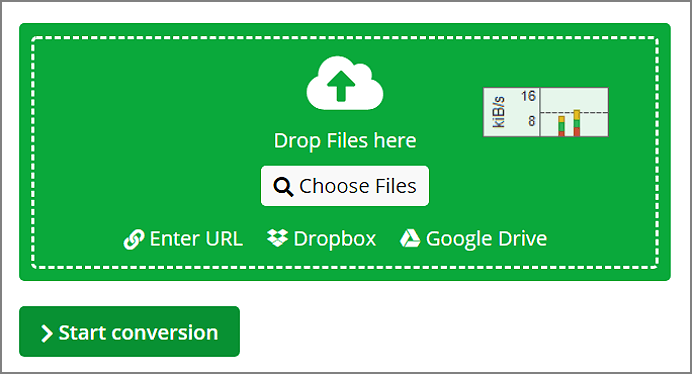 Step 2. Done! The conversion is finished. "You must click on Download to start the download if it doesn't happen automatically."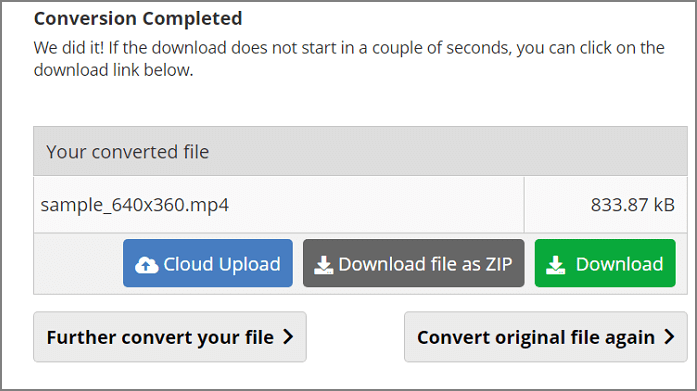 2. Download the Right Codec to Fix Corrupted 3GP Videos
Video playback issues aren't always caused by corrupted 3GP files; they can also be caused by a lack of the right codec. A codec is used by WMP to convert the data it receives from a video file into a format that can be processed by the computer. 
If you've ever tried to play a video file in Windows Media Player (WMP) and found that it won't play, you've likely encountered a codec issue. You can install the new codec and fix your problem with WMP by following the instructions below.
Step 1. Open the Windows Media Player. You need to click on the Tools button on the toolbar.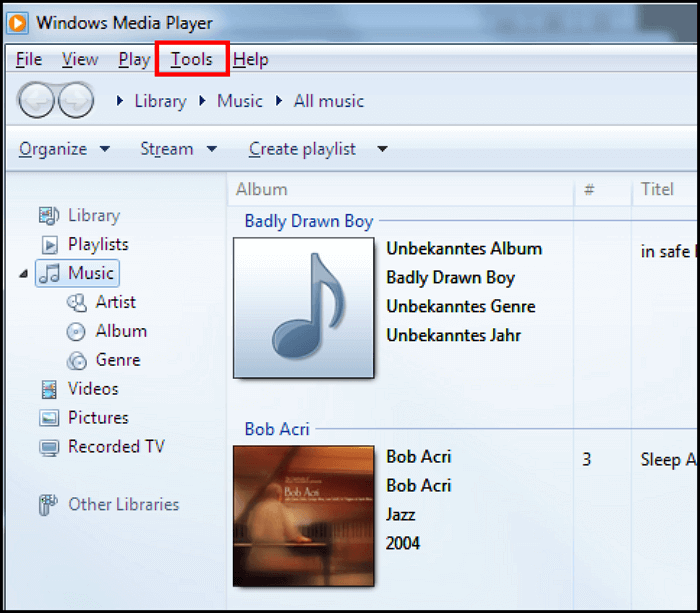 Step 2. After that, click "Options".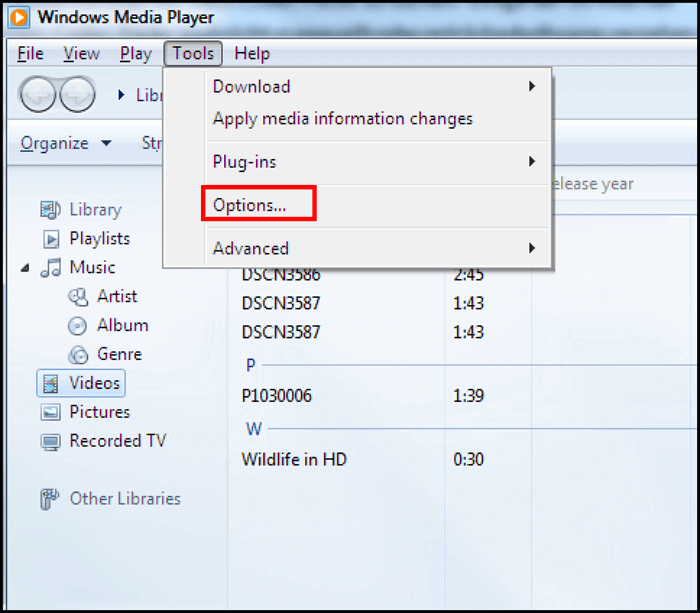 Step 3. Go to the Player tab, and then click "Once a day on Automatic updates".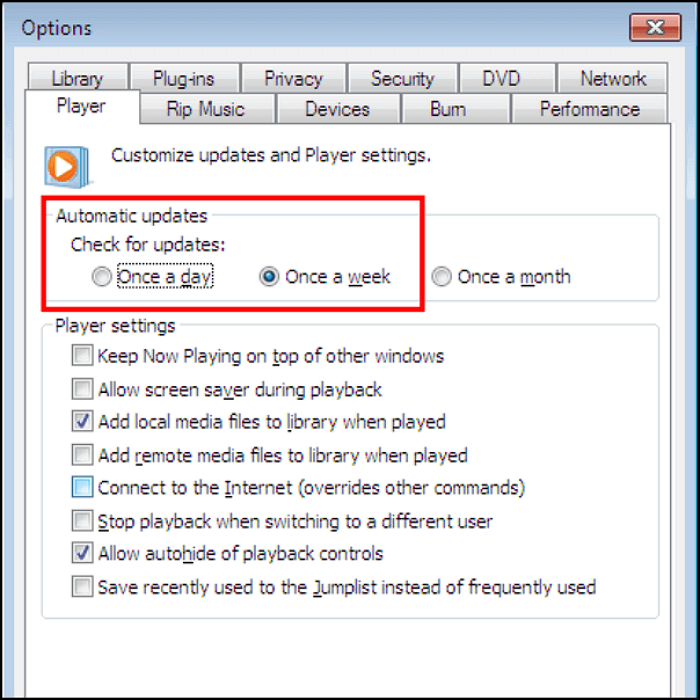 Step 4. To finish, click "OK".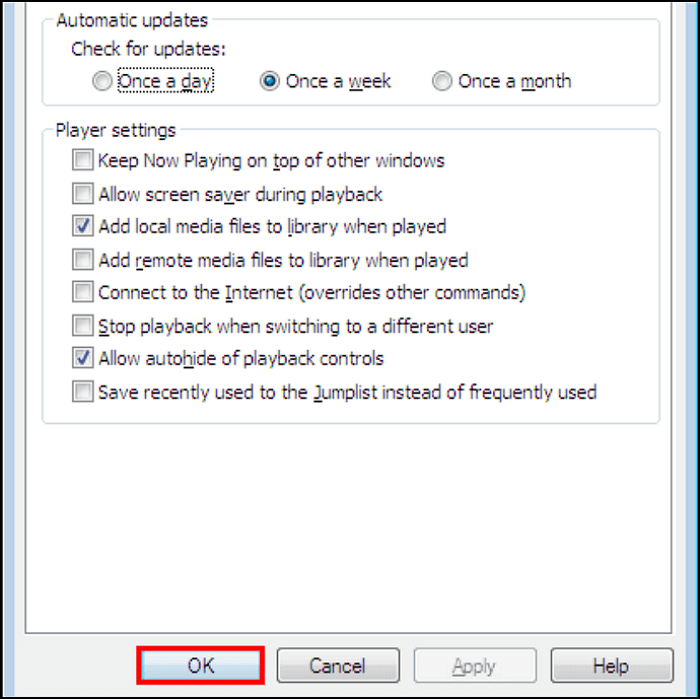 3. Repair Corrupted 3GP Video Files with VLC Media Player
VLC Media Player enables you to play any file format, regardless of codec requirements. Initially, it was designed as a basic media player, but it has since gained more functionality. 
The interface is simple and lightweight. It allows users to play audio and video files in almost any format for free. The application supports video playlists and can play files while downloading. Almost all media formats are supported by this program.
You can recover your video file by converting the 3GP file to another format with VLC Media Player. The following steps will help you to recover your 3GP video file.
Step 1. Open VLC, then click the "Media" tab. Next, click "Convert/Save".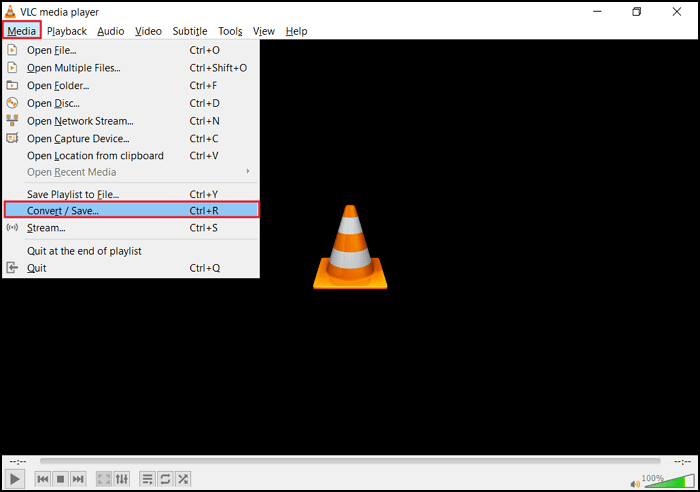 Step 2. You will see the "Add" option. It allows you to add videos that need to be transcoded. 
Step 3. The Convert box displays a file name and location field. Type the file name and location there.
Step 4. After that, you need to click "Convert/Save". There will be a new window opened. You can choose the input codec on the Profile list.
Step 5. Click the "Start" button when you have chosen your profile method. The rest of the process will be handled automatically by VLC Media Player.
4. Use Free Online EaseUS RepairVideo to Fix Damaged 3GP Videos
EaseUS RepairVideo is an innovative software solution that delivers fast, affordable, and reliable video and audio file recovery from any damaged, lost, damaged, corrupted, or broken formats. 
Repairs damage, corruption, and broken video files from AVI, MP4, WMV, 3GP, and more. 
You can also recover lost or deleted video files from popular video formats, video cameras, camcorders, etc. Also, you can convert video formats using the software. It's completely free to use, so give it a shot right now.
Step 1. Open EaseUS RepairVideo and Upload Problematic Video
Open EaseUS RepairVideo page: https://repair.easeus.com/, click "Update Video", or drag and drop a corrupted, broken, or not playing video to the right area to upload to EaseUS RepairVideo page.
Step 2. Enter a Valid Email Address and Start Repairing Video
Enter a valid email address and click "Start Repairing" to upload and repair the malfunctioning video.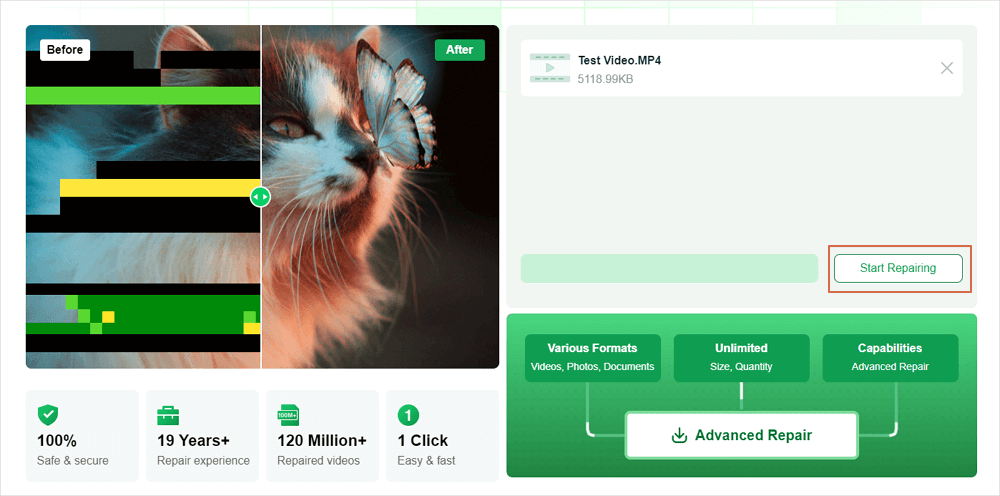 Step 3. Wait for the Automatic Uploading and Repairing Process to Finish
EaseUS RepairVideo will automatically upload and repair the corrupted or broken video for you. You can leave the repairing page opened and continue doing other stuff.
Step 4. Enter Extraction Code and Download Repaired Video
When the repairing process completes, you can preview the video at the right pane. Also, you'll receive an email with a video extraction code.
Go and find the code, reopen the EaseUS RepairVideo page. Then click "Download Video" and enter the extraction code, click "OK" to start downloading the repaired video.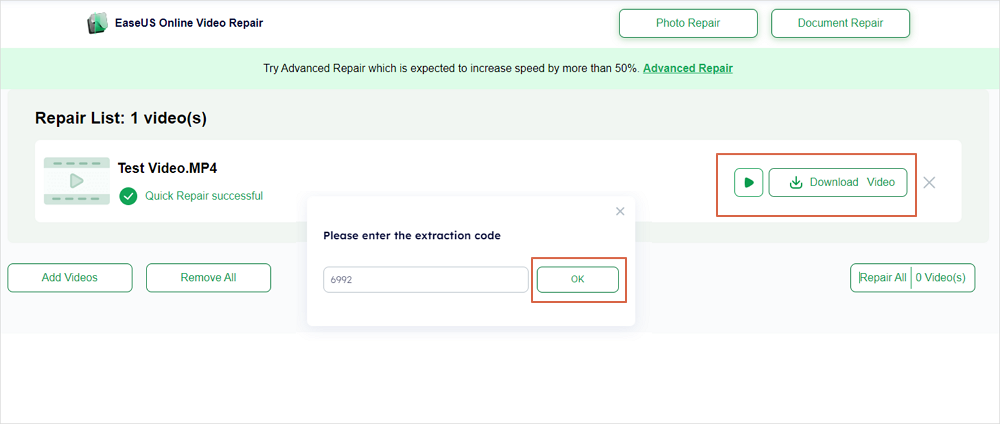 Conclusion
Learning what a 3GP video file is and how it gets corrupted, you found several ways to fix it. The internet has several free tools, but most of these tools are insufficient to restore 3GP video files from all kinds of damage, loss, or corruption.
Your problem with broken video files can be solved using the EaseUS RepairVideo software, no matter the issue. With this application, you can restore video files of different formats and repair the damaged files to produce a new, working video file that you can play on any video player.
About the Author

Cedric Grantham is one of the senior editors of EaseUS who lives and works in Chengdu, China. He mainly writes articles about data recovery tutorials on PC and Mac and how-to tips for partition management. He always keeps an eye on new releases and likes various electronic products.