
Table of Contents

About the Author

Related Posts
Corrupted Video File Repair Online (Free & Safe)
You are trying to watch a video but it is unplayable. Or the media player can open the file, but it runs with errors. If you are wondering what happened, the problem is the video file can be broken. Here is a list of symptoms a video displays in the case it is damaged:
You have an audio-only file, or you have a video file without sound.
There is a problem with audio synchronization with video.
Videos show a black screen. 
There was an error on the video header, slider, and frame.
An error message like "the video could not be played" or "the media file could not be loaded" appears when playing videos.
Glitchy movements, graininess, pixelation, and freezing characterize this video.
Flickering videos.
The playback of videos is interrupted or choppy.
The following article will explain the common reasons for video file corruption, and how you can repair the corrupted video files online with EaseUS RepairVideo.
Causes of Video File Corruption
Video files can be corrupted for many reasons. One of the most common causes of video file corruption is when a device loses power during a recording session. It may happen due to improper shutdown of the computer or a power failure. 
When this happens, the recording process will not be finished properly. This can lead to memory errors or data loss that can corrupt the video file and make it impossible to play on certain devices.
An uncommon cause is file system corruption caused by a third-party program, such as antivirus software with unknown rootkit detection or virus scanner, that performs write operations to the video file's directory when it is scanning files on your disks.
A list of video corruption causes is provided below.
The USB cable was damaged, so the video wasn't transferred properly.
The file didn't download completely because your internet was unstable.
Computers or smartphones were infected with viruses when files were transferred between them.
Instead of saving videos in the original format, the files were saved in a different format.
Video storage devices had bad sectors that caused corruption.
Your media player does not have the codecs to play those videos.
While recording, the camera unexpectedly shut down.
Interrupted or incomplete media downloads or transfers.
Data was incorrectly written or read.
Corrupted Video File Repair Online Tool Recommended
RepairVideo from EaseUS is a product that allows users to repair corrupted video files online. You can use it directly from your browser without installing it. EaseUS RepairVideo can be used on any browser that supports it. The software is free to download and the videos do not need to be purchased.
RepairVideo is designed specifically for repairing video files of all types. The program can recover video files from AVI, MPEG, WMV, ASF, 3GP, 3G2, FLV, MP4, MOV, MKV, RMVB, TS, and DV DAT, and HD MOV. 
It can fix video files that are damaged, corrupted, out of sync, or broken. The software allows you to recover video files from Windows, Mac OS X, Android, and iOS devices.
With RepairVideo, you can retrieve data from videos that stopped playing due to corruption or malware, for example. Using RepairVideo is as simple as clicking a few buttons. Also, RepairVideo can repair video files as well as convert them into other formats.
Videos can be repaired by it if they are damaged by editing, converting, or transferring, or if they are damaged by a recovery attempt. In addition, it can repair videos damaged by a hardware malfunction, malware infection, lost batteries, etc.
This program can restore video files that have been corrupted from all types of media, including floppy disks, CD-ROMs, DVD-ROMs, memory cards, external hard drives, etc. 
Moreover, it has the ability to recover video files from damaged or corrupted storage devices. You can get started with the EaseUS RepairVideo just by visiting the EaseUS website and entering your email address. Your videos will be repaired for free.
How to Use EaseUS RepairVideo to Fix Corrupted Video File Repair Online
EaseUS Repair Video solves this problem by using the latest algorithm in data recovery to recover video files without any loss of quality. This tool will repair the corrupted video file online, and for free.
All you need to do is open the EaseUS website, click on the application RepairVideo and follow the steps below. This guide will show how to find damaged video files, click "Repair" to start repairing the videos, and, after receiving the results, just select a destination folder where you want to save recovered files.
Step 1. Upload your video with the corruption issue. You can click the Upload Video button on the left to select a video file, or simply drag and drop the video to the area on the right.
Step 2. Enter your email address and click the Start Repairing button to instantly start the repair. Here, you must make sure the entered email address is valid to send and receive email messages over the Internet. EaseUS VideoRepair will send you a confidential extraction code to the provided email address. You can only download the repaired video by applying the code you received.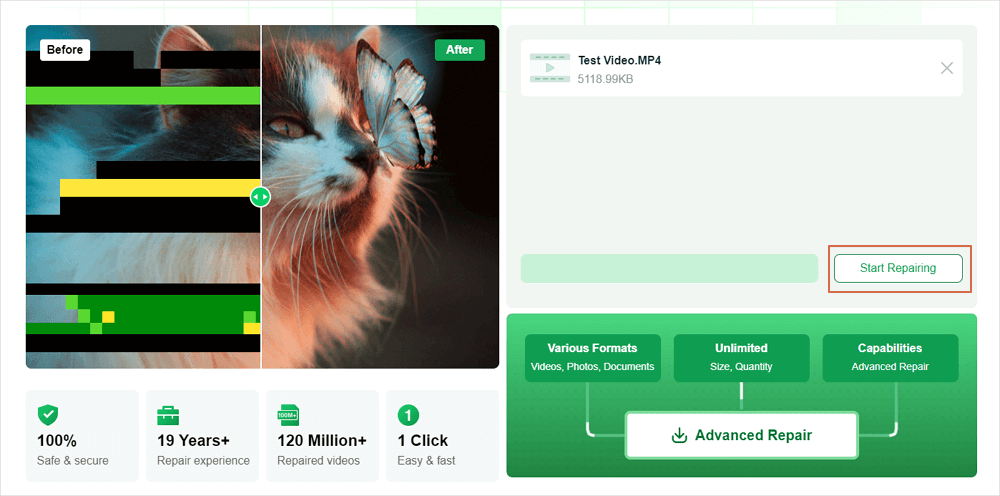 Step 3. The uploading and repairing process goes. You don't necessarily stay all the time waiting because once the session reaches 100% compeletion, you'll receive the extraction code in your mail.
Step 4. In your mail, check the message sent by EaseUS. There you'll remember the extraction code (just leave the page open so you can return to check). Click the View Your Repair button and you'll be guided to the website. Click the Download Video button, then enter the code that is exclusively generated for you, and click OK.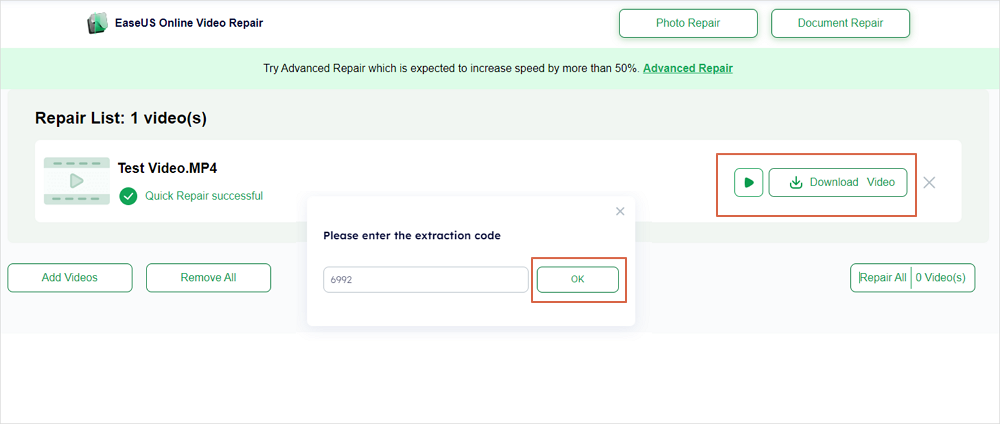 Conclusion
We learned why your videos can be corrupted, being unplayable, and how to detect the symptoms. If it happened to your files, don't worry. Fortunately, EaseUS Repair Video can help get your videos back on their feet and ready to play in just a few clicks, saving you time and money.
The application will successfully repair your corrupted video files online within seconds with no effort on your behalf. You can now use it again at will without worrying about data corruption errors affecting it.
About the Author

Brithny is a technology enthusiast, aiming to make readers' tech life easy and enjoyable. She loves exploring new technologies and writing technical how-to tips. On her spare time, she loves sharing things about her favorite singer - Taylor Swift on her Facebook or Twitter.