
Table of Contents

About the Author

Related Posts
Repair Unplayable Video Files with Free Video Repair Tool
Cedric
Updated on Aug 18, 2021|
min read
Having a video can help you keep a lot of important information and memories with you. If the videos become damaged, they become unplayable, so any accident ends up destroying precious memories.
Your videos didn't work because they got corrupted after the smartphone's battery died while recording the party. Possibly, the films were corrupted by a power outage that suddenly struck as they were being transferred to another device. Furthermore, some people take the unfortunate step of deleting the unplayable videos before attempting to recover them.
Damaged videos result in the loss of valuable content for many people. Fortunately, this article will show what makes videos corrupted, and how to bring them back for free. It is possible to convert them into another format with VLC Media Player, or you can repair them with EaseUS RepairVideo, which is a professional tool online. Now, let's learn how to repair unplayable video files in two free solutions. 
Why the Videos Got Unplayable
Several reasons can lead to a video file that is unreadable, corrupted, or unplayable. Following are a few causes:
Power outages, improper shutdown, or faulty hard disks corrupted video files. 
Playback failed due to a hardware failure on your computer.
The video editor or camera did not create the file properly.
A high resolution caused pixelation on playback devices since the pixels are often too large for the playback device.
There are problems with the file downloaded with BitTorrent.
Videos get corrupted during conversion.
The download and upload of videos online were infected with viruses.
During editing the was changed by another type of video editor which led to corruption.
Repair Unplayable Video Files with Free Online Video Repair Tool 
EaseUS RepairVideo is a free online tool for repairing broken videos. You can use it to bring back videos that stopped playing, whether you have stored them on your flash drive or have downloaded them from the internet.
The process is fast and simple. Visit the EaseUS website, enter your email and try the tool. You'll receive the final results at no charge.
If you are curious about how powerful EaseUS RepairVideo is for solving various cases of errors with videos, just check the features:
Supports almost any browser. It is not necessary to install or purchase the software.
Fix video that has been damaged by editing, converting, transferring, or while recovering. Also, you can repair videos that have been corrupted by malware, when a battery fails during a recording, and other issues.
EaseUS RepairVideo is available on Windows, Mac OS X, Android, and iOS.
All popular video formats are supported by RepairVideo, such as 3GP, M4V, FLV, AVI, MOV, MP4, MKV, WMV, SWF, MP3, NPEG, 3G2, RM/RMVB, etc.
You can restore broken videos on LG, Sony, HTC, Samsung, Huawei, Motorola, and ZTE devices. Repair camera and dashboard videos as well as video from USB flash drives, pocket cameras, CTTVs, corrupted hard drives, and much more.
Step 1. Upload your video with the corruption issue. You can click the Upload Video button on the left to select a video file, or simply drag and drop the video to the area on the right.
Step 2. Enter your email address and click the Start Repairing button to instantly start the repair. Here, you must make sure the entered email address is valid to send and receive email messages over the Internet. EaseUS VideoRepair will send you a confidential extraction code to the provided email address. You can only download the repaired video by applying the code you received.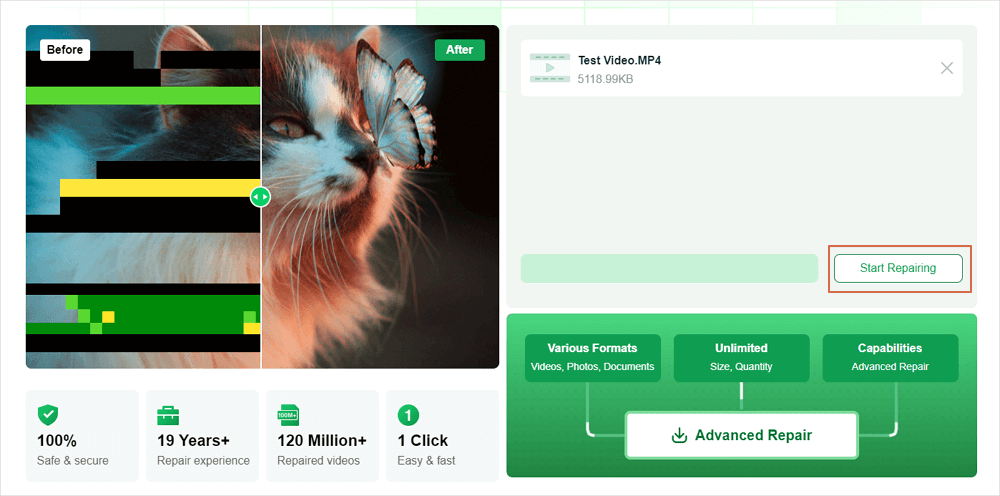 Step 3. The uploading and repairing process goes. You don't necessarily stay all the time waiting because once the session reaches 100% compeletion, you'll receive the extraction code in your mail.
Step 4. In your mail, check the message sent by EaseUS. There you'll remember the extraction code (just leave the page open so you can return to check). Click the View Your Repair button and you'll be guided to the website. Click the Download Video button, then enter the code that is exclusively generated for you, and click OK.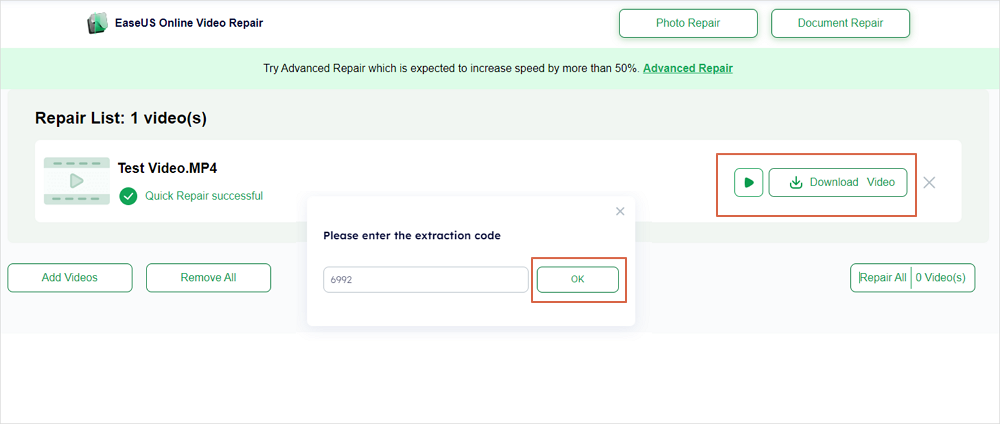 Repair Unplayable Video Files with VLC
With the VLC Media Player, you can easily view and play all types of media files regardless of the codec they may require. It is a free, open-source media player that works on all platforms. 
In the beginning, VLC was a simple media player with only a few features, but as time passed, add-ons increased its functionality. 
Using VLC Media Player is a simple and intuitive experience. Among VLC's many features is its capability to playback videos while they are being downloaded, just as well as many others. 
With VLC Media Player, you can also convert the video file into another format to try to restore it. You can recover your corrupted video file using VLC Media Player by following the steps below.
Step 1. Click the "Media" tab on the top of your VLC application. Then click the "Convert/Save" button.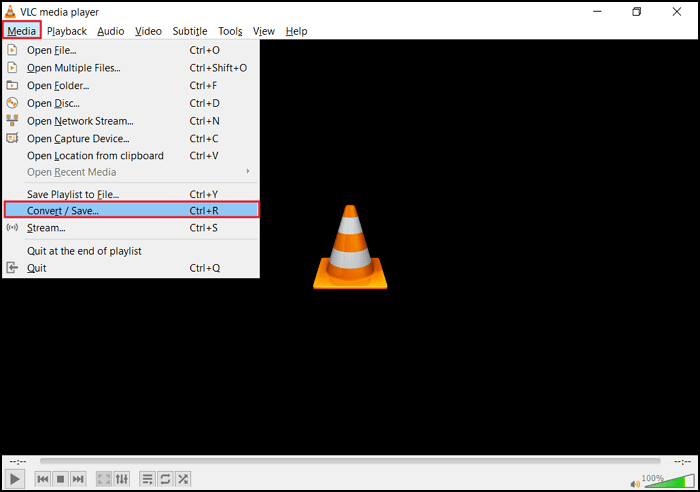 Step 2. By clicking on the "Add" option at the right side of the window, you can add videos to your transcoding list. 
Step 3. Using the Convert box, input the name and the path to the file.
Step 4. Select "Convert/Save" to open a new window. To select an input codec, click on the VLC Profiles tab.
Step 5. Click the "Start" button to begin and, following that, VLC Media Player will assign the task of converting the video file to itself.
Conclusion
There are a lot of reasons why video is such a great way to store memories and this is one of the reasons why it is so important to protect the integrity of the video.
Video files may be damaged for many reasons, including power outages, viruses, and human error. With the help of the VLC Media Player, you may try converting the files into another format to recover them.
Recover programs can also fix the unplayable video if your file has been corrupted. A powerful and professional video file recovery tool, EaseUS RepairVideo, can aid in the recovery of corrupt, damaged, or unplayable video files. 
Almost any type of video can be recovered using this software from a wide range of devices, including smartphones and high-end digital cameras.
About the Author

Cedric Grantham is one of the senior editors of EaseUS who lives and works in Chengdu, China. He mainly writes articles about data recovery tutorials on PC and Mac and how-to tips for partition management. He always keeps an eye on new releases and likes various electronic products.