
Table of Contents

About the Author

Related Posts
Free Video Repair Online: Fix Corrupted MP4 and MOV Online
Cedric
Updated on Aug 13, 2021|
min read
Sometimes, your videos get broken and you need to fix them quickly. Maybe you aren't near your personal computer, so you can't run the programs you've installed. For these cases, the best alternative is running free video repairing tools, that work online. So you don't need to install anything.
Before learning how to fix them, take a look at why video files become corrupt. Causes include:
Corruption due to power outages, improper shutdowns, or faulty hard disks. 
The BitTorrent file of the video has problems.
There was a problem with the video editing software or the recording device, failing to create the video.
High resolutions generate pixelation on playback devices since too many pixels are needed to display the image.
During conversion, videos become corrupted.
Downloading and uploading videos that were contaminated with viruses.
The file was corrupted when it was changed by another type of video editor.
Your computer's hardware failed so playback didn't work.
EaseUS Free Video Repair Online Tool 
EaseUS RepairVideo will allow you to repair damaged videos online without costing a penny. It can restore videos that have stopped playing, including those corrupted by malware or those damaged after a recovery attempt.
You can easily restore damaged videos. On the EaseUS website, simply enter your e-mail address to begin restoring. The video results are free to download.
Here are some features that you can see as an example of EaseUS RepairVideo's power:
No special software is required to use EaseUS RepairVideo since it works almost anywhere via a browser.
Videos that have been damaged through editing, converting, transferring, or during recovery can be repaired using EaseUS RepairVideo. The software also fixes video corruption caused by a dead battery while recording, malware infection, broken hard drive, just to name a few.
Repair corrupted videos from Android, iPhone, and other devices. 
It supports the recovery of all popular video formats, including 3GP, M4V, FLV, AVI, MOV, WMV, MP4, MKV, NPEG, 3G2, RM/RMVB, and more.
Using RepairVideo, you can recover videos from LG, Sony, HTC, Samsung, Huawei, Motorola, and ZTE phones. In addition to recovering videos from cameras and dashboards, EaseUS RepairVideo can restore data from USB sticks, pocket cameras, CTTVs, corrupted drives, and more.
How to Repair Corrupted Videos with EaseUS Free Video Repair Online
Follow the steps below to use EaseUS RepairVideo to fix corrupted videos. 
Step 1. Open EaseUS RepairVideo and Upload Problematic Video
Open EaseUS RepairVideo page: https://repair.easeus.com/, click "Update Video", or drag and drop a corrupted, broken, or not playing video to the right area to upload to EaseUS RepairVideo page.
Step 2. Enter a Valid Email Address and Start Repairing Video
Enter a valid email address and click "Start Repairing" to upload and repair the malfunctioning video.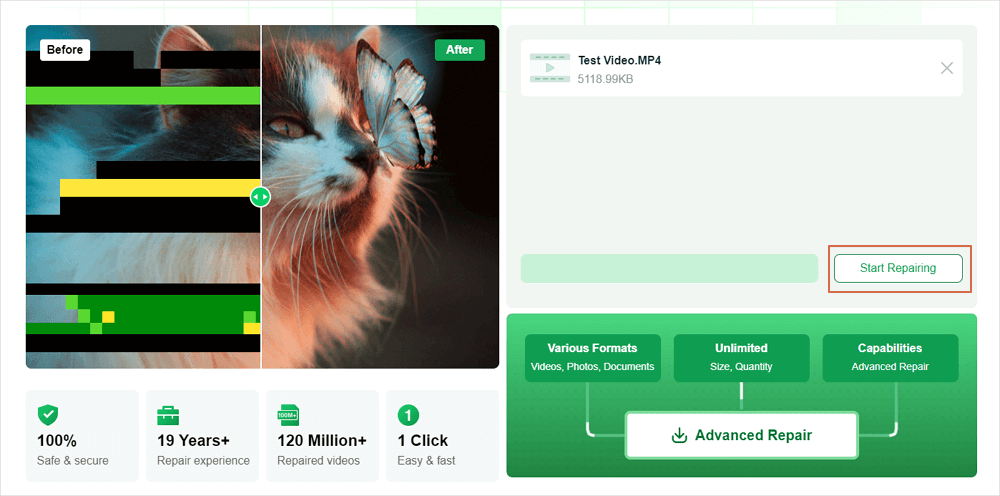 Step 3. Wait for the Automatic Uploading and Repairing Process to Finish
EaseUS RepairVideo will automatically upload and repair the corrupted or broken video for you. You can leave the repairing page opened and continue doing other stuff.
Step 4. Enter Extraction Code and Download Repaired Video
When the repairing process completes, you can preview the video at the right pane. Also, you'll receive an email with a video extraction code.
Go and find the code, reopen the EaseUS RepairVideo page. Then click "Download Video" and enter the extraction code, click "OK" to start downloading the repaired video.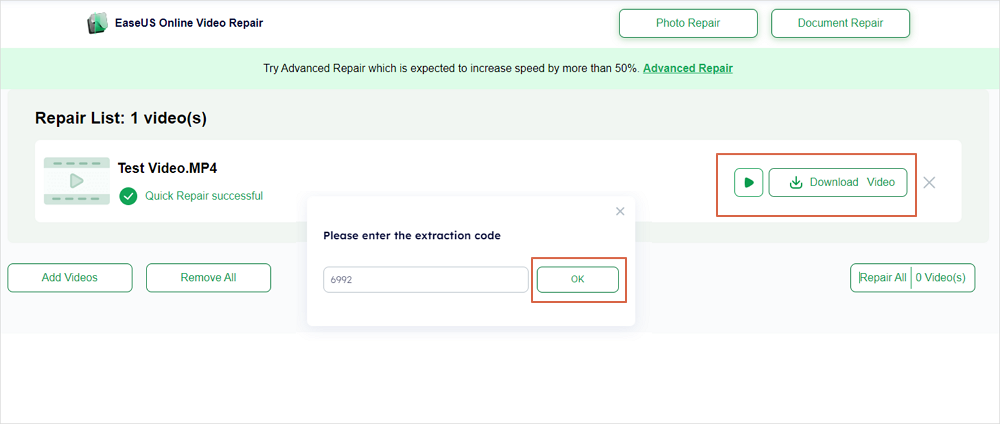 Free Video Repair Online FAQs
The following are the top topics related to free video repair online tools. Check the brief answers for these problems.
1. What makes a video corrupted?
Several events can corrupt videos, damaging the header and making them unplayable, for example. Here are several examples: Your video files can be corrupted due to malware infection on each file or while you are transferring them between contaminated devices.
If there is an interruption of the internet or power while trying to recover broken videos, the data recovery process can fail. Also, the videos can be damaged during the download if the connection is lost or during the transference if the USB cable is broken.
2. How can I fix a corrupted video online for free?
You can repair all of your video files for free with EaseUS RepairVideo. It's online software that allows you to fix any damaged video files effortlessly.
do so.
Easy steps to fix a corrupted video online for free with EaseUS RepairVideo:
Step 1. On the official product page of EaseUS RepairVideo, click "Upload video" or drag the corrupted video directly.
Step 2. Enter your Email to receive the extraction code. Then, click "Start Repairing". Wait patiently. 
Step 3. When the repairing process completes, download the fixed Video. 
3. How can I fix MP4 videos online for free?
You can try converting the MP4 files with applications for smartphones, but it not always works. However, if you want a professional tool designed to bring back any kind of video file, just check out EaseUS RepairVideo.
Conclusion 
There are a number of possible reasons why your video is no longer working properly as shown in this article. Regardless of the problem, you can make your video files work again with EaseUS RepairVideo software, which repairs free of charge and online. The program is fast and no installation is required.
About the Author

Cedric Grantham is one of the senior editors of EaseUS who lives and works in Chengdu, China. He mainly writes articles about data recovery tutorials on PC and Mac and how-to tips for partition management. He always keeps an eye on new releases and likes various electronic products.