
Table of Contents

About the Author

Related Posts
How to Fix Amazon Prime Video Error Code 5004 in 5 Ways
Cedric
Updated on Sep 28, 2021|
min read
Amazon Prime Video Overview
Amazon Prime Video is one of the most unique video streaming applications introduced to explore a wide range of entertainment services. It provides you with a whole new viewer experience where you can watch any of your favorite movies.
Amazon Prime Video keeps you entertained by providing video content from the latest blockbusters to on-demand movies and a wide range of television series. However, there are occasions when you face some technical issues while streaming movies on the application.
One of such technical issues that might pop up regularly is the Amazon Prime Video Error Code 5004. Error code 5004 is a confirmation error that frequently occurs whenever you attempt using any of your streaming devices to sign in to the Amazon Prime server.
Error code 5004 hinders users from streaming their favorite movies and presents a very distressing scenario for users. However, this article provides you with information explaining some reasons for the error code 5004 and possible solutions.
What Are the Causes of Amazon Prime Video Error Code 5004
Some factors can cause the error code, and understanding these factors determines the kind of solution to proffer in tackling the issue. Amazon Prime Video Error Code 5004 is caused by the given facets below:
Defunct internet connection
Presence of computer or network firewall or the Use of proxy/VPN
Antivirus and other protecting software
Defective cookies and cached data
Outdated application
Amazon Prime Video application bug issue.
How to Fix Amazon Prime Video Error Code 5004 in 5 Ways
Here are five effective ways you can take to solve the Amazon error code 5004. Try from the top until you fix the issue. 
Fix 1. Ensure You Have a Stable Connection
A significant cause of the Amazon Prime error 5004 is an unreliable internet connection. An unstable internet connection can result in difficulty while accessing the application server, which leads to error code 5004. Therefore, ensuring that you have a stable internet connection is the first solution to consider. Here are a few guides to check your internet connectivity.
Step 1. Click Start on your PC homepage and select "Settings".
Step 2. Open the "Network & Internet" section and click on "Wi-fi".
Step 3. Check to see if you can access the internet or not.
Step 4. If you can't, turn off and on your connection a few times or troubleshoot by contacting your internet service provider.
Fix 2. Disable VPN, Proxy, Firewall, and Antivirus Security Programs
Enabled VPN, Proxy, firewall, and other installed antivirus security programs can affect the connectivity of your device network. Proxy and VPN encrypt traffic which causes issues accessing the server while firewall and antivirus disrupt and block connectivity, resulting in failed sign-in. 
You can fix this issue by disabling and uninstalling these programs. Employ the guide below to disable Proxy.
Step 1. Open the start menu and click "Settings". Choose "Network & Internet".
Step 2. Click on "Proxy" at the bottom left corner.
Step 3. Turn off "Automatically detect settings" in the automatic proxy setup.
Step 4. Disable the "Use of a proxy server" under manual proxy setup. Then, restart the system.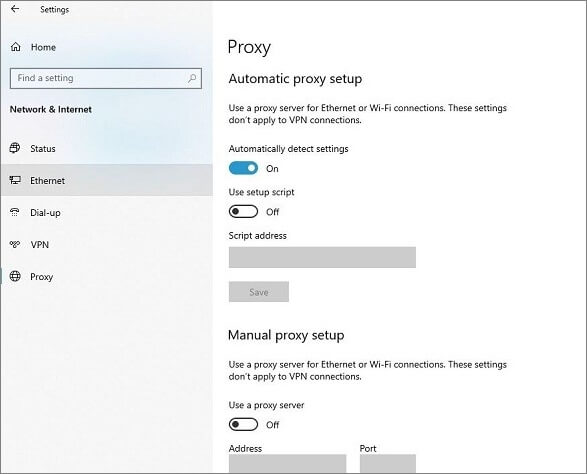 Fix 3. Re-Activate Your Amazon Prime Video Account
An inactive account can result in error code 5004, and since you have to subscribe for Amazon Prime Video, it's crucial to ensure that your account is active. To re-activate your Video Prime account, use the guide below:
Step 1. Go to the Amazon Prime Video Sign-in page.
Step 2. Input your username and password.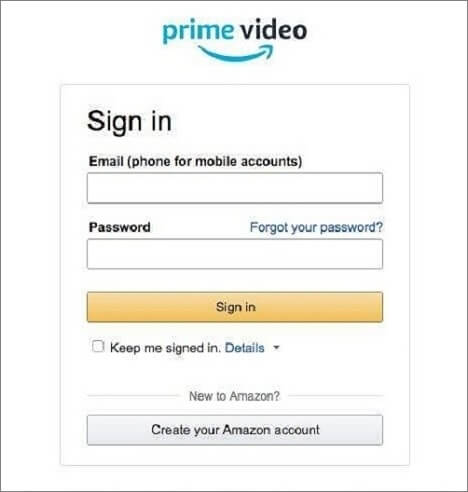 Step 3. Once you've successfully signed in, re-activate your account.
Step 4. Try streaming to verify if the issue is fixed.
Fix 4. Clear Your Browser Cache and Cookies
Cache and cookies stored on your computer is another reason for the Amazon error code 5004. The Amazon Prime Video website gets affected when the data is corrupted, resulting in failing sign-in.
You can fix the error code 5004 by clearing the cache and cookies, automatically removing the corrupted data, and enabling you to sign in quickly. Clearing cache and cookies are done with the given guide.
Step 1. Click the three dots located at the corner of your browser.
Step 2. Choose "More tools" from the drop-down and select "Clear browsing data".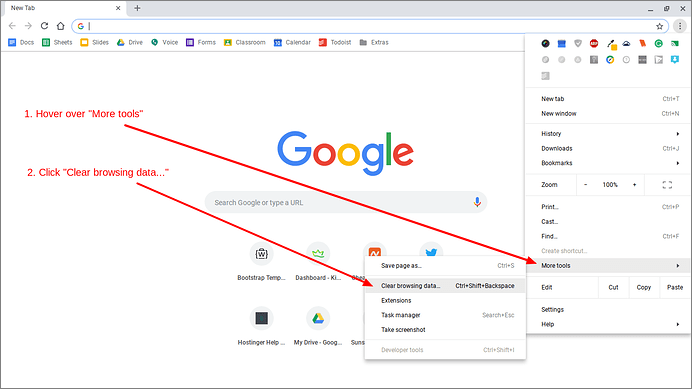 Step 3. Select the "Cache" and "Cookies" boxes and click "Clear data".
After clearing the cache and cookies, rerun the program to see if the issue persists.
Fix 5. Uninstall and Reinstall Amazon Prime Video
If possible, get the Amazon Error Code 5004 when the application is outdated or affected by a bug. The best way to solve the issue is by uninstalling the application from your device and downloading a clean and upgraded application version.
Delete the application from your device, download and reinstall the application and try signing in to verify if the issue is resolved.
Bonus Tip: Repair Downloaded Amazon Prime Video for Free
Many users have experienced issues where the video refuses to play after downloading the videos from Amazon Prime. Various reasons such as video corruption during conversion, virus contamination while downloading and uploading the videos, or system hardware failure could cause downloaded videos not to play.
To repair corrupted downloaded Amazon Prime Videos, you'll require a free video repairing tool that functions online without you having to install the application. One such tool is the EaseUS RepairVideo online tool.
EaseUS RepairVideo enables you to repair corrupted or destroyed videos online for free. It fixes and restores downloaded videos not playing and can be accessed on any browser, meaning it doesn't require any software to be used.
This free online video repair tool offers solutions to any of your video playback issues; it helps you recover videos from crashed devices and output systems. The tool supports the repair of all standard video formats such as MP4 repair, 3GP, MOV, NPEG, AVI, etc. You are in for a complete video repair treat using this free online tool.
Step 1. Open EaseUS RepairVideo and Upload Problematic Video
Open EaseUS RepairVideo page: https://repair.easeus.com/, click "Update Video", or drag and drop a corrupted, broken, or not playing video to the right area to upload to EaseUS RepairVideo page.
Step 2. Enter a Valid Email Address and Start Repairing Video
Enter a valid email address and click "Start Repairing" to upload and repair the malfunctioning video.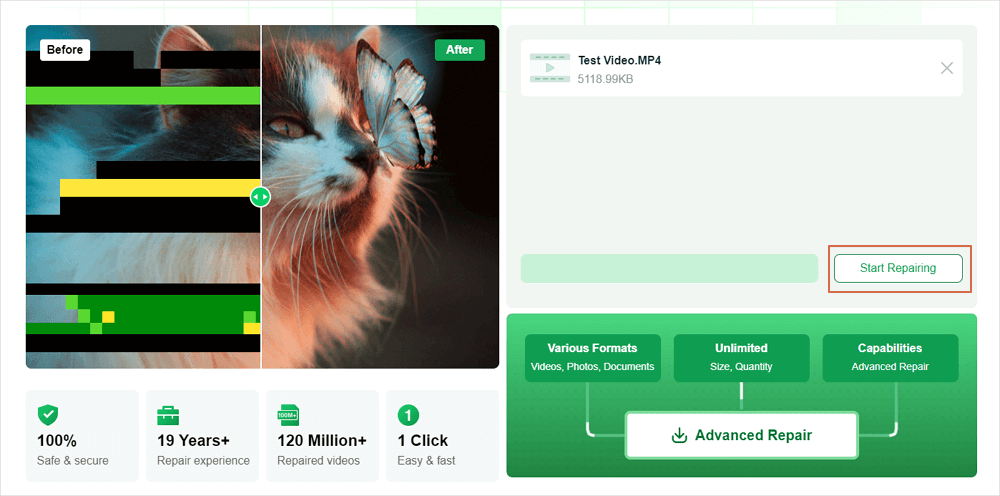 Step 3. Wait for the Automatic Uploading and Repairing Process to Finish
EaseUS RepairVideo will automatically upload and repair the corrupted or broken video for you. You can leave the repairing page opened and continue doing other stuff.
Step 4. Enter Extraction Code and Download Repaired Video
When the repairing process completes, you can preview the video at the right pane. Also, you'll receive an email with a video extraction code.
Go and find the code, reopen the EaseUS RepairVideo page. Then click "Download Video" and enter the extraction code, click "OK" to start downloading the repaired video.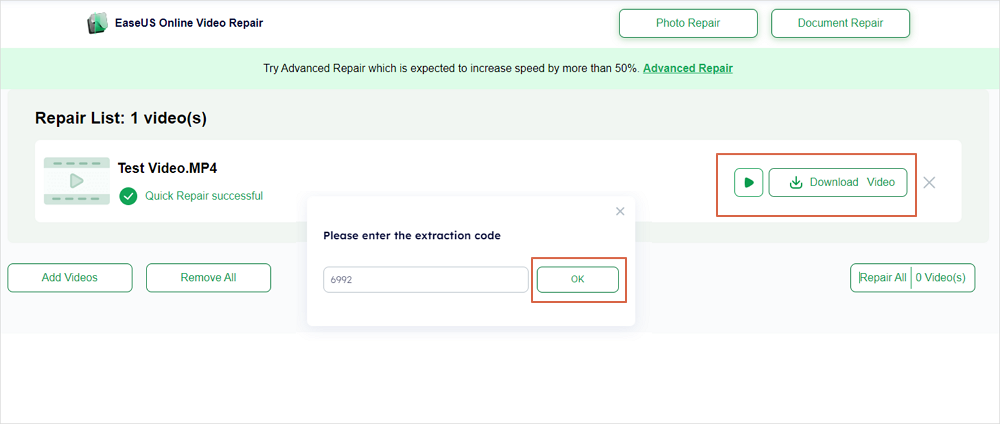 Concluding Words
The Amazon Prime Video Error Code is one of the standard errors users face, limiting the entertaining experience hoped to be derived while streaming videos. However, having understood the possible reason and solution to the error code, you certainly operate the application and derive maximum satisfaction.
Also, for glitches encountered while downloading videos from Amazon Prime, employ the EaseUS RepairVideo free tool to resolve and restore your video downloads.
About the Author

Cedric Grantham is one of the senior editors of EaseUS who lives and works in Chengdu, China. He mainly writes articles about data recovery tutorials on PC and Mac and how-to tips for partition management. He always keeps an eye on new releases and likes various electronic products.