Overview of Windows System 32
Before we start, let us see the definition, function, and location of System 32.
Definition: System32 is the system folder of the Windows operating system. It is the nerve center of the Windows operating system, containing many files. Besides, System 32 is the folder that holds the main files of the operating system. It is usually created automatically when the operating system is installed, and the relevant files are placed in the appropriate folders.
Function: The primary function System 32 holds is saving critical files and folders intending to run the computer well. It is very impactful to the Windows operating system.
Location: You can access it by finding C:> Windows > System 32
Is System 32 A Virus and What Runs in It?
As the contents of System 32 here are significant and fundamental, basic system operations have to ask the files in this folder for help. Modifying or deleting them can easily make the system malfunction and fail to boot, leading some users into fears and hesitation while getting access to it. Also, some files or folders under System 32 could be easily ignored by inexperienced users because they regard them as regular execution folders. This is why viruses hide in the System32 folder and give it a name resembling a normal system process to confuse them.
Some people may find out if System 32 is a virus. Now you get it. System 32 is absolutely NOT a virus. However, we cannot deny that some malware and malicious files may get into your computer and are saved in System 32 folders surreptitiously, which could negatively influence your laptop. So how do we prevent it from happening? The best way to solve it is to download anti-virus software.
Maybe some want to go deep in learning System 32. We've learned what is in System 32 folders just now. Now let us discuss what runs in System 32 together!
As the center of the Windows operating system, System 32 is of much importance. It includes many files and built-in software that are vital to Windows. For example, System 32 is mainly used to store DLL files, control panel applets (.cpl), device drivers (.drv), system tools (.exe), help files (.hlp and .cnt), MS-DOS tools (.com), and other files used for support, configuration, or operation.
What Happened If System 32 Has Been Deleted?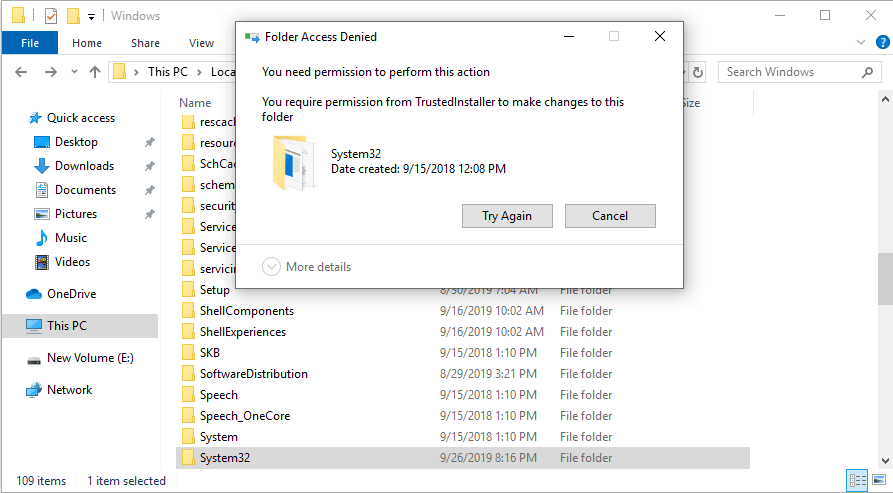 We do recommend you NOT to delete your System 32 because your computer will crash or fail to boot once you do like this.
Note: Deletion of the System 32 folders is not a good choice whether you are curious or not. However, you can choose EaseUS Todo Backup to be prepared in advance. This is professional software for rapid backup and recovery, simplifying the process of backing up files and settings on Windows computers. To prevent the following problems from appearing, you can use it to do automatic backup and cloning.
Result 1: Some vested software or essential files cannot be opened.
After deleting many files under System 32 folders, you may notice that the built-in software will not work correctly. For example, many program icons are not clickable, or the page is blank after opening them.
Result 2: Windows cannot typically work again.
According to what we've mentioned before, System 32 folders in Windows is vital due to the majority of system files it holds. For example, DLL is closely related to the Windows startup. Therefore, your computer will not be bootable once you reduce the System 32 folders. And the computer will not function as it is supposed to as well.
Result 3: Windows suggests you automatically repair.

When you see this notice appears, your computer could crash totally. Why? Maybe you think restoring Windows just needs to follow the guidance on the screen. However, the final answer is Windows cannot repair itself automatically. So the only method to save your computer is to reset the PC.
But you don't need to worry about it because System 32 cannot be quickly deleted. Windows provides a set of safe and sound operation authorities in case of improper operations by users. So the premise of deleting the System 32 folders is that you run it as an administrator. Besides, Windows cannot allow you to delete all files or folders under System 32, although you have secured the authority.
Final Verdict About System 32 Folders in Windows
As a virtual system folder for Windows, System 32 folders contain many files that cannot be deleted or removed at all. Otherwise, it will cause irrevocable damages to your PC. If you want bad to clean some unwanted files or data in System 32, find some professional tools like EaseUS Todo Backup to help you or seek technical information. Do not operate casually.
System 32 FAQs
There are some relative Q&A you may be interested with:
1. Why does System32 keep popping up?
System 32 is automatically saved in your Windows, and the files/folders under System 32 are automatically opened once you boot your PC. It keeps popping on just to guarantee the computer can function correctly.
2. How do I fix Windows System32?
First, if the hard disk drives are not damaged, you can choose to fix your startup disk to fix the system.
Second, if the first step cannot solve it well after restarting, you need to reinstall the system. Reinstalling the system is the most direct and efficient way, but your data or files may lose. So you could download EaseUS Todo Backup to backup and restore in advance.