What is Windows PE
Looking to understand Windows PE? Let us help you understand what it is.
Windows Preinstallation Environment, or simply known as Windows PE, is the sub-version of Windows. This version of Windows is used for many reasons, including troubleshooting, development, etc. However, accessing it and understanding it are two different things.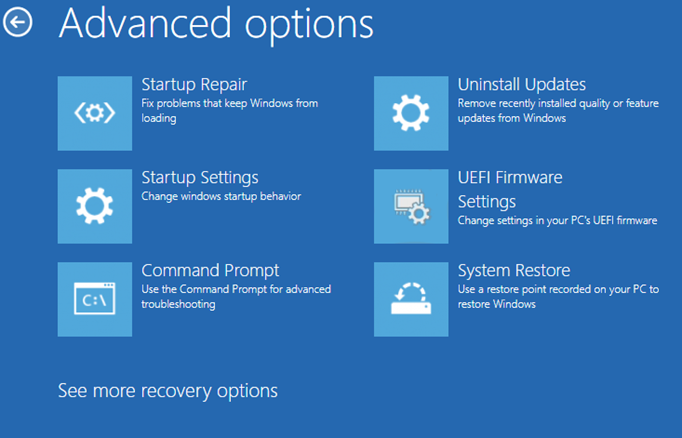 So, what exactly is this section of windows? Is it ideal for basic operation? Or does it require additional elements to work properly? On top of that, how do you get Windows PE on a bootable drive? Let's find the answer to all these questions.
Part 1: What is Windows PE?
Microsoft describes Windows PE as a smaller version of the actual operating system. While the operating system employs the same behind-the-scenes elements of an actual Windows, there are definitely cutout elements and things to keep it lighter in nature.
This allows Windows PE to load on computers facing hardware and software problems. However, the primary purpose of this is to install Microsoft Windows products. Other reasons for which Windows PE can be used include:
·        Installing Windows from a local or external drive
·        Modifying the Windows to troubleshoot errors and problems with it
·        Setting up system or data recovery tools
·        Recovering data from various devices quickly
·        Set up Hard Drives, including formatting, partitioning, etc.
·        Troubleshooting Windows Startup issues
·        Run a simple memory test
While there are certainly many more reasons, these are some of the main features/reasons it's employed by computer experts today.
Part 2: How Windows PE Works
Windows PE is a lighter version ideal for troubleshooting and the process of setting up a system. It works in many different ways but comes down to the user's purpose and what they hope to achieve with it.
For instance, unlike usual troubleshooting methods like MS-DOS, Windows PE has a full-fledged UI design, allowing the user to employ various internet drivers. It can help you:
·        It can be installed on a USB, DVD, CDs, etc.
·        Windows Management Instrumentation allows you to control Windows API
·        Supports file sharing via TCP networks, including full-fledged usage of IP
·        Supports Windows x86 and x64 drivers, but that depends on the Windows PE version*
·        Create partition as it supports dynamic volume creation, including NTFS and FAT file systems
As mentioned, it can also support drivers, but anything pre-Windows 7 will devoid you of that favor. However, every PE after said Windows supports drivers and offers a much better look at troubleshooting.
Part 3: Windows PE Requirements
Windows PE is perhaps the least-requiring UI program ever built. So much so that it doesn't even require you to have a running hard disk or SSD drive to operate. Therefore, the operating requirements for PE include:
·        A 32-bit version of UEFI and Bios to run the 32-bit version of Windows PE
·        A 64-bit version of UEFI and Bios to run the 64-bit version of Windows PE
·        Working memory of at least 512 megabytes, since it runs from memory and not from a hard disk drive
·        Network adapter and storage drivers to ensure smooth operation
It's imperative to note that more elements require more ram. For instance, if you wish to run drivers, packages, or other apps, then you must have more memory.
Part 4: Limitations WinPE
While Windows PE can be used for various purposes, it's important to note that it's not a full-fledged operating system. It might be used for troubleshooting, but it cannot be used for any other general purpose, such as internet browsing or listening to music.
Since Windows PE doesn't use Windows Shell, it makes it easier to troubleshoot. However, after 72 hours of continuous usage, it even restarts the Shell to keep the memory clean. So, when PE reboots, all the changes will be lost, and so it's imperative to save them before the said 72-hour period.
Other limitations of PE include:
·        Joining a network or domain
·        Connecting to IPv3 or IPv6
·        Remote desktop and its accessory features
·        Running apps from other bits, i.e., 64-bit apps on 32-bit and vice versa
·        Using DISM or Appxbundle packages
·        Not supporting file or terminal serve use
Therefore, limitations are there, but that's not the point of Windows PE anyway.
Part 5: Where to Download Windows PE
You can download this secondary system to Microsoft's designated website for Windows PE. To install Windows Preinstallation Kit, you'll need a bootable WinPE USB Flash drive, which we'll cover in a while.
However, to download it, you'll have to go to this website by Microsoft. Once you do, you'll have to download both the Windows ADK and Windows PE add-on to ensure its smooth operation. As suggested by Microsoft, you'll have to download them both to ensure PE works properly.
Part 6: How To Create A Windows PE Bootable Drive
Creating a Bootable Windows PE Drive requires you to take the assistance of a professional tool. We have one for you, EaseUS Todo Backup, which has a WinPE Bootable Disk feature you can find here.
This program allows you to create bootable drives for any sort of operating system.
Part 7: Conclusion
Creating a Windows PE bootable drive can help you troubleshoot issues and create an environment where you can fix your PC on the go. On top of that, it's ideal for development and testing, and this article told us just how all that works.
Therefore, if you wish to get Windows Preinstallation Environment, follow the steps we mentioned to secure it on a drive. Once you do, you can achieve various development and troubleshooting goals.