How to Find Wifi Password on iPhone [Detailed Guide]
| Workable Solutions | Step-by-step Troubleshooting |
| --- | --- |
| Find WiFi Password through Router Settings  | Step 1: Open up your iPhone settings; Step 2: Copy and paste Router's IP address into a web browser...Full steps |
| Find WIFI Password through iCloud Keychain | Step 1: Go to the iPhone settings and turn on the iCloud keychain on your iPhone; Step 2: Turn on...Full steps |
| Share WIFI Passwords between iPhones | Step 1: Hold your phone next to your friend's iPhone. Make sure both the devices are in close...Full steps |
| Extra Tip: Find WIFI Password on Windows  | Step 1. Launch EaseUS Key Finder on your laptop, and click "WLAN" on the left pane; Step 2. Find your...Full steps |
Have you just forgotten your Wifi password on your iPhone? Most smart devices connect you automatically to the wifi after you log in once. Therefore, it's pretty apparent for anyone to forget their password. However, finding the Wifi network's password on the iPhone is quite hard as it doesn't have any feature to show the Wifi password. 
But what to do next? If you were searching for some reliable guide to knowing how to find WiFi passwords on your iPhone, you landed at the right place. 
This article will revolve around the super easy techniques to find your WiFi password on your iPhone while introducing one of the best iPhone key finders, EaseUS Key Finder. It's one of the most reliable key finders that can help you restore your important Windows passwords, keys, and product licenses on your windows computer. Read till the end to find the best way that works for you.
Can I Find WiFi Password on iPhone Directly? 
Unless your iPhone is jailbroken, you can't check up on your WiFi network directly. You may suspect that there must be a method to do so, but you won't be able to find it as Apple doesn't allow users to access passwords directly, even if they are saved in their Keychain.
Fortunately, there are other ways to search for passwords on your iPhone. The rest of this post discusses how to find a WiFi password on iPhone without looking it up and various password-finding alternatives.
How to Find WiFi Password through Router Settings 
Because your WiFi Password is highly protected on your iPhone, there is no direct way to retrieve it or access it, but there are alternative options, such as accessing Router settings.
You only need to know your router's IP address to get your current WiFi password.
Before proceeding, you should note that this method only applies to determining the WiFi password for the network to which your device is presently connected.
Here's how to go about it:
Step 1: Open up your iPhone settings.
Copy the number next to the Router as you hit the "i" icon. It allows you to copy the IP address of your WiFi router to your clipboard. Then, simply paste your IP address into any online browser, such as Safari or Chrome. To do this, hold down the search bar in the browser and select "paste".
Step 2: Copy and paste Router's IP address into a web browser.
Note: If you get a page that says "This Connection Is Not Private", tap the "Advanced > Proceed to (IP Unsafe)" option.
Step 3: Sign in to Spectrum.
To sign in, enter your router's username and password. It's not the same as your WiFi username and password. You might find it printed somewhere on your router or in the manual. If you can't find it, you can find the default username and password in this list.
Then, on the left side, select "WIFI" from the options. However, the name of the button may differ depending on your router.
Step 4: Access and change your wifi password.
You can see your current WiFi network password under the network name in the WiFi settings. Finally, you can erase your WiFi password and replace it with something simpler and easier to remember. Remember to save your modifications. Otherwise, all of your efforts will go in vain.
How to Find a WIFI Password through iCloud Keychain?
The method described above can only determine the password of a WiFi network currently connected. If you want to access all of your device's WiFi passwords, iCloud Keychain is the way to go because it saves all of the credentials shared among your Apple devices. Let's get started with getting your WiFi passwords with iCloud Keychain. 
Note: Remember you'll need to have access to your iPhone and Mac device to use this method to find the wifi password.
Step 1: Go to the iPhone settings and turn on the iCloud keychain on your iPhone.
At first, you need to go to iPhone settings by clicking on the gear-shaped icon, then click on the "Apple ID", and then tap "iCloud".
Check if Keychain is turned on by tapping it. If not, switch it on.
Step 2: Turn on the Keychain option on your Mac.
You can find the apple icon in the top-left corner of your MAC screen; click "system preferences".
Step 3: Now go to "Apple ID".
Step 4: After that, pick "iCloud" and scroll down to ensure the keychain box is ticked.
Note: The steps are only applicable if you have signed in to your Apple ID on Mac. Make sure you've used the same account where your passwords are saved. 
Step 5: Next, open the "Finder". You can also enter the Command + N keys simultaneously on your keyboard to open it up.
Step 6: After that, choose "Applications". It would be available on the left sidebar of the Finder. You can also right-click the Finder and press the Command + Shift + A simultaneously.
Step 7: Now double-click the "Utilities" folder to open it up.
Step 8: After that, Go to the "Keychain Access" app.
Step 9: Find your Wifi password.
Search for your WiFi network with its name on the search box; simply type the name and press enter. To open a new settings window, double-click your network.
Step 10: Make sure you check the Show password box.
Enter the password for your keychain that you used to log in to your Mac.
Step 11: Finally, next to "Show Password", you'll discover the Wifi password you opt for.
How to Share WIFI Passwords between iPhones?
You might not look up your wifi password on your iPhone, but you can share it with your friend as long as you both are using iOS 11 and up. You can share your wifi password within a matter of minutes. 
Note: For this method, you need to ensure that your friend has iOS 11 or later and that his Apple ID is in your contacts. Don't forget to enable Bluetooth on your and your friend's device. 
Step 1: Hold your phone next to your friend's iPhone. Make sure both the devices are in close physical proximity.
Step 2: Then ask your friend to connect to the WiFi network whose password you desire to share. 
Step 3: The pop-up window will appear from the bottom of the screen; click on Share Password. With that, it will share your password on your friend's iPhone. Lastly, tap the done to complete the process.
Extra Tip: Find WIFI Password on Windows 
Jailbreak is always the last option if you don't find any reliable method to find your WiFi password. However, using software to find your password would be the best option. There are hundreds of such software and programs that can help you to recover lost keys on Windows, but nothing is as reliable as EaseUS Key Finder. 
Step 1. Launch EaseUS Key Finder on your laptop, click "WLAN" on the left pane.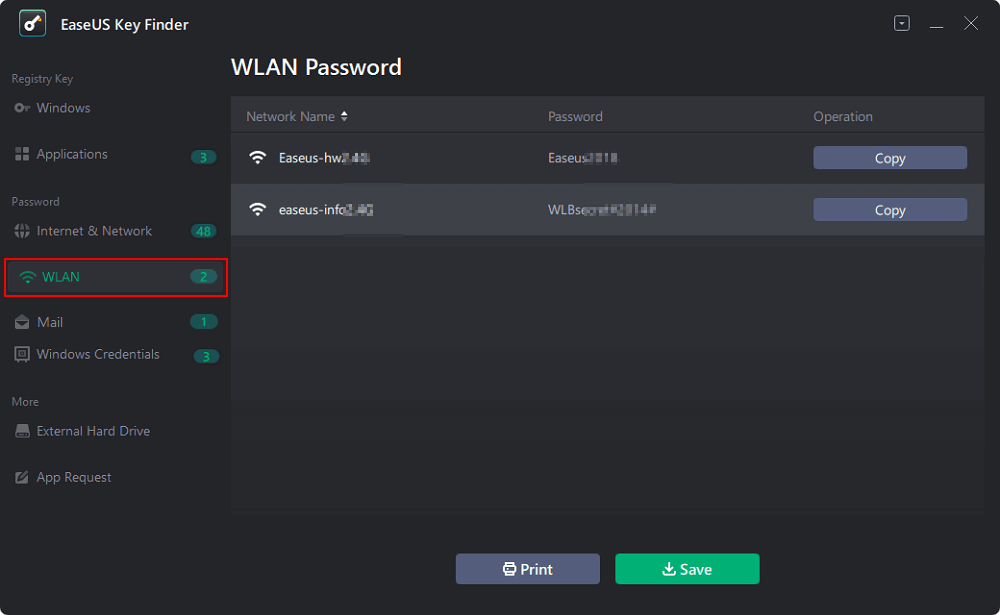 Step 2. Find your WiFi account, and you'll see the password next to your network name. 
You can directly click "Copy" to copy the WiFi password and join in your wireless network immediately.
Or, you can also, click "Print" or "Save" to back up all your WiFi networks and passwords.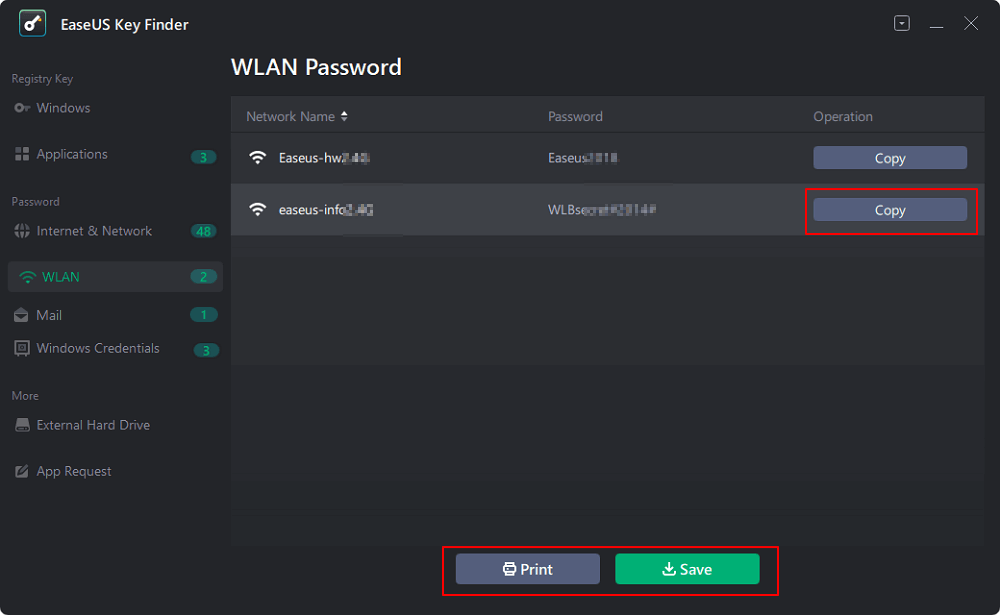 With the EaseUS Key Finder, you can never go wrong with finding your passwords as it's the best product key finder that enables users to view their WiFi passwords, Windows keys, product serials, and keys easily and quickly. Here are some features of this software.
Main features of EaseUS Key Finder
The software is 100% safe and secure.
It can help you recover all saved passwords from web browsers. 
You can recover forgotten passwords within a few minutes.
Find the product serials and keys of more than 1000 popular software.
Conclusion
Finding out the WiFi passwords is pretty tricky, but the methods we've mentioned above are enough to make it simpler for you. Using EaseUS Key Finder is among our most recommended ways to find WiFi passwords on Windows computers, as you don't have to follow any hard and fast rules to find your passwords using this tool. Just a few simple steps and you're good to go, so what are you wondering about, Download it now.

Roxanne is one of the main contributors to EaseUS and has created multiple posts on digital devices like PCs, Mobile phones, tablets, Mac, etc. She loves to share ideas with people of the same interest.
About EaseUS Key Finder
EaseUS Key Finder offers complete solutions for you to efficiently find Windows or Windows Server product keys, discover Offce, Adobe, and other installed software serials, and find WiFi codes, etc, successfully in simple clicks.