7 Best Product Key Finders for Windows & Software in 2022 [Paid & Free]
How to find product keys for installed programs? Where can I find my Windows product key for free? If you are looking for an easy method to check and find product keys of installed software on Windows PC, stay here. 
In the following, you'll find the 7 best product key finders in 2022 that you can follow to check serial key, activation key, license code for Windows 11/10/8/7 and older Windows, software, application, and even games successfully.
7 Best Product Key Finders in 2022 - For Windows & Software [Paid, Free]
Here is a list of 7 best product key finder software that we compared multiple similar tools in 2022 and you can follow anyone to find Windows or installed software key now:
EaseUS Editors' Pick:
For the easiest Windows and Software product key finder, EaseUS Key Finder deserves your trust.
For a free Windows product key finder, FreePCAudit is the one that you can trust.
To find Windows key without software, PowerShell Command should help.
No.1 EaseUS Key Finder - 1-Click Product Key Finder
The Best Product Key Finder Product in 2022
EaseUS Key Finder, known as a Windows product key finder software, actually, is featured with an outstanding function in finding product keys for Windows OS and installed software. 
Any level of Windows users can directly apply it to find the product key, serial number, or license code successfully.
Pros:
Ads-free, virus-free.
1-click to find the product key.
Support finding key on Windows 11/10/8/7 and Windows Vista/XP.
Support finding product key of installed software like Adobe, Office, etc.
Support finding saved accounts and passwords from Chrome, IE, Edge, Firefox, etc., browsers.
Cons: Requires activation for unlocking full features.
How to Use:
Step 1. Click "Windows" tab under the Registry Key.
Step 2. Check Windows product key on the right side. Click "Copy" to paste. Or select other two options:
"Save" - Save to local as a PDF file.
"Print" - Click to print key file.
No.2 Belarc Adviser
Best Hardware and Software Information Checker
Similar to EaseUS Key Finder, Belarc Advisor is not a product key finder but was designed to gather information of the operating system, including hardware, secure update, and product key. When you run Belarc Advisor, it will automatically check the database to find keys for software.
Download: https://www.belarc.com/products_belarc_advisor
Pros: 
Scan and find software information, including browser.
Support Windows 7, Windows Vista, and Windows XP.
Includes a wealth of other information, like details of antivirus, hardware, etc.
Cons:
Doesn't support the latest Windows OS, including Windows 11/10/8.1/8.
Email registration is a must.
The interface is complex.
How to Use:
Step 1. Install and launch Belarc Advisor.
Step 2. Click "Software Licenses". 
Step 3. Wait for the program to scan and find the product key for you.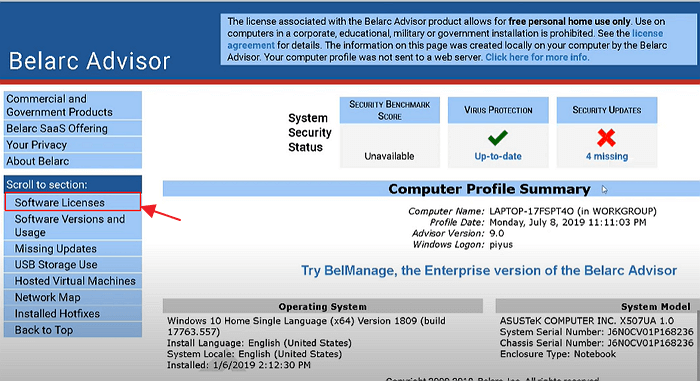 No.3 Abelssoft MyKeyFinder
More than a Windows Product Key Finder.
Abelssoft MyKeyFinder is more like a password finder other than a product key finder. It works to find both of your Windows product keys and passwords for external hard drives and even WiFi. Found product keys are searchable and filterable.
Download: https://www.abelssoft.de/en/windows/helpers/mykeyfinder
Pros:
Find Windows Product key.
Find the password of the external hard drive, WiFi.
Support searching and filter product key.
Cons: 
The price is a bit high. 
Email registration is a must.
How to Use:
Step 1. Launch MyKeyFider, it will automatically scan product keys of Windows and software on PC.
Step 2. Once complete, MyKeyFinder will list all found product keys of software on your PC.
Step 3. Click the desired program and check the found key.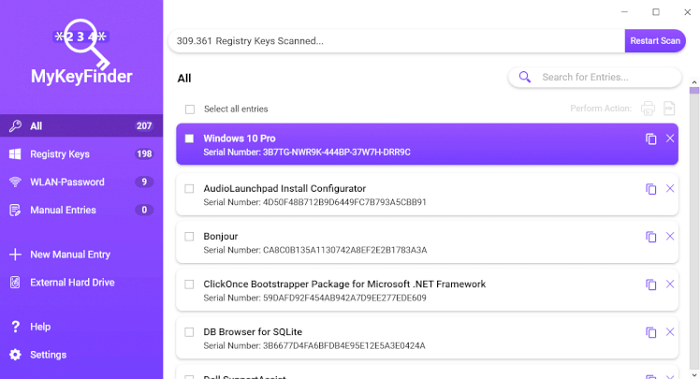 No. 4 LicenseCrawler
Find Keys for Windows and other Software.
LicenseCrawler is advanced in scanning and finding product keys for Windows and other software. However, according to some users, it takes a long period to complete the key finding process.
Download: http://www.klinzmann.name/licensecrawler.htm
Pros:
Doesn't require installation.
Support dozens of applications.
Cons: Slow in the scanning product key.
How to Use:
Step 1. Run LicenseCrawler and select computer as Localhost. Click "Start Search" and select "High-speed scan".
Step 2. View the result. You can go to File > Save to save the result on your computer.
No.5 FreePCAudit - Free
Best Free Windows Product Key Finder
FreePCAudit is another product key finder that doesn't require software installation. It can directly run from a .exe file to start finding the product key on your Windows computer.
Download: https://www.misutilities.com/free-pc-audit/index.html
Pros:
Supports find product keys for all Windows OS, from NT to Windows 10.
List information of installed software and running system process.
Cons: Doesn't find keys for Microsoft Office and other software.
How to Use:
Step 1. Launch Free PC Audit.
Step 2. Click "System" > Click "Windows Product Key".
Step 3. View and find the product key of your current operating system.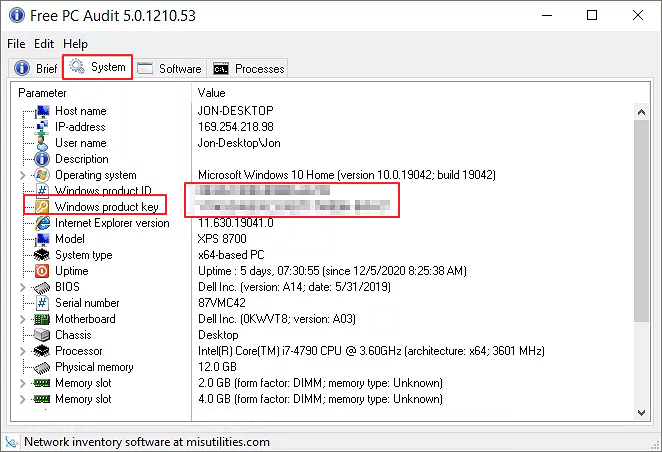 No.6 PowerShell Command - Free
Best Built-in Windows Product Key Finder
If you feel reluctant to install a product key finder software to find the software key of your installed Windows operating system, PowerShell Command is an ideal tool that you can turn to.
Download: Built-in Windows, installation is not necessary.
Pros:
Supports finding product keys for all Windows OS, including 11/10/8/7, etc.
Cons:
Doesn't find the product key on an old version of Windows, like Windows Vista, XP.
Doesn't support finding a key for installed software.
How to Use:
Step 1. Right-click the Windows icon at the start menu and select "Windows PowerShell".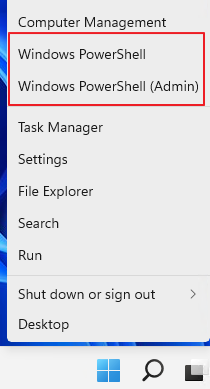 Step 2. Type the command line into Windows PowerShell: 
(Get-WmiObject -query 'select * from SoftwareLicensingService').OA3xOriginalProductKey
Step 3. Wait for Windows PowerShell to present you with the embedded license key of the current Windows OS on your PC.
No.7 CMD - Free
Free Product Key Finder for Old Windows Systems
CMD command, like PowerShell, is a Windows built-in utility, mainly working on solving disk issues with command lines. It also works to find the product key of the installed Windows operating system with proper command lines.
Download: Installation is not necessary, pre-installed in Windows.
Pros: Supports finding product keys of old Windows OS, like Windows 7/Windows XP and Vista.
Cons: Easy to fail by mistake.
How to Use:
Step 1. Type cmd in the search box, right-click "Command Prompt" and select "Run as Administrator".
Step 2. Type the command line in the CMD window and hit Enter: 
wmic path softwarelicensingservice get OA3xOriginalProductKey
Step 3. Wait for the prompt to find your product key on a computer.
Finding Windows and Software Key Is Essential, Let The Best Product Key Finders Help
As you know that the product key of a running operating system or installed program is essential and you must find the product key and save it properly as a backup.
Don't worry if you don't know or didn't know where to find a product key of Windows and programs on a computer. On this page, we listed the 7 best product key finders with detailed guide steps for you to follow. Just pick one product key finder like EaseUS Key Finder and let the tool help now. 

Roxanne is one of the main contributors to EaseUS and has created multiple posts on digital devices like PCs, Mobile phones, tablets, Mac, etc. She loves to share ideas with people of the same interest.
Written by Tracy King 
Tracy joined in EaseUS in 2013 and has been working with EaseUS content team for over 7 years. Being enthusiastic in computing and technology, she writes tech how-to articles and share technical solutions about Windows & Mac data recovery, file/system backup and recovery, partition management and iOS/Android data recovery.
About EaseUS Key Finder
EaseUS Key Finder offers complete solutions for you to efficiently find Windows or Windows Server product keys, discover Offce, Adobe, and other installed software serials, and find WiFi codes, etc, successfully in simple clicks.