Now iCloud becomes the most popular backup solution for iPhone, iPad, iPod users. But you can not access your data in iCloud backup before you restore it to your iDevices. So here we introduce you how to download the iCloud backup to PC and selectively extract your data from the backup file with reliable iPhone backup extractor. It will be quite helpful in some special moment.
When you need to download iCloud backup to PC?
Apple allows you to backup your iPhone, iPad, iPod via iCloud without computer and provides you 5GB free storage space. And the company made it very challenging to download or access iCloud backup file unless you restore your iDevice from it. That's disappointing. Sometimes, you might just want to get some specific files from iCloud backup instead of restore the whole contents in the backup, and sometimes you might get your device lost or stolen without a local backup on PC or Mac. At this moment, how can you selectively recover data from iCloud backup without an iDevice? Don't worry! EaseUS iCloud backup extractor allows you to download iCloud backup to computer and selectively extract what you need from iCloud backup to your PC or Mac.
How to download iCloud backup to PC with EaseUS iCloud backup extractor
Not long ago, downloading iCloud backup to PC was a very demanding task, especially for non-technical users. But now it is not the case. We have been working very hard on creating an easy way to download and recover data from any iCloud backup and finally built EaseUS iCloud backup extractor, a utility makes iCloud backup accessible to everyone. The program allows you to easily save and retrieve your inestimable data stored in your iCloud backup and iTunes backup to PC or Mac. If you need to regain access to your Photos, Contacts, Calendar Appointments, SMS, Recordings, WhatsApp Messages, Videos, Voicemail, Notes, Call history or even Application data, please follow these steps:
Step 1. Launch EaseUS iCloud backup extractor on your computer (Mac or PC), choose Recover from iCloud Backup, and then sign in with your Apple ID.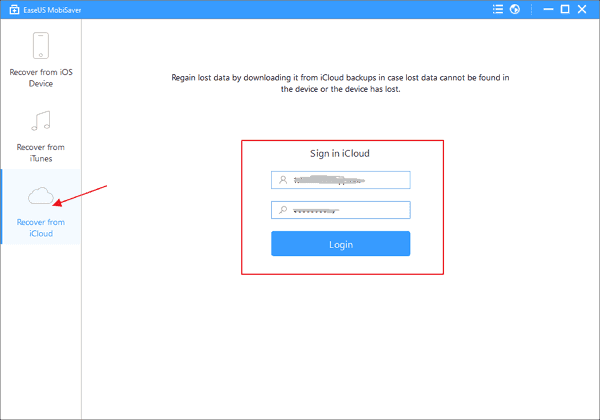 Step 2. Select the right iCloud backup you want to extract, click Scan to download it to your computer and search lost data.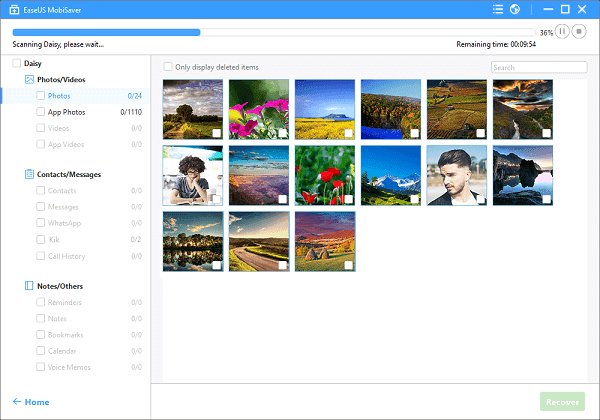 Step 3. After scan, you can choose the right file types and click the specific item to preview the detailed information. And then choose the data and files you want to restore. Finally, click Recover button to save them to your computer.