Help! Notes disappeared in iPhone/iPad/iPod
"Is it an iOS bug that Notes disappears from my iPhone 6. And lost an important note. What can I do?"
"Notes disappeared from my iPhone without any signal. I found no track. Is it possible to find the Notes back again? How?"
"Can I restore the deleted Notes? It's very important. Help me to recover the deleted Notes on my iPhone, please."
It seems that Notes loss issue indeed lead some serious problem to iDevice users. And quite a number of iOS device users complain that it's quite easy to delete Notes. Some even complain that Notes just disappear from their iPhones, iPads or iPods.
If you are facing such a problem, don't be panic and stop using the iDevice immediately. Then find reliable method below to solve this issue on your own now.
Method 1. Find and recover deleted Notes in iPhone/iPad/iPod
When you happen to delete important notes or other data in your iPhone, iPad or iPod, it's highly recommended for you to stop using the iDevice immediately. Then find effective iOS data recovery software for help. Here you may try EaseUS MobiSaver which allows you to restore all lost data with simple clicks. It fully supports all iOS systems including iOS 9.3.3/9.3.2/9.3/9.2 etc. This iPhone data recovery software also supports to restore lost data from iOS device, iTunes and even iCloud backups. You may also use this software to restore lost data from iPad and iPod. Free download this software and let it find and recover delelted Notes for you now.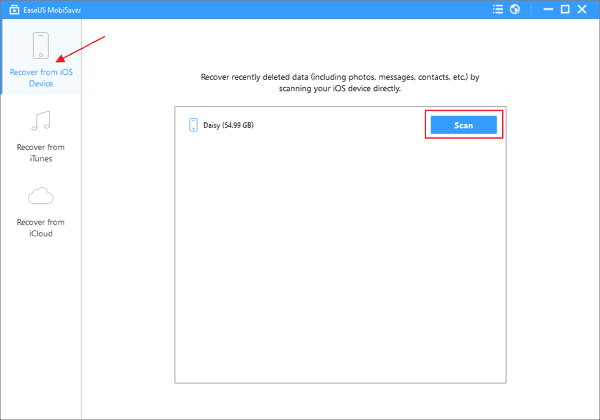 1. Connect iOS device with PC and launch EaseUS MobiSaver;
2. Select to recover from iOS device and click start;
3. Scan and find lost Notes, choose found Notes to restore in a safe spot in PC.
Method 2. Repair disappeared Notes
If you happen to find that Notes simply disappears from your iPhone, iPad or iPod, please follow the below guide to find lost Notes or repair Notes now:
Go to Settings > Tap Mail, contacts, calendar button > Click your email account and check if the Notes is set to on > Switch Notes Off.
After this, the Notes may appear back to your iDevice again.
If you need email account show in Notes, you may follow: Settings > Mail, contacts, calendar > Email(Gmail, Yahoo etc.) > Notes > On.
However, when the Notes are toggled on for the email account, the Notes folder will not be visible in Mail. Therefore, you'll have to toggle Notes Off for the email account in Settings. Then disappeared Notes will show up.
If you toggle Notes On only for iCloud, then Notes will not disappear.
Note: Don't sync your Notes with an email account. Make sure all your emails are toggled OFF for Notes.