How can I recover deleted pictures on Android?
"I have my LG phone for almost one year. Usually, I like to use it to record anything about my life. Since I bought the device, I took pictures when I cooked a big meal, I took pictures when I go on a trip with my friends, I took pictures when I saw some warm and touching scene. I think it is interesting and meaningful!
I always keep the habit of viewing these photos when I am free. But, yesterday, I did the last thing I want to do in the world, I deleted all these precious pictures by pressing on deleted button. I just need some help to recover those deleted photos from my Android phone. Please don't ask me why I did this! It is really the most stupid thing I have ever done!"
3 steps to find and recover deleted pictures on Android
I can really understand you! Sometimes it is quite possible to deleted pictures by mistake when you are in a hurry. I have the similar experience almost half a month ago. And luckily I get all my deleted photos back. I used Start button to begin the deleted picture recovery job.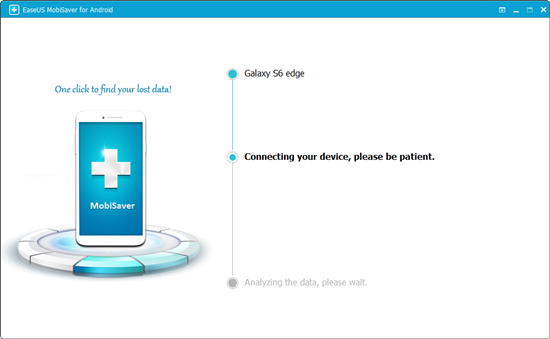 Step 2. Scan Android phone to find deleted photos
In this step, EaseUS MobiSaver for Android can connect and scan your phone to find and analyzed all the data. After scanning, the software can classify the found data into different categories, for example, "Contacts", "Messages". So you can easily find the files you want to get.
Step 3. Preview and export the deleted photos to PC
You can preview all the listed pictures on your phone one by one. Here you can turn on "Only display deleted items" option to list the deleted photos only. Then select out those files you want to retrieve and click "Recover" button to get them back. Here the software will prompt you to specify a folder to save the recovered photos on your computer.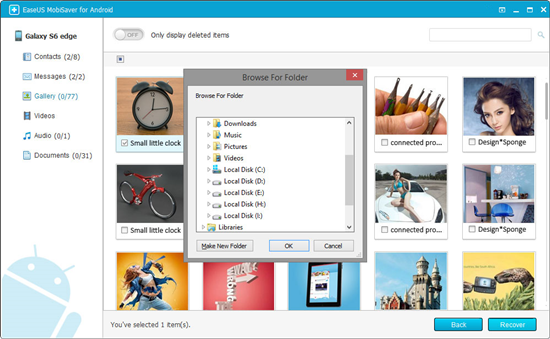 Now, it's your turn to try this wonderful software to get back your deleted photos from your Android phone. You just need to follow the above steps, I promise it can make you satisfied. And if you love this software just like me, you can share it to your friends, you know, sometimes, it's really helpful!