Overview of deleted excel file recovery
Microsoft Excel short for Microsoft Office Excel, a spreadsheet application distributed by Microsoft for Microsoft Windows and macOS. Its calculation, graphing tools, pivot tables and a macro programming language called VBA (Visual Basic for Applications)etc. features make it a very widely applied spreadsheet. From Microsoft Office Excel 2007 for Windows, 2008 for Mac, Office Excel 2009/2010 till now Office Excel 2016, Microsoft really made a great job in updating its Office tools.
When you delete excel files from the computer and empty them from the Recycle Bin or Trash Bin, they would disappear from your computer. The excel contents would not be destroyed immediately. Windows or Mac will mark excel files for deletion and removes them from the file system database when you delete them. This doesn't mean they are immediately gone, and you still have a chance to undelete excel files. So, how to recover deleted excel files?
How to recover deleted excel files?
In fact, when you delete a file, Windows or Mac will mark the space occupied by the file is listed as available space for storing new information. Therefore, if you need to recover deleted excel files, please do not save new data into space where you used to store the excel files so to prevent new data overwrite the deleted excel files.
If you are Mac user lost Excel file due to sudden closing or without saving, follow and see how to recover unsaved excel files on Mac.
Chances are, you still can try to restore deleted excel files from Office autosaved files or backups. If not, you can use an undelete software to help you retrieve deleted excel files. Follow the recommended methods below to restore deleted excel files from PC now.
Method 1. Restore deleted excel files by restoring the previous version
This method is very helpful for users to restore excel files or documents in partitions, not the desktop. How to do it?
Open "This PC/Computer" > Locate the folder where you used to save the deleted excels > Right-click the folder and choose "Restore previous versions" > Select the versions that you need and click "Restore".
Notice: This method only works when you have created backups by using Windows Backup. If you don't turn on this feature, this tip may not work.
Method 2. Undelete Excel files from recycle bin
If you've created Excel files on the desktop and you carelessly deleted it, it will be simple for you to restore it from the recycle bin:
Open "Recycle bin" > Find and right-click the deleted Excel > Choose "Restore".
If you have emptied the recycle bin under Windows 10/8/7 etc, you'll have to apply method one and use professional file recovery software to help you out.
Method 3. Recover deleted excel files with undelete software
This method is used to restore permanently deleted excel files without backups. EaseUS Data Recovery Wizard is a powerful office recovery software to undelete files for you, even if you've emptied the Recycle Bin under Windows 10/8/7 etc. If you use Mac, you can also download the Mac version data recovery software to restore lost excel files.
EaseUS Data Recovery Wizard can also recover other Microsoft Office documents, such as undelete word documents. Follow steps below to undelete Excel files or other documents now:
Simple steps for Excel file recovery are as follows:
Step 1. Specify a location
Run EaseUS Data Recovery Software, firstly, you're asked to choose a location to start. Choose the drive X: or perhaps a specific folder on Desktop or somewhere else, and then click "Scan".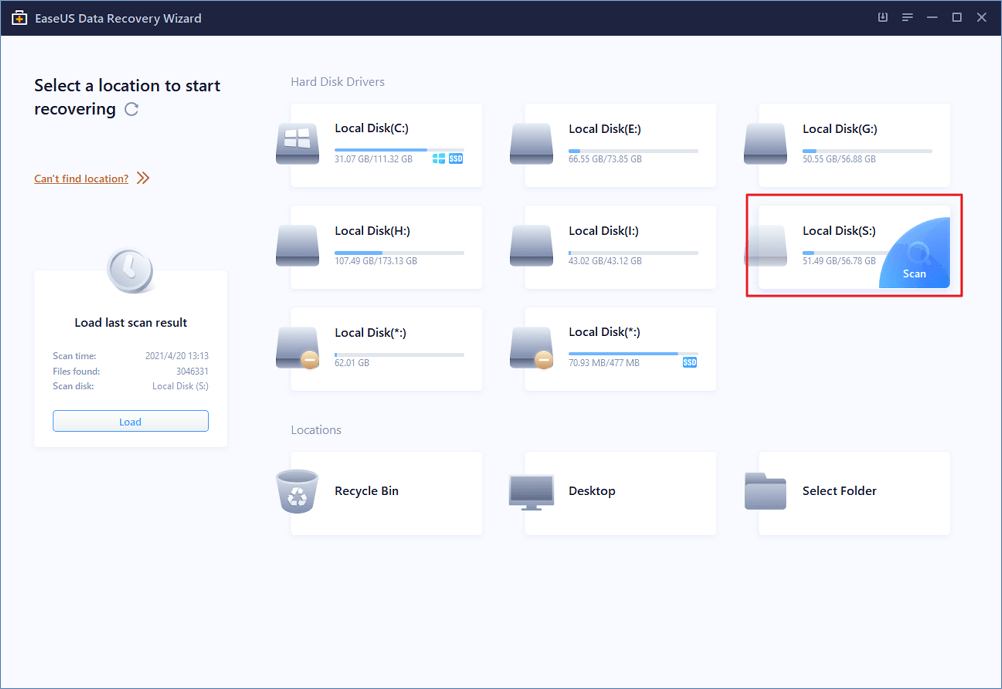 Step 2. Scan data
During the scan, you'll see more and more data showing up very quickly in the "Deleted files" result. That's part of what the software has found and displayed.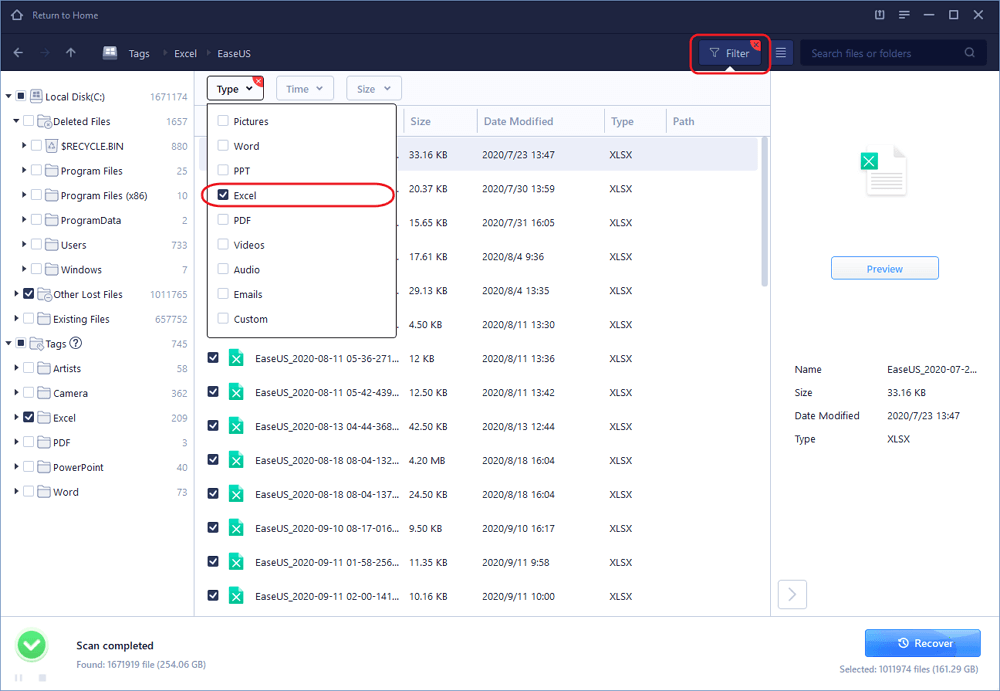 Step 3. Preview and recover
To quickly find the Excel files in the massive data in the scan results, click on the "Filter" on the top area and choose "Documents". Or, search .xls or .xlsx in the Search box. Select the desired files and click "Recover".