The Roku Player can expand its storage capacity. The Ultra is the only current Roku device with a MicroSD slot. It is possible to speed up the loading of channels, games, and screensavers by adding more storage. The storage increases because as you add new media and games, your Roku device automatically deletes the ones you rarely use to make room for them. And this article will teach you how to choose the Roku SD card format and set the right format.
What Is the Best Roku SD Card Format 
SanDisk 32GB class 4 micro SDHC memory card is one of the best microSD cards for Roku Ultra. It also has a 32GB capacity and an A2 grade for memory performance. While the need might not be high now, it's necessary to know that Class 10 SD cards are best. They deliver the best read and write speed, ideal for videos, gaming, and anything that needs speed with data. 
That said, the file system format is also equally important, and here is the list of standard formats:
FAT32: It is helpful for optimum compatibility with any computer or gaming console.
NTFS: Modern Windows prefers to use NTFS as its default file system.
exFAT:  it is a lightweight file system similar to FAT32 but without the extra features and overhead of NTFS and the restrictions of FAT32.
Here is a quick comparison between the various formats:
| Comparison | FAT32 | NTFS | exFAT |
| --- | --- | --- | --- |
| Speed | 4-5MB/s | 25MB/s | 15MB/s |
| Size | 4GB for file size and 8TB for partition | 8 petabytes | 16EiB (Exbibyte) |
| Pros | Suitable for any device | Has helpful elements for modern computers. | high interoperability with a variety of devices. |
| Cons  | Has size limits. | Don't support mobile devices. | Absence of a journaling feature |
For Roku 2 SD Card, use a class 2 or greater microSD card with a minimum of 2GB storage. Roku 3 does not need an SD card bigger than 4 GB, as the extra space is unnecessary. And NTFS is the most recommended format for Roku. Not only it ensures that large-size media can be stored, but it also ensures you can use a large-size SD card. You also get better transfer speed which makes downloading anything lot faster, especially if you have a faster internet connection.
How to Set the Roku SD Card Format
There are several ways to carry out the process of formatting your SD card. You can format the Roku SD card on Windows, or Mac or use the Roku built-in tool. You can see all the steps required to complete the task below. Choose your preferred technique, then start formatting your SD card.
Set the Roku SD Card Format on the PC 
You must format a micro SD card before using it. Once all the data on the SD card erase, it will be ready for usage. Unless you wish to completely delete all of the card's data, you only need to format a micro SD card once. EaseUS Partition Master Free is one of the safest and most reliable SD card formatting tools. This partition manager makes it simple to format an SD card in four steps using.
Step 1. Find your SD card and right-click the partition you want to format and choose "Format".
Step 2. Set a new partition label, file system (NTFS/FAT32/EXT2/EXT3/EXT4/exFAT), and cluster size to the selected partition, then click "OK".
Step 3. Click "Yes" on the pop-up window to continue.
Step 4. Click the "Execute 1 Task(s)" button on the toolbar, then click "Apply" to start formatting your SD card.
On Windows, you can also format the SD card for Roku with the built-in tool, such as Disk Management and Diskpart command. If you want to learn more solutions, click the link below to get the step-by-step guide.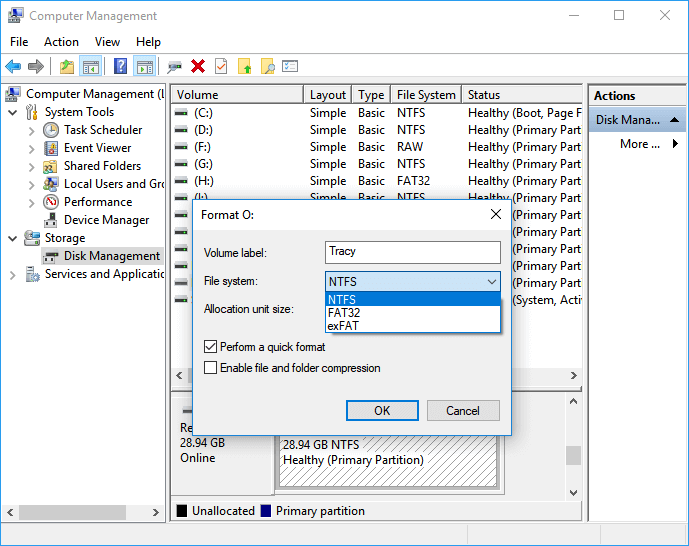 Set the Roku SD Card Format on Mac 
Disk Utility on Mac is a built-in tool in Mac that allows users to manage any disc connected to the Mac. You can use the Disk Utility tool on Mac to format the Roku SD Card. Here are the steps to format SD card for Roku on Mac.
Step 1: Connect the PC to the SD card. Put a micro SD card in an SD adapter cartridge and place it in the SD slot if you want to format it.
Step 2: Select Applications from the Finder, then Utilities. Launch the Disk Utility program. Locate your SD card under External on the Disk Utility screen.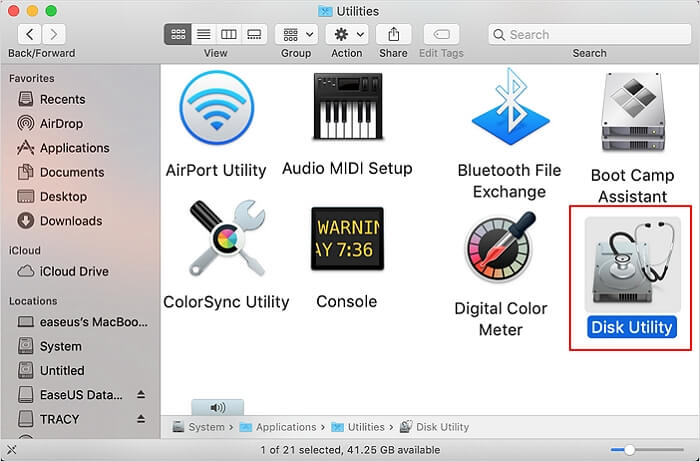 Step 3: From the functions at the top of the screen, select the card and Erase. Choose your preferred format from the Format drop-down option in the following pop-up box. 
Set the Roku SD Card Format on Roku Ultra 
Roku Ultra offers a built-in tool to manage SD cards. The tool is available on all Roku players and can be useful if you are running out of space, want to start from scratch, or need to set up a new SD card. Follow the steps below to get detailed instructions.
Step 1: First, get a suitable memory card for your Roku device. Always purchase a microSD card with a capacity greater than 2GB and a speed class lower than C10. 
Step 2: Take the HDMI wire out of the Roku device's back, and then put the Micro SD card in its place. When it locks into place, you will hear a click. 
Step 3: Your Roku will recognize the microSD card after you have installed it. Next, you must select the "Format" option from the menu. Choose "Continue" after making sure you want to format the card.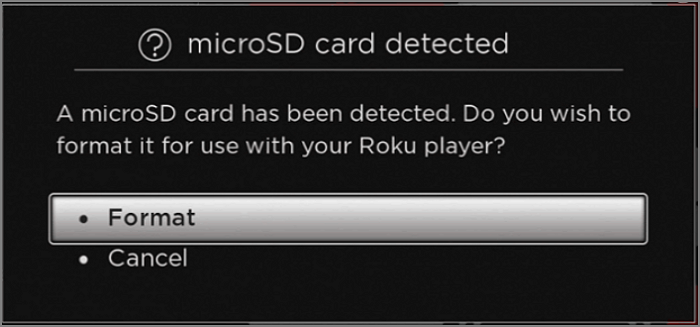 Step 4: Depending on the size of your card, formatting will take longer or shorter based on the amount of data available on the card. It should only take a few minutes. Click "OK" when the process completes.
Conclusion  
Did you enjoy this tutorial? The lists I have mentioned here will help you choose, set, and format the Roku SD card. As mentioned in the article, the EaseUS Partition Master tool will help you format the Roku SD card. Please share your valuable thoughts in the comment box if you think these steps are helpful.
FAQ of Roku SD Card Format  
If you have more questions about the Roku SD card format, find answers below.
1. What format should a micro SD card be?
FAT or FAT32 should format the microSD/SD card. You can format a card in FAT or FAT32 if it has 2 GB or less. Use another SD card no bigger than 32 GB if there is no option to format the card in FAT32.
2. What kind of SD card does Roku use?
Always use a Class 2 or higher micro SD card with a minimum of 2GB storage for the best results. Roku offers micro SD cards for purchase.
3. What size SD card fits in Roku 3?
Any SD card larger than 4 GB is unnecessary because there is no need for any extra space. All the SD card does is add more memory for your Roku to store the channels and apps you have downloaded.
EaseUS Data Recovery Services
EaseUS data recovery experts have uneaqualed expertise to repair disks/systems and salvage data from all devices like RAID, HDD, SSD, USB, etc.