This page explains why Mac Document folder empties suddenly and covers three solutions to recover emptied files from the Mac Document folder immediately. If this has happened to you, keep reading and follow to restore your lost files from the emptied Mac Document folder with ease.
Workable Solutions
Step-by-step Troubleshooting
Why Does Mac Documents Folder Empty
1. Files gets deleted; 2. iCloud syncing enabled; 3. Finder...Full steps
Restore Mac Documents Folder Files

Method 1. Use Mac file recovery software, scan and restore all files...Full steps

Method 2. Disable iCloud syncing and recover missing files...Full steps

Method 3. Change Finder settings to find disappeared Documents files...Full steps

Method 4. Restore from Time Machine backup...Full steps
Reasons for Mac Documents Folder Empty Suddenly
"I often save files to my Documents folder on my Mac desktop. However, a weird thing happens. The Mac Documents folder shows empty all of a sudden but it's not. I have saved about twenty large folders in there.
The odd is that I didn't drag them to the Trash or emptied the Trash unlikely. Why did my documents disappear on Mac suddenly? How can I retrieve lost files?"
When this issue happens to you and your files suddenly disappear from the Document folder on your Mac computer, what will you do? Here are the major reasons that will explain why your documents and folders disappearing from the Mac Document folder:
#1. Files in the Document Folder Are Deleted
The other main reason is that you carelessly or unintentionally emptied the Document folder or deleted all files in the folder. 
#2. iCloud Is Enabled to Sync Files from Mac
A new feature in macOS allows you to sync files from your desktop and Documents folder to iCloud so as to allow you to access these files on all your devices.
However, if you disable this feature while syncing files, it will delete them from your computer. Relax, those files still exist. They were simply removed from the desktop and Documents folder and left in iCloud Drive.
#3. Mac Finder Hides Files in Document Folder on Mac
By changing the preference settings, Mac Finder may hide your files from visible in the Document folder. 
The ways to restore the emptied documents folder are various due to the different causes. And you may follow the right method below to bring your lost or missing files back on Mac in only a few clicks.
Recover Files Suddenly Disappeared in Mac Document Folder
So how to recover files that suddenly disappeared or missing in the Mac Document folder? Try the following three methods to bring your files back as soon as possible. The former the methods are presented, the more efficient it would be in retrieving your missing files on Mac.
Method 1. Scan the Empty Mac Document Folder and Recover Lost Files
The easiest and most efficient way that you can try to recover missing files from the Mac Document folder that empties suddenly is to run reliable Mac file recovery software for help. 
EaseUS Data Recovery Wizard for Mac is experienced in dealing with complicated data troubles like how to recover Mac hard drive data, recover different kinds of folders and files from different locations. Since your Documents folder is missing, this Mac data recovery tool is your best choice. 
If the files you lost are less than 2GB, you can try  EaseUS free Mac data recovery software to scan both the existing files and the lost files on Mac with ease. Follow the steps below to retrieve the documents folder.
Step 1. Select the location to scan
Launch EaseUS Data Recovery Wizard for Mac and choose the hard drive, SSD,  SD card, USB flash drive, or TF card where you lost data. Click "Search for lost files" to start scanning.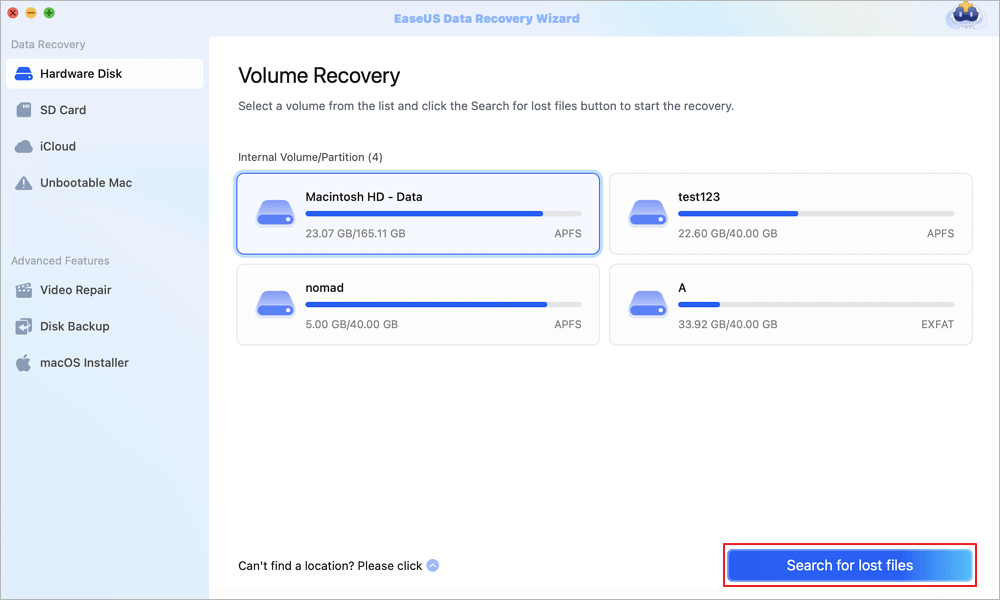 Step 2. Filter lost Mac data
The software will automatically scan for lost data on MacBook/iMac. When the scan completes, filter wanted data through the "Type" and "Path" buttons.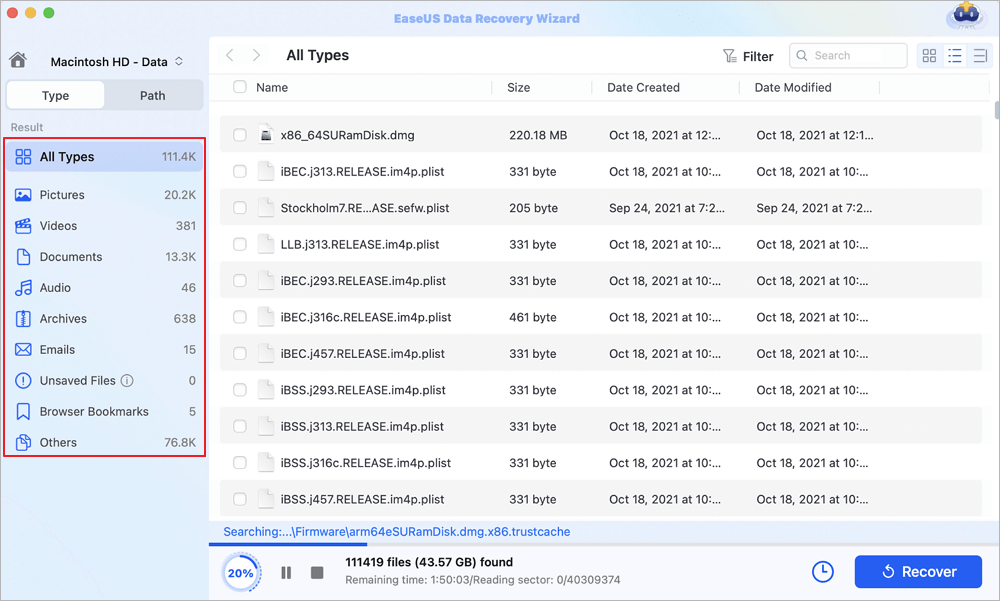 Step 3. Recover lost data or files
Double-click a file to preview it. Then, click the "Recover" button to restore the lost data to another place.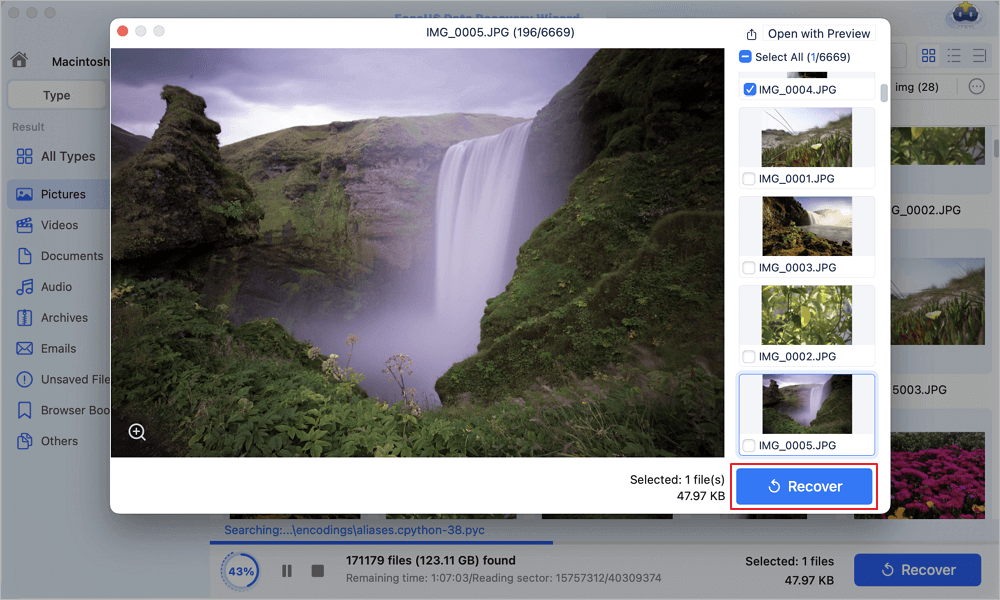 When the process finishes, you will be able to view and use the Mac files again on your computer. If you are a Windows user, you can refer to My Documents Folder Is Missing from Windows 10.
Method 2. Turn Off iCloud to Recover Documents Folder Files
If your Mac Document folder gets emptied due to iCloud syncing, turning off the iCloud drive will help to recover the missing Documents folder. Here's how to disable the iCloud drive and get your files back to the desktop and the Documents folder:
Step 1: Open up "System Preferences" and then click on "iCloud".
Step 2: To the right of "iCloud Drive", click on "Options".
Step 3: Uncheck the box next to "Desktop & Documents Folders".
Step 4: You'll get a pop-up warning you that these files will only be stored in iCloud Drive if you disable desktop and Documents syncing. Go ahead and click "Turn Off".
Then, open the iCloud Drive folder on your Mac and you'll see two folders called "Desktop" and "Documents". There are where your files disappeared to. Drag-and-drop the files to your desktop while holding down the Command key, or copying and pasting them over and then deleting the ones still stored in iCloud Drive.
Method 3. Find the Missing Files from Mac Emptied Documents Folder using Finder
As we've explained that your files may be invisible due to improper Finder settings. Therefore, you can also find the missing files from the suddenly emptied Mac Documents folder by changing Finder settings.
Try this manual way to find your documents:
Step 1: From the Finder "Go" menu hold the option key and choose Library.
Step 2: Then go to Preferences trash these two files:
com.apple.finder.plist
com.apple.sidebarlists.plist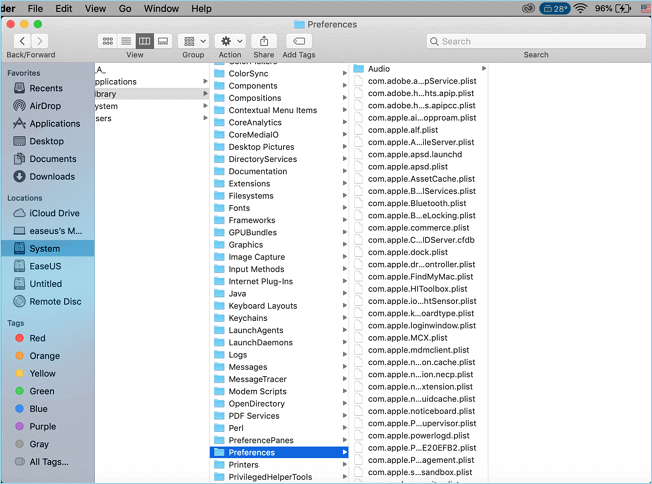 Step 3: Then, restart your Mac.
Method 4. Restore Missing Mac Documents Folder Files from Time Machine Backup
If you have created a backup of all essential files on Mac using Time Machine, congratulations. You can immediately bring the missing or disappeared files using Time Machine.
Follow the steps below to bring your missing Documents files back from Time Machine Backup:
Step 1: Open Finder, go to System Preference and click Time Machine. 
Step 2: Select "Show Time Machine in menu bar".
Step 3: Click and open your Time machine and select the "Documents" folder that you want to restore.
Step 4: Click "Restore", select the exact day and time, and click "Restore" to bring everything back.
Conclusion
This page explains why do Mac Documents folder empties suddenly and presents you with four practical methods to restore the missing files back on Mac. 
For the most efficient way to restore missing or disappeared Documents folder files on your Mac, EaseUS Data Recovery Wizard for Mac is on the top list. Besides, we also would like to recommend you to back up your mac documents regularly. Time Machine, manual backup method, and Mac backup software can all help you to protect your precious files. 
EaseUS Data Recovery Services
EaseUS data recovery experts have uneaqualed expertise to repair disks/systems and salvage data from all devices like RAID, HDD, SSD, USB, etc.