What Are Outlook Rules
Outlook rules are functions by which the user can specify conditions of actions when a message arrives in the main tray. This feature primarily automates actions that the user would otherwise have to perform on their own, constantly and manually. Through this tool, you can significantly optimize the use of your inbox.
Outlook rules allow you to move automatically, flag, and reply to email messages. You can also use rules to play sounds, move messages to folders or show alerts for new items.
Why Are Rules in Outlook Not Working
Several different and unrelated issues prevent Outlook rules from running automatically or even disabling them altogether. The following may be the causes:
The rules exceed the rule quota set for your mailbox.
Corruption in send/receive settings file.
Rules set to run on a single computer.
Corruption using a POP3 or IMAP account.
Setting up these rules can simplify your inbox and help you become more efficient. In addition, troubleshooting common errors enables you to fix rules that aren't working so you can have a clean inbox again.
Instructions in this blog post apply to Outlook 2019, Outlook 2016, Outlook 2013, Outlook 2010, and Outlook for Microsoft 365.
How to Solve Rules in Outlook Not Working Issue
Several issues affect the automatic execution of Outlook rules. We are going to present the best ways to get them working again. Here are a few ways you should try:
Fix 1. Enable Outlook Rules Feature
If Outlook rules don't work, make sure to enable that feature. Here's how:
Open your Outlook and navigate to Files > Rules and Alerts. Check-mark, select the concerned rules in the Rules and Alerts dialog box, and click "OK."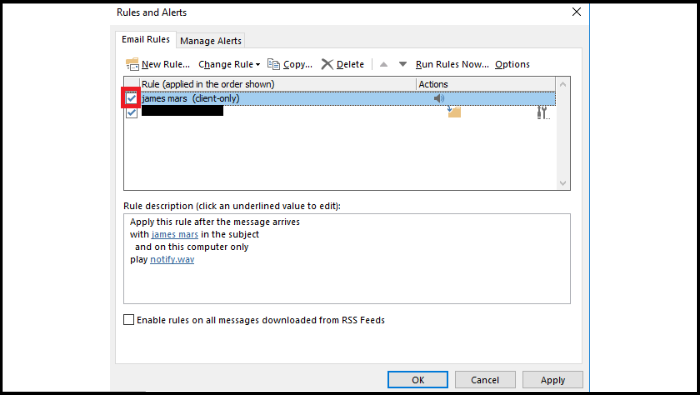 Fix 2. Rename or Reset the SRS File
Resetting the SRS file can solve the problem because maybe the (SRS file) send/receive settings file is damaged in Outlook, so here are the proper steps to reset it:
Step 1. Follow the below link. It'll redirect you to the location.
C:\Users\%username%\AppData\Roaming\Microsoft\Outlook
Step 2. Change the Outlook.srs file to Outlook.srs.old and restart Outlook. Doing so will help recreate the SRS file.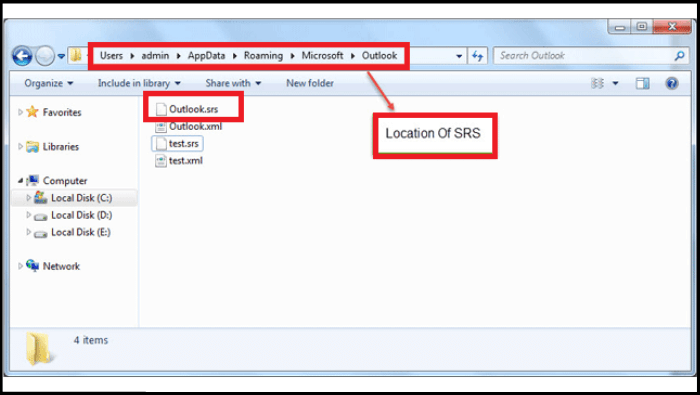 Fix 3. Update Outlook to Latest Version
Maybe your Outlook needs to be updated because being outdated could also be a problem. In the outcomes, Outlook rules need to be fixed. So update it now, follow the below steps:
Step 1. Open Outlook, click "File," and click "Office account" from the menu.
Step 2. Click "Update options" and click "Update now."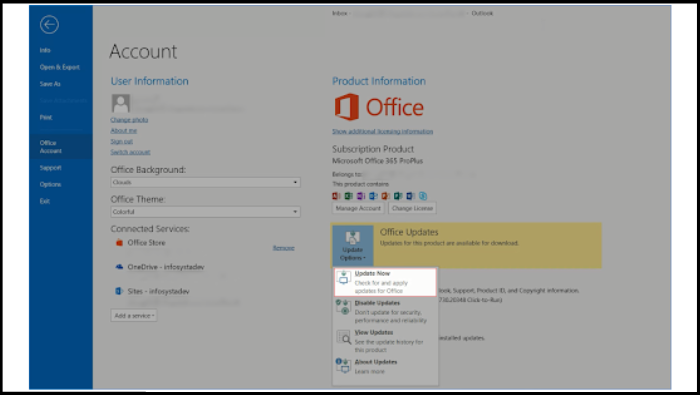 Note: If you don't see the option "Update now" after clicking the "Update options," your version is already updated. There could be another problem you need to apply a solution to accordingly.
Fix 4. Disable Stop Processing More Rules
If Outlook rules don't work, you need to disable stop processing more rules; Outlook rules run from top to bottom. Follow the below steps:
Steps 1. Open Outlook, navigate to Home > Rules, and click "Manage rules" from the context menu.
Step 2. Choose the first rule from the list of rules, then click "Change rule."
Step 3. You'll see a dropdown menu. Click "Edit Rule Settings" and "Next."
Step 4. Ensure that "Stop Processing More Rules" should be disabled in case it's not. Click the checkbox to uncheck it and click "Next."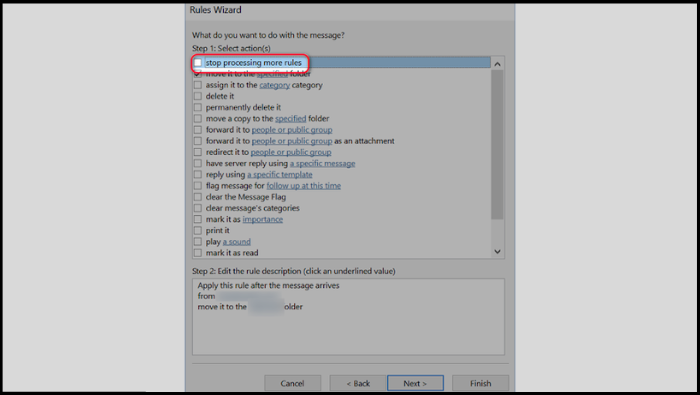 Step 5. Click "Next," and finally, click "Finish."
Fix 5. Change Outlook Offline Settings
Changing offline settings could fix this problem because your settings may prevent messages from syncing offline. Follow a few simple steps:
Step 1. Go to Outlook, navigate to File tab > Account Information tab, click "Account settings," and again click "Account Settings" from the dropdown menu.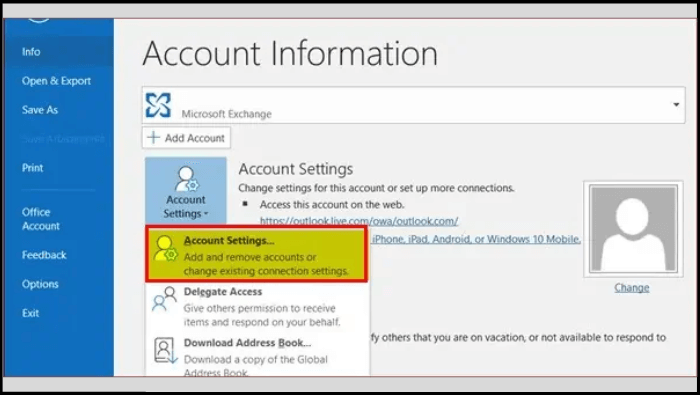 Step 2. Now in the "Email" tab, click "Change."
Step 3. Below the "Offline settings," you'll see (Mail to keep offline) hold a slider through your mouse and drag it to the right side. After that, click "Next" and then click "OK." Now restart your Outlook.
Fix 6. Turn On Exchanged Cache Mode
You can fix this issue by turning on "Exchange Cache Mode" because when connecting to your email account, a copy of your mailbox is saved on your computer. So you can access that quickly. Here are a few steps:
Step 1. Open Outlook client, navigate to File> Account settings, and again Account settings from the dropdown menu.
Step 2. From the "Email" tab, click "Change."
Step 3. From the offline settings section, checkmark "Use Cached Exchange Mode." Now, you need to restart Outlook.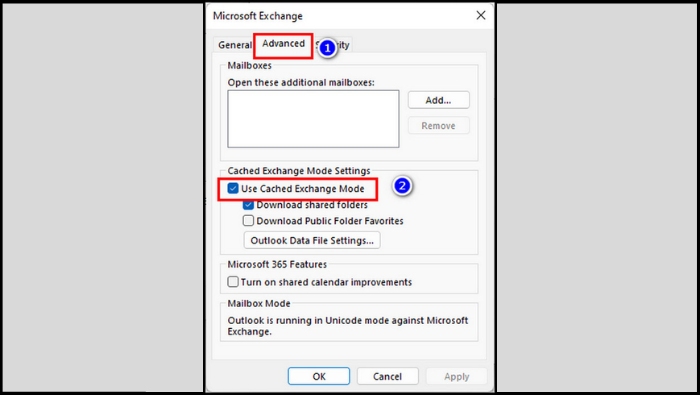 Fix 7. Delete Old Rules
Deleting old rules could solve the issue. Here is the complete procedure to delete old rules:
Step 1. Open Outlook and navigate to File> Rules and Alerts.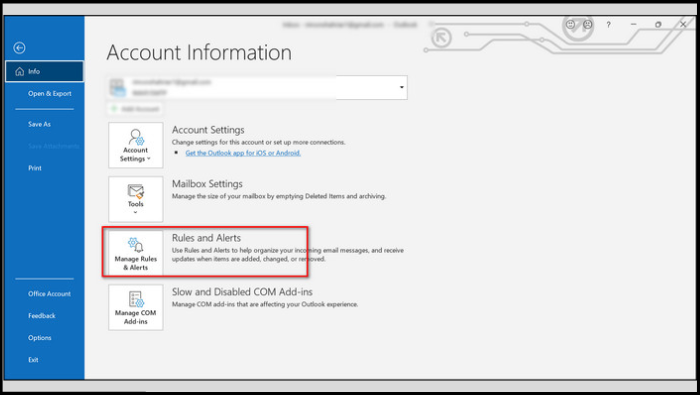 Step 2. Choose a rule you like to delete and click the "Delete" button.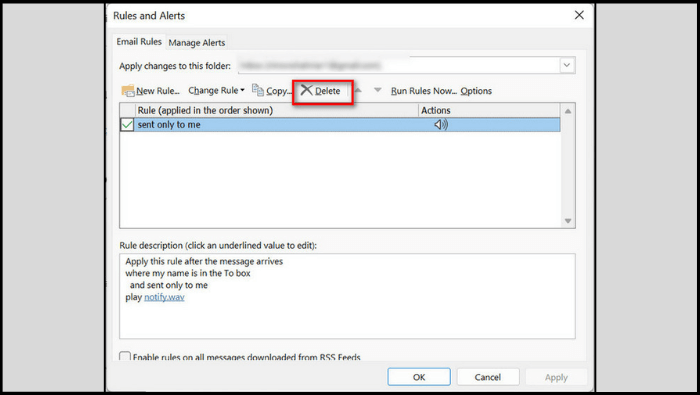 Step 3. Now restart the Outlook app and create a new rule by following method #8 or (Fix 8).
Fix 8. Create a New Rule
If the above-discussed methods don't solve your problem, something else could be wrong. Therefore, you have to create a new rule. Follow the below procedure:
Step 1. Open the control panel, and navigate to User account > Mail > Show profiles.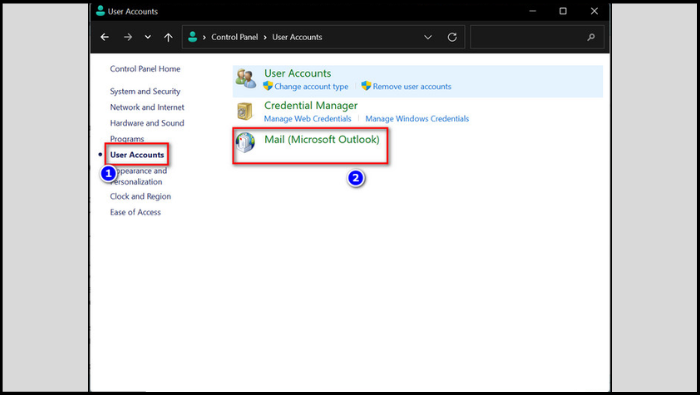 Step 2. Click "Add" and create a new profile.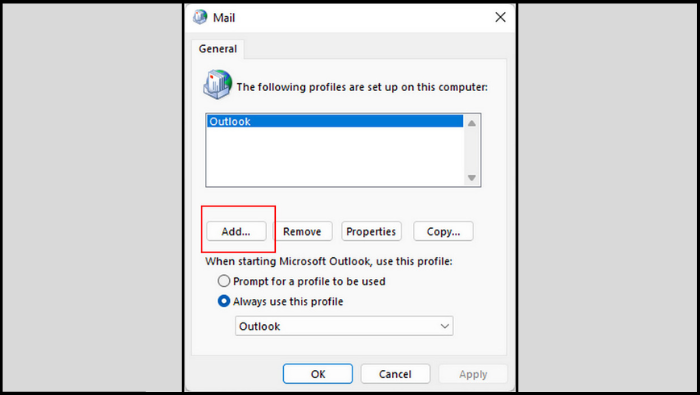 Step 3. After creating a new profile, launch Outlook, choose the newly created profile, and make sure the rules are working correctly.
Bonus Tip: How to Backup Outlook Emails
Email is the quintessential form of communication for people. Our Outlook emails usually contain our crucial data. But how to back up Outlook emails? It is vital to protect it against possible computer viruses, malware attacks, or any kind of disaster and unpleasant situations. Therefore, one must have an email archiving solution and backup software to protect critical data. In this context, EaseUS Todo Backup Home is a tool that can meet your needs.
EaseUS Todo Backup Home is a practical and multi-functional backup tool. It can help you back up your files, systems, disk, etc., on Windows 11/10/8/7. And it can also help you to back up Thunderbird emails and back up Gmail emails to Outlook. Furthermore, this backup software also allows you to back up your favorite games. For example, it enables users to back up Minecraft worlds. Most importantly, it offers 250G free cloud storage, thus enabling you to store the backups in different locations.
You can perform the following steps to back up your Outlook emails.
Step 1. Launch EaseUS Todo Backup on your computer, and click Create Backup on the home screen and then hit the big question mark to select backup contents.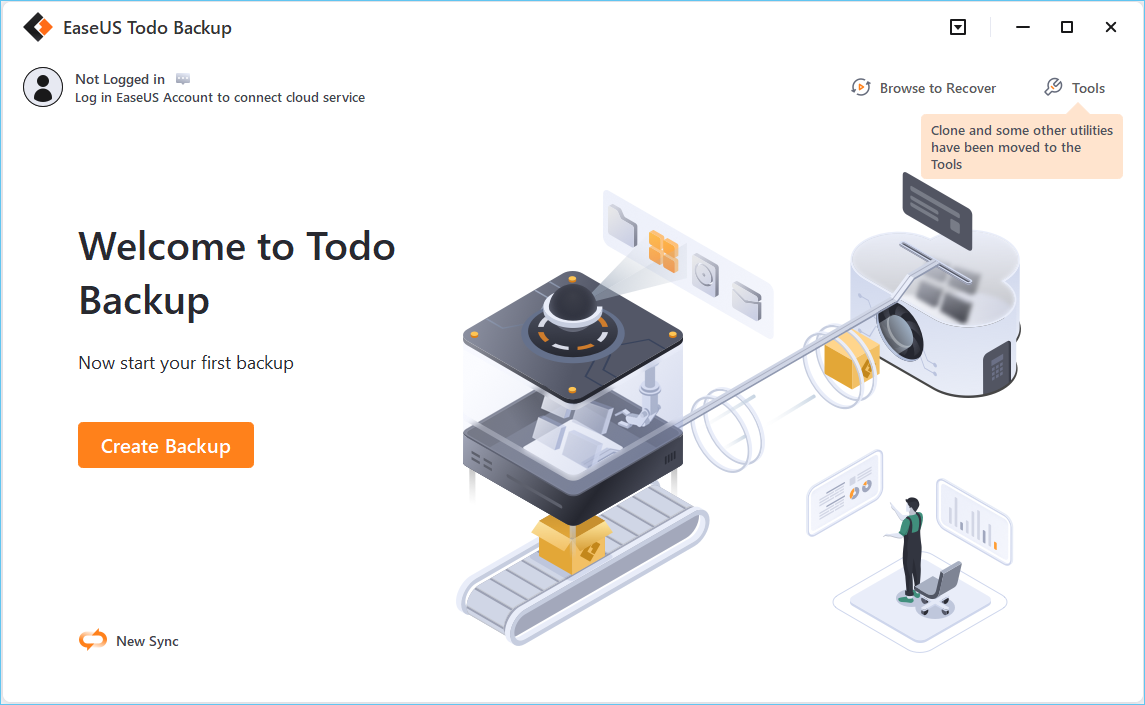 Step 2. Among the four backup options, click "Apps data".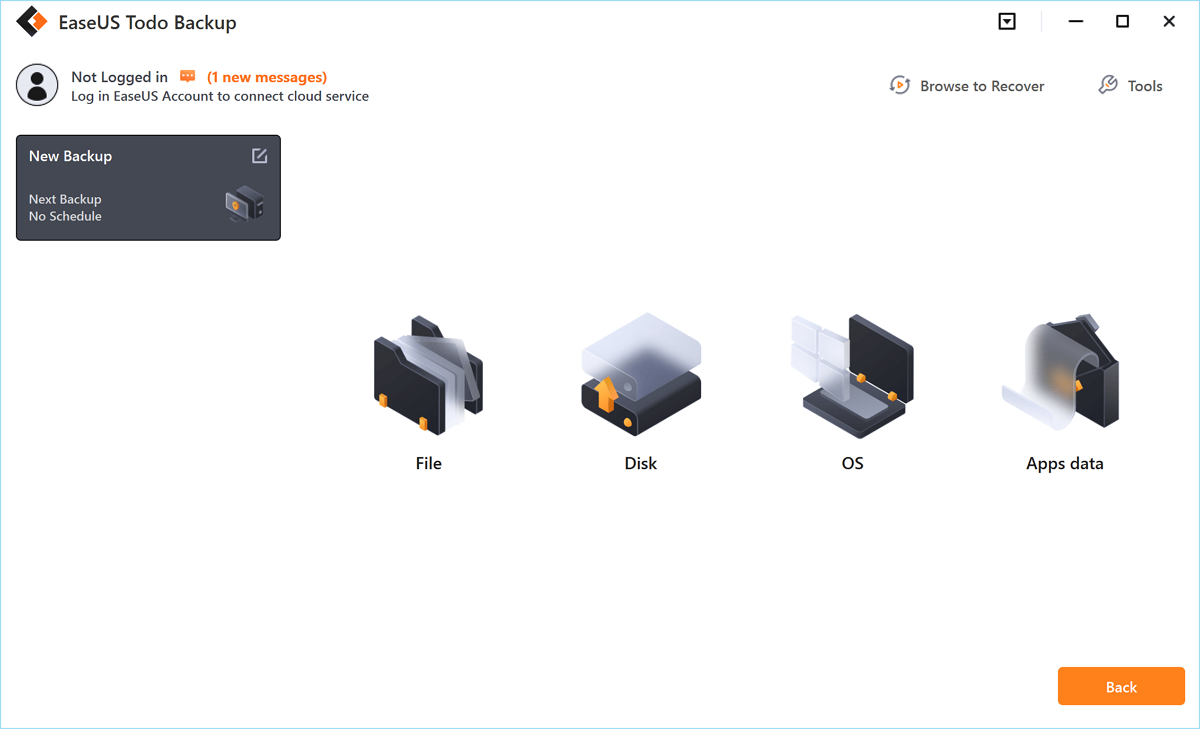 Step 3. Then you can see all the apps that can be backed up. Find and chekc the "Microsoft Outlook" option. Select the mailbox addresses you want to make a backup of the mails, contacts or calendars and click "OK".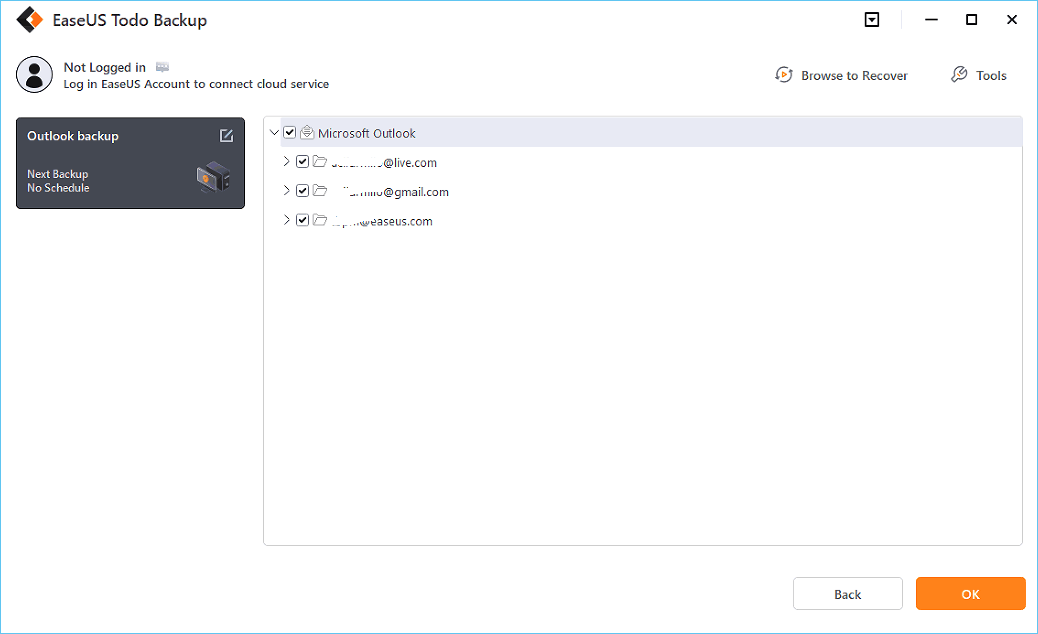 Step 4. Next, you'll need to choose a location to save the Outlook backup by clicking the illustrated area.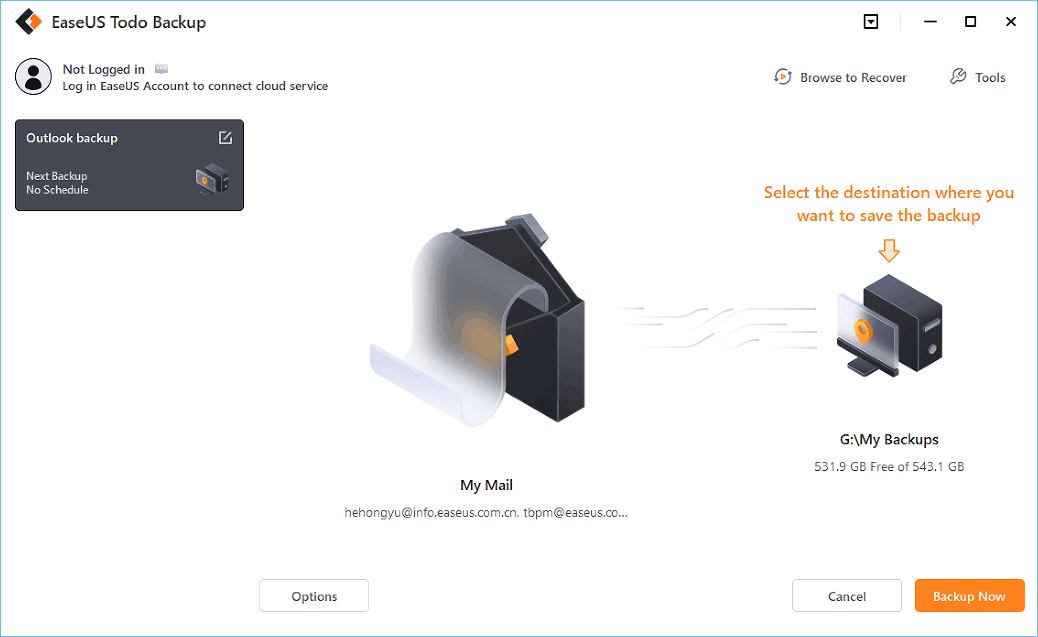 Step 5. The backup location can be another local drive on your computer, an external hard drive, network, cloud or NAS. Generally, we recommend you use an external physical drive or cloud to preserve the backup files.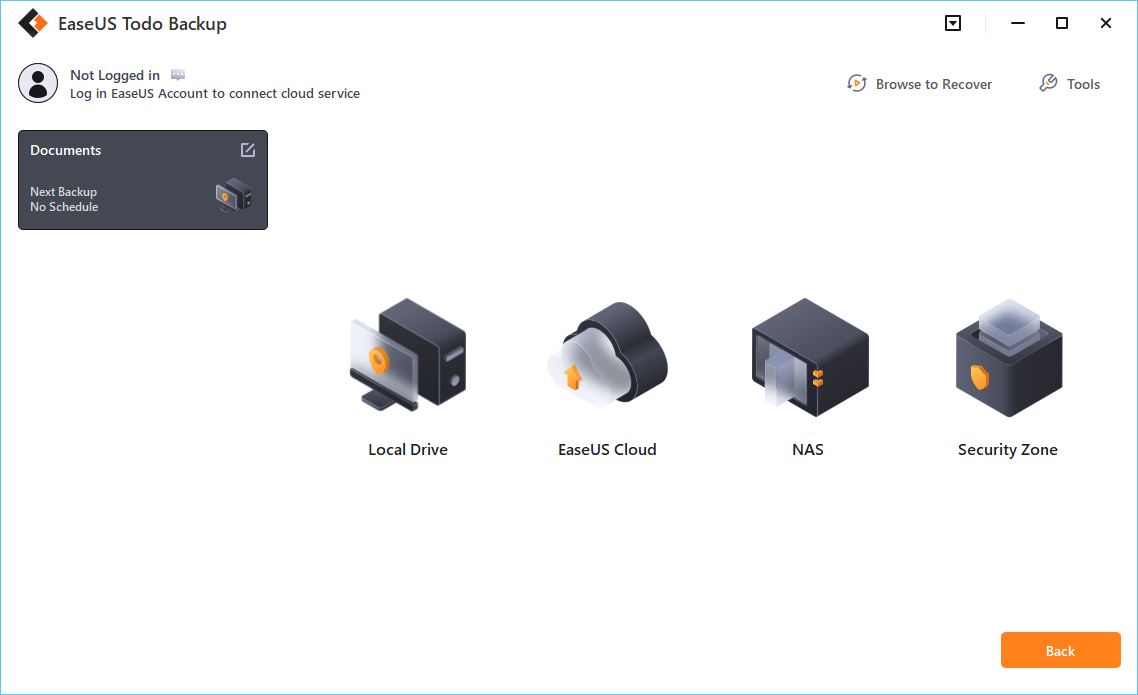 Step 6. Cusomiztion settings like setting an automatic backup schedule in daily, weekly, monthly, or upon an event, and making a differential and incremental backup are available in the Options button if you're interested. Click "Backup Now", and the Outlook backup process will begin. The completed backup task will display on the left side in a card style.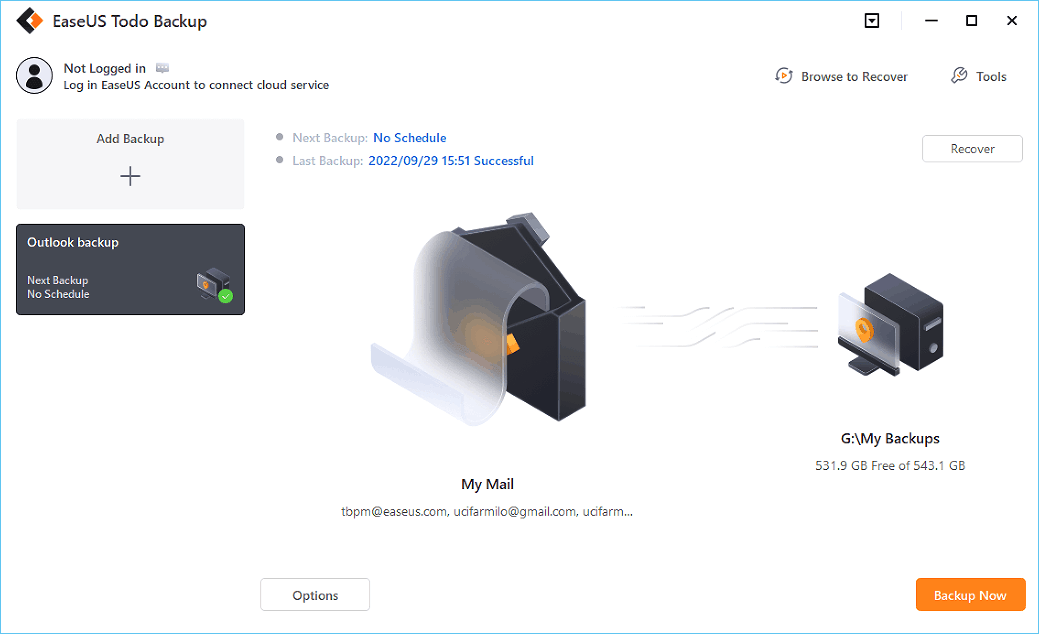 The Bottom Line
As you can see now, there are several solutions to help you resolve the Outlook rules not working issue. You can try any solution accordingly. We hope this detailed guide helps you to resolve this issue. To protect your Outlook emails, you can use EaseUS Todo Backup Home to back up your emails in Outlook.
EaseUS Todo Backup Home will help protect data on your computer. It can also enable you to install Windows on a new SSD without USB and back up an SSD to image. So, why are you still waiting? Download now EaseUS Todo Backup Home and enjoy its excellent features and services.
FAQs
1. Why does Outlook take so long to run rules?
The Outlook email client has allocated a dedicated rule space. If you add too many rules, it can not only hamper your email experience but also cause Outlook rules not to work correctly.
2. How often do rules run in Outlook?
There is often one rule applied to each message. No other rules will be used if a message meets a rule's criteria. However, you can define a rule so messages that meet its criteria would be available for other rules.
3. What is the difference between quick steps and rules in Outlook?
Quick Steps are basic rules (there's a feature called Rules. However, unlike Rules, which work behind the scenes without your input, Quick Steps rely on your input.
The rules reduce manual archiving or taking the same action when a similar message arrives. Unlike Quick Steps, rules are usually always on and run automatically. For example, a message from a specific person is automatically moved to the specified folder.
EaseUS Data Recovery Services
EaseUS data recovery experts have uneaqualed expertise to repair disks/systems and salvage data from all devices like RAID, HDD, SSD, USB, etc.