Why Do We Need to Back up Thunderbird Email to External Drive
Computer users might think Thunderbird email doesn't require a backup because its data is saved in the system. This kind of idea is not correct at all. In case of a computer virus or a system crash, Thunderbird emails will become unrecoverable. Backing up Thunderbird emails to an external hard drive has many advantages. 
Better data security. Making a Thunderbird email backup to an external drive can increase the chances of better data security. The security features of Thunderbird are not robust like Outlook, so hackers or virus attacks can easily attack it.
Improve performance. Backing up Thunderbird emails to an external hard drive can reduce the mailbox size and enhance the server's performance, as the local server gets more space.
Effortless Data Migration. If Thunderbird emails are saved on a hard drive, it is easier to transfer them. When users need to export Thunderbird data to another system, the backup turns out to be helpful.
How to Back up Thunderbird Emails to External Drive with Three Possible Ways
Now, you know the importance of backing up your Thunderbird emails to an external hard drive. Let's look at the methods to back up Thunderbird emails. There are three methods to back up Thunderbird mailbox items to an external hard drive. Choose one according to your needs to make a backup of Thunderbird emails.
Solution 1. Backup Thunderbird Profile
Backing up the Thunderbird profile is a good way for you to create Thunderbird Emails backups to the external drive. The detailed steps for this method are as follows:
Step 1. Launch Thunderbird.
Step 2. Click on three horizontal lines to display the menu options for your account.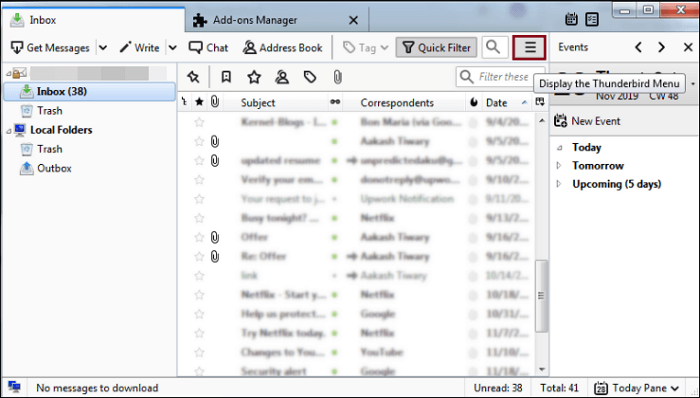 Step 3. Click on Help, then choose Troubleshooting Information.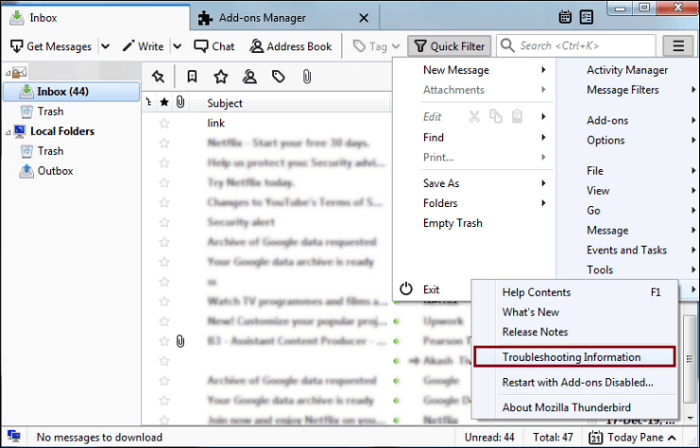 Step 4. Go to Profile Folder and click on Open Folder.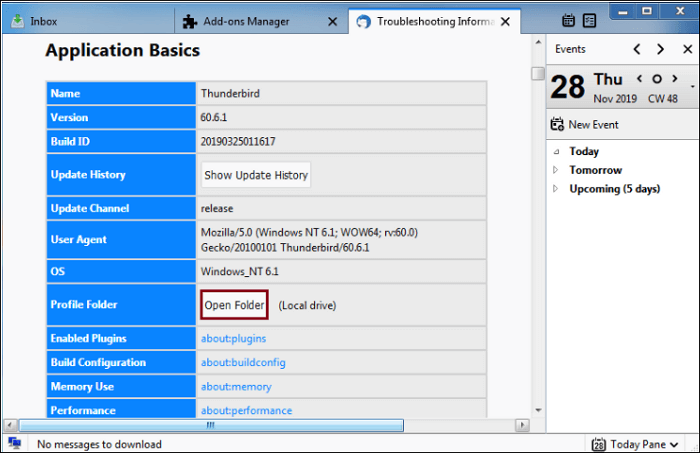 Step 5. It will launch the profile directory after clicking on Open Folder.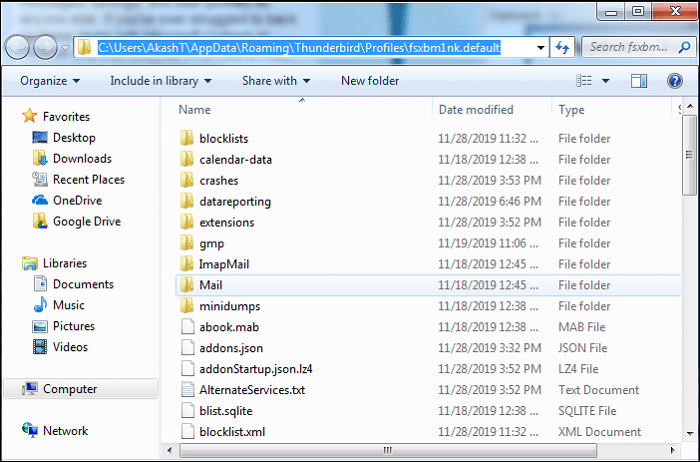 Step 6. Go to the respective folder of the hard drive and paste the data here after copying the desired folder.
Solution 2. Export Thunderbird Emails Using Add-on
A special add-on tool can help export and import emails from a Thunderbird account. Now, you can perform the following steps to do such a backup of Thunderbird emails.
Step 1. Launch Thunderbird and install the ImportExportTools NG add-on in it.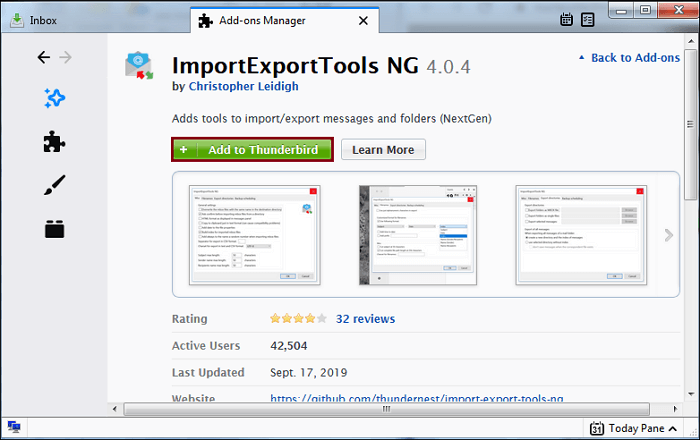 Step 2. Restart Thunderbird after the add-on is installed.
Step 3. Select a folder you want to backup and right-click on it.
Step 4. Choose ImportExportTools NG, then Export folder, then EML format to backup Thunderbird emails on a hard drive in EML format.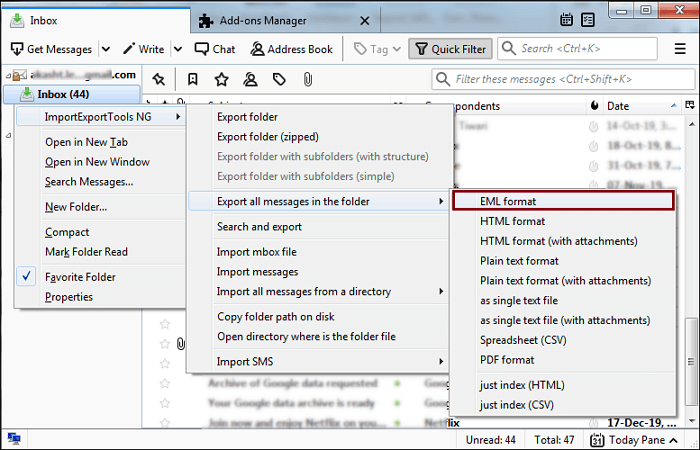 Step 5. Choose a location on the hard drive to save the files and click on Select Folder.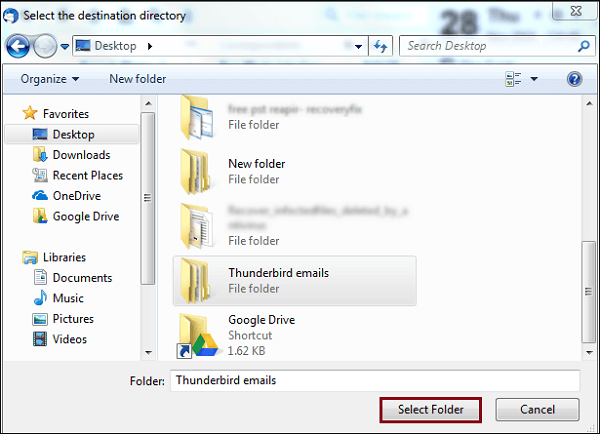 Solution 3. Use Save As Option to Backup Thunderbird Emails to External Drive
This is a commonly used method to back up thunderbird emails to an external hard drive. Here is how to back up Thunderbird emails to an external hard disk using Save As option.
Step 1. Open Thunderbird.
Step 2. Choose the emails you want to save on the external hard drive.
Step 3. Click on the Menu button (three horizontal lines) and then click on Save As.
Step 4. Choose a saving location by providing a folder name to save the selected emails.
Step 5. Click on the Save button to get the backup process done.
Another Way to Backup Email, such as Outlook
Thunderbird is the email client from Mozilla. It is an open-source web-based email client used by professionals and individuals to send or receive emails for transferring important data. The Thunderbird application can run smoothly on Windows, Linux, and Mac OS. Primarily, it acts like other email service providers, including Outlook.
Thunderbird and Outlook are among the frequently used email service providers. Outlook is an email tool offered by Microsoft. Outlook works with many operating systems and devices, and it is user-friendly. It can be integrated with many different apps, thus making it a popular choice for business and individual use. Outlook is one of the most popular option regarding email deliverability and widespread compatibility. Therefore, it is vital to know how to backup Outlook emails.
Fortunately, you can use third-party backup software, such as EaseUS Todo Backup, to back up Outlook.
EaseUS Todo Backup Home is a professional and multi-purpose backup tool. It can be used as Outlook backup software to help you to back up Outlook emails easily. You can use it to back up different files, including pictures, documents, videos, audio, etc. It allows you to make full, incremental and differential backups and save the backup to more than one location. It provides 250G of free cloud storage, which can meet your different storage needs. Besides, you can also use it as universal restore software to perform the universal restore on your computer. In a word, this backup software has much to offer when it comes to backup. 
Conclusion
When users are using Thunderbird professionally, they should also make a routine backup of their Thunderbird emails. This post describes three methods to back up Thunderbird email to a hard drive and offers a practical backup utility for users to back up email tools, such as Outlook. Users can choose a method according to their actual needs.
FAQs
1. How do I move my Thunderbird folders to another drive?
Locate the Thunderbird profile folder you want to move to another location.
Copy the entire profile folder to the new location or a USB drive.
Paste the profile folder to the new location.
2. Why do emails disappear from Thunderbird?
A common default with POP is to remove mail from the server when it is downloaded or retrieved. The result is that mail appears to disappear from Thunderbird when it is deleted on the server by the other device retrieving it.
3. How do I retrieve deleted emails in Thunderbird?
To recover deleted Thunderbird emails from the trash, follow these steps:
Select your Thunderbird account.
Open the Trash folder and select the message you want to recover.
Right-click on the message and select Move To. Choose the Thunderbird folder where you want to save the recovered message.
EaseUS Data Recovery Services
EaseUS data recovery experts have uneaqualed expertise to repair disks/systems and salvage data from all devices like RAID, HDD, SSD, USB, etc.