Windows 10 won't boot and stuck on the loading screen, help!
"My computer won't boot from Windows 10 but stuck at the loading screen. I've tried to reboot the Windows PC several times, the problem still blocks Windows 10 from logging in. 
Do you know any reliable methods or solutions that can help me fix this problem?"
Usually, when the Windows system including Windows 10 hangs on the loading screen, it's not a big problem and users can simply force the computer to reboot and get Windows 10 start normally. But if you are not in the right situation, don't worry. Here below in this article, you'll find 1 quick fix and 4 reliable methods to fix Windows 10 stuck on loading screen error. Just follow to fix Windows 10 boot stuck error and make it startup smoothly without any problems now.
Quick fix Windows 10 stuck at loading screen error
When your Windows 10 stuck at the loading screen or cannot startup from the 'Starting Windows' screen, you may follow below steps to quickly and thoroughly fix this issue and make Windows 10 PC to boot up smoothly again:
Step 1. Restart Windows 10 from Safe Mode
Press Power button to restart Windows 10 > Hold Shift at Login to bring up Safe Mode.
Click Restart to boot Windows 10 from Safe Mode.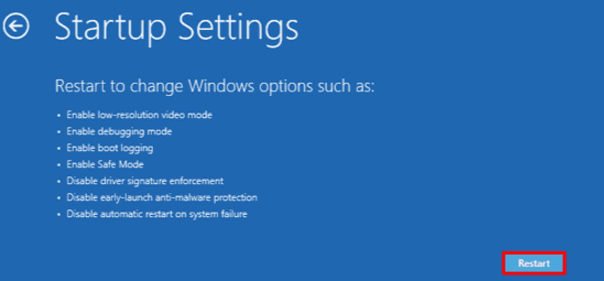 Step 2. Remove video card driver in Device Manager.
Step 3. Scan and remove the virus, and uninstall anti-virus software later.
Step 4. Check and fix system drive bad sectors that cause Windows 10 boot stuck or failure error.
If bad sectors exist in system partition, the computer may not be able to load or get stuck at the loading screen. Professional partition manager software from EaseUS will help. You may simply download it here and install in your PC to get problems fixed now:
Method 1. Repair corrupted system files
Create a WinPE bootable disk with EaseUS Partition Master on a healthy computer which is running the same OS as yours.
Step 1. To create a bootable disk of EaseUS Partition Master, you should prepare a storage media, like a USB drive, flash drive or a CD/DVD disc. Then, correctly connect the drive to your computer.
Step 2. Launch EaseUS Partition Master, and find the "Bootable Media" feature on the left. Click on it.
Step 3. You can choose the USB or CD/DVD when the drive is available. However, if you do not have a storage device at hand, you can also save the ISO file to a local drive, and later burn it to a storage media. Once made the option, click the "Create" button to begin.
Check the Warning message and click "Yes".
When the process finishes, you have successfully created an EaseUS Partition Master WinPE bootable disk. Now, you can manage your hard disks and partitions through the bootable drive whenever the computer fails to boot normally.
If you have RAID drives, load the RAID driver first by clicking Add Driver from the menu bar, which can help you add the driver of your device under WinPE environment, as some specific device cannot be recognized under WinPE environment without drivers installed, such as RAID or some specific hard disk.
After this, you may reboot Windows 10 PC to see if the problem has been fixed or not.
Method 2. Restore Windows 10 to the previous state (a healthy point)
Reboot Windows 10 > Press F8/Shift and click Repair Your Computer;
When Windows repair mode is ready, click OK if it asks you to choose keyboard; 
Choose your account and click OK if it asks you to choose the account and enter the password if you have one;
Under System Recovery Options, click System Restore and you can see all Windows restore points;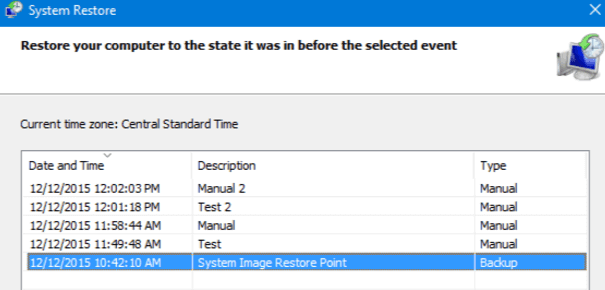 Select the right restore point which was created when your computer is safe and sound.
And check Show more restore points if you don't see all restore points.
Click Next. 
Then all you need is to wait patiently to let it restore Windows 10 to the previous point that you've selected.
Method 3. Reinstall or clean install Windows 10
The last method is to reinstall or perform a clean install of Windows 10 so to thoroughly get rid of Windows 10 boot stuck on loading screen error. 
If you don't know how to reinstall Windows system or clean install Windows 10, click and follow this tutorial article to clean install Windows 10 now.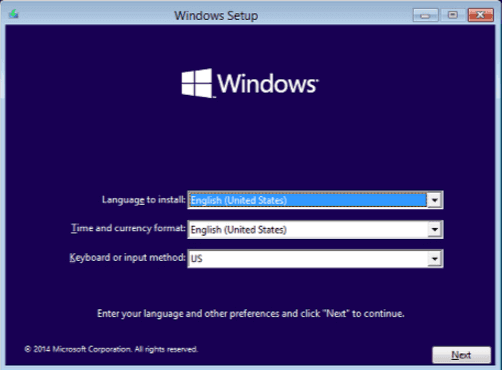 EaseUS Data Recovery Services
EaseUS data recovery experts have uneaqualed expertise to repair disks/systems and salvage data from all devices like RAID, HDD, SSD, USB, etc.