People All Over The World Are Now Losing Data...
Do you know how many computer users have experienced serious data loss issues in recent years? According to statistics, nearly a half lost data is caused by hard drive damage, while data loss due to system crash and system failure ranks closely behind, which should be completely avoid by creating system and data backups at a regular basis. See the investigation chart in below.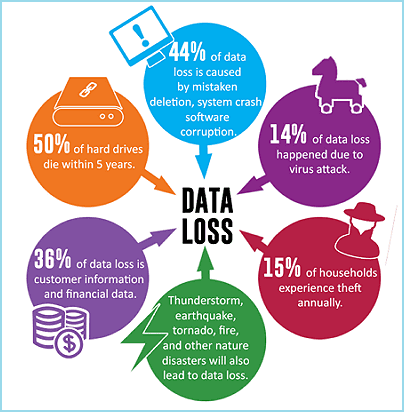 .
Most people may have learned the importance of backing up data before it is too late, especially for system backup. If you're one of the huge group of Windows 10 users, you should really hurry up and apply a trustworthy Windows 10 backup software to protect system and data from unexpected disasters mentioned in the chart. A powerful Windows 10 backup software can greatly ease your pain from reinstalling Windows and retrieving lost data in a possible way. So, what Windows 10 system and data backup software should you choose?
The simplest backup method is a whole-system backup that includes everything on your hard disk(s). When backing up your data, you might choose to do a selective backup - just back up your data and settings and skip everything that can be reinstalled later from a CD. If you go this route, you probably have only a few hundred megabytes of this type of information to back up and it will save your space.
Multiple Backup Options Are Available for Windows 10 Computers
To be honest, there is more than one Windows 10 backup solution available. Many people would be likely to use different backup methods to take care of Windows 10 system and data, for example, purchase online backup/cloud service, use external hard drive to save backup copies or run a Windows 10 compatible backup and recovery software. Among all the backup strategies, I highly recommend the last option, as for backup efficacy and easy image accessibility. Read the differences among the backup stategies in the below image.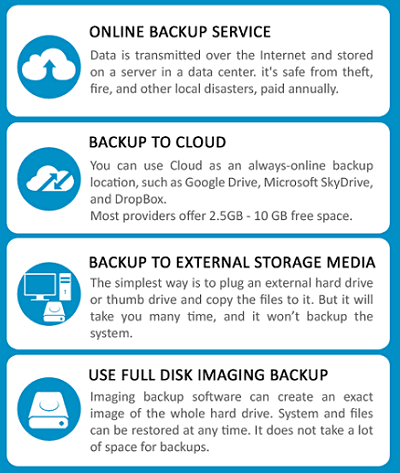 .
Most Recommended Windows 10 Backup Software - EaseUS Todo Backup
EaseUS Todo Backup is an award-winning backup and restore software for Windows 10/8/7Vista/XP with good reason: with detailed instruction wizards, your computer will be in a safe condition within minutes without the help of an IT specialist to backup your system state, files, folders, partition and disk.
EaseUS Todo Backup, the recommended full disk and system imaging software, provides one-click system backup and recovery so that you can quickly get the system up and running in the event of a system crash or hardware failure. Besides, it allows you to backup and restore Windows 10 disk, partition, files, or folders after viruses attack, unstable software download, hard drive failure, etc.
Besides, to provide continuous protection for system, you can backup Windows 10 system with incremental backup later after the first backup. Differential backup and incremental backup only backs up the changed files.
Meanwhile, EaseUS Todo Backup is useful if you want to upgrade the older smaller hard disk without reinstalling the operating system and applications once again in Windows 10.
 Tip

You'd better create the backup file on an external disk or on the cloud in case the local backup gets corrupted or destroyed.
Step 1: Launch EaseUS Todo Backup software and then choose "File Backup", "Disk/partition Backup" or "System Backup" for different backup purpose.
Step 2: Choose the system, disk partition, files or apps that you want to back up. Then select a destination where you want to store the backup file.
Step 3: Click "Proceed" to start the data backup process.