
Table of Contents

About the Author

Related Posts
How to Repair Corrupted MOV Files on Mac for Free
Videos speak more than words, so goes a saying. However, there are a few instances where you may come across a few scenarios where you may find it impossible to play a video. One of the reasons here can be a corrupted video. How would you repair corrupt video files on Mac? Read this article and learn how to repair corrupted MOV files on Mac. 
Symptoms: How to Define if a MOV Video Corrupts on Mac
The video corruption on a Mac or any other device can be defined or identified with a few symptoms. The video may stop working intermittently, or the audio can get a little distorted. Your video player may also warn you that the file is unplayable.
If your file is damaged or corrupted, you should face a few symptoms that annoy you during the playback. Some of the indicators can include
The MOV video does not open at all.
It can take a long time to load and play the MOV video.
Interruptions when playing the video
No response to any of the user inputs
The video simply plays in parts.
Distortion in the audio
Solutions: How to Repair Corrupt MOV Video Files on Mac
Having understood the symptoms that would indicate that a MOV video file is corrupted, it would be ideal to understand the steps involved in how to repair the corrupted MOV video files on Mac.
Method 1. Repair Corrupted MOV Video Files on Mac via EaseUS RepairVideo Online
The EaseUS RepairVideo is one of the excellent options for repairing corrupted video files for free. This online solution makes it a prime option for providing you with a great degree of experience concerning repair the unlimited and multiple types of video files on Windows computers, Mac computers, iPhones, and even Android phones.
Some of the key features of EaseUS free online video repair tool include:
Compatibility with any operating system since it works in an online mode
The software supports a wide range of video file formats that include *.mp4; *.mov;*.mkv;*.avi;*.wmv;*.m4v;*.3gp;*.3g2;*.flv;*.swf;*.mpg;*.rm/rmvb;*.mpeg and many more
It can repair all types of corrupted, broken, and unplayable videos. You can even repair the inaccessible, grainy, pixelated, blurry, truncated, out-of-sync, jerky, and distorted videos.
You do not need to keep the browser open when repairing the corrupted videos. You will be notified by email once the video is repaired.
Go to EaseUS RepairVideo website and follow the steps below to fix corrupted MOV videos on Mac.
Step 1. Upload MOV video or you can drag & drop video directly from the specific location.
Step 2. Input your valid email address on the box and click Start Repairing.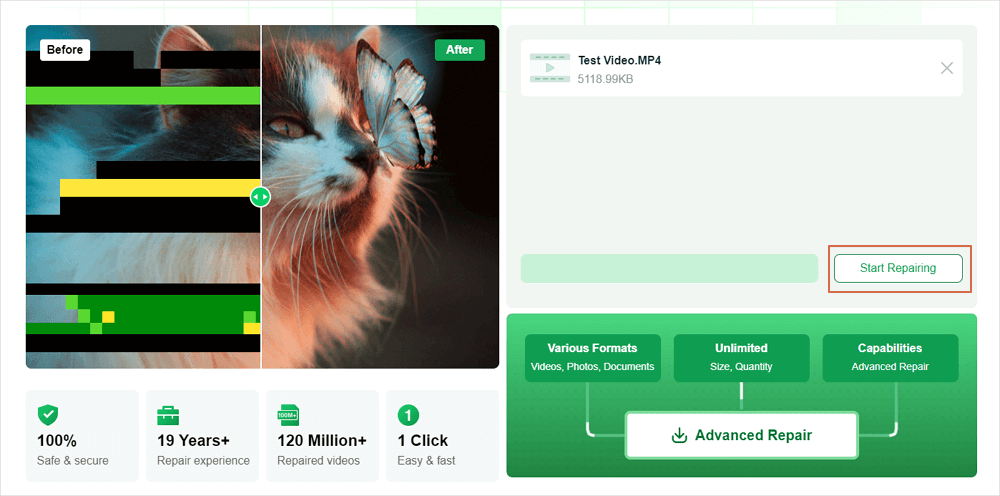 Step 3. Wait to take some time for uploading.
Note: If it is takes long, you can keep this webpage open and do your other things. There will be an email notification after the repair is completed.
Step 4. Go to your email to check the extraction code. Enter the extraction code and download the repaired MOV video.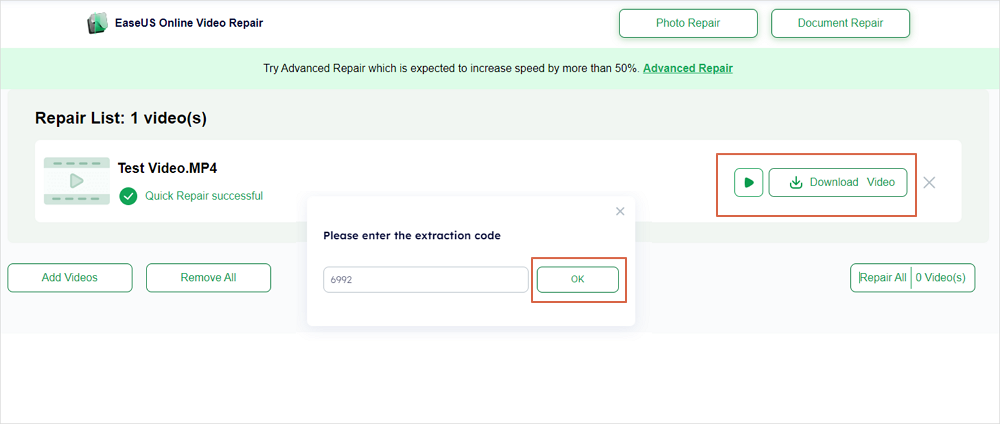 Method 2. Repair MOV Video Files Corrupted on Mac by Converting Its Formats via VLC
Converting the video to another format is another method for repairing the corrupted video. You can use several video converters to repair the video. VLC is a good choice – thanks to its open-source and free-to-use nature.
You can follow the steps here below for easy functionality. 
Step 1. Download, install and launch VLC Media Player on your Mac.
Step 2. Click on "File > Convert /Stream". You should get access to a Convert and Stream screen.
Step 3. Drag and drop the files that you want to repair. You may also use the traditional method of browsing for the file and adding it.
Step 4. Pick the option for "Save File" and "Choose Destination" options.
Step 5. Change the name of the file and the extension.
Step 6. That does it. Save the file, and the file will be converted to the required format. You may need to wait till the conversion s over. Once the file is converted, open it on your device and check if the video can play.
Method 3. Repair Corrupted MOV Videos on Mac with VLC Recovery Codec
It would be advisable to create a copy of the original file before you proceed. You would not want to find the original file completely damaged. Once that is done, follow the steps here below to repair the corrupted video files. 
Step 1. Run the VLC Media Player and go to the "Tools" option.
Step 2. Pick the options for "Preferences".
Step 3. From the top ribbon, select the option for "Input/Codecs".
Step 4. In the Files section, pick the option for "Always Fix".
Step 5. Click "Save" when the process completes. 
Tips to Protect Video Files from Corruption on Mac
Are you frustrated with the frequent issues of corrupt videos? There can be several reasons that you would find the can help in preventing your video files from getting corrupted. Let us explore a few extremely handy tips and methods that would help you to protect videos files from Corruption on Mac (or even on Windows or any other operating system).
Here are a few tips to help you protect video files from getting corrupted. 
Install a good antivirus solution
Virus and malware attacks can be a few reasons that can make a video get corrupted. You should also ensure that the antivirus solution on your device is regularly updated. Configuring the automatic update and database update features are an excellent option in the long run.
Eject and insert the removable drives carefully
Improper insertion and ejection of the removable drives can be one of the prime reasons that can result in a corrupted video file. The removable drive may be into performing certain tasks, and removing it before the tasks are completed can result in a severe issue and also a corrupted video file. Pick the option for Safely Remove Hardware, and then remove the drive only after you find the Safe to Remove Hardware option.
Never work on the original video file
When editing and working with any video, it is advisable to work on a copy of the video. Even when something goes wrong with your copied video, the original video will remain intact.
Properly transfer the videos between the devices carefully
An incomplete or faulty file transfer can also be one of the reasons that can result in a damaged or corrupted video file. A few of the files may stop working after an improper file transfer. One such possibility can be the power outage during the transfer process. Having a power backup ready when indulging in larger file transfers can be quite a good idea.
Conclusion
Repairing corrupted MOV video files on Mac should not be tough if you try a solution in this tutorial. EaseUS Repair Video can provide you access to complete and full-fledged video repair functionality. This free online video repair tool provides you with compatibility on any device to fix all the common types of videos.
About the Author

Cedric Grantham is one of the senior editors of EaseUS who lives and works in Chengdu, China. He mainly writes articles about data recovery tutorials on PC and Mac and how-to tips for partition management. He always keeps an eye on new releases and loves various electronic products.