
Table of Contents

About the Author

Related Posts
What Is the Best Free Video Repair Software for Mac? Top 3 Software Here!
Hey, there content creators! Are you facing trouble uploading a YouTube video, which you promised your audience, due to it getting corrupted?
Videos are a great way to connect with your audience. Whether you use a professional camera or your smartphone,  recording your content is no more a daunting task. But losing a special video can be very depressing! To help you find a solution for your video repairing, here are the 3 best free video repair software for mac.
The Causes of Corrupted Videos on Mac 
Many people today suffer from corrupted video files and cannot play their videos in an ideal manner. There can be many reasons that can cause your video to be damaged, some of which include:
Unsupported format
Power breakdown
Unknown virus or bug
OS crashing
Faulty video conversion
However, don't worry! We have found some best free video repair software for Mac, which can help you recover your damaged video and rejoice in your memories. These options are chosen based on the user experience and their key features.
Best Free Online Video Repair Software - EaseUS VideoRepair 
When we talk about video repair, EaseUS VideoRepair tool comes in the handiest and is trusted by the masses. This tool can repair all kinds of videos and make them playable again. This tool provides users with a seamless experience by directly repairing their videos without downloading the videos or installing the apps.
Highlighted features you may like:
Repair your corrupt video instantly
The tool supports all kinds of video formats
Repair unplayable videos from multiple situations, like editing, converting, recording, shooting, etc.
100% safe and secure
Repairs pixelated, blurry, blank screens files and much more with convenience
Pros:
This online video repairing tool is easy-to-use software.
This software is free for everyone and anyone to use
It is compatible with macOS, Windows, Android, and iOS systems.
Even a beginner can easily use EaseUs RepairVideo
It can solve your audio issues
Cons:
This software is only available in an online edition.
How to Repair Video for Free on Mac with EaseUS Online Video Repair Tool
Besides some of these pros and cons, this online video repairing tool can support all video formats like MOV, M4V, and MP4. The process is quite quick and easy, just upload, repair, and save! Interestingly this video repair tool has the facility of repairing videos by converting and editing them in any format.
Step 1. Upload your video with the corruption issue. You can click the Upload Video button on the left to select a video file, or simply drag and drop the video to the area on the right.
Step 2. Enter your email address and click the Start Repairing button to instantly start the repair. Here, you must make sure the entered email address is valid to send and receive email messages over the Internet. EaseUS VideoRepair will send you a confidential extraction code to the provided email address. You can only download the repaired video by applying the code you received.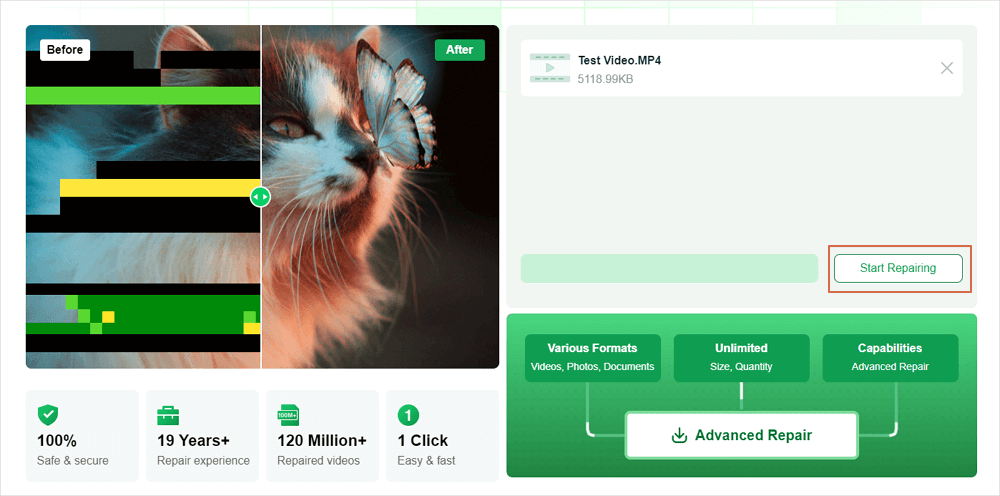 Step 3. The uploading and repairing process goes. You don't necessarily stay all the time waiting because once the session reaches 100% compeletion, you'll receive the extraction code in your mail.
Step 4. In your mail, check the message sent by EaseUS. There you'll remember the extraction code (just leave the page open so you can return to check). Click the View Your Repair button and you'll be guided to the website. Click the Download Video button, then enter the code that is exclusively generated for you, and click OK.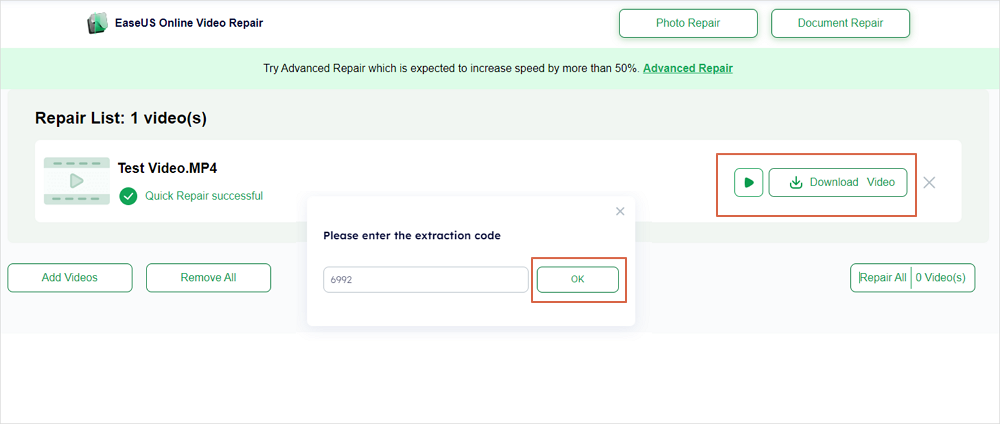 Best Free Mac Video Repair Tool - EaseUS Data Recovery Wizard for Mac
We have another software to assist you with your video repair. EaseUS Data Recovery Wizard for Mac is primarily a data recovery software to retrieve any sort of files that you have lost or deleted accidentally. You can download this data recovery software for free.
You must be wondering how data recovery software can help you with video repair. That's actually a free extra feature of this tool. EaseUS Data Recovery Wizard for Mac Pro version is much more than just about recovering your lost data, and it can fix broken videos for free after data recovery! That means you should pay for this feature, and then you can repair your videos with this tool.
Pros:
It can repair damaged MP4 or MOV camera videos quite easily.
With its advanced repair option, you can add a sample video to help increase the success rate.
Cons:
This is desktop software. You need to download and install it. 
Let us check the detailed tutorial to recover and repair videos with EaseUS Data Recovery Wizard for Mac:
Step 1. Add your broken/damaged videos
Open EaseUS Data Recovery Wizard for Mac. Click "Add" or drag the corrupted MP4/MOV/AVI/MKV/3GP/FLV/MKV/WMV video files to the repair list.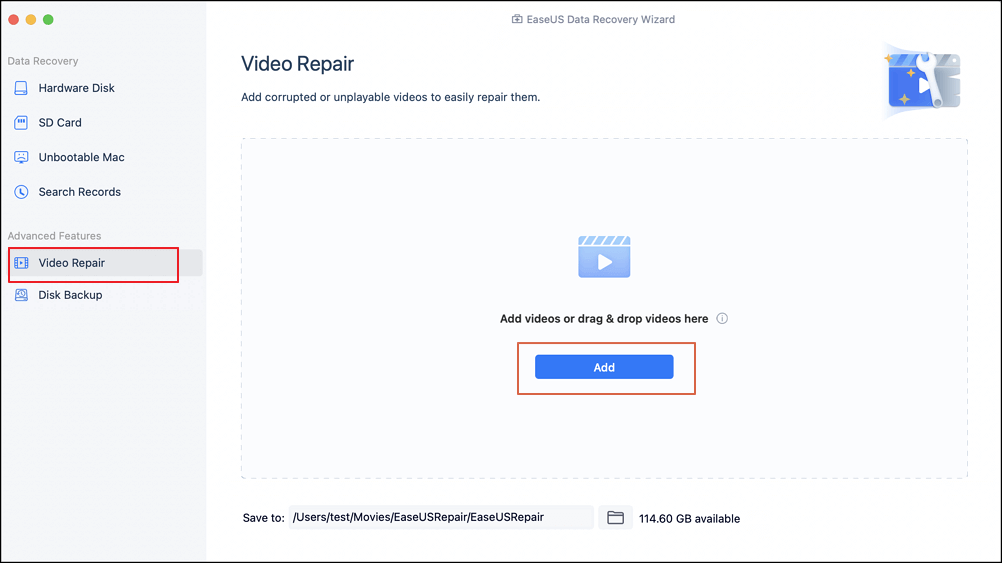 Step 2. Start repairing video files
Select the damaged video files from the list and click the "Repair" button to start the video repairing process. If you want to repair all of the videos, click "Repair all".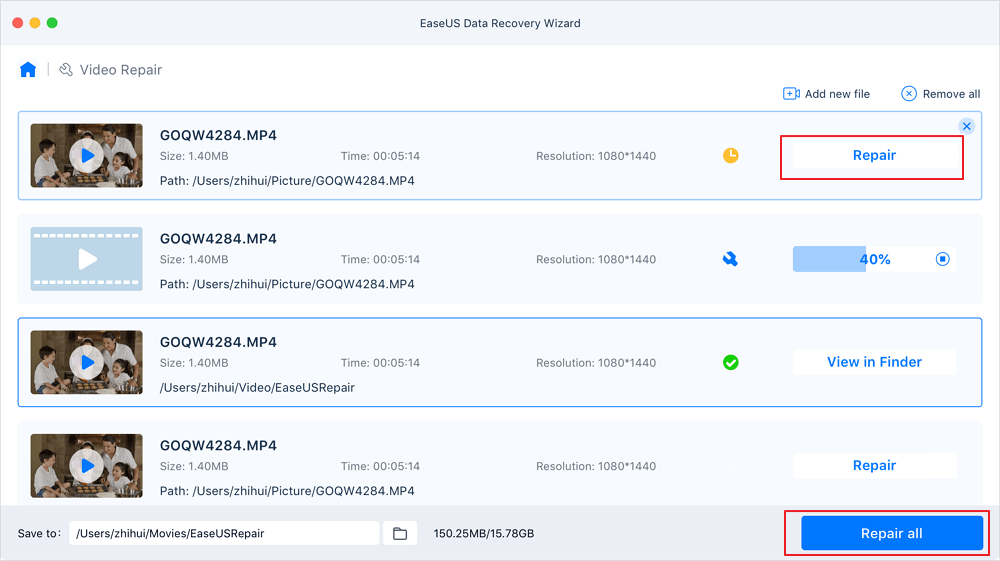 Step 3. Preview and save broken videos
After a few minutes, you can find the damaged videos repaired. Before clicking the "Save to" button, click "View in Finder" to check the videos.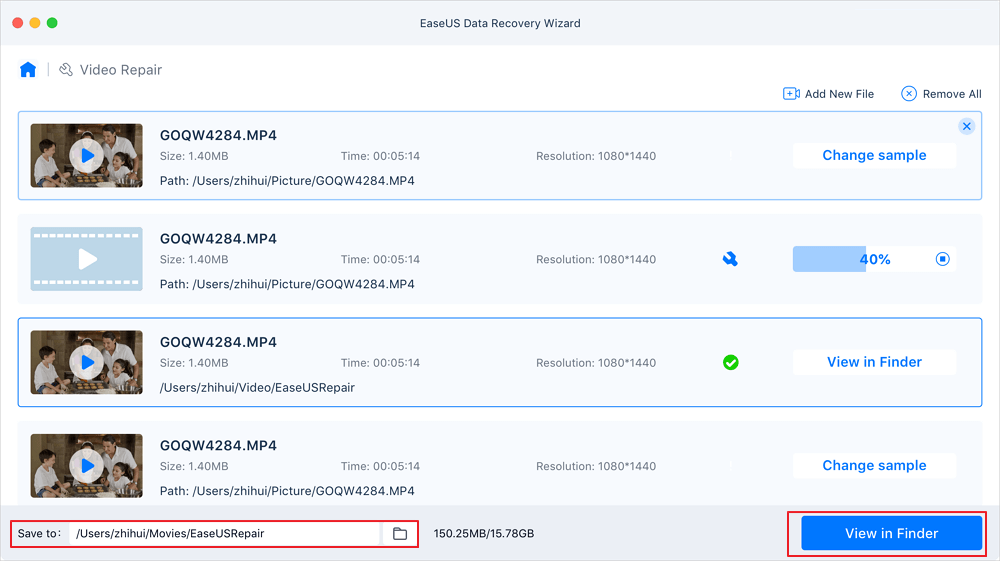 Step 4. Utilize the advanced repair mode
If the videos are not repaired successfully, it means the videos were damaged severely. You need to move on to the "Advance Video Repair" mode, which utilizes sample video files to increase the video repair rate. Click "Add" to upload corrupted videos.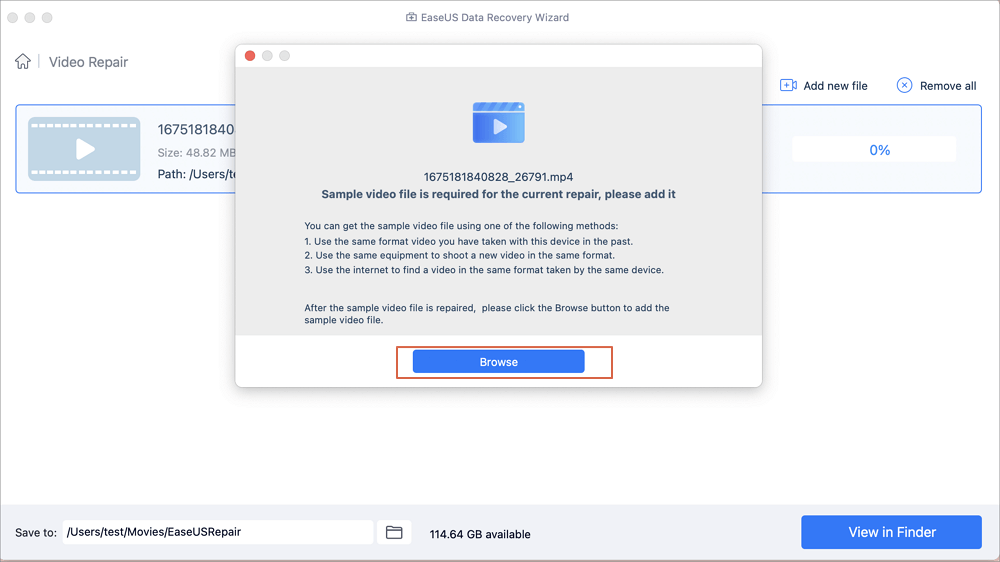 Step 5. Check the videos and start video repair
The video repair tool will check and scan your video automatically. After the process, click "Start repair" to repair the severely damaged videos.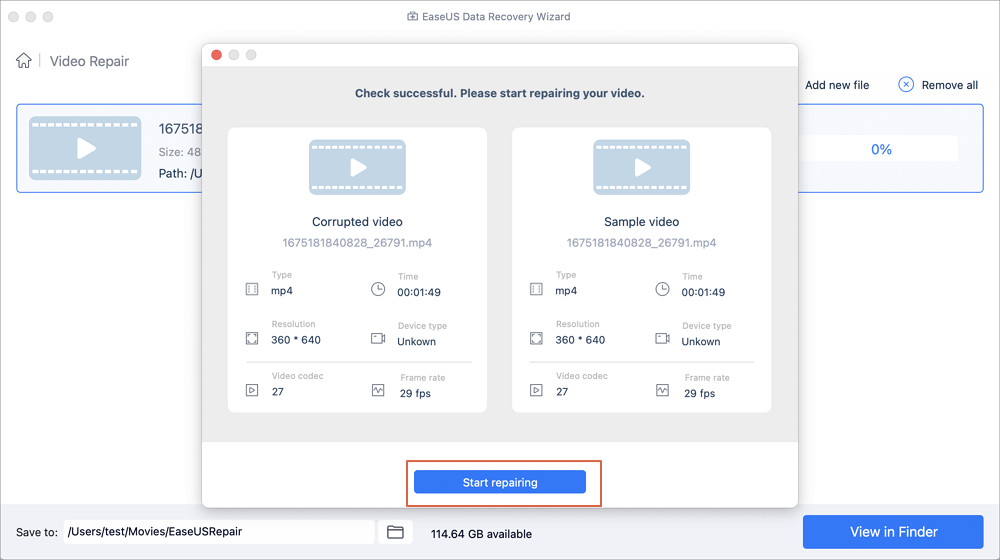 Finally, you can view the videos in Finder and click the "Save to" button to save the repaired video files to an appropriate destination.
Best Free Video Repair Software on Mac - VLC
VLC is a magical open-source video media player used by millions of users throughout the year. This media player supports major file formats like DVD, Audio CDs, and VCDs. Along with this, this video player is a reliable and easy-to-use video repairing tool.
Pros:
Allows the option of format conversion
Allows videos that are partially downloaded or slightly corrupted to play without the need of repairing them.
Transcoding capability
Responds promptly to damaged videos
Cons:
It doesn't support any other video repairing format except for AVI. So, you have to convert the video file into .avi format first.
How to Repair Videos on Mac for free with VLC
Below mentioned are some detailed steps that you can follow to repair your damaged file on Mac quickly.
Step 1. Open your VLC media player, select "File''. Go to ''Open File'',  add your corrupted file, and click on "convert/stream."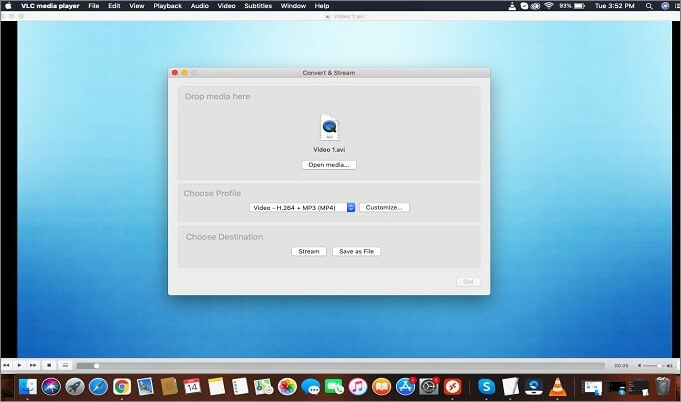 Step 2. Select a location and Codec for your video file.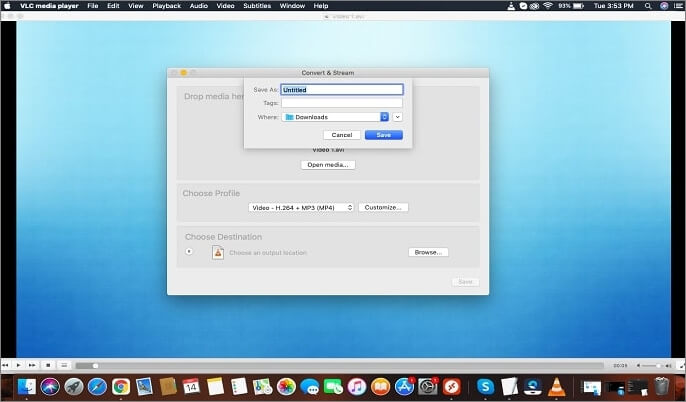 Step 3. Once the conversion is done, go back to VLC's home page and then go to "tab" > "preferences."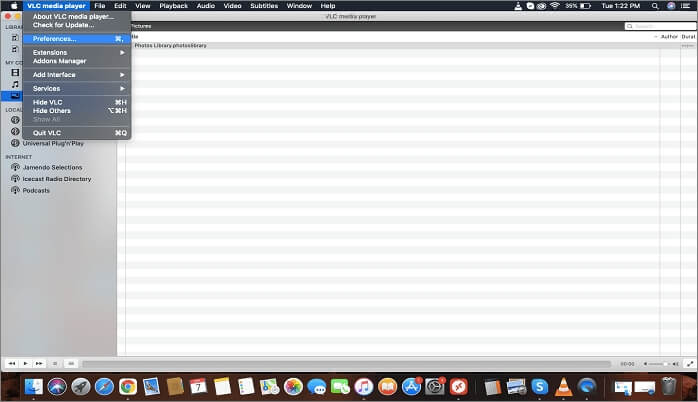 Step 4. From "preferences", scroll to the "input/ codecs" tab and activate the "always fix" option in the "damaged or incomplete AVI file" field.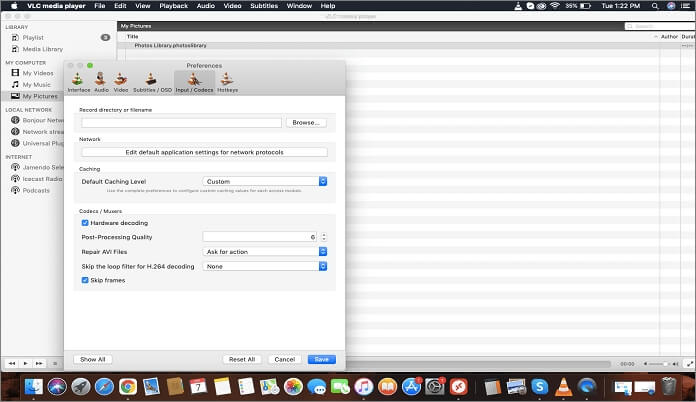 Step 5. Now click on "save" to save your settings. This will automatically set your VLC app to fix any corrupted video file loaded in it.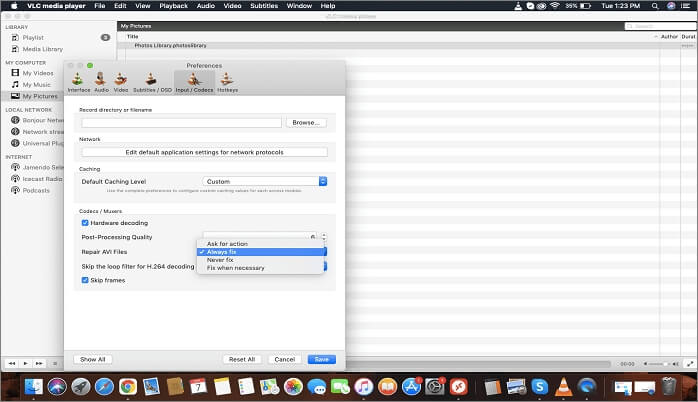 Which Free Video Repair Software Is The Best? Take EaseUS VideoRepair For a Try
Fixing your damaged or distorted file on your Mac has been made easy. All you have to do is find a root cause that is leading to the damage to your video and fix it with any of the three above-mentioned free video repair software.
EaseUS Data Recovery Wizard and VLC are undoubtedly great options for repairing videos. And remember that EaseUS Data Recovery Wizard is still a data recovery software.
If you're looking for extensive video repair on Mac, then the EaseUs VideoRepair tool, with its free features and support for multiple video formats, takes the win. Try the EaseUs VideoRepair tool and liberate yourself from the worry of losing a video, as this tool is the one-stop solution for all your multimedia problems. You won't get a better tool than this one!
About the Author

Cedric Grantham is one of the senior editors of EaseUS who lives and works in Chengdu, China. He mainly writes articles about data recovery tutorials on PC and Mac and how-to tips for partition management. He always keeps an eye on new releases and loves various electronic products.