USB drives are popular as portable storage options. But, do you know that it can be used as a bootable device as well? There might be scenarios where your computer might not boot. It might stick on the BIOS screen, or you might get bluescreen. In these scenarios, a bootable USB can be a real savior. USBs are meant for a much more elevated usage level rather than using it for simple uses like storing movies, documents, or music files. In this article, we will unlock the most preserved feature of a USB drive, making it bootable.
What is a bootable USB drive?
Currently, a USB bootable disk is used as a rescue disk when the operating system is not booting due to OS corruption or even drive failure. It is not limited to that, and Windows USB bootable drives are also used as the portable operating system. It means users can carry their own windows operating system on a USB drive, plugging it into any computer.
So here in this article, you'll learn both ways to make the desired type of bootable USB drive, with the help of a proper application.
1. Rufus - Create a bootable USB drive based on an iso image file
2. EaseUS OS2Go - Make a bootable USB drive without iso
Click to download EaseUS OS2Go here:
Rufus: A reliable Bootable USB Creator
Rufus (Mostly a reliable USB formatting utility ) is a free utility for creating USB bootable drives and Live USBs using an ISO file. It's a very lightweight software with only 5 MB. Some of the key functionalities of Rufus are:
Create a USB installation media from an ISO file.
Install an operating system on a blank desktop computer.  
It is used to flash BIOS.
Run a low-levelIoS.
Rufus is extremely easy to use with a straightforward interface. It is also known for its faster performance.
Key features of Rufus:
It is entirely free as well as open-source.
It is portable.
Used for creating a bootable disk.
Used for checking bad blocks on the USB drive.
Used for checksums.
Guide: How to use Rufus to create a bootable USB drive
There are no key system requirements for Rufus, as it is portable. However, it would help if you have at least Windows 7 or later. Let's check the step-by-step guide for Rufus.
Step 1. Download Rufus from the official website https://rufus.ie/. The latest version is 3.12.

After clicking on download, the download will start.
Step 2. Once Rufus is downloaded, it can be launched directly without any installation as it is an application. Once the application is launched, the interface will look like this.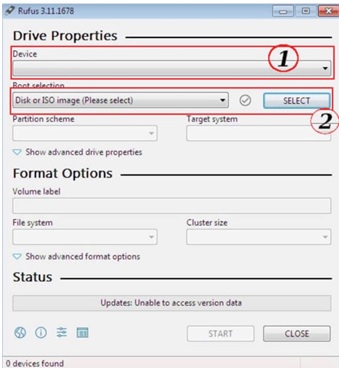 Step 3. In the above picture, in option 1, select the USB drive you want to make bootable. In option 2, select the source ISO file. For example, we have downloaded the ISO for Ubuntu from the official site in the Downloads folder and using an 8GB drive. The interface will look the same as shown below.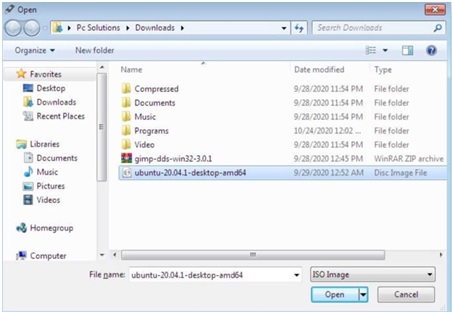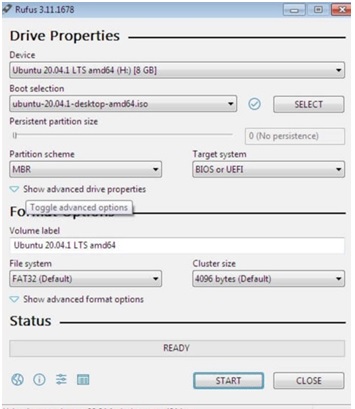 Leave the other options as it is unless you need to change something specifically.
Step 4. Click the "Start" button when the status is ready to begin producing a bootable disc.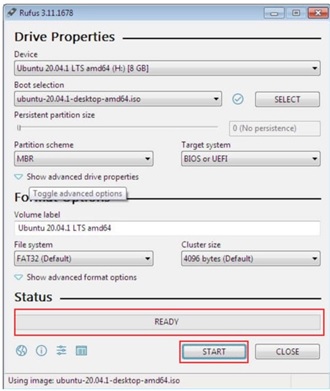 Post this step, your bootable disk should be ready and can be used for booting your computer.
EaseUS OS2Go: One-click to Go Portable Windows Creator
Rufus is one of the best tools available for creating a bootable disk, which is possible because of the ISO image present on the drive. So, we can boot a computer through this bootable drive. We can also repair the operating system as a rescue disk if the operating system is corrupted. However, even though it's a bootable drive, it can do only for a fresh install but cannot be used for portable USB Windows. With the help of portable windows, you can carry your windows desktop on a USB drive to anywhere you want.
One of the great alternatives to Rufus is EaseUS OS2Go, which also creates bootable installations in portable USB Windows. With bootable USB created by EaseUS OS2Go, your Windows desktop will be on the USB drive. You can connect the USB drive to any computer and boot your portable Windows, just like accessing an actual desktop. You can even access native Windows features along with the underlying Windows system. This is a much-required option, and if you can't access your computer remotely due to limitations, you can definitely carry your portable USB Windows.
Guide: How to use EaseUS OS2Go to make a portable Windows USB drive
It's all too easy to follow the steps to create a bootable USB drive with EaseUS OS2Go here:
Step 1. Install EaseUS OS2Go on your Windows computer, it will display your system drive's used space. Plug in a USB drive that is larger than the system drive used space. Choose the target USB drive and click Next to continue.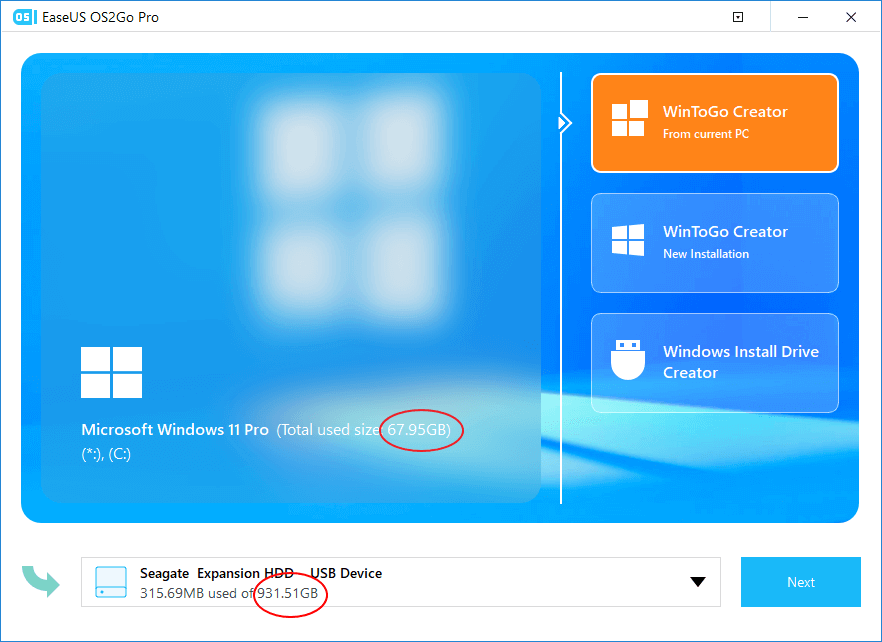 Step 2. EaseUS OS2Go will notify you that the following operation would delete all data on your drive. Make sure that you have backed up all the important data. Click the Continue button to proceed.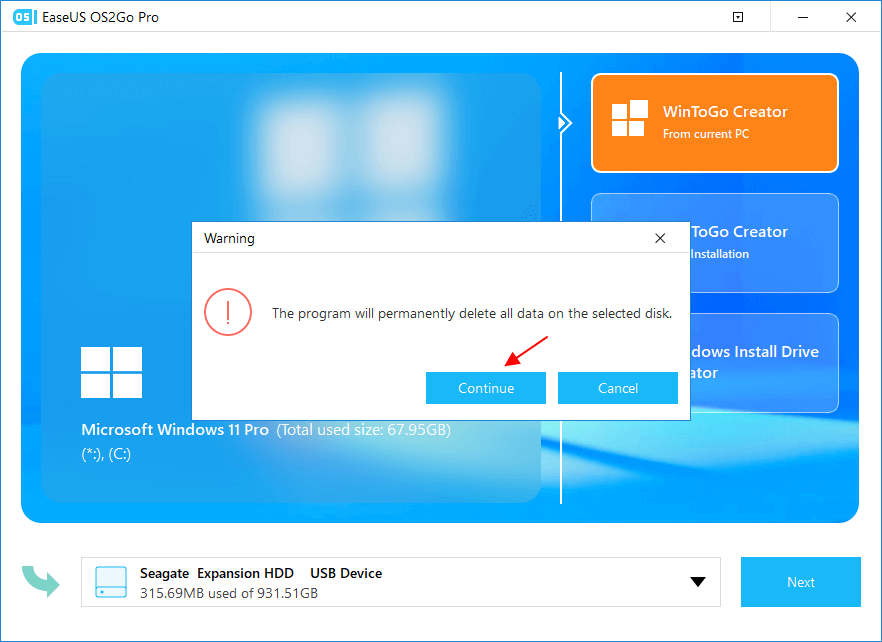 Step 3. Adjust disk layout. The default disk layout on the target drive will be exactly the same as the resource drive. You could also edit the layout according to your needs. Tick the option there if you're using a Solid State Drive as the Windows bootable drive. Next, click Proceed.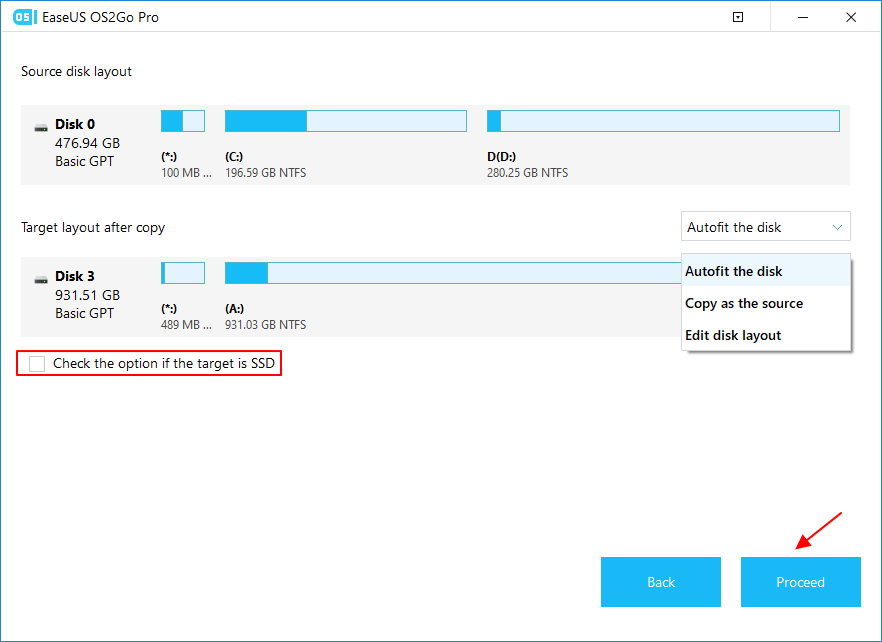 Step 4. Then EaseUS OS2Go will start to create the portable USB drive. It usually takes a while depending on your OS and Network condition. When the progress reaches 100%, the USB drive should be bootable now.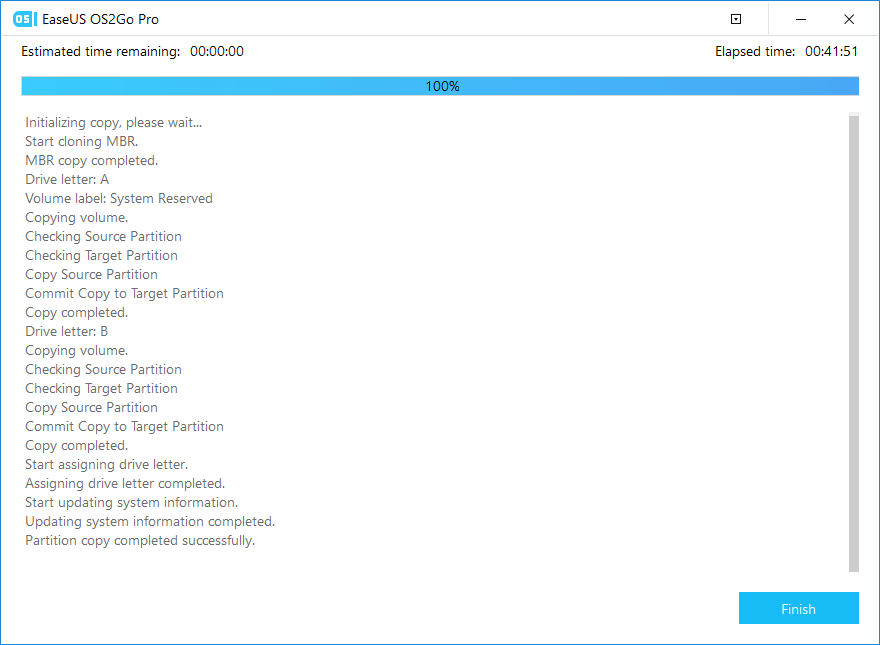 Step 5. Insert the portable Windows USB and start your computer. Press the required key (F2, DEL, F10...) to access BIOS. Choose to boot from the USB disk.
Note: Please make sure that the boot mode (UEFI or Legacy) of the portable USB and your target computer are the same, otherwise you may not be able to boot.
Both Rufus and EaseUS OS2Go are used for creating bootable USB drives, but with a difference. The bootable USB created by Rufus is ISO mounted, which can be used for fresh OS installation or repairing an existing corrupted operating system. Thus, it's one of the best options as rescue disk or recovery disk. On the other hand, EaseUS OS2Go creates a bootable disk to use as portable USB Windows everywhere you go on any device.
Extensive reading - What consists of a bootable USB drive
The hard drive of a PC contains the boot drive. The boot drive contains the required boot information. This includes volume boot record. The volume boot record will contain important instructions for launching the operating system or any other bootable program. The USB drive should contain the Master Boot Record, the volume boot record, and the operating system. These three things should be there on the USB drive to make it bootable. If you think you have to place these files manually on the USB drive to make it bootable, you are wrong. It's not a daunting task at all; rather, this can be done with few simple clicks, with the right kind of application.
You can use a bootable USB for booting all versions of Windows, OSX, and few versions of Linux. This is a massive improvement for the bootable device and moves over from bootable CDs and bootable DVDs. The process of creating a bootable USB varies from one platform to another.
Different applications can create a bootable disk. Most of these applications are platform-dependent, and you can create bootable disks only for the platform it supports. Most of these are free applications.  It includes tools like Rufus, Etcher, Universal USB Installer, and RMPrep USB, which are dominantly used for creating Windows bootable USB disks. Rufus and Universal USB Installer can be used for both Windows and Linux. In contrast, another popular tool, USB Startup Disk Creator, is used for creating Linux USB bootable disks. Similarly, EaseUS OS2Go is used for creating any Windows bootable USB drive for booting Windows on any PC or Mac.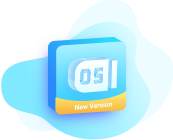 EaseUS OS2Go
Create portable Windows to USB
Copy installed Windows OS to USB
Clone Winodws OS drive to USB
Run Windows 11 on any PC
Run Windows 11 on unsupported PC
Run Windows 11/10 on a Mac
Download Now