The recommended SQL recovery program here applies to fix SQL database problems on MS SQL Server 2017, 2016, 2014, 2012, 2008 and older versions. 
Why need SQL Server recovery program
MS SQL Server is now wildly used by thousands of home and business users for saving user data, company documents, applications, etc., essential data on their websites. 
An experienced SQL Administrator understands how severe it is when the SQL crash or database in SQL corrupted. It may bring catastrophic damage to your long term work or even halt the entire business.
A smart way to resolve the SQL Server database corruption and other problems is to find the best SQL Recovery program or software for help. Whenever you lost database records or the SQL database corrupted, SQL recovery software can always empower you to resolve and face such a disaster with ease.
Recommend: Best SQL Recovery Program/Software Download
Among the most preferred SQL database repair applications, repairing corrupted database files, restoring deleted records, MDF file restore, etc., are highly concerned by most DBAs (Database Administrators). 
If you are looking for an SQL recovery program, check the list of most useful features that most DBAs recommend and see whether the current tool meet your needs:
Repair corrupted SQL Database 
Recover deleted SQL records
Recover ROW and PAGE compressed data
When you search "SQL recovery software" on Google, you'll get overwhelmed results. Mostly, the recommended SQL recovery tools all require payment before trying. 
Fortunately, here, a powerful SQL recovery tool - EaseUS MS SQL Recovery can resolve your concern that you try it first before placing the order.
It fully covers the above-listed features for repairing corrupted SQL database and resolving other complex issues. And the below extra features in this software can help you decide to use it:
Fix SQL Database corruption 823/824/825 error
Free to preview the repaired database before activation
Save the repaired file in MS SQL (MDF), HTML, XLS & CSV formats
Support transferring the license to another system (one key for three systems)
Support MS SQL 2017, 2016, 2014, 2012, 2008 and older versions
Steps to use SQL Recovery Software and repair MS SQL
As EaseUS MS SQL Recovery allows you to scan database file and preview the repairable objects for free, you can download and install this software within 2 minutes for instant recovery of your database.
Here is a brief guide of how to use EaseUS MS SQL Recovery to repair and protect your MS SQL Server database:
 Notice:

Close the SQL Service on your machine before you start using EaseUS MS SQL Recovery.
1. Press Windows + R and enter services.msc. 
2. Find and double-click "SQL Server (instant name)".
3. In the Properties windows, click "Stop" to end the SQL Server and click "Apply" to confirm. 
Step 1. Run EaseUS MS SQL Recovery.
Step 2. Select the MDF/NDF file: Click "Browse" or "Search" to navigate the location of your MDF or NDF file > Click "Repair".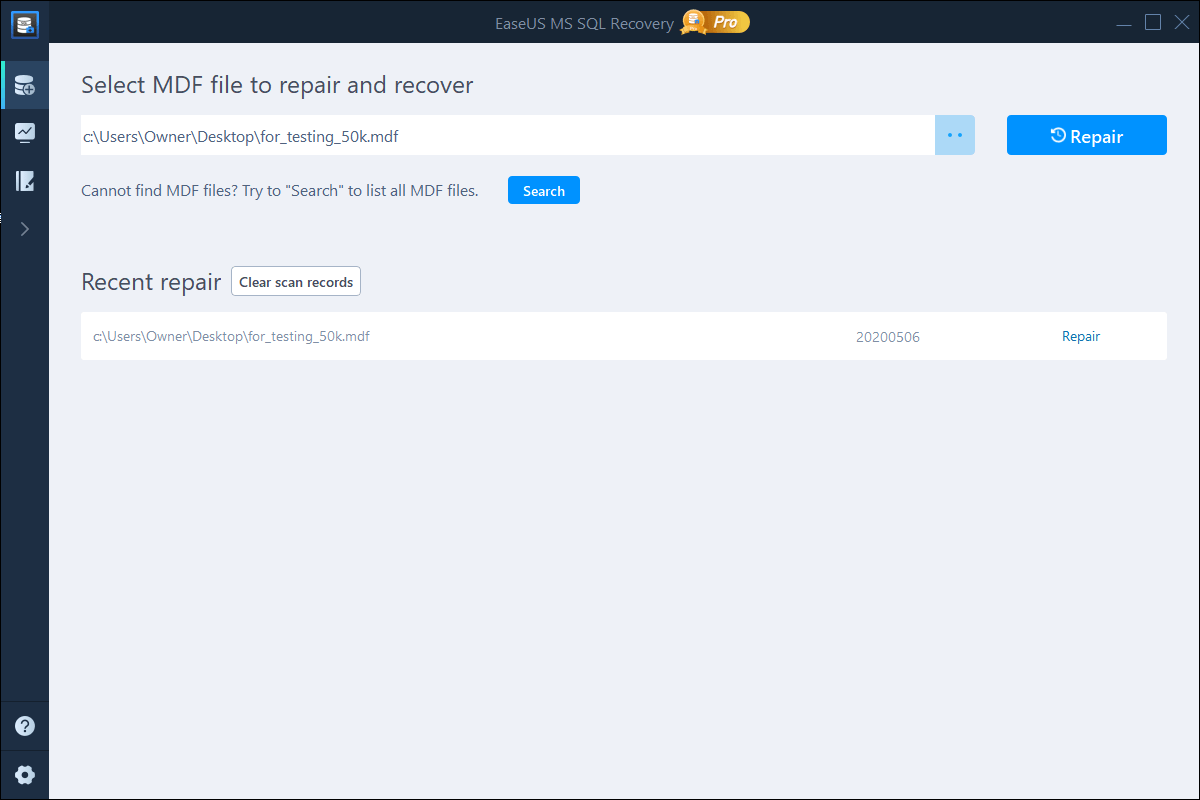 Step 3. Select the database objects you want to recover: When the process has completed, select the database objects you want to recover and click "Export".
Step 4. Export the database to the database or export the selected items as SQL scripts. If you choose "Export to database", you will need to enter the required information and select the destination database, either a new one or an existing one.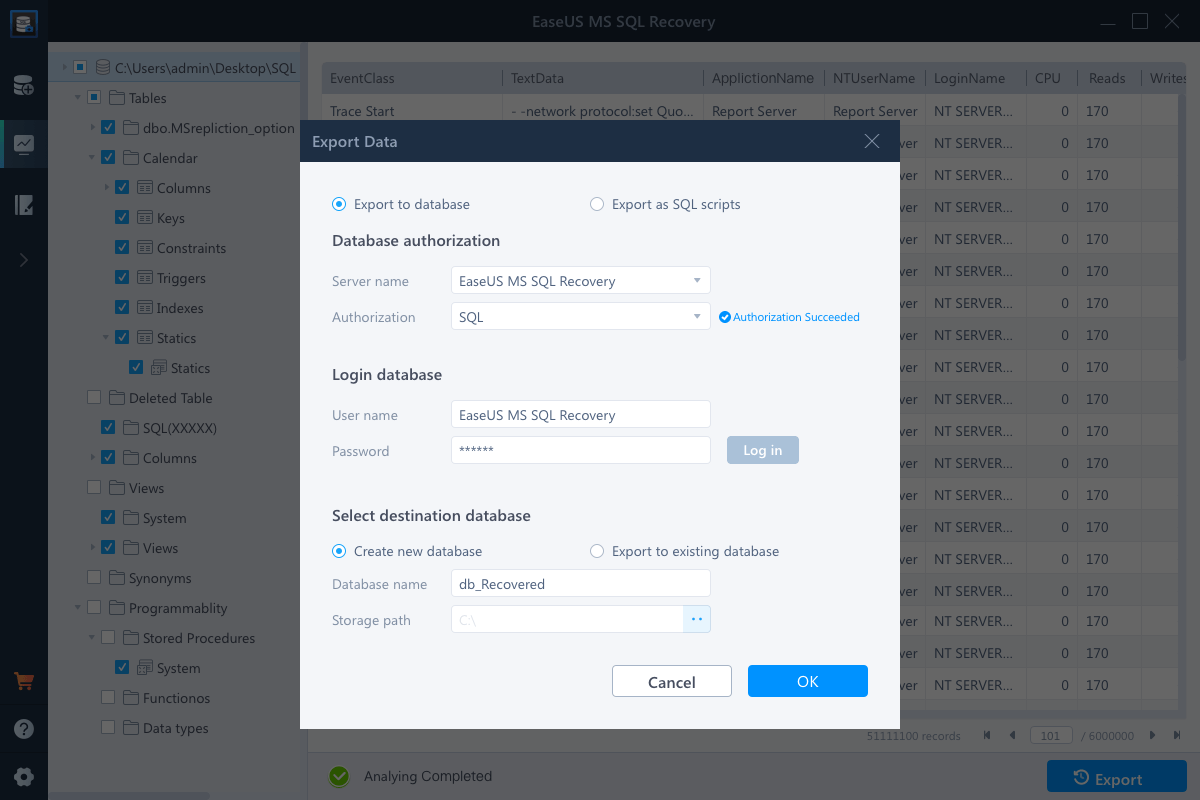 Powerful SQL recovery tool like EaseUS MS SQL Recovery is indeed a lifesaver when you have to face and resolve SQL Server database problems. Mostly, as experienced SQL DBA advised suggested, it's wise to back up SQL Server database regularly.
With the backup of the SQL database, you can restore the SQL whenever it stops working or corrupts. It's always a great way to prevent SQL Server errors by creating SQL backups with professional SQL Server backup software.
EaseUS MS SQL Recovery
Restore (.mdf and.ndf) Files
Recover Corrupted Objects
Fix Database Log Files
TRY IT NOW