Applies to MS SQL Server 2016, 2014, 2012, 2008 and older versions
"Hi, everyone. My SQL server data file has corrupted, and I do not have a backup of the database. Can anyone please help in recovering the data from corrupt MDF file? Are there any methods or steps to fix a corrupt log file?"
MS SQL Server is one of the most popular databases that provides excellent reliability and advanced internal structure. However, just as the user above, you may encounter SQL database corruption resulted from virus infection, operating system failure, corrupt file system, etc., When the problem occurs, how to repair the MDF or NDF files in SQL database, and how to recover the deleted records from MDF file? Do not fret. Here comes EaseUS MS SQL Recovery, professional database repair software to Repair corrupt MDF & NDF SQL server database and resolve all types of SQL database repair problems.
Outstanding Features of EaseUS MS SQL Recovery  
EaseUS MS SQL Recovery offers comprehensive solutions to repair corrupt and inaccessible MDF and NDF files.
How to Recover Corrupt MDF/NDF File(Include Deleted Records)
EaseUS MS SQL Recovery is an ultimate tool that can repair all the corrupt and damaged MS SQL MDF or NDF database file without modifying the original content format. It also can recover the deleted records of SQL MDF/NDF repaired files without affecting the original hierarchy, as well as other database components, including tables, triggers, indexes, keys, rules, and stored procedures. Also, it also supports the recovery of XML indexes and data types, column set property, sparse columns, and file stream data types.
Now, follow the step-by-step guide below to recover MDF/NDF file in SQL database correctly.
Step 1. Download and run EaseUS MS SQL Recovery.
Step 2. Click the two dots (Browse button) to choose the target MDF file or click "Search" and select the desired file to repair from the list found below. Then, click "Repair" to start the repairing process.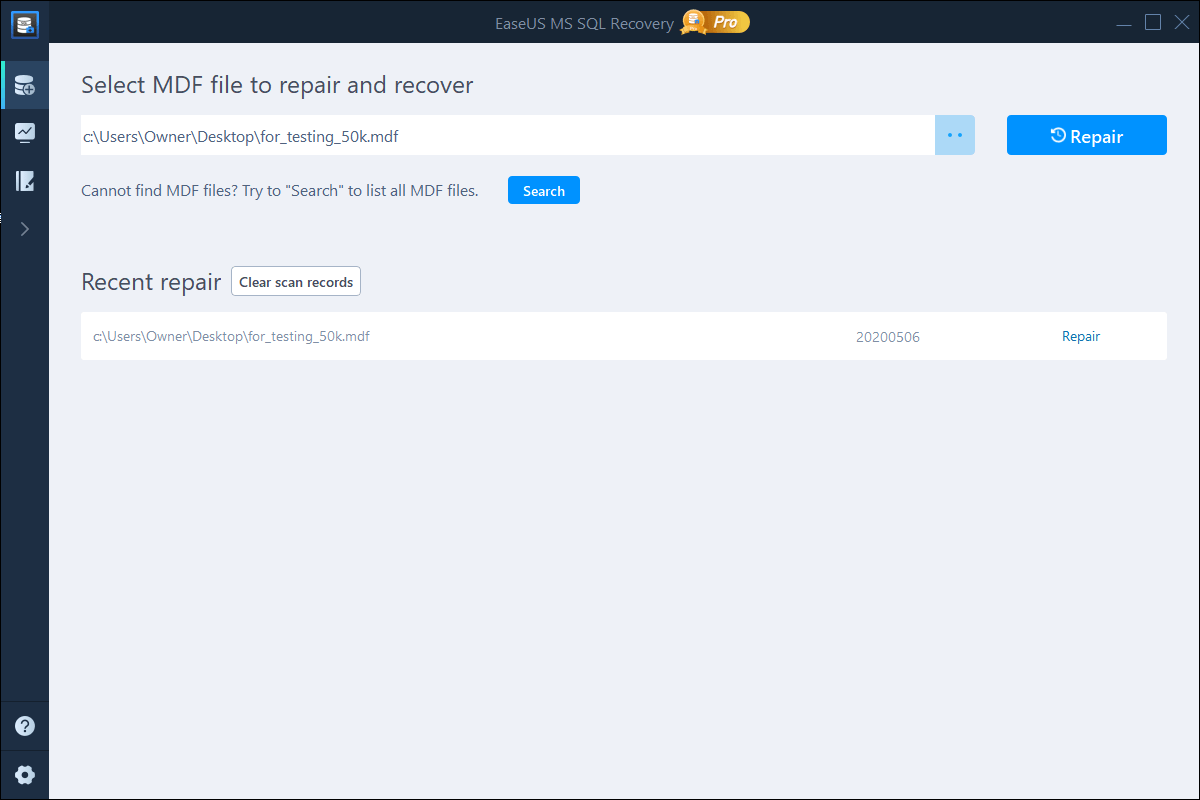 Step 3. When the process completes, a Window will appear to confirm the successful analysis. All the deleted tables & records recovered items will be listed on the left pane in the name of the original tables.
Step 4. Click the "Export" button in the bottom right corner of the screen. You can save the recovered database to database & SQL scripts based on your need. Then, you need to enter Server/Instance Name and connect to the server. If you choose to "Export to database", you can create a new database or export to an existing database.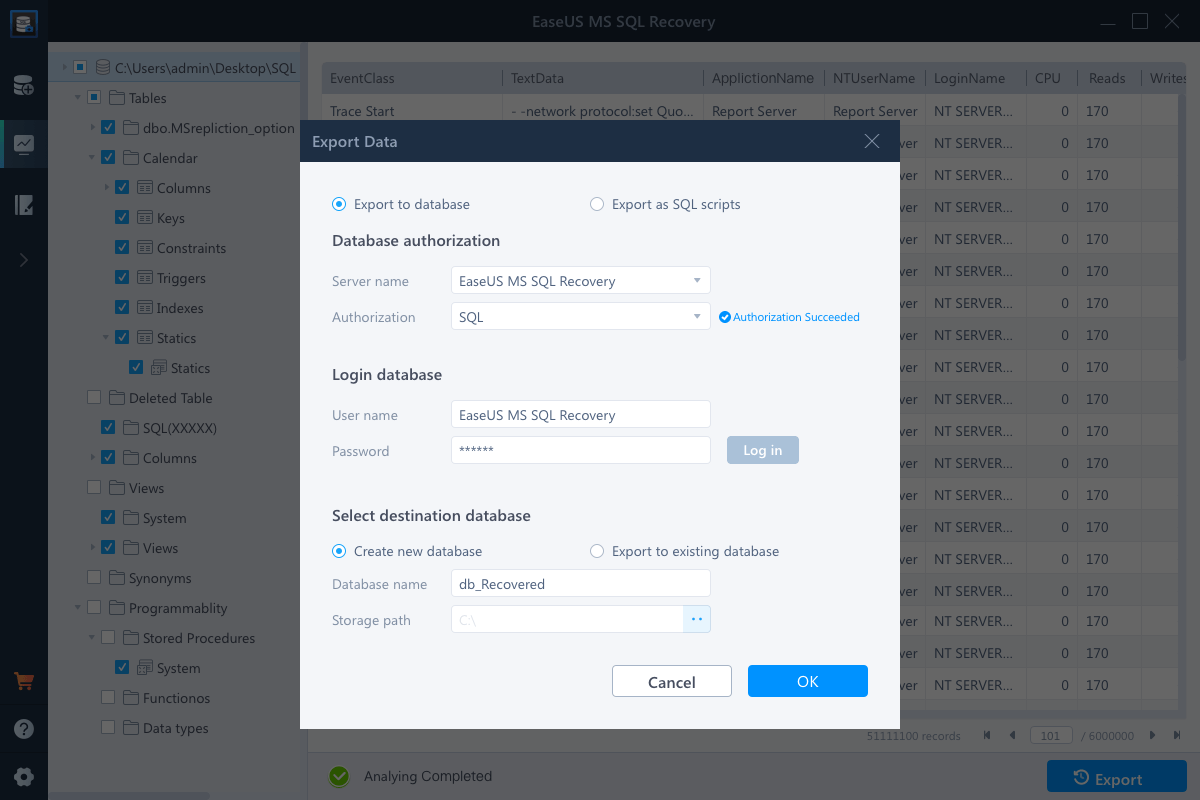 EaseUS MS SQL Recovery
Restore (.mdf and.ndf) Files
Recover Corrupted Objects
Fix Database Log Files
TRY IT NOW