Generally, SQL database failure is due to the corruption of its primary data file, the MDF file, or its secondary data file, the NDF file. But it's not necessary to have a secondary data file. Thus, MDF file corruption is the main reason for the SQL issue. What can lead to MDF corruption? Here are some common reasons:
Hardware faults
Issues with disks, subsystems, drivers, controllers, CPU or memory module
Software bugs
Usage of older versions of Windows OS or SQL
Keeping data or backups in compressed folders
All the issues above are prone to cause SQL database corruption in one way or another. To make your SQL works properly again, you inevitably need an SQL repair tool. Then, among the numerous choices in the market, which one is optimal for you?
Here we highly recommend you try the professional SQL repair tool - EaseUS MS SQL Recovery.
Advanced SQL Repair Tool - EaseUS MS SQL Recovery
Supported operating system: Windows 10/8.1/8/7/Vista and Windows Server 2012/2008
Supported MS SQL versions: MS SQL Server 2016, 2014, 2012, 2008 and older versions
Being an enterprise software tool, EaseUS SQL repair tool is aimed to satisfy the needs of any organization that has encounter SQL database errors by providing the following services:
Repairs corrupted SQL database files (MDF/NDF files)
Repairs corrupted SQL server database components - tables, triggers, indexes, keys, rules & stored procedures
Recovers deleted/dropped records from SQL Database
Allows to save the database scan results to resume data recovery at a later stage
Other than these powerful features, you can enjoy extra benefits using this software like multiple saving options, the preview of database objects, selective recovery of SQL database objects. Now, download and install this SQL repair tool on your computer and learn how to repair the MDF/NDF file from the detailed steps.
How to Repair Corrupted MDF/NDF File
Step 1. Stop MS SQL Server service
Press "Windows + R" and enter services.msc.
Find and double-click "SQL Server (instant name)".
In the Properties windows, click "Stop" to end the SQL Server and click "Apply" to confirm.
Step 2. Run EaseUS SQL repair tool. In the main interface, click "Browse" (the two dots) to choose the corrupted MDF/NDF file. Then click "Repair" to start analyzing your MDF/NDF file. 
If you know the exact location of the file, click "Browse" to locate the database.
If you don't know the file location, click "Search" to search for the .mdf or .ndf file in.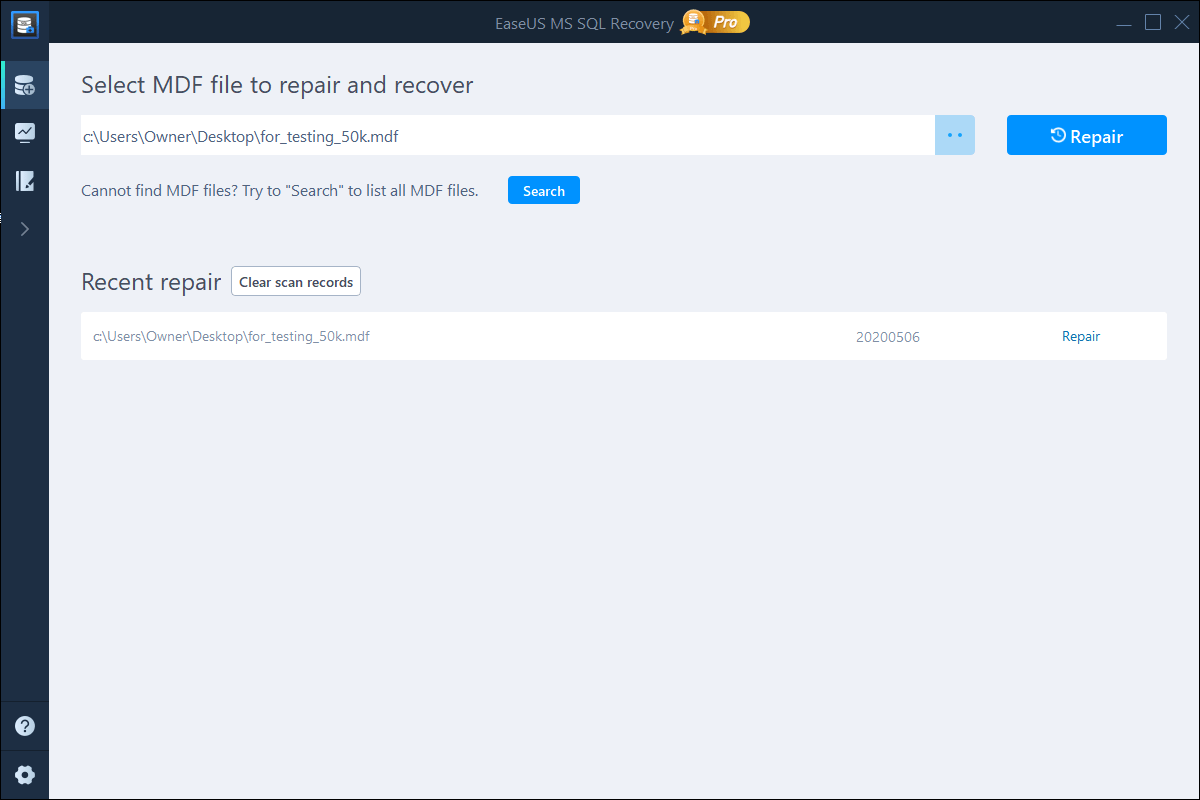 Step 3. When it has done, you will see all the database objects listed in the left pane of the window. Choose the database objects you'd like to repair and click "Export".
Step 4. Choose a preferred way to export the database data: "Export to database" or "Export as SQL scripts". If you select "Export to database", you need to further select the server information, log into your account, and select a destination database, either a new one or an existing one.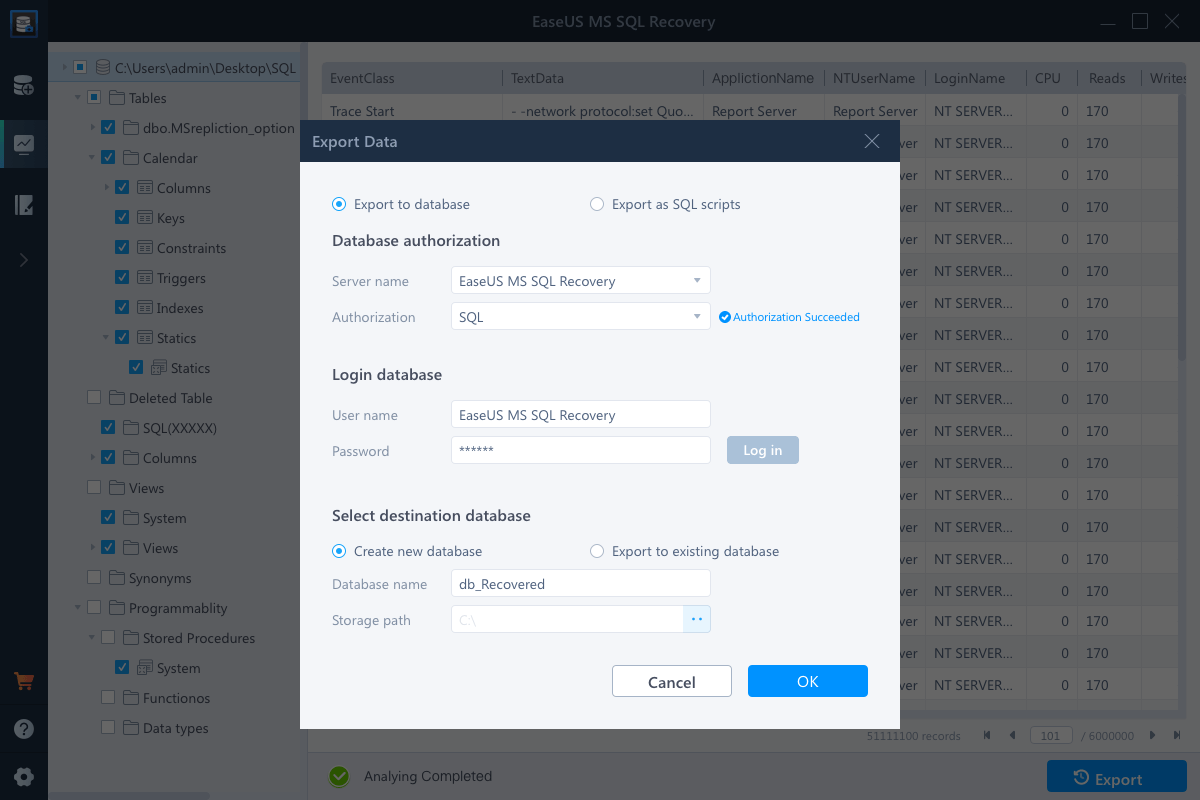 Step 5. Before you click "OK", now you need to restart the SQL Server.
Press "Windows + R" and enter services.msc.
Find and double-click "SQL Server (instant name)".
In the Properties windows, click "Start" to restart the SQL Server service and click "Apply" to confirm.
Step 6. Click "OK" to save the repaired files to your desired SQL database.
EaseUS MS SQL Recovery
Restore (.mdf and.ndf) Files
Recover Corrupted Objects
Fix Database Log Files
TRY IT NOW